The pros, cons, and fees of AvaTrade

AvaTrade
Upskillwise.com is fully supported by its readers. If you register or buy a course using our links, we may receive a commission. This does not affect our ratings, methodology or partners. Please, be aware that when investing your capital is at risk, make sure to understand this before you start.
AvaTrade
is an international CFD broker that has been around since 2006, although it was originally launched under the brand name AvaFX. It's fair to say that AvaTrade has already
attained a degree of popularity
, as it has more than 300,000.
It claims to operate as a regulated broker in seven different countries, including Ireland, Australia, Japan, and a few others. It promises a user-friendly platform and it seems to offer competitive spreads (fees).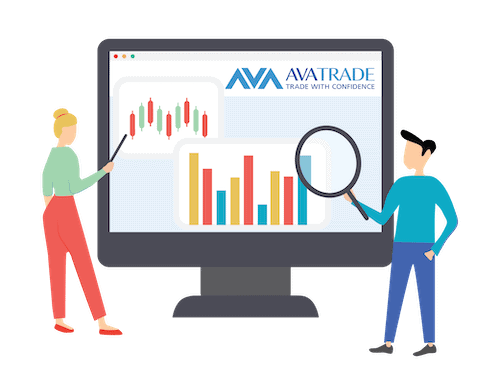 But, of course, there are many questions that need answers before you can determine whether AvaTrade is a good option for you. For instance, which financial instruments am I able to trade, are there any hidden fees, is it a scam?, etc.
In order to answer all these questions, I prepared this review of AvaTrade and I'll tell you all you need to know about this trading platform.
Shall we begin?
AvaTrade review: the short version
AvaTrade is a regulated broker in several (reputable) countries, including Ireland, Australia, and Japan. It's a platform that trades exclusively in derivatives (CFDs and Forex options) – which means it's only suitable for derivatives traders – and the leverage cannot be changed.
Alternatively, if you don't want to trade in derivatives and/or are looking for a platform on which to invest without leverage, you may want to consider eToro or Trading 212.
Note: Bear in mind that any investment comes with a risk of losing your capital and that when you trade in derivatives such as CFDs, which are more complex and use leverage, that risk is increased. 72% of retail investor accounts lose money when trading CFDs with AvaTrade; before you start, it's important to understand how these trades work.
The pros and cons of AvaTrade
Before I explain all the features offered by AvaTrade, I want to tell you about its advantages and drawbacks, and about who might benefit from opening an account with AvaTrade.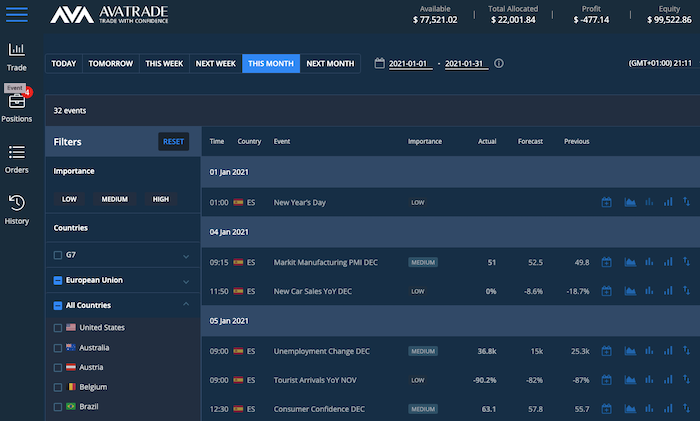 The pros of AvaTrade
Opening an account: Opening an account is quick and easy. And the process is completely online.
Economic calendar: I'm a huge fan of its economic calendar; it is actually one of the best I have ever tried. It will remind you of upcoming economic and financial events that may affect your transactions (e.g. new UK unemployment data).
Easy to use: I find the AvaTrade platform intuitive and easy to use. It does, however, lack a few options – read below.
Trading calculator: It has a trading calculator that you can use to find out how much it will cost (in terms of spread) to trade a particular instrument.
Apps: Its iOS and Android apps are well-designed. That said, I myself am not a big fan of trading on my phone; I prefer larger screens.
Regulation: It's regulated in a number of countries that, theoretically, can be trusted (e.g. Ireland, Australia, Japan).
Try AvaTrade risk-free