Discover the pros, cons and fees with this DEGIRO review

DEGIRO
Upskillwise.com is fully supported by its readers. If you register or buy a course using our links, we may receive a commission. This does not affect our ratings, methodology or partners. Please, be aware that when investing your capital is at risk, make sure to understand this before you start.
DEGIRO entered the broker market in
2013
. But since then, it has managed to become one of the sector's power, with
over 2 million users and a presence in 18 European countries
– if you are not based in one of these 18 European countries you'll need an alternative
broker
.
They claim to have a transparent platform with the best commissions in the market. It's a broker registered and regulated in Germany and the Netherlands and supervised by public bodies such as the Bristish FCA (Financial Conduct Authority).
But of course, you may still be asking yourself; What securities do they offer?, Are their fees as low as they say they are?, Is their system easy to use? Will it adapt to your investor profile? And Will it work for you?
To answer all these questions and see if this broker is right for you, then take a look at this detailed DEGIRO review.
Please note that investing in the stock market is a risky business, and you may lose your investment. It is important you understand these risks before you start.
Shall I use DEGIRO?
What kind of broker is DEGIRO?
DEGIRO is a platform where you can trade all types of securities such as stocks, funds, ETFs, options, warrants, bonds and futures.
Its main feature is that they offer an easy-to-use platform, and you can invest in many securities from different global markets.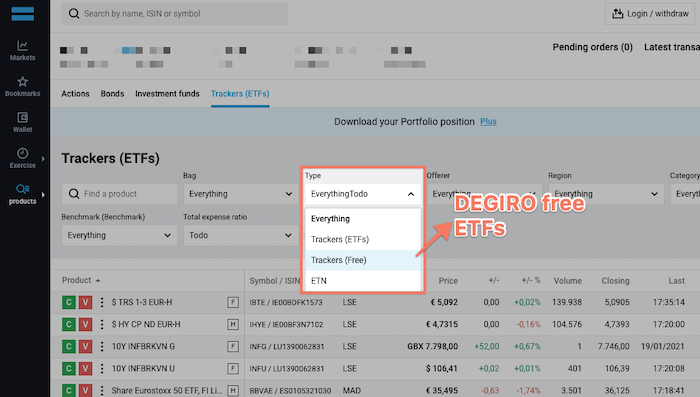 Some DEGIRO ETFs have no commission once a month
As we will see below, not all DEGIRO account types allow you to trade all instruments. For example, some advanced financial products are not available in the Custody or Basic profiles.
Pros and Cons of DEGIRO
Of course DEGIRO has many advantages, but it may not be an ideal broker for everyone, so let's take a look at the Pros and Cons:
DEGIRO Pros:
Ease of use: You can tell DEGIRO's team has put significant effort to design an intuitive system. Even beginners will find their way around DEGIRO's platform. Be aware that this doesn't take away the risk.
Open an account online: You can open an account fully online in hours if you send them all the documents they ask for (e.g. ID and a copy of an invoice), and link your account instantly (e.g. by making a bank transfer from €/£0.01.
A choice of securities and markets: Using DEGIRO you can invest in stocks, ETFs, funds, options, bonds, futures of many European and Asian countries as well as the US, Canada and Australia.
Well-designed: It is an intuitive trading platform. It is easy to find the product you are looking for, and to navigate the different markets.
Regulated: You can be confident that DEGIRO is not a financial scam because it is properly regulated by the Dutch Financial Supervisory Authority. It is also properly registered with the (British) Financial Conduct Authority.
Optional leverage: Choose to open an account that allows you to trade with leverage (by borrowing) or without leverage. I like this flexibility. Not all accounts allow leverage.
But it also has some weaknesses that you should know about:
No investment in Forex, CFDs or Crypto: You will not be able to invest in currencies or cryptocurrencies. At most, you can look for an instrument (e.g. ETF) that invests in these instruments. It is also not possible to invest in CFDs.
No demo account: Although it is possible to use their platform for free (no inactivity fee), you will not be able to use the account in a simulated way with fictitious money as they do not have a demo version. Check eToro, XTB or Plus500 if you'd like to have access to a demos account.
Connection market fees: For each market besides your home that you invest with, you'll be charged €2.50 per year.
Delayed prices: The assets prices you find at DEGIRO's broker are 15-min delayed. If you needed live prices, you'd need to pay an annual fee for these.
Fractional stocks: Aren't offered by DEGIRO. Users looking to invest minimal amounts (e.g. 10 $/£/€) may need to look elsewhere.