Should You Use eToro for Your Investments?

eToro
Upskillwise.com is fully supported by its readers. If you register or buy a course using our links, we may receive a commission. This does not affect our ratings, methodology or partners.
There is no doubt that eToro is one of the most popular trading platforms around the world, in the UK, Europe and the US as well. The online broker was launched in 2007 (under the RetailFX brand), and claims to have 32 million registered users from over 100 different countries – that's saying something.
But of course, this doesn't mean much either, as popular as eToro is, you will need to know whether it suits your investor profile (e.g. are you looking for short or long term?), you will want to know its commissions and whether it's a trustworthy broker (e.g. regulated by which body?).
To help you choose whether this platform is a good option for you, I have written this detailed review of eToro. I will also reveal (all) its commissions, pros, cons and aspects to consider before opening an account with eToro.
eToro Review: The Overview
If you're not feeling like going through my long eToro review, here's a quick summary for you.
eToro is a trading platform that allows you to purchase fractional shares commission-free, as long as you're not leveraging your investments.
eToro offers some interesting tools for investing such as CopyPortfolio and CopyTrader, with which you can "copy" the investments of other eToro users. I would like you to consider not to invest in ANYTHING you don't understand.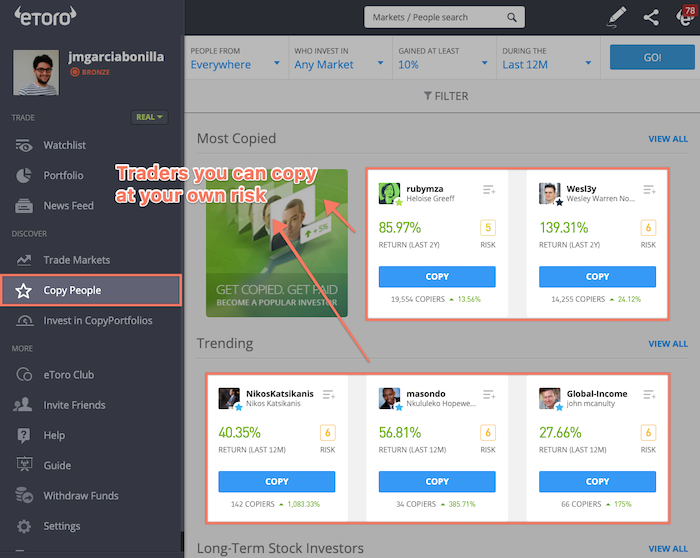 eToro's CopyTrader feature (Past performance doesn't indicate future results)
Keep in mind that eToro is an online platform that works in dollars, so every time you deposit or withdraw funds they will have to be converted into US dollars if this isn't your main currency. If you operate in other currencies, for example British Pounds or Euros, you can use TransferWise or Revolut to have accounts in your local currency (e.g. Pounds or Euros). And use these accounts to add funds to eToro at better conversion rates.
eToro Pros & Cons
Let's look at the main pros and cons of eToro, so you know what strengths it has and where it can be improved, and I'll explain when it's a good idea to use eToro and when you should consider alternatives.
The main pros of eToro are: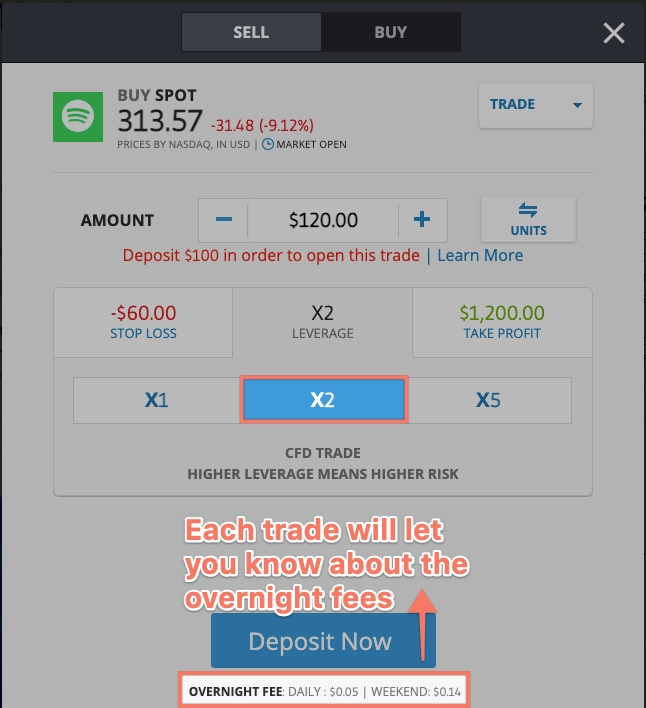 eToro's Leverage Levels (Past performance doesn't indicate future results)
Asset variety: I like that with eToro you can buy both (fractional) stocks and real (fractional) ETFs, as well as other assets (e.g. indices or currencies). This can be interesting for intra-day trader profiles or investors looking for the medium to long term.
Cryptocurrencies and wallets: In addition, it's also possible to buy (real) cryptocurrencies and manage them via the eToro wallet (e.g. transfer them to your own external wallet – this has fees).
Trade with or without leverage: In contrast to some online brokers for trading, with eToro you can trade with or without leverage: the choice is yours.
Many markets: As we'll see below, eToro offers hundreds of assets like stocks, ETFs or cryptocurrencies that you can trade from markets like the Asian, European, North American or Australian.
Demo account: With eToro it's possible to use your demo account for free to see and learn how the platform works. You will have access to $100,000 virtual to practice with.
CopyTrader and CopyPortfolio: eToro allows traders on their platform to "copy" the trading strategies of other users. This is a double-edged sword as success will depend on who you copy. But it can be a good alternative for the "lazy" when it comes to investing – I would suggest that you don't invest in anything you don't understand.
And its cons to consider:
US Dollar Account: All accounts opened with eToro operate in US Dollars. If you use another currency you will have to take this into account that there is an exchange commission each time you deposit or withdraw funds. On the other hand, the exchange rate risk will be somewhat higher for you. For example, if you trade in euros or pounds and the exchange rate rises and favours the euro or pound, your investment (in dollars) will lose value for you.
No official news feed: It doesn't have a section where you can read news relevant to your investments. Instead, it has a kind of social network where other investors add comments and maybe links to relevant (or not) news.
No weekend support: They are available 24 hours a day from Monday to Friday (e.g. via live chat), but unfortunately during the weekend you will not get support from eToro. Personally, I found it a bit difficult to contact them, as they took several days to answer my questions as the live chat is not always available even if it should.
Minimum deposit: To open an account with eToro and add funds you have to deposit at least $200 ($50 in the US) (you will not be able to deposit less the first time), although this isn't a huge amount either.
Who Should Use eToro?
By offering both ETFs and real stocks, it's a broker that suits many profiles (e.g. those looking for short-term trading and those investing for the longer term). It also has features that experts will like (e.g. adaptable leverage, and stop loss and take profit orders).
Additionally, it also has social networking features applied to trading, the large community of investors that has can be a good help to those who want to get started.
eToro has some aspects that are a little difficult to understand for beginners. For example, by offering leverage (borrowing money from eToro to invest larger amounts) can lead to extra fees if the position isn't closed before the market closes.
More information