Plus500: Is this Trading Platform Right for You?

Plus500
82% of retail investor accounts lose money when trading CFDs with this provider. You should consider whether you can afford to take the high risk of losing your money.
Upskillwise.com is fully supported by its readers. If you register or buy a course using our links, we may receive a commission. This does not affect our ratings, methodology or partners. Please, be aware that when investing your capital is at risk, make sure to understand this before you start.
This Israeli-based (CFD) broker was founded by 6 students over a decade ago. Since then, its popularity has grown steadily, and Plus500 Ltd is now listed on the London Stock Exchange – a milestone for them.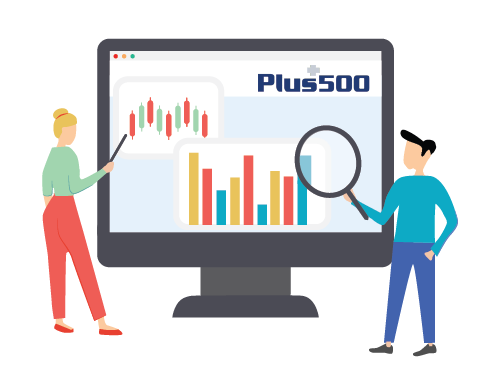 They claim to have about 330,000 active customers and several hundreds of instruments to trade with, so you can operate globally.
But is all this true?
So let's find out all there is to know in this detailed Plus 500 review and answer any questions you may have.
What Type of Broker Is Plus500?
Plus500 is a market maker, meaning that you trade directly with them and not with the market. In other words, you don't have to wait for someone in the market to buy or sell before you trade.
For this risk that Plus500 takes, they charge a spread (they sell more expensive and buy cheaper than the market). Their spread is very competitive and is one of the lowest in the market – more on this below.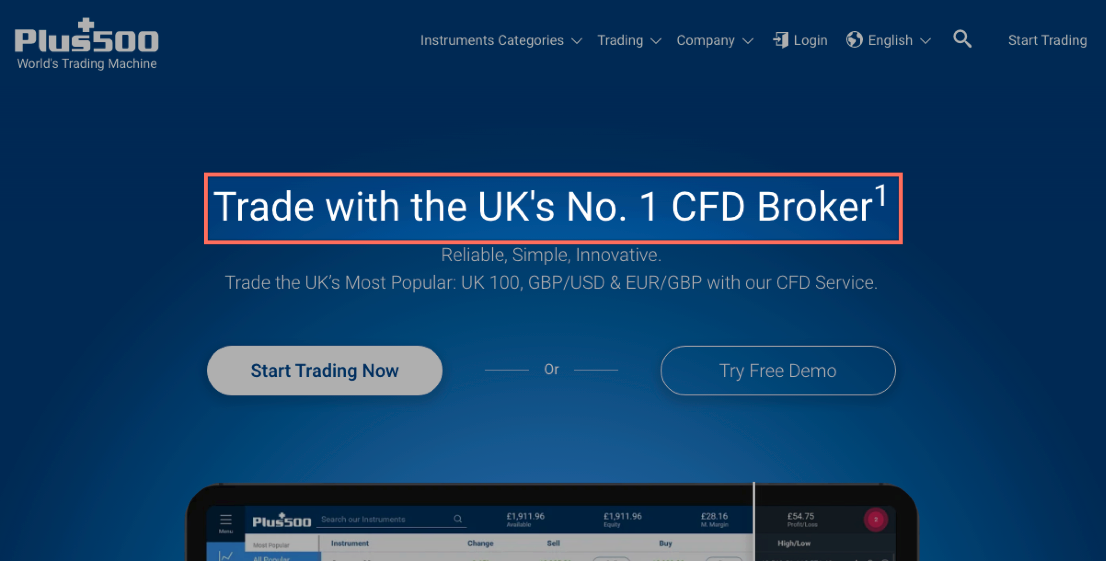 When you invest in a CFD you don't buy an actual share, but you have an agreement on the price of the share (in this case with Plus500). Your profit or loss is determined by the difference between the price at which you bought and the price at which you sold (or the other way around if you short an asset).
If you are new to the world of finance, you should be aware that you can lose large amounts of money due to the effect of leverage.
Plus500 allows leverage, meaning that you don't have to pay out your entire investment, but only have to put in funds to cover a portion of it. This is very useful for those who want to trade large volumes of trades without needing to put down all the money.
The downside of Plus500 is that it's not possible to trade without leverage, something that can (possibly should) scare off beginners. Leverage with Plus500 ranges from 1:30 for Forex to 1:2 for cryptocurrencies (availability subject to regulation) – if you have a professional account you'll be able to access higher leverage.
Plus500 in the US
For US-based users, Plus500 doesn't offer CFD trading, but future trading. The Plus500 future brokerage services are offered through Cunningham Commodities LLC, a subsidiary company of Plus500. Therefore, they're registered with the US Commodity Futures Trading Commission, and they're even members of the National Futures Association (just in case you're curious, their membership ID number is 0001398).
Plus500 Pros & Cons
But you are probably wondering what are the advantages and disadvantages of using Plus500, so let's check them out below and see if it's right for you.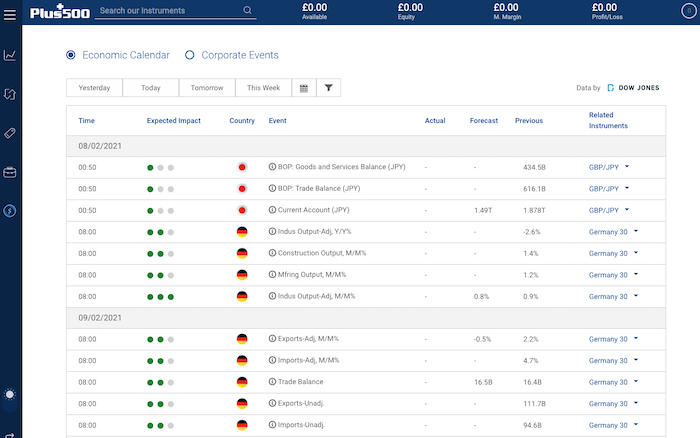 Plus500 Economic Calendar
The main benefits are:
Tight spread: The spread with which they operate is tight and very competitive.
Full graphics: The graphics are complete with many options for customisation.
Design: Plus500 has certainly put a lot of effort into creating a well-designed system, its interface is straightforward and well-organised. Their demo account will help you get familiar with this broker.
A multitude of assets: You can trade over 2,000 different CDFs on ETFs, shares, currencies, commodities, options and cryptocurrencies (availability subject to regulation).
Regulated: Operates on the London Stock Exchange, is supervised by various governmental bodies (e.g. Financial Conduct Authority) and has been operating since 2008. This means that they have to comply with certain regulatory requirements.
Countries: Plus500 is available in many countries, so a lot of users can trade using this online platform (e.g. UK, US, Australia, New Zealand, etc.). Be aware that in the US, Plus500 offers futures trading and not CFD.
On the other hand, it has a couple of things that should be improved:
No news section in the broker: Even if Plus500 has a news section on their website, it's not for now integrated with your investments (e.g. they don't filter the news you get based on what you have invested in).
Lack of securities: You can only trade with CFDs, so if you are looking to buy (or own) securities such as stocks or mutual fund shares, you should look for an alternative to Plus500. You'll also not find fixed income instruments such as bonds.
Education section: They could provide better content for investors to learn the basics of investing and trading.
It's not possible to reduce leverage: If you would like to trade without leverage, there is no option. You can't choose the level of leverage with Plus500 either, you'll have to invest with the levels they offer.
Inactivity fee: If you don't use Plus500 for a certain period of time, you'll face an inactivity fee of $/£/€10 per month.
Who Should Use Plus500
Experienced traders who know how to trade CFDs, or are willing to educate themselves on trading. If you are going to use Plus500 you'll need to be comfortable with leverage as it's not possible to trade without it.
If you are a beginner or your investment profile is less risky, you could take a look at other products such as Trading 212 or eToro.
Opening a Plus500 Account
To open a Plus500 real account, all you need to do is:
Visit the Plus500 website and click on 'Start trading'
Register on the platform
In the left menu click on 'Account' and confirm your details
Confirm your email address and phone number
Send them the requested documents: passport copy, proof of residence (e.g. bank statement) and verification of your payment method
Make your first deposit (minimum €/£/$100) and start trading
Requirements
Apart from completing the account opening process, there aren't many other requirements with Plus500.
As mentioned above, you'll have to provide some documents, and make a minimum deposit of €/£/$100.
You'll need to reside in one of the many countries in which Plus500 operates. For example: the UK, Cyprus, France, Italy, Germany, Germany, Mexico, etc.
Types of accounts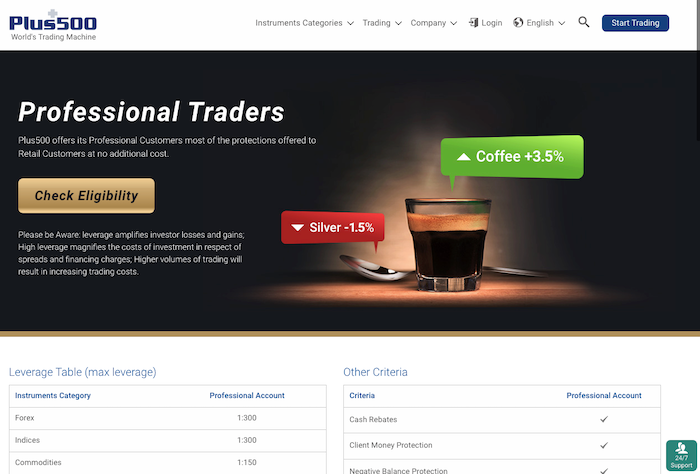 Plus500 offers several types of accounts for its users:
Demo account: If you are thinking of using Plus500, I would suggest that you first take a look at their demo account to test the waters. It's very useful to see what CFDs you can trade and what their system is like. It's also ideal for beginners who want to experiment with trading without risking real money.
Plus500 account: Once you have tried their system and are ready to dive into the world of trading, you can open a (real) account with Plus500. Their standard account, as mentioned above, has a leverage ranging from 1:2 to 1:30, depending on the instruments you trade and your country of residence this may vary – leverage cannot be changed.
Professional account: Plus500's professional accounts are available to those users who meet the requirements, these accounts basically offer a higher level of leverage – so they have even more risk associated with them. To be eligible for this type of account, you'll need to have made an average of 10 trades per quarter (of a certain value), have over $500,000 (or equivalent) in your investments and have professional experience in the financial sector.
Tip: Before opening a real money account with Plus500 take a look at the demo account they offer to make sure Plus500 is the right fit for you.