Does Trading 212 offer UK investors a reliable broker?

Trading 212
Upskillwise.com is fully supported by its readers. If you register or buy a course using our links, we may receive a commission. This does not affect our ratings, methodology or partners. Please, be aware that when investing your capital is at risk, make sure to understand this before you start.
Trading 212 might not be a global household name, but the truth is this trading platform is well known among investors in many countries like the United Kingdom, France, Germany, and other European countries.
It certainly comes with some interesting advantages (e.g. investment in derivatives and real assets), and according to their website, no commissions (for some investments) – allow me to elaborate on this later on.
But what are the disadvantages?
Like everything, Trading 212 isn't without imperfections (e.g. no forex or bonds), since your money/investment is at stake. To sum up, I've compiled a comprehensive Trading 212 review to help you decide if it's the right choice for your investment.
Trading 212 reviews: The overview
Trading 212 is an online broker that allows you to invest in derivatives via CFDs (stocks, currencies, indices, and commodities), as well as in real (whole and fractional) assets like ETFs and many shares. Primarily you can invest in European and American markets, sadly the Asian and Australian markets aren't available at Trading 212.
Trading 212 is user-friendly with apps available for both iOS and Android (smartphones and tablets), you can also use your preferred web browser like Safari or Google Chrome. Sadly, you'll not be able to connect to external trading platforms such as MetaTrader or cTrader.
Pros and Cons of Trading 212
Trading 212 has made quite the impression as one of the best beginner-friendly brokers, its design and usability are top-notch. However, it's only fair to give you the full picture of all its other advantages and disadvantages, let me break them down for you.
Trading 212 Pros: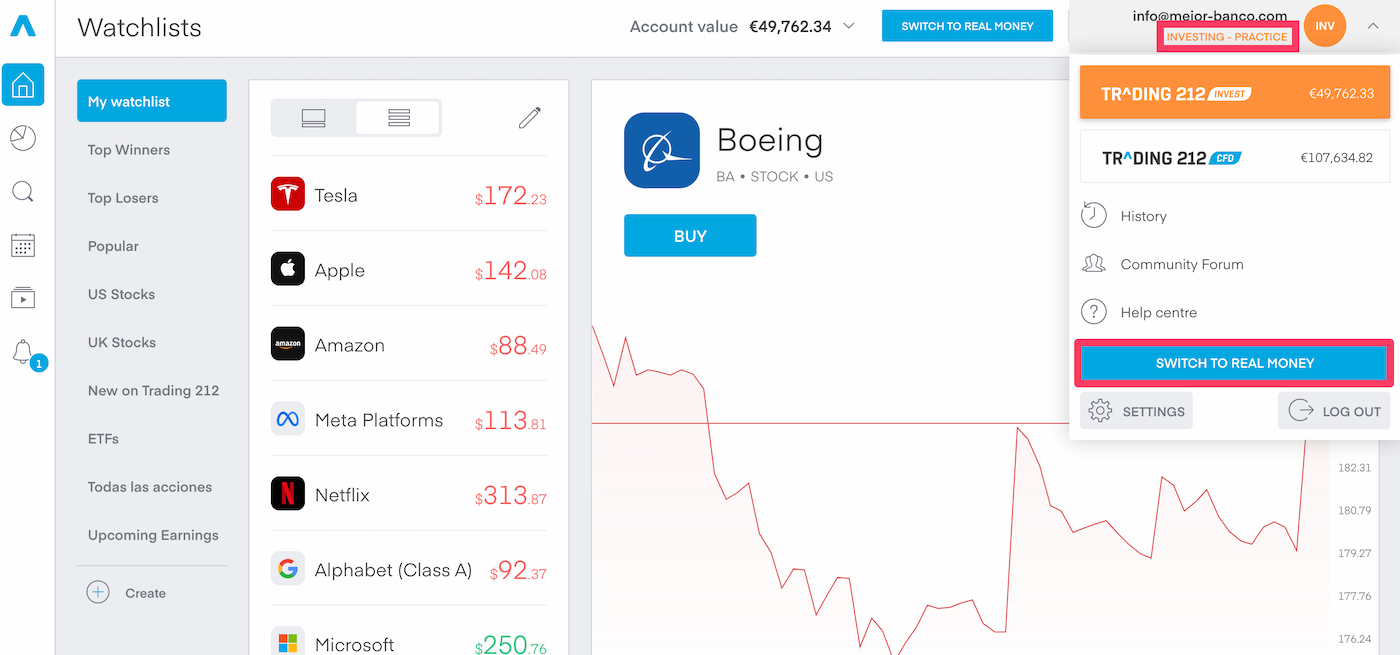 Trading 212 demo account
Trading 212 allows you to set your account in US Dollars, British Pounds and Euros. Be mindful, that once you choose your account currency, you'll not be able to change it.
The platform is well-designed and intuitive. Opening an account is a relatively quick and effortless process.
Through Trading 212 you can invest in derivative products via CFDs as well as in real shares and ETFs.
Trading 212 does not charge any fees when investing in real stocks and ETFs – this is a bold move to attract new clients. However, you may be charged a foreign exchange fee if you trade assets in other currencies than your main one.
Deposits can be made using various payment methods (transfer, cards and e-wallets). In addition, some of these are commission-free – instant deposit methods like credit cards may incur a fee.
It is a broker regulated by various international bodies like The Financial Conduct Authority (of the UK), and The CySEC (Cyprus).
Trading 212 comes with a demo account (for its derivatives platform only) so you can practice and get a feel for how it works without risking your money.
Trading 212 holds client funds in segregated bank accounts, and is also part of the Financial Services Compensation Scheme (FSCS) provisions.
Visit Trading 212
Trading 212 Cons: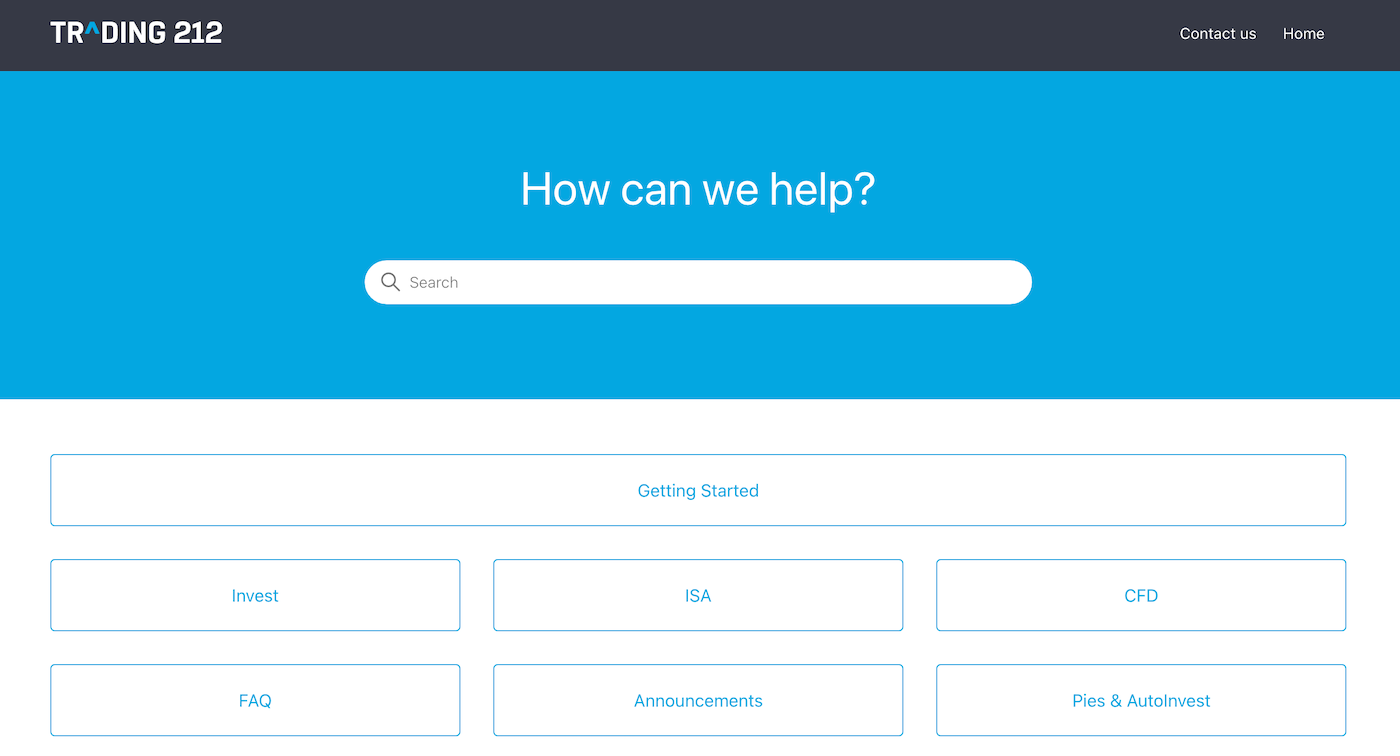 Trading 212 learning materials
They could have a wider variety of markets and financial instruments. It's true that they have plenty of stocks to invest in, but unfortunately, you can't invest in other assets like mutual funds, currencies, etc.
Help and support materials could be more comprehensive, they are lacking in detail.
It doesn't come with a section to read relevant news, this isn't a deal-breaker, but many competitors have a section for you to filter and read financial news from top publications.
Trading 212 doesn't have social investing options like eToro, and algorithmic trading isn't available either.
CFD trading doesn't allow modifying the leverage levels (e.g. if you wanted to reduce it).
You won't be able to connect your Trading 212 account with an external platform like cTrader o MetaTrader.