With so many online courses out there to choose from, it can be hard to know which ones are actually the top courses. That becomes even more apparent when we are looking for a course on a specific topic like Photography.
That's where we have stepped in and put together the very Best Online Photography Courses for you to learn with. Whether, you're a complete newbie to photography, a holiday shooter or you want to know more about setting up your camera for the perfect photo. We have rounded up the best photography courses from top platforms like Masterclass or Skillshare and many more.
You may be still asking yourself; What's included in the course?, Will I receive a certificate?, Which course gets you the most for your money?
To answer all these questions and help you choose the Best Online Photography Course. I've created this in-depth review.
The 7 Best Online Photography Classes of 2022
Verdict
With literally thousands of Online Photography Courses to choose from it may leave you feeling a little overwhelmed on how to decide on the right one. So, we have broken the review into Photography scenarios like 'Best for Beginners' or 'Alternative Photography' to really help you find what it is you are looking for.
So let's delve into this in-depth review and help you choose the Best Online Photography Course for you.
Best Online Photography Courses
If you are in a rush and don't have time to read the full review, then no worries as I have put together the top recommendations based on various photography related scenarios.
Scenario
Photography Course
Elearning Platform
Comment
Best for Beginners
Fundamentals of DSLR Photography
Skillshare

Master the technical basics of the camera.

Course is designed strictly for beginners, giving you a solid set of skills to explore the world of photography.

Best for Portrait Photography
Annie Leibovitz Teaches Photography

28 days of Portrait Photography

Masterclass

The second video lesson of this course focuses on portrait Photography.

A detailed course that focuses on all aspects of portrait photography.

Best for Landscape Photography
Learn Landscape Photography
Udemy

Learn to go on location with more confidence and knowledge.

Focus is to learn a technique and then try it out yourself.

Alternative Photography
iPhone Photography: How to Take Pro Photos On Your iPhone
Skillshare

Ideal for beginners or someone wanting to develop their social media account (i.e instagram).

Learn how to shoot night trails and the equipment you need.

Photography related courses
Adobe Photoshop CC:The Complete Guide
Creativelive

Master  photoshop and how to edit your photographs

Master the fundamentals of photoshop 2020

Best value for money
Photography Masterclass: A Complete Guide to Photography

28 days of Portrait Photography

Udemy

Class is for beginners & advanced photographers

Course consists of 85 video lessons (58h 35mins). All content accessed offline with lifetime access.

Refund
Introduction to Photography
LinkedIn Learning
30-Day Money-Back Guarantee on individual purchase of courses.
Certificate of Completion
Photoshop 2020 One-on-One:Fundamentals
LinkedIn Learning
Keep in mind neither of these course certificates are accredited.
Free photography courses

Learn the basics of HDR, setting up your camera and shooting photos along with editing tips.

The first 5 chapters of this course are free
Best for Beginners
Introduction to Photography
LinkedIn Learning brings you the course Introduction to Photography taught by Ben Long, a photographer and teacher. This course is designed strictly for beginners, providing you with a solid set of skills and tools to explore the world of photography.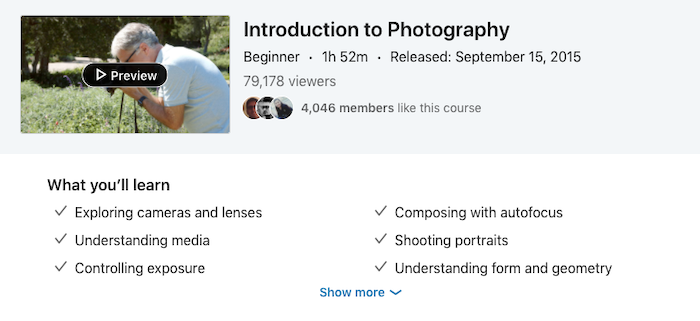 LinkedIn Learning Introduction to Photography
This course is made up of a 1h 52mins video broken up into 8 chapters along with an introduction and conclusion. The introduction and some parts of chapter 1 are available for you to watch for free. The video chapters range from Cameras and Lenses, Exposure and Light Meters to Portrait basics and more. Along with the video lessons are chapter quizzes and you will earn a certificate of completion when you finish the course.
Price: $29.99 (+VAT) or a Monthly Subscription: $29.98 or Yearly Subscription: $19.99
Duration: 8 video chapters plus introduction and conclusion (1h 52mins)
Pros
Designed strictly for beginners
Access on tablet and phone
Certificate of completion