Udemy was launched in 2010 by its founder Eren Bali. The platform has more than 300 million students taught in 65 languages and home to more than 150,000 languages. The headquarters of Udemy is located in San Francisco and has 5 satellite offices all over the world.
Udemy offers close to 600 free courses on a wide range of subjects from categories like "Web Development" to "Personal Productivity". Its free courses give you a taster of Udemy's paid courses. 
How To Register With Udemy?
To register with Udemy is completely free. The interface of the platform is really easy-to-use and navigate around. I have put together a step by step guide on the registration process:
Open a browser and visit www.udemy.com
Click Sign Up in the top right corner
Add your Full Name, Email and Create a Password
You'll be sent a confirmation email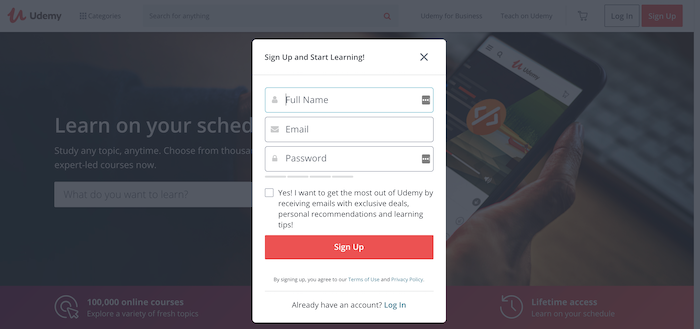 Udemy Sign Up
Once you are signed up you can begin by clicking on Categories and then start to browse the courses on offer. You are then able to use the Filter selector to be more specific in your search.

Udemy Filter Selector
Udemy's Free Courses
Udemy made quite a significant change to its free courses as of April 2020. The platform used to offer thousands of free courses. Currently, you can find just under 600 courses for free on its platform. You may be thinking darn, I missed out on a bunch of free courses. Well, that is true, but have you considered that quantity doesn't always mean quality. This is just one of the reasons that Udemy made the change to its free courses, so that learners really distinguish the value between free and paid courses.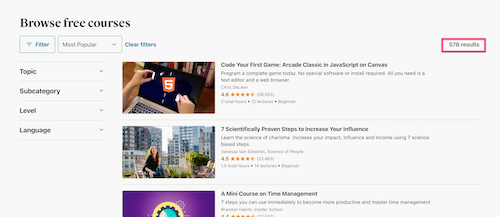 Udemy browse free courses
Udemy's new free courses are more limited than its paid courses, which makes sense, especially when you are trying to differentiate between free and paid courses. The new free courses must be no more than 2 hours of video content, and their option to direct message and QA with the teacher and other students is not available any more. The objective of the free experience is to get a taste of the topic and the instructor before deciding on whether you want to commit to a paid course or not.
The free Udemy courses that are currently being offered are the following;
Web Development: 64 free classes
IT & Software: 41 free classes
Personal Transformation: 33 free classes
Programming Languages: 23 free classes
Microsoft: 22 free classes
Network & Security: 19 free classes
Personal Productivity: 18 free classes
3D & Animation: 15 free classes
Digital Marketing: 13 free classes
Web Design: 13 free classes
WordPress: 17 free classes
Excel: 13 free classes
HTML: 10 free classes
Meditation: 9 free classes
Goal Setting: 8 free classes
Javascript: 8 free classes
HTML5: 7 free classes
Investing: 6 free classes
Blender: 5 free classes
Blockchain: 5 free classes
C#: 5 free classes
CSS: 5 free classes
Entrepreneurship Fundamentals: 5 free classes
SEO: 5 free classes
Adobe Illustrator: 4 free classes
Amazon AWS: 4 free classes
Email Marketing: 4 free classes
Fitness: 4 free classes
Game Development Fundamentals: 4 free classes
Git: 4 free classes
Java: 4 free classes
Marketing Strategy: 4 free classes
> Check out all of Udemy's free courses here
Note: You can only receive a certificate of completion on a paid course. Free courses do not offer any certificates.