When I started looking for free online courses I knew that I still wanted them to be from a reputable online learning platform. And that's when Udacity showed up in my search results. As I started to do a bit more research into Udacity I discovered not only are they a technology and business-focused elearning platform, but its courses are partnered with top companies like Google and Microsoft.
But I still had some questions like: What does its free courses actually give me access to? How different is the quality of a free course compared to a paid one? If I like the free course can I upgrade?
To answer these questions and more, I've created this in-depth Udacity Free Courses article. I will talk in detail on registering, free courses available, paid courses option and free courses alternatives.
So let's get stuck in!
How to Register with Udacity?
To register with Udacity is completely free. The interface of the platform is intuitive and easy to follow. You just need to follow these easy steps;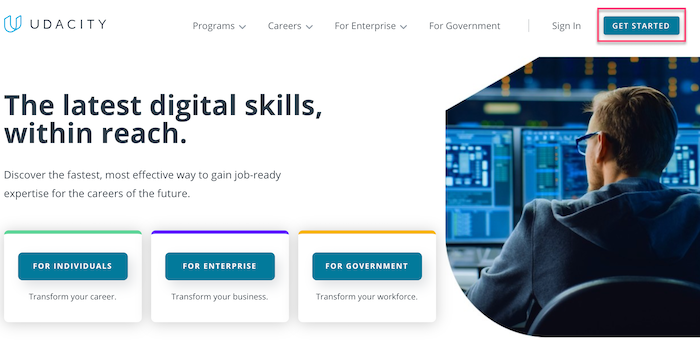 Visit Udacity.com and click on the top-left button 'Get Started' (see image above)
You can decide to register with Udacity using your email account, your Facebook or Google account.
Add the date of your birthday
Confirm your email account if needed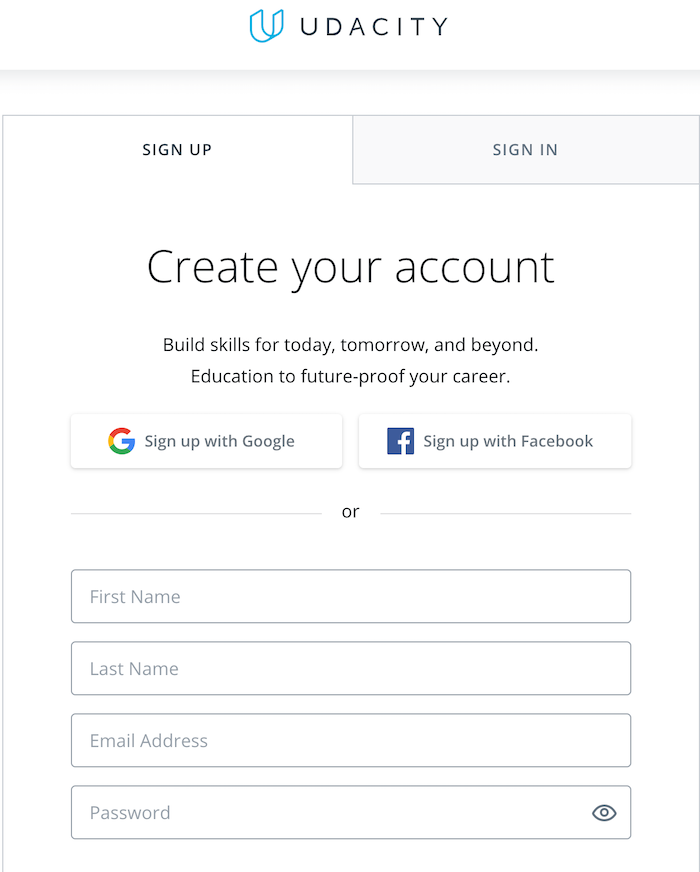 Udacity Sign Up
Once you are all signed up you can click on Programs and then FULL CATALOG and start to view all the courses available.
Udacity's Free courses
Udacity's filter system gives you an easy way to access its free courses (see image below). The free courses give you a taste of the Udacity platform. Normally, these courses are part of the paid Udacity Nanodegrees, and if you do decide you want to complete the full Nanodegree you can upgrade to the paid version.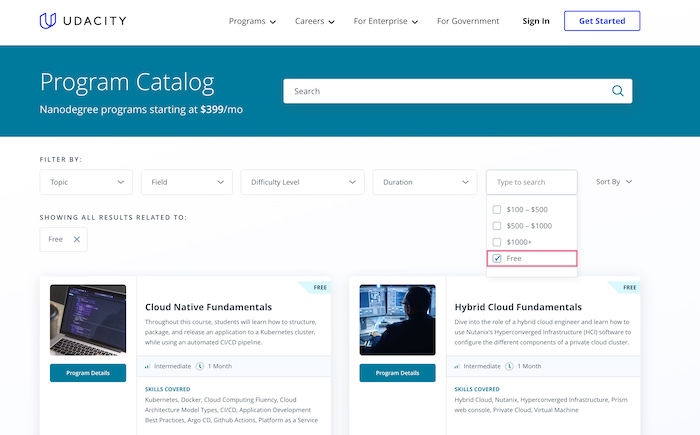 Keep in mind that the free courses have some limitations, you won't be able to receive a completion certificate.