If you are a client or a business looking for a freelancer to help you with a one-off job or a long-term project, then you have probably considered Upwork. It's one of the top freelancing platforms on the market, due to its wide range of talented freelancers, management tools and payment protection. With all this in mind, it may not mean that Upwork is the right platform and if you're reading this then you're probably considering an alternative freelancing platform.
Luckily, there is a vast pool of alternative platforms for you to consider, and each one offers something different. Many offer specialist categories, whilst others have vetted and highly experienced freelancers and some protect the client with a secure payment plan. It's important that before you decide on a freelancing platform, you are aware of their differences and choose the one which will best suit you and your needs.
The Top 7 Upwork Alternatives
Let's take a look at the Upwork Alternatives. In case you are in a rush and don't have time to read the full article, you can take a quick glance at our Upwork alternatives ranking table to give you an overview.
Upwork Alternative
Starting Price
Best For

Fiverr

Upwork Rates: $15 – $100 USD per hour.

Affordability
Wide variety of services
Efficient
Support Team
Mobile App


Toptal

Toptal Rates: $60 – $250 USD per hour.

 

Top quality freelancers
Good customer service
Payment guarantee
Trial Period
Tailored Matching

99 designs: Basic logo designs start at $289 USD.

Best for Graphic Design
Low prices
Free design consultation
Community & Resources
Money-back guarantee


Codeable
Codeable Rates: $80 – $120 USD per hour.

Hand-picked WordPress Experts
Free Estimate when you post a project
24/7 customer service
Post-Project Support
Secure Payments


SolidGigs
SolidGigs Freelance Membership: Yearly $252 or Monthly $35 USD.

7-day free trial
Time saving
24/7 customer service

Freelancer Rates: Starting at $50 USD.

User Friendly
Big Pool of Categories
Secure Payments

PeoplePerHour Rates: Starting at $50 USD.

Choice of Freelancers
Ease of Use
Secure Payments

Hubstaff Talent Rates: Starting at $5 USD an hour.

Remote work support
Productivity insights
Time tracking
Fiverr
Fiverr is a global freelancing platform that connects freelancers (sellers) with individuals and businesses (buyers) who are seeking digital services. It's one of the largest platforms on the market offering affordable rates across a wide variety of categories from Graphic & Design, Programming & Tech, Digital Marketing and more. Within its 10 categories is a diverse list of subcategories, for buyers to choose from. When Fiverr launched in 2010, it gained recognition for its budget friendly prices, many starting at just $5, thus the name Fiverr. Nowadays, most sellers charge a little more for their services, offering different priced packages to suit all budgets. Fiverr has an extensive filtering system, to help buyers find exactly what they are looking for. It's important to also read reviews and ratings of sellers before committing to one.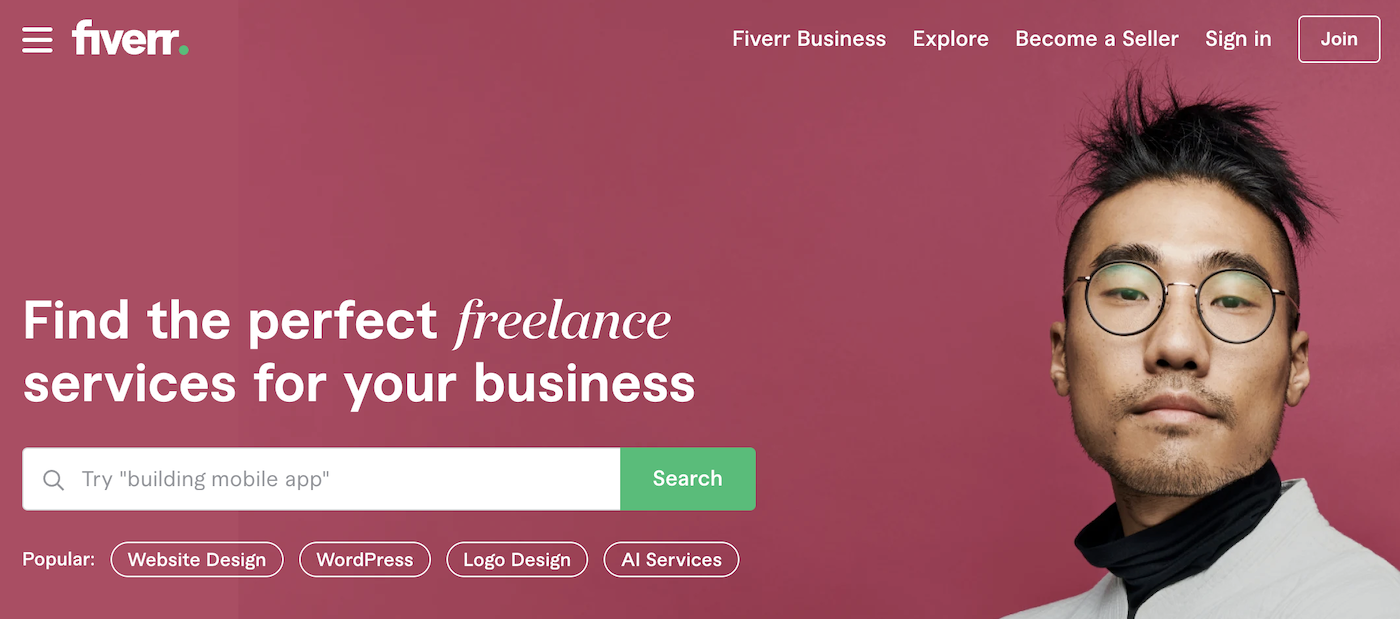 Fiverr Find the perfect freelance services
For every order a buyer makes on Fiverr, a 5.5% service fee will be added to the total, this service fee will be added at checkout. In the case that your purchase total is less than $75, Fiverr will add another $2.50 small order fee to the total price. Fiverr will consider refunds either in the form of money refunded to your Fiverr balance or reimbursed to your credit/debit or PayPal.
Fiverr's Pros
Cost Effective: Many freelancers offer their services at a competitive rate, so if you have a limited budget, it's worth considering.
Categories: Fiverr offers 10 main categories, ranging from Graphic Design to AI services, alongside its categories are an extensive range of subcategories.
Efficient: Fiverr is renowned for its quick turnaround of projects, particularly its one-off projects.
Support Team: Its support team are help for answering questions and assistance for when you may need it.