Coursera Review: How Popular Is This Elearning Platform?
Is Coursera as good as all the hype it gets?
Well, let's get started. It is one of the most prestigious online educational platforms out there. Coursera offers over 3,900 courses, specializations and degrees and 100's of free courses.
Sounds pretty good right?
On the other hand, it doesn't mean that the courses which Coursera is offering are right for you. Let's delve a little deeper and find out more in this in-depth Coursera Review.
Accredited University Degrees
Coursera has partnered with some of the top Universities (including Imperial College and Stanford) providing online accredited degrees when you complete a course.
Tuition Cost
Course fees are significantly lower to that of a conventional school or traditional campus-based course.
Free Courses
If you don't need a completion certificate, you can enjoy most of the courses for free – no hidden catch.
Learn Offline
Coursera's app allows you to download course material for when you are offline. Meaning you can learn and study on the go, perfect for a plane trip.
Quality Of Courses
Courses taught by top experts in their field from world-class Universities and Companies.
Confusing Pricing
There are many different pricing subscriptions which can make the exact price of the course seem confusing and unclear for many users.
Prior Knowledge
Some courses may require prior knowledge due to the nature of the course material. It's not always beginner-friendly.
Coursera Review Verdict
Coursera is an online elearning platform offering thousands of courses including specializations and degrees. It works with top universities and businesses to facilitate its online accredited courses. Purchased courses are either on a monthly or annual subscription or a one-off payment. It also offers free access to most of its courses if you choose to audit the course where you don't receive an accredited certification.
Who Is Coursera For?
You may be asking yourself, is Coursera right for me? Well, there is no better time like the present to find out why it just might be.
If you are looking for a professional or accredited learning program then you are considering the right elearning platform. Coursera's learning programs are broken down into 5 types:
Courses: Coursera offers over 3,900 online courses with 100's of free courses that are taught by top instructors.
Specializations: A series of courses ideal for someone wanting to master a career skill. You could decide to take only the one course related to that career skill or the series of courses which would cover all aspects of that skill.
Professional Certificate: Training programs which are preparing you for a job or a particular industry. Some professional certificates are recognised by an organization or school.
MasterTrack Certificate: Semester-length courses that are only available as a unit. You can't take individual courses as part of the MasterTrack and certificates are only given after the entire MasterTrack is completed.
Degree: Coursera has partnered with top Universities to provide learners with affordable and accredited University Degrees.
Take note that Coursera certificates are accredited and recognized by future employers.
How Much Are Coursera Courses Really?
There is a pretty diverse range of pricing due to the fact Coursera offers so many different learning programs with some individual courses starting at $29 to $99 and online degrees going up to $25,000. It has a variety of payment methods ranging from one-time payments to monthly or annual subscriptions.
Many courses on coursera have an Audit for free option, which means you have access to the majority of the course material for no cost. Remember that certain features like graded assignments and certificates are a paid feature. Be aware that Audit for free options can be somewhat hidden during the registration process, I go into more detail about this in the 7 Steps to Find the Perfect Course section.
Individual Courses and Specializations vary in cost. To find the exact price you will need to click on the blue Enroll button on the left of the Coursera course information. The price will either be based on a monthly subscription or an individual one-off payment. Many of the Specializations are based on a monthly subscription with most offering a 7-day free trial with charges automatically starting on the  8th day unless you cancel it beforehand (please see the image below).
Coursera free trial
It is also good to keep in mind that many of the Specializations are available when you pay for Coursera Plus. This is a yearly subscription that gives you access to around 3,000 courses for 12 months.
If you are on a tight budget or in need of some financial assistance Coursera has the option of applying for Financial Aid or a Scholarship. You will need to apply for this directly to your chosen course and it is normally something that the University who is partnered with the course will manage.
We have a detailed pricing guide for Coursera that talks in more detail about this topic, check it out here.
How To Open A Coursera Account?
The registration process for Coursera is really straightforward. Just in case you are unsure I have broken down the registration process which looks like this: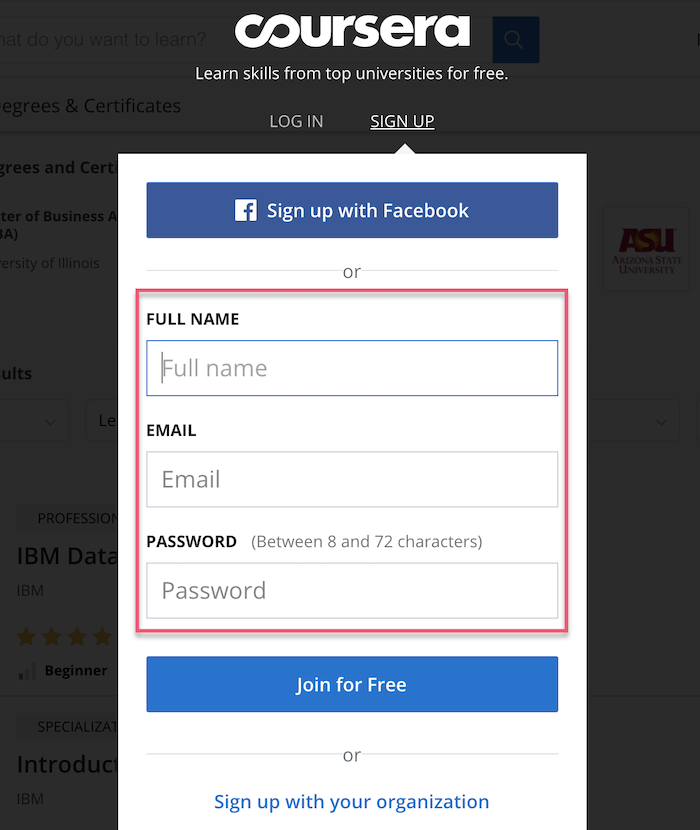 Coursera sign up
Open a browser and visit www.coursera.org
Click Join for Free in the top right corner
Add your Full Name, Email and Create a Password
You will be sent a confirmation email
Once you are signed up you can click on Explore and begin browsing the different courses on offer.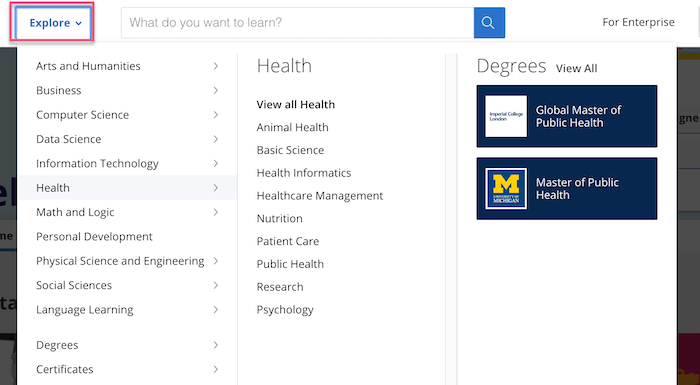 Coursera explore courses
After you have selected a main category you can then pick one of the subcategories which will take you to all the relevant courses.
Examples Of The Most Popular Coursera Course
I thought it would be interesting to research which courses are the most popular out there so you can get a feel for what to expect and what other learners are enjoying.

Machine Learning – A course to learn the science of getting computers to act without being programmed. It has had almost 3,000,000 students enrolled on the course and a 4.9 (out of 5) rating from student feedback. The course instructor is Andrew Ng the Co-founder of Coursera.
Learning How to Learn: Powerful mental tools to help you master tough subjects – A course to give you easy access to invaluable learning techniques used in disciplines like art, music, maths, sports etc. It has had over 2,000,000 students enrolled on the course and a 4.8 rating from student feedback. The course instructor has won numerous teaching awards.
The Science of Well-Being – A course designed to increase your own happiness and build more productive habits. It has had almost 2,000,000 students enrolled on the course and a 4.9 rating from student feedback. The course instructor is a Professor of Psychology at Yale University.
Programming for Everybody (Getting Started with Python) – A course that aims to teach everyone the basics of programming computers using Python. It has over 1,000,000 students enrolled on the course and a 4.8 rating from student feedback. The course instructor is a Clinical Professor at the University of Michigan.
AI For Everyone – A course to teach everyone about AI terminology, machine learning, data science and more. It has almost 250,000 students enrolled and a 4.8 rating from student feedback. The course instructor is Andrew Ng, the co-founder of Coursera, who also teaches on a number of courses like Machine Learning.
7 Tips To Find The Perfect Coursera Course
If you are undecided between which course is right for you. I have put together 7 tips to help you to choose the perfect course.

Use the filter feature
A very useful feature to use is the Filter by feature (see image above) which will help to narrow down your search. For example, if I were to select a category like 'Nutrition', I could then select from the various filters (e.g. Skills, Job Title, Level, Language, etc.) and click 'apply' which would then show the relevant courses related to these filters – see image below.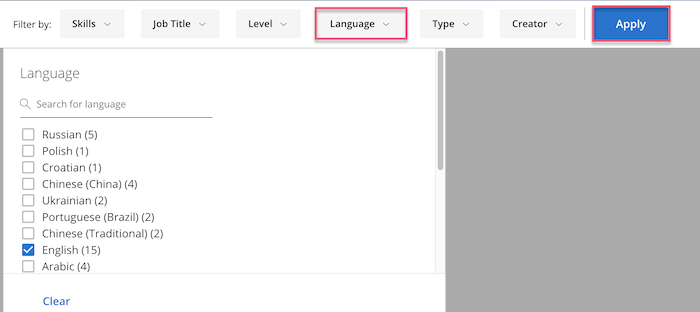 Coursera filter feature
About this course
You are able to read the description of the course, the topics which are included and the different areas the course will focus on.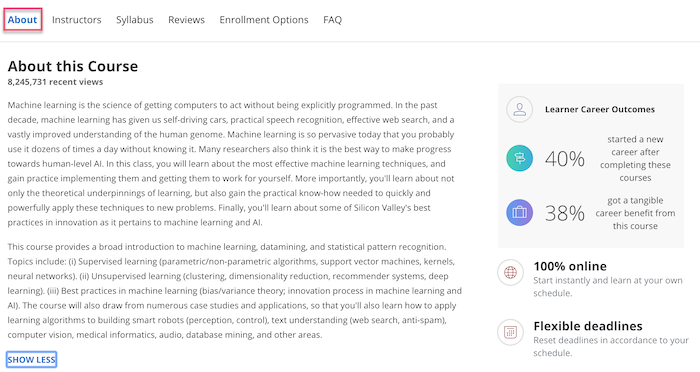 Coursera about this course section
In the About this Course section, you will find the Skills you will gain (see image below). If your objective is to get specific knowledge from your chosen course, this can be a quick way to check out a course and determine if it will meet your needs.

Coursera skills you will gain
Syllabus of the course
By reading the syllabus for each of the courses you can see how each week is broken down and how long it will take you to complete it.  This includes the videos, reading material and quizzes.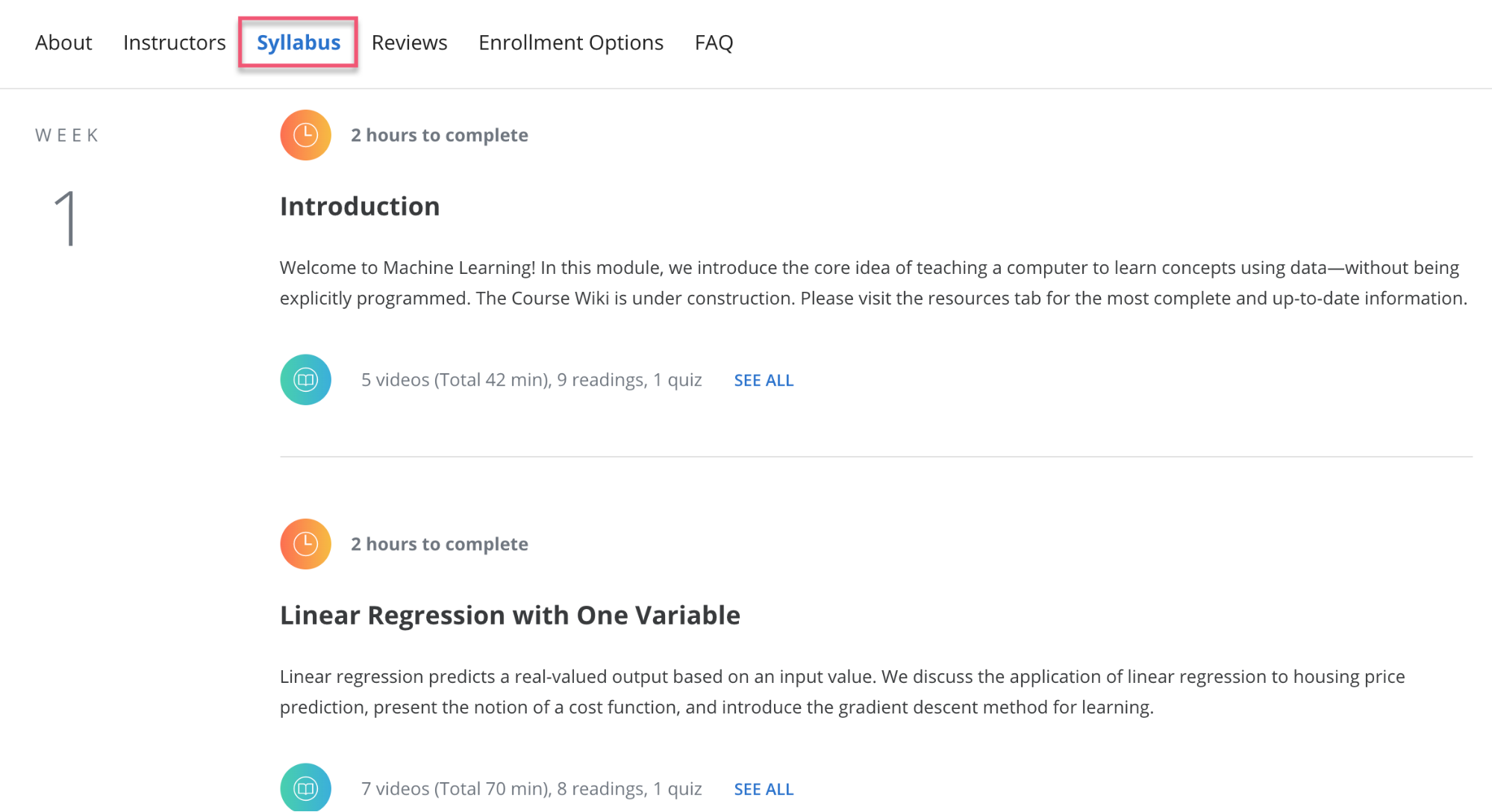 Coursera syllabus
Read reviews at Coursera
Every Coursera course has reviews and ratings from past students which can be a really helpful way to get a comprehensive feel for the course and what have others gained from it.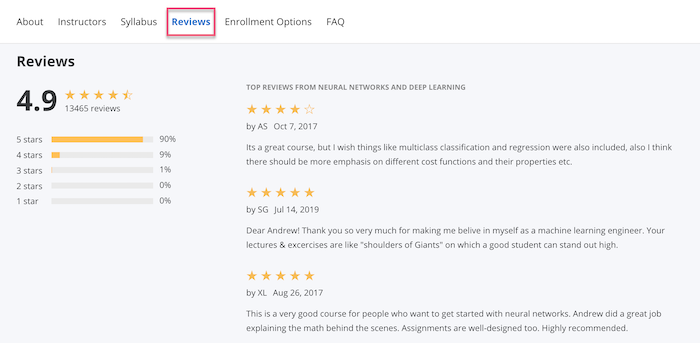 Coursera reviews
Within the reviews, you have the option to Filter by with All Learners, All Stars and Sort by. Allowing you to focus on reading the reviews that are relevant to what you are searching for and filter out anything you don't want to read.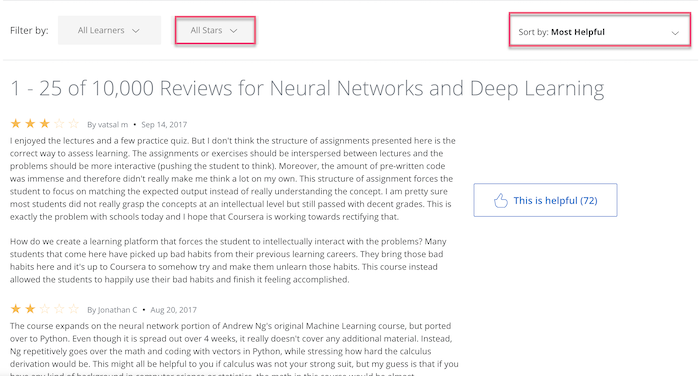 Coursera reviews filter
Check out the instructor
An instructor rating is included in the course description. You can then click to read his or her bio along with prior experience. They also include their websites and social media handles and other courses they teach (if any). This is an ideal way to find more about who will be teaching the course.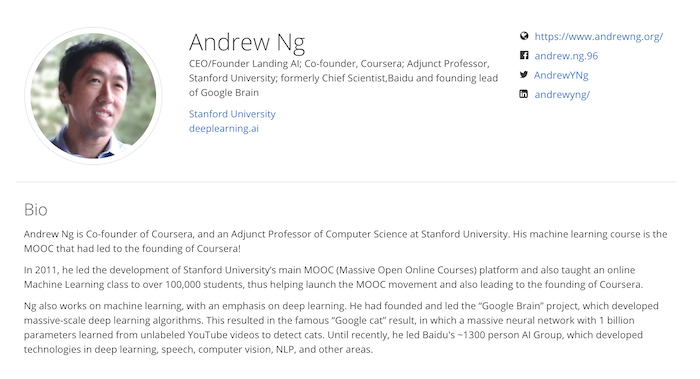 Coursera instructor bio
Try for free
Anyone enrolling for a paid course or a Specialization will get access to a 7-day full access free trial period. It really is the perfect way for you to try a course and see if it is for you before you commit to pay. If you are unhappy with the course or the instructor, simply refund it.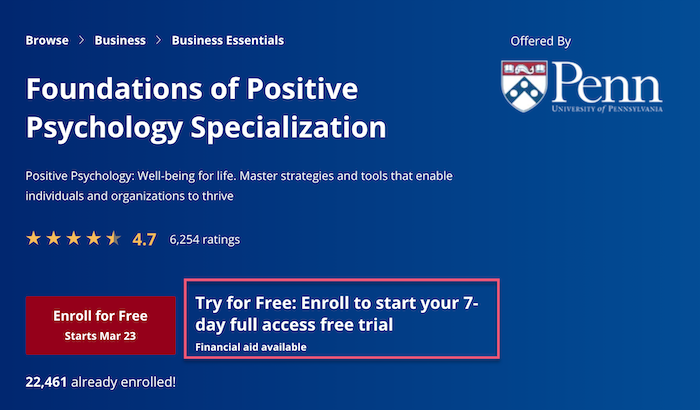 Coursera try for free
Audit the course
The Coursera interface can be a little confusing and will lead you to pay for the course, but if you are looking to take a course and click Audit the course it will mean you can take the course for free, but you will not receive a certificate at the end of it. The link to Audit the course can be found on individual course pages (see image below).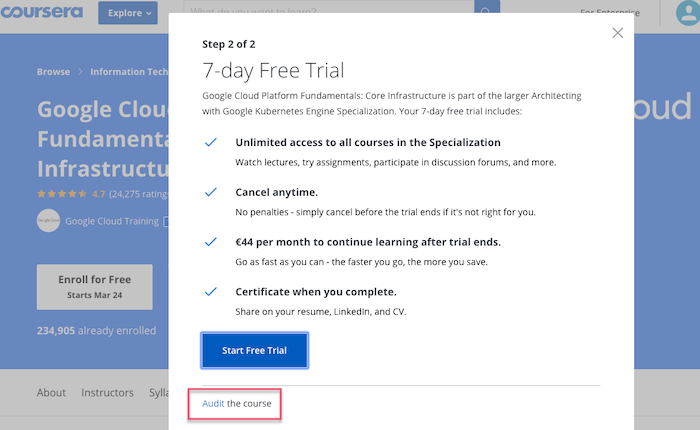 Coursera audit the course
The Audit option is not available on Specialization, Mastertrack or Professional Certificates so you need to navigate to the individual course page first.
Criteria
Comment
Ease of use

Opening an account is really straightforward, you just need to add your name, email and create a password.

The design and layout of its platform is easy to navigate around thanks to its minimalistic design. My favourite part is the professionalism of the site and the fact you feel like you are on an established educational platform.

Convenience

The majority of courses you can take at any time and learn at your own pace, there are some courses which have a start and end date.

If you have enrolled on a paid course or specialization you will be able to take the 7-day free trial and if you decide to cancel before the 8th day you won't need to pay anything.

Courses are available to watch offline on its app which can be pretty handy if you are learning on the go or have a plane trip to take.

Available platforms

Coursera courses are 100% online which you can access from a desktop, laptop or via the Coursera app with a smartphone (for Android and iOS).

The Coursera app has a 4.8 rating with Apple and a 4.3 rating with Android.

Official certifications:

Coursera provides accredited certificates that are recognised by employers. Coursera doesn't create its own learning material. However, it works alongside educational institutions, government agencies and top universities to facilitate its online courses.

So you'll be able to earn a certificate from Coursera backed up by the university that organizes the course.

Categories

At the moment, Coursera offers over 3,900 courses, specializations and degrees. Its programs are broken down into 5 types; Courses, Specializations, Professional Certificate, Mastertrack Certificate and Degree which are taught by top instructors from renowned universities.

Free courses

Technically Coursera offers 1000's of courses for free, which at first look may not seem the case. When you go for the free audit the course option, that means you will have access to the course for free but won't receive a certificate at the end of it. Be aware that some courses and specializations don't have the audit this course option.

Content quality

Since Coursera's content is produced alongside top institutions, you can be sure that the quality of its courses is the very best.

Before the courses are open to the public they use what is known as Beta testers who are experts and enthusiasts to review and give feedback ensuring the quality is of the highest standard before the courses are published.

Languages

Coursera courses have a wide range of languages available which include the following: English, German, Spanish, French, Japanese, Korean, Portuguese (Brazilian), Russian, Chinese, Chinese (Traditional).

The majority of the video lessons have an interactive transcript (also available on the mobile app) which you can follow along with during the class.

Instructors

Every course on Coursera is taught by well-recognised instructors from top universities and companies including instructors from Stanford and Duke University, and experts from Google and IBM.

Course requirements

As Coursera offers many different types of courses they all vary.

Coursera courses normally are 4-6 weeks. Each course includes several hours of video lessons every week, graded assessments, quizzes and forum participation with peers. Some of these courses have final exams.

Coursera Specializations can combine 4-5 courses into a group. Some of the shorter specializations have only 3 combined courses and can take 4-6 months to complete. Whereas the longer specializations can combine 10 courses and take a year to complete.

If you take a degree program with Coursera who are partnered with a top University it will usually take 1-3 years of study.

Course structure

Every Coursera course is created by its partnered educational institution, so a lot of planning goes into the syllabus.

Its courses are based around video lessons, graded assessments, quizzes, forum participation and, at times, final exams.

Quizzes & tests

Quizzes are normally auto-graded. Peer-reviewed papers are evaluated by a subject matter expert and feedback is given within 3 days.

Some courses also have teaching assistants for your help.

Payments & refunds

You can make payments on Coursera with the following Credit and Debit Cards (Visa, Mastercard, Discover, JCB, American Express (only for courses priced in $USD) and Paypal.

The cost of Coursera courses varies widely depending on which type of course you choose.

Depending on the subscription you have chosen, the refund policy differs. For example, the month-to-month subscription does not offer refunds. The Coursera Plus, One-time Course and Specialization Purchases offer a 14-day refund. The Degree and Mastertrack Certificate Programs vary as the refund policies are established and administered by the University.

Coursera also offers Financial Aid and Scholarships to those needing financial assistance.

Support

Coursera offers a Help Center with many topics you can find answers to. It also offers support via chat which you can send your issue.

Overall rating

Coursera offers a diverse range of courses. It is ideal for someone who has a full-time job and wants to study an online degree or someone wanting to pursue a career change and looking to learn a new skill. It is an inexpensive and convenient way to learn.
Will Coursera Help Me With My Career?
Coursera courses are ideal for someone wanting to further their higher education or career skills by studying an online degree or taking a specialization learning program. The fact that it is partnered with so many well-established universities and businesses means that the final certificate accreditation is recognized worldwide and something definitely worth adding to your Curriculum Vitae or LinkedIn profile.
If you already have a full or part job, then studying with Coursera could be an ideal option for you. Many of its learning programs have flexible hours and the cost is just a fraction of what a traditional university course would cost.
Is Coursera Legit?
Something which many of you ask when considering elearning communities is: Is this course legit?
It is completely normal to have these doubts, especially if you are considering one of the more expensive Specializations programs or Online degrees at Coursera.
Coursera was founded in 2012 by two Stanford professors Andrew Ng and Daphne Koller with their headquarters located in California. It has had well over 150 million course enrollments and has over 200 partners.
Coursera is part of the growing Massive Open Online Course (MOOC) movement and their elearning platform focuses on their partnerships with universities and corporations. It also attracts instructors from top universities and businesses who are experts in their field and who teach top-quality courses.
Anyways, Coursera is legit and it's safe to use, you won't be scammed.
Last Thoughts: Is Coursera Worth It?
Ok, so let's summarise why Coursera is worth it.
If you want to further your academic knowledge by studying a degree or Masters, or develop your career opportunities by studying on a specialization program, then Coursera is definitely the right elearning platform for you. It has such a wide range of learning programs taught by top instructors and experts from prestigious Universities and Businesses.
On the other hand, if you are wanting to learn a new skill or hobby and not wanting to gain an accredited certification then platforms like Udemy and Skillshare are probably a better fit.
You will love Coursera for its:
Accredited Certificates
Top Instructors and Experts
Networking Opportunities
High-quality courses
Variety of learning programs
Alternatives
edX offers over 2,650 online elearning courses that are partnered with established universities and companies. It offers both self-paced or instructor-paced learning programs.
Udacity comes with a smaller number of courses around 200. Its courses are focused on gaining skills for careers in the tech and business industry. Although its courses aren't accredited it is still highly recognized by Industry experts.
Linkedin Learning has over 5,500 courses in business, technology and creative skills. Even though it's not an accredited institution you will receive certificates on completion.