Coursera Review: How Popular Is This Elearning Platform?
Upskillwise.com is fully supported by its readers. If you register or buy a course using our links, we may receive a commission. This does not affect our ratings, methodology or partners.
Is Coursera as good as all the hype it gets?
Well, let's get started. It is one of the most prestigious online educational platforms out there offering courses on Data Science, Business, Health and much more. Coursera offers different learning programs from courses to specializations and degrees.
Sounds pretty good right?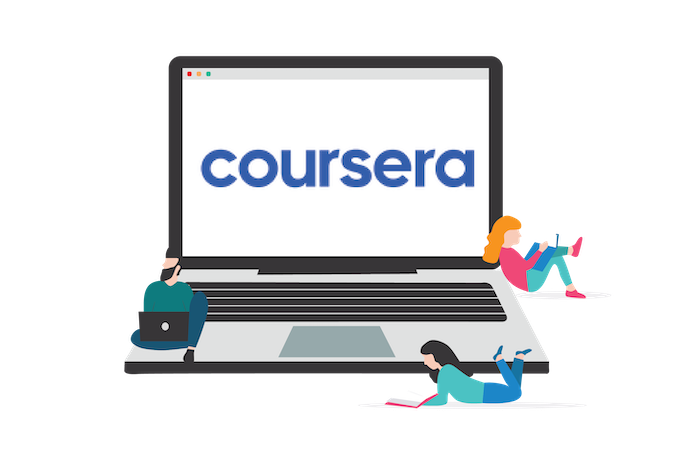 On the other hand, it doesn't mean that the learning programs that Coursera is offering are right for you. So let's delve in a little deeper and find out more in this in-depth Coursera review.
Partnered Universities & Organizations
Coursera has partnered with 300+ top Universities and Organizations like Imperial College, Stanford University, Google and IBM to create its learning programs.
Affordable Courses & Degrees
Its course prices are affordable and is degrees programs are significantly lower than on campus-based degrees.
Free Courses
Coursera offers more than 6,000+ courses for free on a wide variety of subjects for learners of all skill levels. Be mindful that you won't receive a certificate with a free course, but you do have the option to upgrade at anytime.
Learn Offline
Coursera's app allows you to download course material for when you are offline. Allowing you to learn and study on the go, perfect for a plane trip.
Quality Of Courses
Courses taught by top experts in their field from world-class Universities and Organizations. Plus its Beta Testers are a way to keep the course content to the highest standard and up to date.
Flexibility
The majority of Coursera's courses are learning at your own pace, on a schedule that suits you.
Confusing Pricing
There are many different pricing subscriptions which can make the exact price of the course seem confusing and unclear for many users.
Prior Knowledge
Some courses may require prior knowledge due to the nature of the course material. It's not always beginner-friendly.
Heavy Workload
Some of Coursera's MasterTrack and Degree programs can be quite challenging. Before committing to a program, ensure that you are prepared for the time and effort you must commit to it.
Limited Feedback
Depending on which course or learning program you choose, you may find that teachers aren't available to give you personalized feedback.
Coursera Review Verdict
Coursera is one of the leading online learning platforms on the market, providing a vast variety of courses and learning programs. It ranges from individual courses, Guided Projects, Professional Certificates, MasterTrack and Degree programs. Coursera collaborates with world-class Universities and Companies to develop its course offerings and learning programs. Coursera offers a variety of payment plans, from completely free courses, to paid programs, and even monthly or annual subscriptions. Its courses stand out for their flexibility, affordability and career focus. Coursera Plus includes a free trial to get you started, and refunds can be requested within two weeks of payment for either individual courses or Coursera Plus.
Who Is Coursera For?
You may be asking yourself, is Coursera right for me?
That really does depend on what you are looking for, but the fact Coursera offers such a wide range of affordable courses and different learning programs, that there is a high chance you may find it. Coursera partners with top Universities and Companies to create the following course types.
Courses
Coursera offers over 6,000+ courses for free with the option to upgrade if you decide you want to receive a certificate and access to additional course features. All its courses are built in partnership with world-class Universities and Companies and taught by top instructors.
Guided Projects
Learn job-relevant skills in under 2 hours. A short interactive course that is taught by subject-matter experts, with 760+ to choose from, starting at $9.99 USD.
Specializations
A series of related courses ideal for someone wanting to master a career skill. You could decide to take only the one course related to that career skill or the series of courses which would cover all aspects of that skill. It offers 2,250+ specializations that start at $49 USD per month.
Professional Certificates
Training programs which prepare you for a job or a particular industry. Some professional certificates are recognized by an organization or school. You can pick from 90+ Professional Certificates which start at $49 USD per month. All of which come with a 7-day free trial and can be completed in less than 6 months.

Coursera Professional Certificate
> Explore Professional Certificates
MasterTrack Certificate
Online modules of a Master's degree program that can be used as credit to go towards a degree. Currently, Coursera offers 25+ MasterTrack Certificates which start at $2,000 USD.
> Check out MasterTrack Certificates
Degrees
Coursera has partnered with top Universities like Princeton and Yale to provide learners with affordable Master's and Bachelor's Degrees. Its pool of 35+ Bachelor, Master's degree's and Postgraduate Programs start at $9,000 USD.


Coursera Partners
Note: Coursera collaborates with 300+ leading Universities and Companies. So, when you receive your completion certificate it is verified by the collaborating partner, which often are recognized by future employers.
Coursera offers a range of 11 different topic areas, you can pick from the following; Data Science, Business, Computer Science, Personal Development, Information Technology, Language Learning, Health, Math and Logic, Social Sciences, Physical Science & Engineering, Art and Humanities.
Each one of these topics has a variety of subtopics to explore. If you are looking to learn a skill in one of the topics mentioned, Coursera maybe the right platform for you. But if after reading this you know Coursera isn't the platform for you, check out our article on the Best Online Learning Platform.
Coursera for business
As well as individual learning, Coursera for Businesses offers an Enterprise plan for larger organizations. You will get unlimited access to the platform's courses, skill metrics, user analytics and integration to drive success. Coursera works with businesses as big as 15000+. If you are wanting to find out more, you will need to contact them directly for a quote.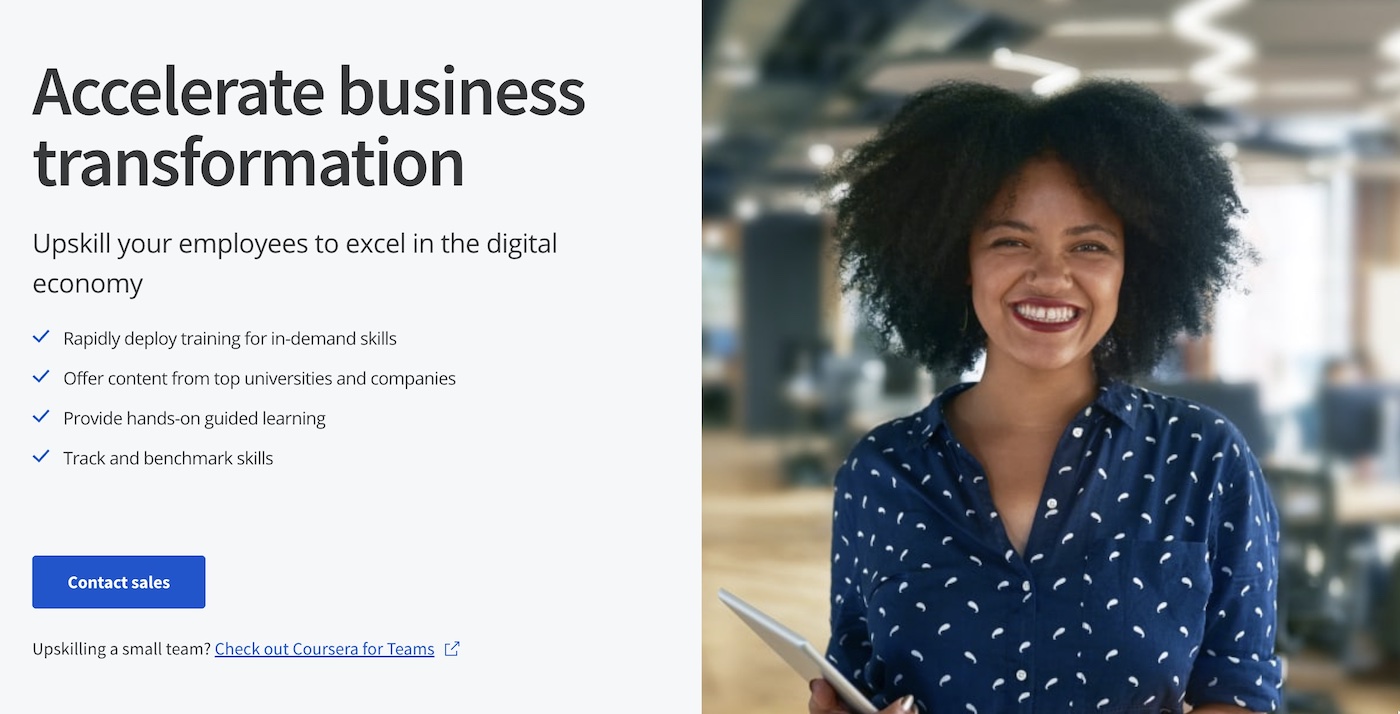 Coursera for business
> Check out Coursera for business here
Coursera for teams
Like Coursera for Business, is the option for teams, which is aimed at a smaller workforce. Its plan is designed to provide your team with access to 5,000+ courses, specializations and Guided Projects. This plan is designed to pay per user for 1 year and a 14-day refund policy is guaranteed.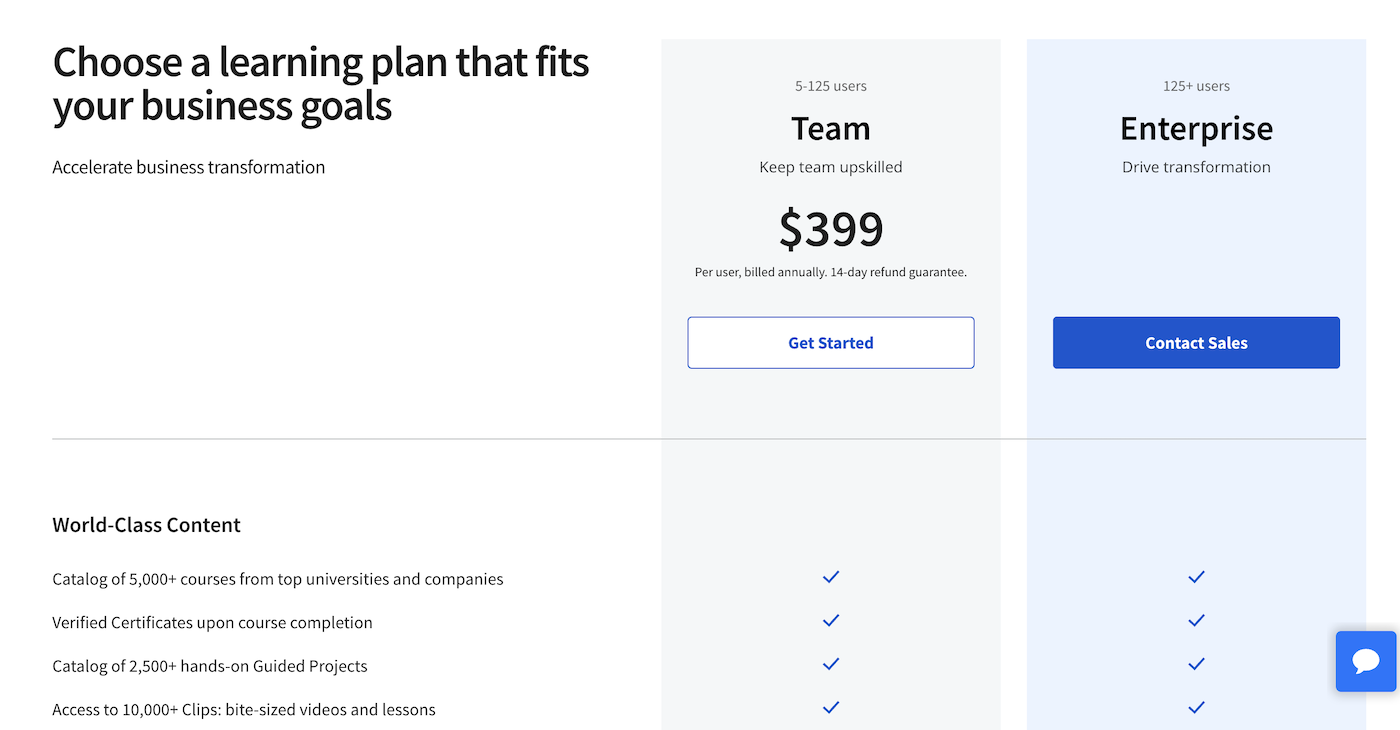 Coursera for teams
> Check out Coursera for teams here
Coursera for Campus
Coursera for Campus focus is to empower any University to offer job-relevant (credit ready) online education to students, faculty and staff. As well as that Coursera offers this plan for free to a student looking to learn job-ready skills for free. The plan gives you access to unlimited Guided Projects and 1 free course per year. To get started, you just need to enter your school email.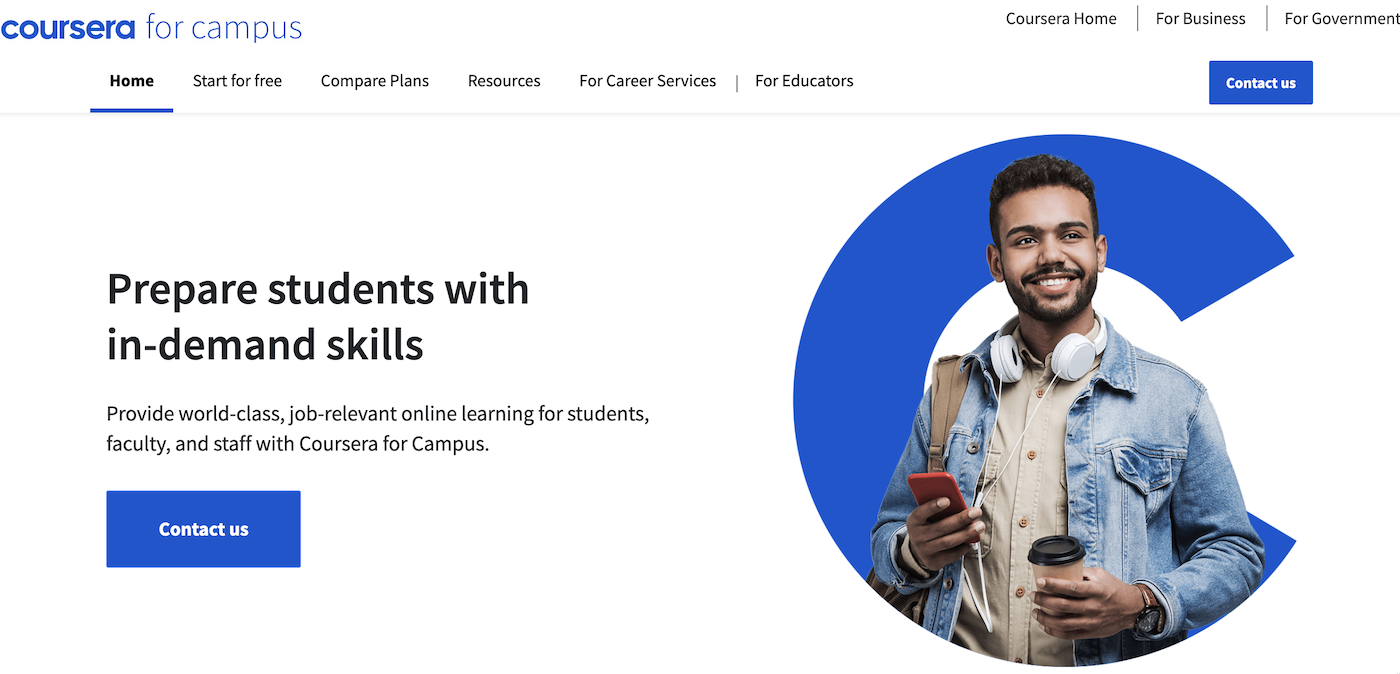 Coursera for Campus
The Coursera for Campus Student Plan is available to full-time, part-time, community college and university students from all over the world. Its courses are accredited by world-class universities and companies like Yale and Google.
> Check out Coursera for campus here
How Much Are Coursera Courses Really?
Coursera offers a pretty diverse range of pricing due to the fact it has so many different learning programs. Its Courses and Guided Projects start as low as $9.99 USD and its online degrees go up to $50,000 USD. As well as offering one-time payments, you have the option of monthly or annual subscription plans with Coursera Plus.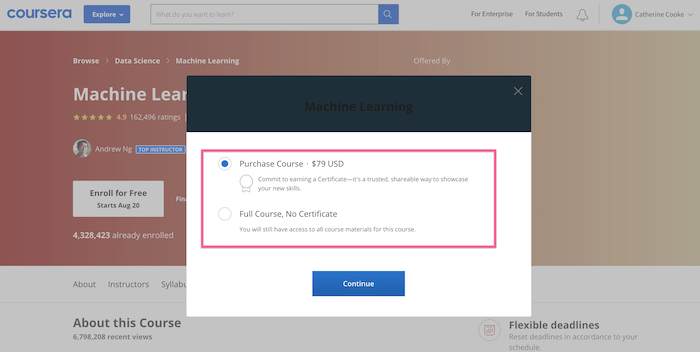 Free Courses
Coursera offers a wide variety of over 2,900+ free courses, covering topics from Arts and Humanities, Business and Computer Science (see image below). The platform's filter system lets you narrow down your choices by several criteria like; Language, Level, Duration, Subject, Skills, Partner and Learning Product, making it easier to find a course that fits your needs. If you decide you'd like to earn a certificate for successfully completing the course, there is an option to upgrade to the paid version of the course (see image above), you can upgrade at anytime. Opting for the paid version, you'll also get a few extra features like assessments, exams and feedback from the instructor.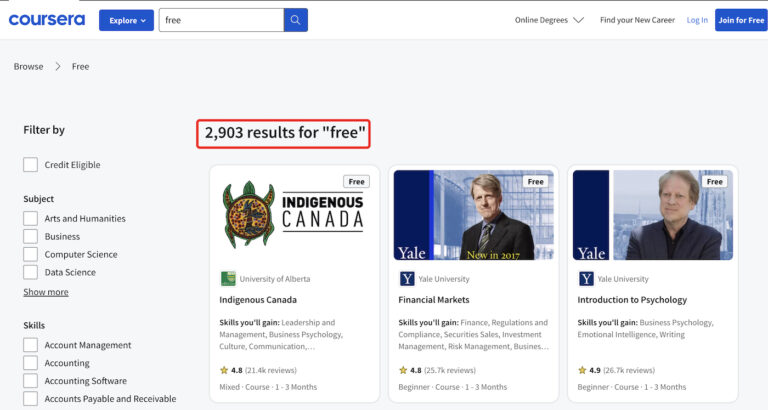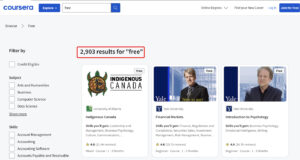 Guided Projects
Its Guided Projects start at $9.99 and are designed to quickly learn a job skill or industry tool. The purchase of the Guided Project includes all learning materials, free download of what you create, split screen video step by step and instant access to necessary packages. Coursera currently offers 760+ Guided Projects to choose from.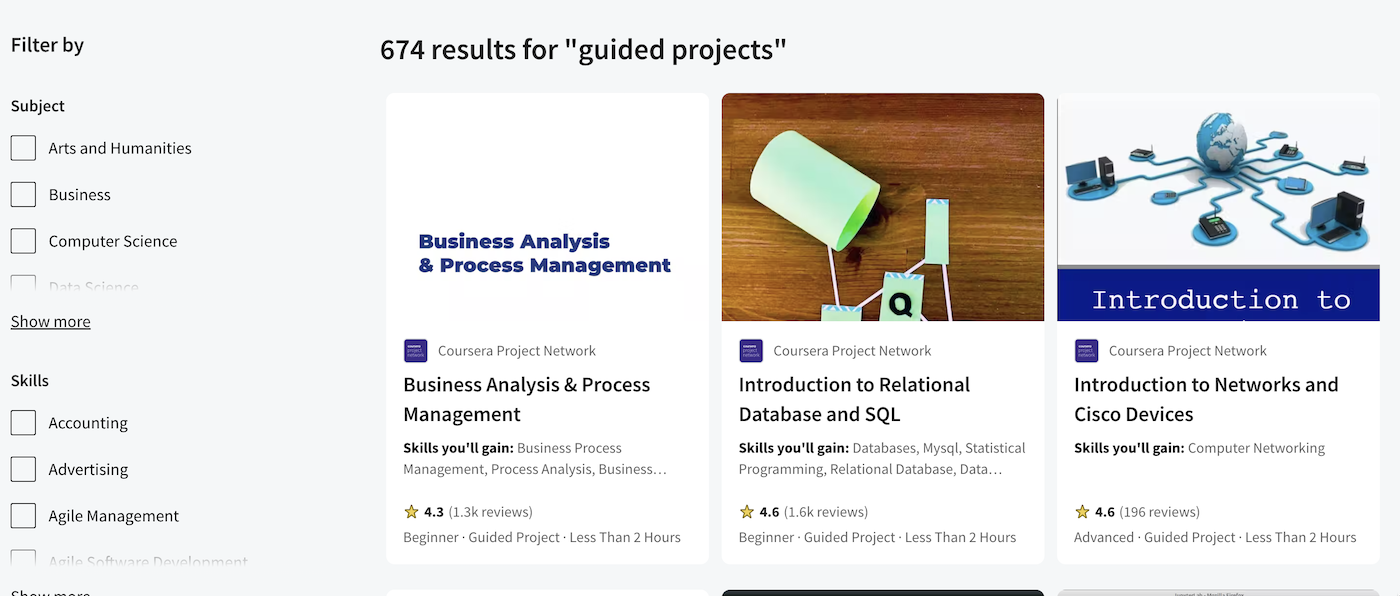 Specializations
Its Specializations focus on mastering a specific skill. Its starting price is $49 USD per month and can take between 1–3 months to complete. A day 7-day free trial is available for all Specializations and will give you full access.
Professional Certificates
Its Professional Certificates are for getting you job-ready and to earn a career credential. Its starting price is $49 USD per month and can take between 1–6 months to complete. Like Specializations, a 7-day free trial is available and Financial aid is available.
MasterTrack Certificates
The MasterTrack Certificates start at $2,000 and can take between 4–7 months. Its focus is to earn a university-issued certificate and credit towards a degree.
Degrees
Coursera's bachelor or master degrees start at $9,000 and take between 2–4 years to complete. Its degrees are from leading universities like Penn and the University of London. You will need to apply and complete an application form.
Coursera Plus
Coursera Plus is a subscription plan, giving you unlimited access to 7,000+ courses, Projects, Specializations and Professional Certificates. There is no limit to courses you can enroll in or course certificates you can earn. The only thing that it doesn't include is degrees and MasterTrack Certificate programs.

Coursera Plus
You can choose to pay for the Coursera Plus either Monthly or Annually:
Coursera Plus Monthly – $59 USD/ month (includes a 7-day free trial)
Coursera Plus Annual – $399 USD/ year (includes a 14-day money-back guarantee)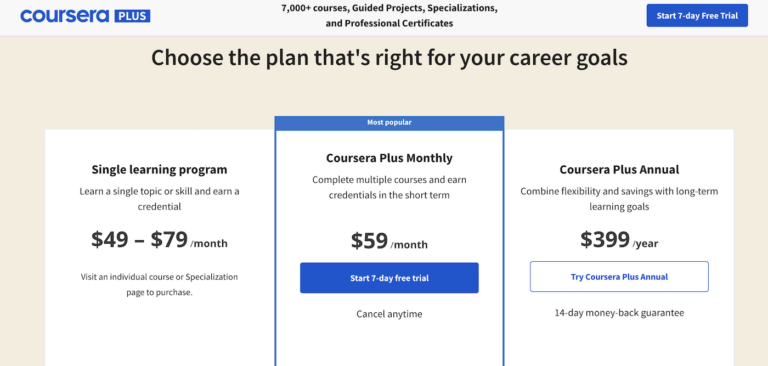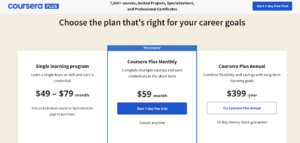 If you compare it to the cost of a single learning program ($49-$79 USD) and have the intention of taking multiple courses, then Coursera Plus will definitely save you money. Plus, the monthly and annual plan include a free trial and a money-back guarantee if you change your mind.
> Try out the Coursera Plus here. You are entitled to a full refund within 14 days of purchasing.
Coursera Business & Teams 
Coursera offers two different plans for organizations: Coursera for business and Coursera for teams. The main difference is Coursera for business is for larger organizations and has a custom pricing. Whereas Coursera for Teams is for a smaller workforce organizations and costs $399 USD a user each year with a 14-day refund guarantee.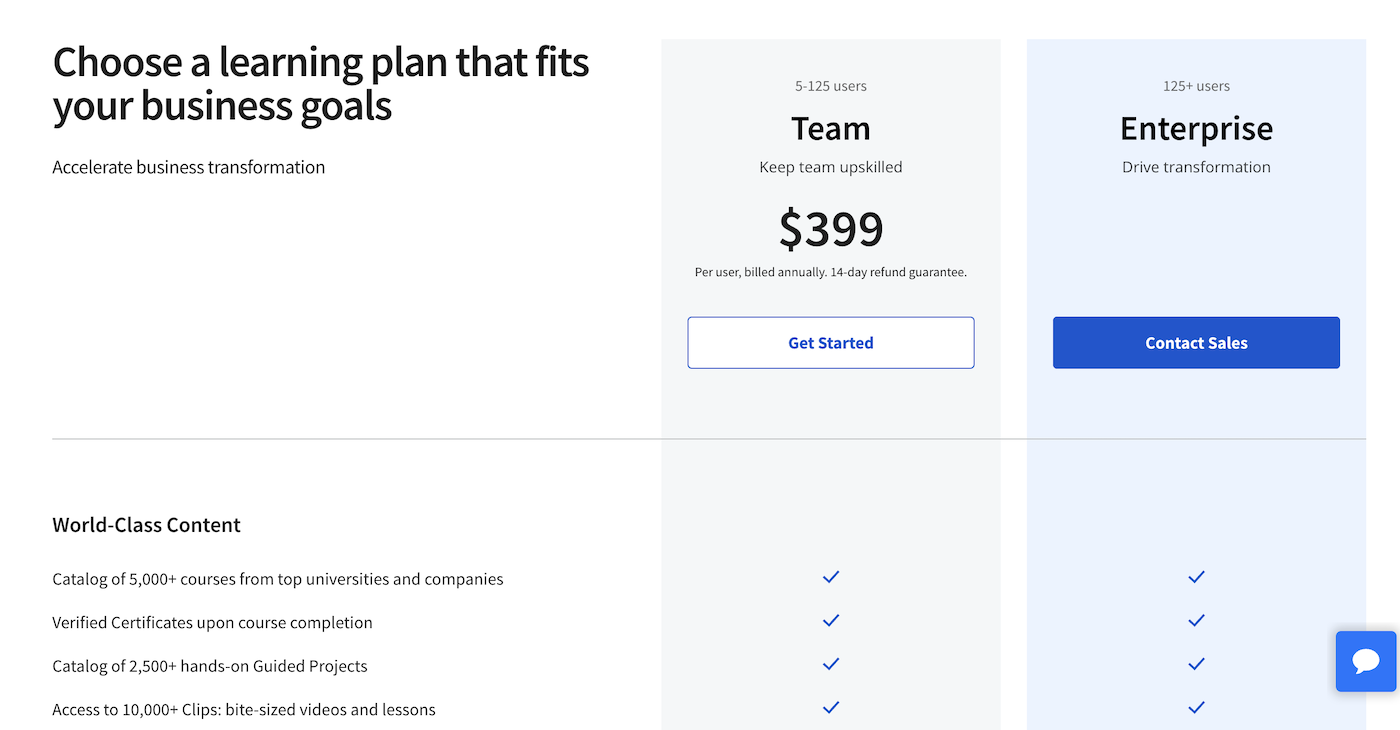 Coursera for teams
Each of these plans focus on integrating learning into the team's workflow, so you can set your own deadlines and certifications awarded on each course completion. Coursera has worked with top companies like L'Oréal, Danone and P&G.
Financial Assistance
If you can't afford to pay for a course or certificate, you can apply for Financial Aid or a Scholarship. You can find the link to apply next to the homepage of the course. You will need to fill out an application that includes information about your educational background, career goals and financial circumstances. Most courses offer Financial Aid or Scholarships.
We have a detailed pricing guide for Coursera that talks in more detail about this topic, you can check it out here.