If you are looking to learn data skills online, then you have probably heard of Datacamp and Codecademy. Whether you are wanting to learn data science, programming or how to code, these are the top platforms to consider.
You are most likely left with plenty of unanswered questions like: What are their prices? Is there a refund policy? Would a course with them help me get a job? Which platform has the best reputation?
To answer all these questions and more, I've created an in-depth Datacamp vs Codecademy comparison. Let's get into it!
Datacamp vs Codecademy: Verdict
Datacamp is best if you are looking to learn data-related skills, AI or a specific programming language like Python. It offers a couple of plans, the Basic (free plan) and the paid Premium plan for individual learners. The Basic plan is very limited and only gives you access to 6 free courses and the first chapter of every course. Whereas the Premium plan gives you full access and can be paid monthly at $39 USD a month or yearly at $300 USD (working out at $12.42 USD a month), it's significantly cheaper if you opt for the annual plan, but you will need to pay in full upfront. As well as its individual subscription plans, Datacamp offers a Team's and Enterprise plan. Its courses are designed to learn at your own pace, many are beginner-friendly whilst others are to help learners develop skills for a career path.
Similarly, Codecademy offers subscription plans which you can choose to pay for monthly or annually. It's a platform that focuses on learning programming skills, offering a huge number of programming languages. You can choose between the Basic free plan, the Plus plan that focuses on learning a skill with paths and projects costing $34.99 USD a month or the $209.88 USD annual plan (working out at $17.49 USD a month). Finally, the Pro plan is for an individual looking to develop their career with courses and interview prep costing $59.99 USD monthly or $359.88 USD annually (working out at $29.99 USD a month). Codecademy also offers a Team plan which includes a 2-week free trial.
In this article, I go into detail about the differences between these two popular platforms, so hopefully by the end of this comparison, you'll know whether Datacamp or Codecademy is right for you.
Round 1: Which One Is More Popular?
As you see below in this Google Trends screenshot, when it comes to popularity, there's one clear winner: Codecademy.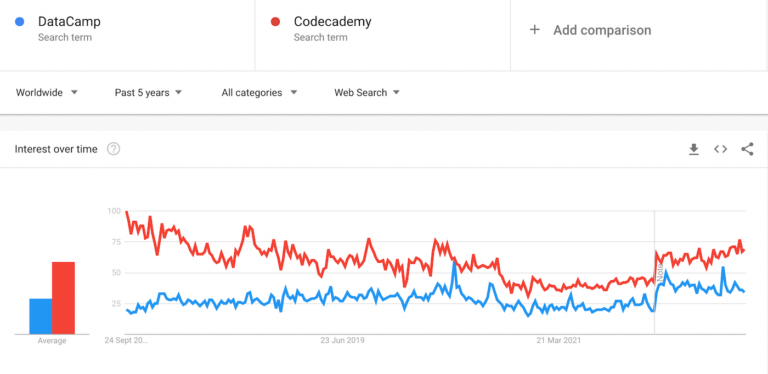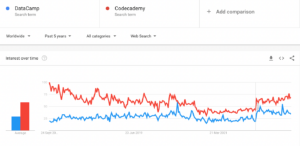 DataCamp vs Codecademy popularity on Google Trends
DataCamp is a well established online platform offering 430+ courses on topics like Data Engineering, Programming, Machine Learning and much more. As well as its courses, it focuses on helping learners land their dream data job. With more than 10 million DataCamp learners from 180+ countries, it goes without saying that it's a trusted and legit learning platform.
The Codecademy platform focuses on teaching code, as well topics like Computer Science or Web Design. It doesn't just offer courses, it has paths for career and skills designed to help prepare you for a job role. It offers a big bunch of courses for free to get you started and then if you fancy upgrading to a paid plan you can. It currently has 50 million learners from 190+ countries and an engaged community.
Google trends definitely give us an indication on which platform users are looking for. That still doesn't answer all the questions and doubts you have before committing to either Datacamp or Codecademy? I aim to uncover those doubts and questions in the following rounds.
Winner: Codecademy
We kick things off with Codecademy taking the lead at 0-1