Treehouse Review: Is This Elearning Platform Suited To You?
Looking for a reputable e-learning technology platform?
Well, Treehouse may be your answer. It describes itself as an online technology school that offers 300+ online courses and nearly 300 workshops in tech related subjects like web design, web development, mobile development and more. It currently has 50k+ users and its courses appeal to complete beginners
Doesn't sound bad does it?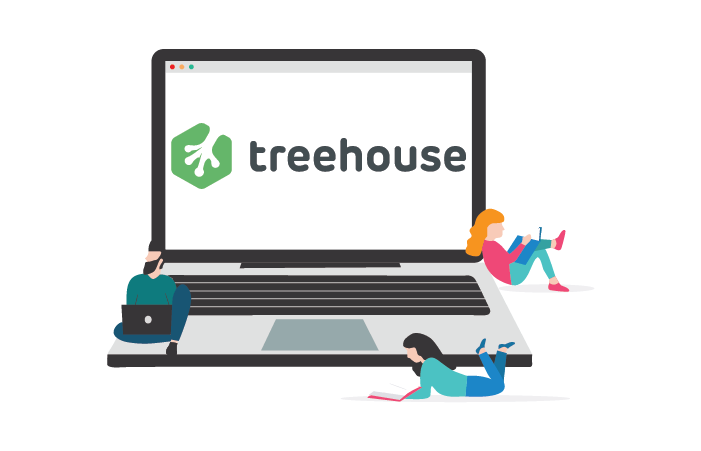 That still doesn't mean that the learning programs Treehouse is offering are what you are looking for. Well let's dive in and find out more in this in-depth Treehouse Review.
Free Trial
A 7-day free trial giving you full access to its library of courses and resources.
Real Project Experience
Treehouse courses are based around real-life projects like designing websites, web apps and mobile apps and more.
High Quality Courses
Its courses are created by the in-house expert teachers at Treehouse who create interactive and engaging courses.
Career Focused
Many of its courses are focused on giving you the skills to start a new career.
Self-Paced Learning
All of Treehouse learning programs are self paced, giving you the flexibility to learn anytime and anywhere.
Credit Card Required
When signing up for your 7-day free trial you will need to enter your credit/debit card (you won't be charged until the trial ends).
Limited Courses
Offering only 300+ courses, if you are looking for a wider range of topics and courses, then it may be worth checking out LinkedIn Learning or Udemy.
Not Accredited
Treehouse Review Verdict
Treehouse is an online technology school offering 100s of courses in programming and design. Its teachers are full time employees who are dedicated to teaching high quality interactive courses. Treehouse believes in offering affordable and self paced learning programs that leave users ready to start to enhance their careers. It works on a subscription model and has a 7-day free trial that gives you full access to the platform.
Who Is Treehouse For?
The Treehouse learning process is designed for learners looking to gain tech skills for a career in coding and design. Its courses have been designed around a proven system to get you the skills and knowledge to accomplish your goals. Its courses are taught in a really interactive way through on-demand videos, quizzes, challenges and coding workshops.
Sounds pretty appealing right?
Getting started isn't always the easiest, well Treehouse has made that first step a little easier.  When you first land on the Treehouse homepage, if you scroll down, you will be able to Take a Quiz (see image below). It will be led through a few questions for you to answer. The results of this quiz will help point you in the right direction on what courses you want to learn on.

Treehouse Take Quiz
If you do already have an idea of the course that you want to learn with, you can begin exploring the library of courses. You have 23 topics to choose from ranging from Android, Computer Science to Java and much more.
Treehouse Topics
Treehouse's Learning Programs
Its learning plans are broken into 3 areas for individual learners. Starting with the Courses subscription that is ideal for anyone looking to give coding or design a try, then there is Courses Plus that is perfect for anyone looking to level up their learning. Ans finally is the Techdegee which is for someone wanting to launch their career.
Courses:  Access to the Treehouse catalog library of courses, Interactive quizzes and code challenges and access to learning tracks.
Courses Plus: Everything from Courses, Access to additional content and option to download videos for offline viewing.
Techdegree: Curated curriculum and projects, Projects reviews, access to an exclusive slack community and everything from Courses Plus.
Note: All Treehouse plans include a 7-day free trial that are self-paced, and the option to cancel at any time.
It's important to add here that Treehouse doesn't provide accredited certificates, if this is what you are looking for it may be worth checking out edX or Coursera.
Treehouse Teams
As well as courses for individuals Treehouse also offers curated courses for teams of two or more. The team at Treehouse work alongside you and your team to create a custom program that fits your needs. It doesn't have any specific pricing but this is something you can discuss with the team at Treehouse if you are interested.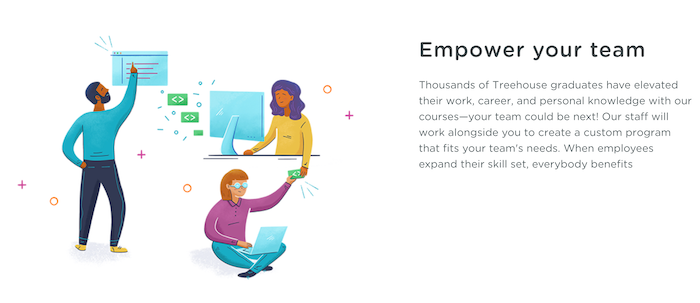 Treehouse Teams
How Much Are Treehouse Courses Really?
Treehouse works on subscription based plans that are all self paced. The Courses plan is the most popular plan and gives you access to the full library of video courses and resources along with being a part of the Treehouse community forum. The Courses Plus plan also gives you full access to video courses and resources, plus bonus content, additional workshops and the ability to download course videos for offline viewing.
Courses: You will pay $25/month 
Courses Plus: You will pay $49/month
Techdegree: You will pay $199/month
The Techdegree are bootcamp-tier programs made up of video courses, quizzes, coding exercises, workshops, hands on projects and more. At the end of the program you will take a final exam to make sure you are prepared to launch a potential new career.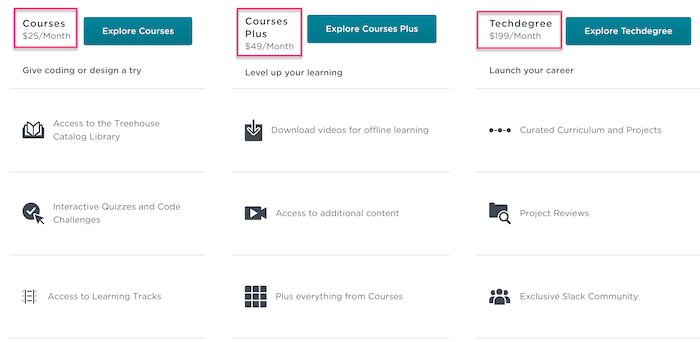 Treehouse Plans
All of Treehouse plans have a 7-day free trial for you to try out before you financially commit. The free trial gives you full access to the platform, which I have to add here is not always the case with a free trial period.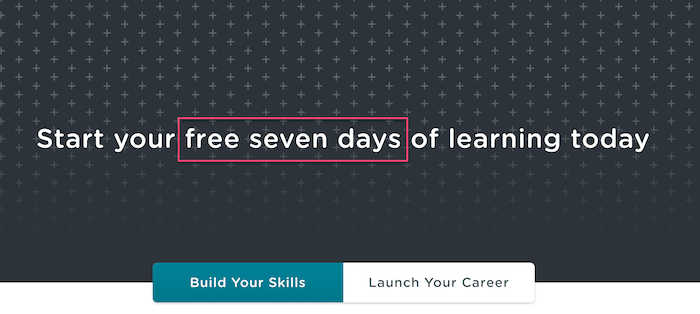 Treehouse free seven days
Note: If you do not want to continue with a paid Treehouse subscription plan you must make sure that you cancel your membership before the end of your free trial.
How To Open A Treehouse Account?
The registration process for Treehouse is pretty intuitive. There are a couple of ways to sign up. I thought it would be helpful to take you through the registration process.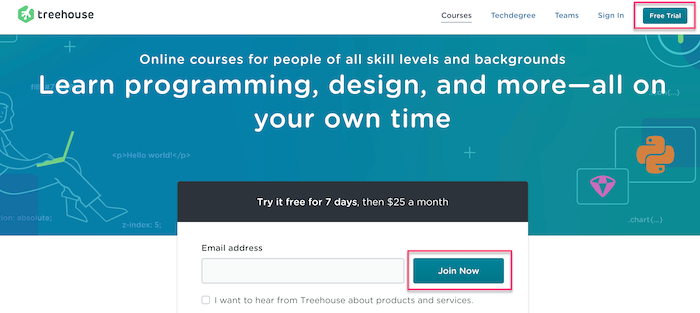 Treehouse Join Now
Open a browser and visit www.teamtreehouse.com
Click either Free Trial (right corner) or add your email and click Join Now
Then you will be taken to select which Treehouse plan you want to choose from
You will need to complete Your information (see image below)
You will then need to complete your payment details (see image below)
Finally click Join Treehouse

Treehouse Your information
Once you are all signed up. You will begin your free trial and be able to access the platform and its courses and start learning on your chosen course, track or techdegree.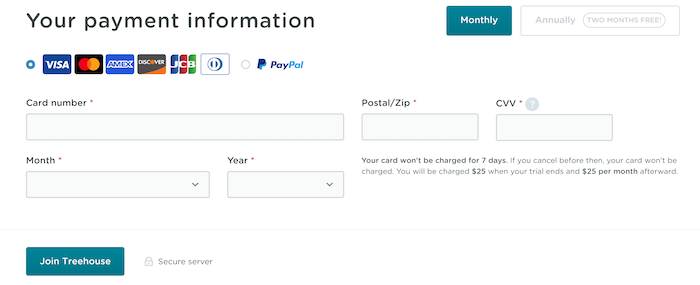 Treehouse payment information
Examples Of The Most Popular Treehouse Courses and Tracks
It can sometimes be hard to know where to start when looking for a course. Along with individual courses the teachers at Treehouse have put together Tracks, a series of curated courses designed to help guide you in learning the right concepts and skills in the right order for a potential new career.
So I thought it would be helpful to highlight which courses and tracks are the most popular amongst Treehouse users.
Treehouse popular courses
Front End Web development – This is a track which consists of 56 hours and ideal for a beginner. You will learn to build beautiful, interactive websites with 3 common coding languages (HTML, CSS and Javascript). The track consists of 28 video courses taught by a variety of expert led instructors.
Introduction to HTML and CSS – A course that is 134 minutes where you will learn to create web pages with HTML and CSS, the basic building blocks of web development. This course is for beginners and taught by Treasure Porth, a web developer, Javascript enthusiast and education professional.
Beginning Python – A track which consists of 16 hours where you will learn Python a popular programming language. You will learn the building blocks of Python and more so you are ready to use it in real world scenarios like web applications and data science. The track consists of 10 video courses taught by a variety of expert led instructors.
CSS Layout Basics – A course that is 170 minutes where you will learn to work with common layout and positioning methods used in web design. This course is for beginners and taught by Guil Hernandez, a full stack Javascript and Front End Web development instructor.
Full Stack Javascript – This is a track which consists of 45 hours where you will learn Javascript a programming language which powers the interactivity and user experience on every major website. You will learn the basics and functions and much more. The track consists of 27 courses and workshops taught by expert led instructors.
7 Tips To Find The Perfect Treehouse Course
If you are not sure on the best way to pick the right course for you. I put together 7 tips to help you to choose the perfect course.
Take Quiz
If you are a complete beginner to coding and design, then taking the Quiz can be a really effective way to point you in the right direction.

Treehouse Take Quiz
Once you have answered a couple of simple questions you will be given the results based on your answers which will highlight the right course or track for you to learn the skills for a new career.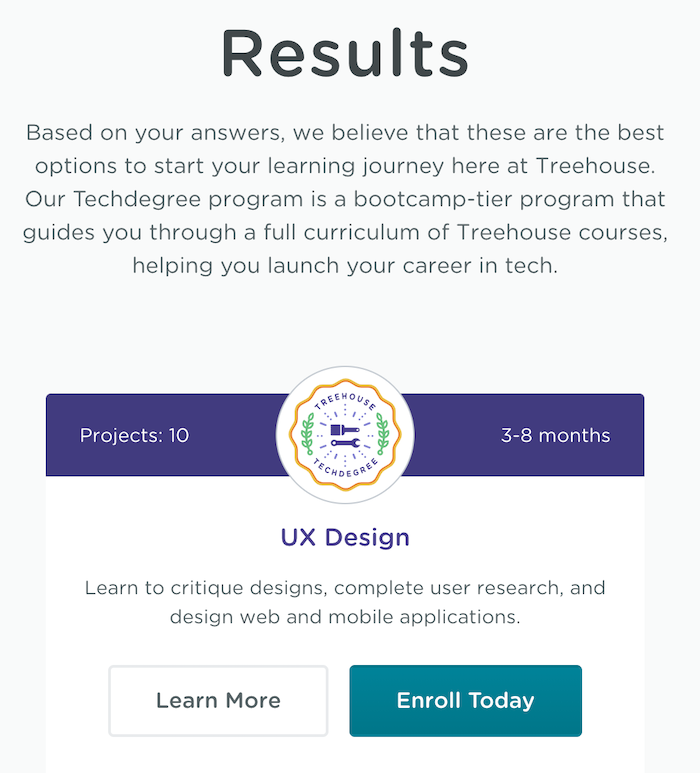 Treehouse Quiz Results
Choose filter and Topic

Treehouse filter
A quick and useful feature is the Filter (see image above) which you will find on the right side of the search bar. You will have the option to search either Newest, Oldest, Alphabetical and Difficulty.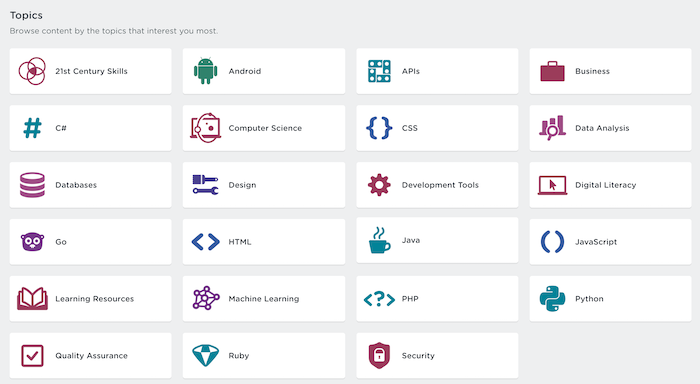 Treehouse Topics
As well as the filter you can search directly with the specific topic you are interested in, you can choose the specific topic e.g. Android and it will show all the courses related to that topic. This can be a really effective way to see all the courses under the topic area.
Watch Trailer
Every course that Treehouse has in its library has a trailer for you to watch. This is an ideal way for you to get a taste of the course and what it has to offer. The trailer gives a description and what to expect.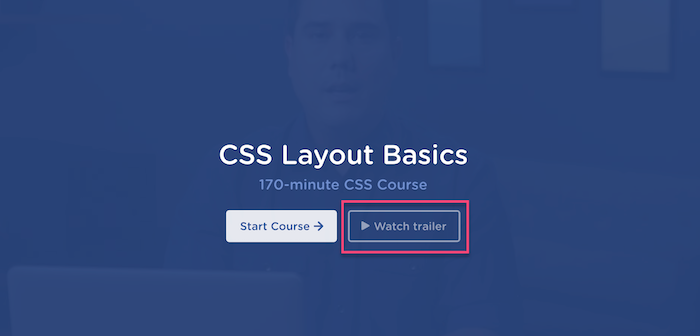 Treehouse Watch Trailer
You will also get an insight into the instructor teaching the course, which really is an important factor to consider before choosing your course.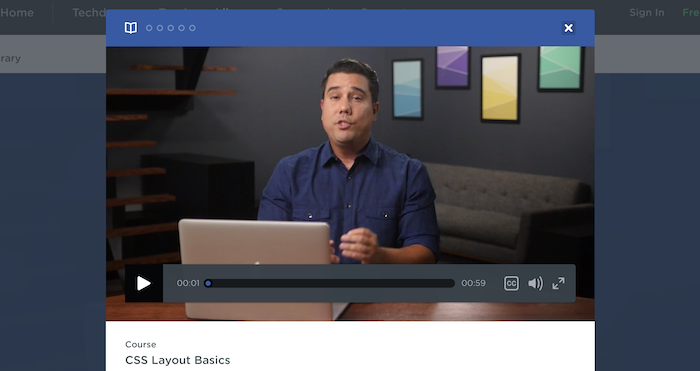 Treehouse Instructor Trailer
About this Course
When you select a course you are able to read About this Course you will read a small description about what you will learn on the course and what skills you will gain if you are considering a potential career.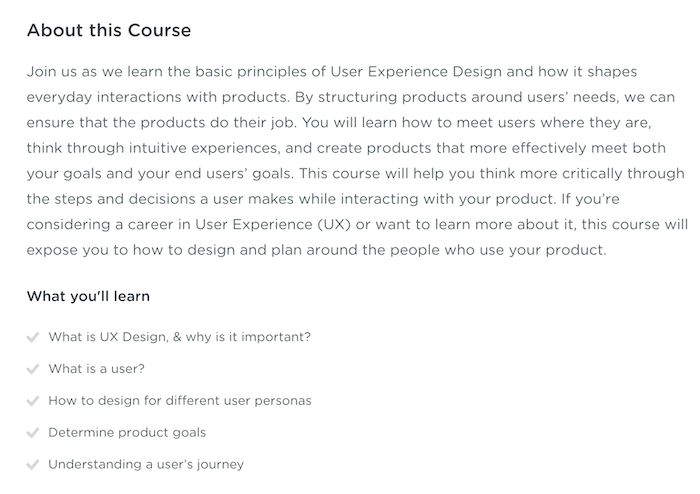 Treehouse About this Course
A short bullet point list about What you'll learn is a nice digestible way of seeing what you will learn during the course.
Treehouse Tracks
Another great way to help you decide on where to start looking for the courses is to check out Treehouse Tracks. The tracks are a combination of curated courses to teach you the skills you need for a particular job role or to learn a new coding language to add to your resume.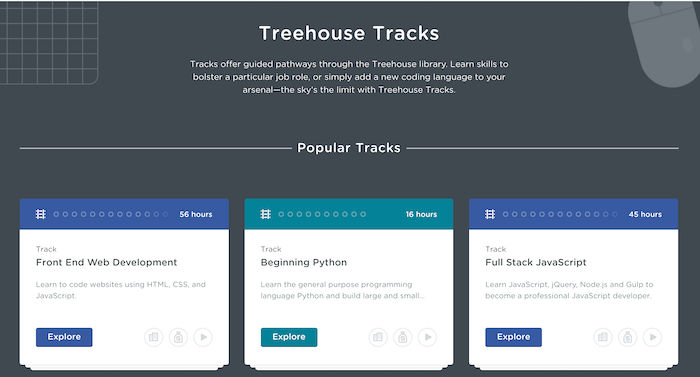 Treehouse Tracks
The most popular tracks and recently added tracks have been highlighted, which are really helpful for new users. The track option is definitely right for someone willing to commit time and energy into a potential new career.
Treehouse Community
You can find the Community tab in the header once you are signed in and will be able to read other users questions and answers or even leave any questions about doubts you may have.

Treehouse Community
You can search for particular questions you may have or select the filter on the right hand side for (Newest, Active, Unanswered and Featured) or select from the Topics (see image below).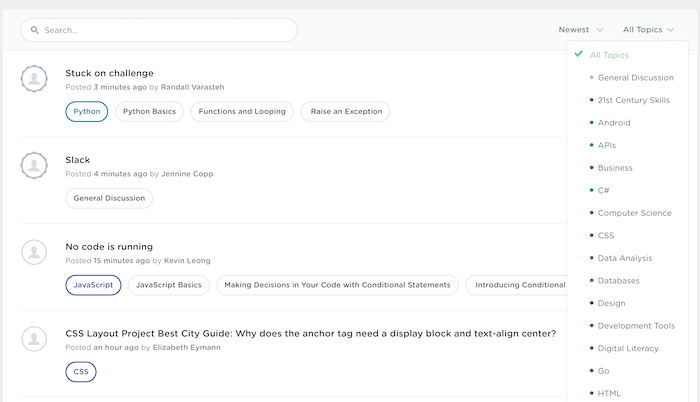 Treehouse Community forum
Free Trial
Treehouse offers a 7-day free trial for everyone when you first sign up giving you full access to the platform. It really is the best way for you to try out the Treehouse and see if its courses, tracks or tech degrees are right for you.

Treehouse Free Trial
Remember you will have to enter your debit/credit card details when you first sign up and won't be charged. You will be able to cancel before the end of the free trial if you decide not to continue with the paid subscription.
Criteria
Comment
Ease of use

Opening an account with Treehouse is pretty intuitive. You can either register with clicking on the Free Trial or adding your email and clicking Join Now.

Either way you will be led to decide on the subscription plan and then complete Your information (Name, Surname, Email and Password) and then you will need to complete Your payment information and finally click Join Treehouse.

The design and the layout of the site is inviting and friendly with the information nicely laid out. It may take you a few minutes to find the information you are looking for, but once you do you can explore the course library or the different plans they offer.

Convenience

All of the Treehouse subscription plans allow you to learn at your own pace, which gives you the flexibility to learn when it suits you.

All of the plans offer a 7-day free trial making it the most ideal way for you to try out its courses and decide if you want to continue with a paid subscription.

The Courses Plus plan gives you the option to download the video courses making it convenient if you are on the go or travelling.

Available platforms

Treehouse courses are 100% online which you can access from a desktop or laptop

Sadly, Treehouse currently doesn't have an app available.

Official certifications:

Treehouse doesn't offer certificates for the Courses or the Courses Plus.

However with the techdegree you will receive a certificate of completion which is proof you have successfully completed the program.

Categories

Currently Treehouse offers 300+ courses, 278 workshops on 23 topics. Its learning programs are broken down into courses, tracks, tech degrees and curated programs for teams.

Free courses

Treehouse doesn't advertise itself as offering free courses but it does have a 7-day free trial when you first sign up.

This gives you time to explore the platform and try out its courses and you will be given full access to the platform during the free trial.

Content quality

Treehouse content is made in house in its video studio located in Orlando, Florida.

All its content is created by the team at Treehouse who work alongside its full-time instructors to create high quality course material.

Languages

Currently all the courses at Treehouse are only in English.

Instructors

The teachers at Treehouse are dedicated full-time staff who are experts in the world of technology. They have the responsibility of writing and recording videos, creating quizzes and code challenges, creating downloadable assets and more.

Course requirements

As Treehouse offers a few different types of learning programs, it all varys. Each course is self-paced meaning some learners are slower or faster than others, so how long it takes you to complete the course is individual.

Courses can be 2 hours long or more, but if you like to go back and rewatch and revisit the course it will of course take longer.

Track courses vary in hours with some being 22 hours and others being 88 hours. An estimate would be around 1-4 months.

Techdegree program involves completing courses and building projects and the average time is around 7 months (keep in mind this depends on how much time you dedicate to the program).

Remember many learners go back and repeat videos and take notes. It is more important you understand and digest the content than complete it in the quickest time possible.

Course structure

Every course is created by the team at Treehouse. Its courses are based around video lessons, quizzes and challenges, downloadable resources and real-life project based learning.

Quizzes & tests

The Techdegree has a final exam to complete before you receive your completion certificate. Other learning programs have quizzes to test your knowledge as you go.

Payments & refunds

You can make payments on Treehouse with the following Credit and Debit Cards (Visa, Mastercard, American Express) and Paypal. All payments are in US Dollars only.

Treehouse does not offer refunds to any payments already made.

Support

Treehouse offers a Support page, they recommend checking out the Community and Knowledge Base for any FAQ's.

If you can't find what you are looking for there you can check out the Contact Support where you can send them a message. As well as that is an email support help@teamtreehouse.com

Overall rating

Treehouse is ideal for anyone wanting to learn skills in programming and design. All of its learning programs are self paced which is ideal for someone with a busy schedule. Its techdegree programs focus on beginners or someone wanting to start a new career.
Will Treehouse Help Me With My Career?
Treehouse courses are ideal for someone who is wanting to start or develop their career in programming, design or other tech related topics (23 tech topics in total). The fact that Treehouse courses are project based and relate to something a client or employee will ask you to do, is a really great stepping stone for starting a new career.
The Techdegree are rigorous project based programs that provide the skills you need to start a new career. At the end of the program you will take a final exam to ensure you are ready to start your new career and you will earn a certificate as proof of this.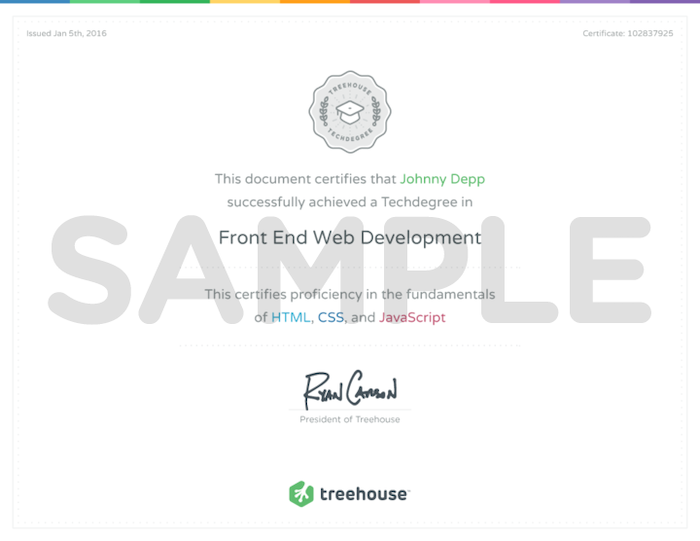 Treehouse sample certificate of techdegree
You will receive a certificate for successfully completing the techdegree which is in a PDF format and is printable. All the learning programs at Treehouse are self paced which means they are flexible and would be ideal if you already have a job or a busy schedule and are looking to change careers or develop existing skills.
Treehouse prides itself on its courses and making you job ready. It has had hundreds of graduates from the Techdegree program who have gone on to have careers in companies like mailchimp, Adobe, airbnb, Nike and more.
Is Treehouse Legit?
Something which many of you ask when considering online learning. Is this platform legit?
You aren't alone in having these doubts especially if you consider a Techdegree which is not only a commitment financially but time as well.
Treehouse was founded by Ryan and Gillian Carson in 2011 and they opened their first office in Orlando, Florida and then in 2012 opened its second office in Portland, Oregon where they moved the Treehouse HQ. It has had over 50k users and 43 full time employees.
So to put your mind at rest, Treehouse is legit and it's safe to use, you won't be scammed.
Last Thoughts: Is Treehouse Worth It?
Ok, so let's conclude why Treehouse is worth it.
If you are a complete beginner or wanting to develop your skills in programming and design, then Treehouse is definitely a great option for you. It offers a range of learning programs from Courses, Tracks to Techdegrees, plus the option to curate a program for you and your team. The fact that you have a 7-day free trial with full access to the platform really is the best way for you to know if it is the one.
However, if you are looking for an accredited certification, then it is worth checking out platforms like Coursera or edX as they may be a better fit.
You will love Treehouse for its:
Focused tech learning
Self-paced courses
Hands on support and community
Curated programs for teams
7-day free trial
Please, leave a comment below if you have any questions and I'll do my best to help you out.
Review Updates:
01/07/21 Who is Treehouse For?
Alternatives
Datacamp: offers close to 350 courses and specializes in topics like data science and analytics. Its courses and track programs focus on gaining new skills for a career path.
Udacity: comes with a smaller number of courses around 200. Its courses are focused on gaining skills for careers in the tech and business industry. It offers several free courses for you to try out.
Linkedin Learning: has over 16,000 courses in business, technology and creative skills. All its courses are self-paced so you can learn at a time that suits you.