Skillshare Review: Is It The Right Platform For You?
Skillshare was founded in New York in 2010 by two veterans of the digital world Michael Karnjanaprakorn and Malcolm Ong. It offers more than 35,000+ courses (or as they say classes) and 5 million users, it is one of the most popular elearning platforms out there and focuses on classes for creative professionals and entrepreneurs.
If you don't have time to read our detailed review, then please check out of video below to give you a summary of what Skillshare is all about.
If you are ready to read this comprehensive and honest Skillshare review, let's get stuck in.
Affordable
Skillshare pricing is affordable, especially if you commit for a yearly deal as you'll get more than a 50% discount.
Free Trial
Skillshare offers a free trial on its Premium membership, so you can enjoy the full learning experience before financially committing.
Engaged Community
Skillshare has a highly engaged community, this can make its classes interactive and fun.
Big pool of classes
Skillshare offers thousands of classes, on topics that include illustration, design, photography, video, freelancing and much more. I think it will be hard for you to get bored with the selection.
No Certificates
There isn't any type of official (or non official) certification awarded when you finish a course. It's a platform for personal growth.
Quality Control
Since anyone can create their own course at Skillshare the available courses' quality can vary from course to course.
Only Available In English
Although Skillshare welcomes courses in any language, in reality, there isn't much on offer in languages other than English.
Skillshare Review Verdict
Skillshare is an online learning platform with thousands of classes for creative people and entrepreneurs. Its topics include illustration, design, photography, video, freelancing and more. It offers a free trial on its premium plan for individual users that is either billed annually at $180 or monthly at $32. Skillshare also has plans for teams and Businesses that start at $159, per user a year. It's 3 team plans, offer different packages to fulfill the needs of each team or business. Skillshare offers both Scholarships and Financial aid for eligible learners, and a refund is available on annual memberships within 7 days.
Skillshare Community
Skillshare is an online learning community that believes in the importance of its members being able to come together to find inspiration, connect with one another and take the next steps into their creative journey.
Groups
Collaboration is a key part of the Skillshare platform. It has tamed up with some Skillshare teachers to bring you Groups. The Groups are broken up into 4 categories Creative, Technology, Business and Lifestyle.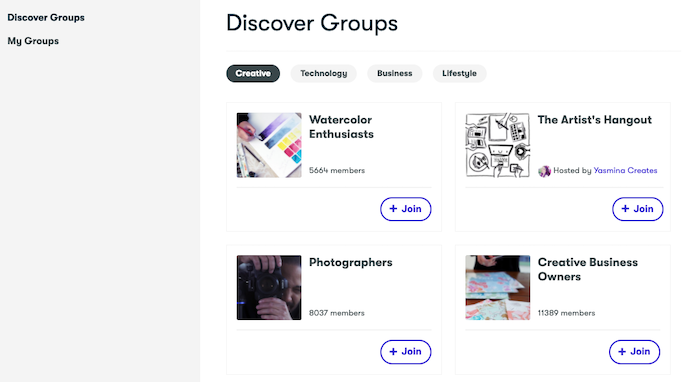 The Groups are an opportunity for you to connect with other creators, share your work, and take your skills to the next level. By joining a Group, you'll be able to connect with other Skillshare members in your industry, by asking questions, sharing your work, giving and receiving feedback or simply discuss your interests. If you have a free account you can join groups, but members with a Premium paid account can post in them.
Student Projects
Skillshare members can post the work they have been creating which can then be commented on and liked by other Skillshare members. It's an ideal way to connect with others and share your work in an inspiring and creative community.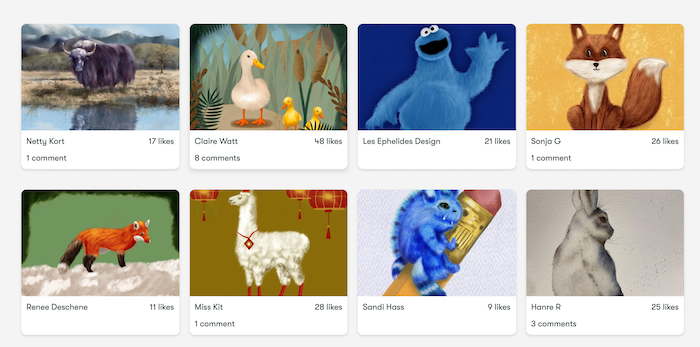 If you are someone who is looking for an online learning platform with a focus on community and connecting with members then Skillshare is the platform for you.
> Try Skillshare for free
How To Open A Skillshare Account?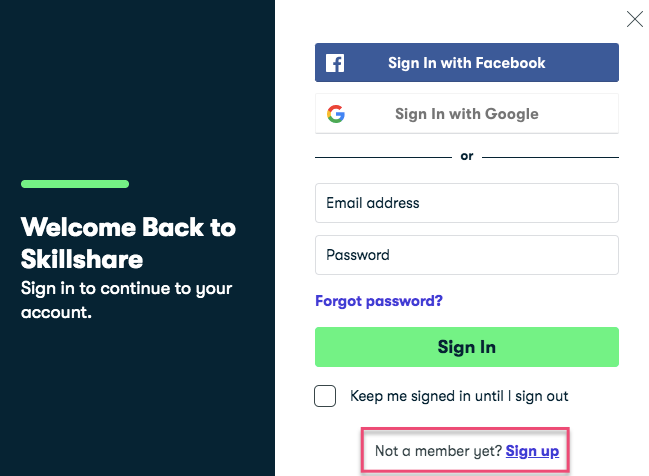 Open an account with Skillshare
Opening a Skillshare account is very easy to open, you only need to follow these steps:
Visit Skillshare.com and click on 'Sign in' (top right corner)
Click on 'Sign up' and decide what registration system you'd like to use: your own email, Facebook or your Google account
Check your Skillshare confirmation email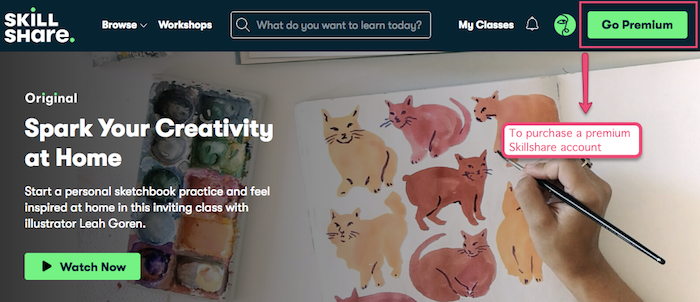 Go Premium Skillshare button
If you'd like to get a premium Skillshare account, you only need to click on the 'Go Premium' button (see image above) and decide what subscription model you'd like to purchase (annual or monthly).
7 tips To Find The Perfect Skillshare Class
Like most of the other elearning platforms, Skillshare has a review system that you can check to find out what previous students think about a certain course. But these aren't the only ways you can find the right course for you, let me highlight some tips on how you can find the right class for you.
Filter out the classes
If you buy on sites like Amazon or eBay you are probably used to the filters to narrow your searches down. Skillshare's interface comes with filters you can use to find the right course for you.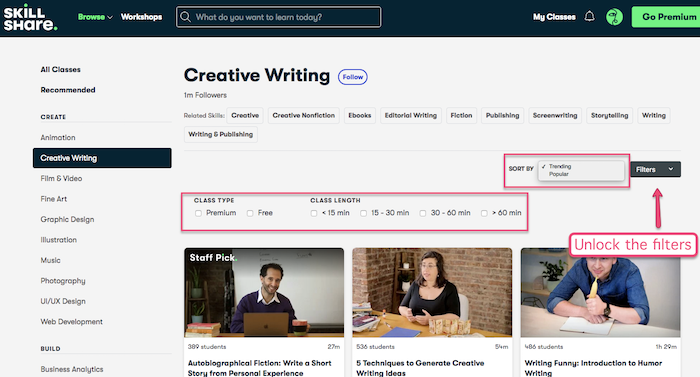 Skillshare filter view
Once you've selected a category (topic) you can then filter the classes out by free vs premium and select the desired course duration (in minutes). There is also the possibility to order the classes by popularity or trend.
Sadly, its filters don't have as many options as the ones you can find in other elearning platforms such as Coursera or Udemy, but they can be useful too.
About this class
In the course landing page, you can find the 'About this class', a section that will detail who the course is aimed at, what you will learn, the level of the class (from beginner to advanced) and the skills that you'll be able to acquire after completion.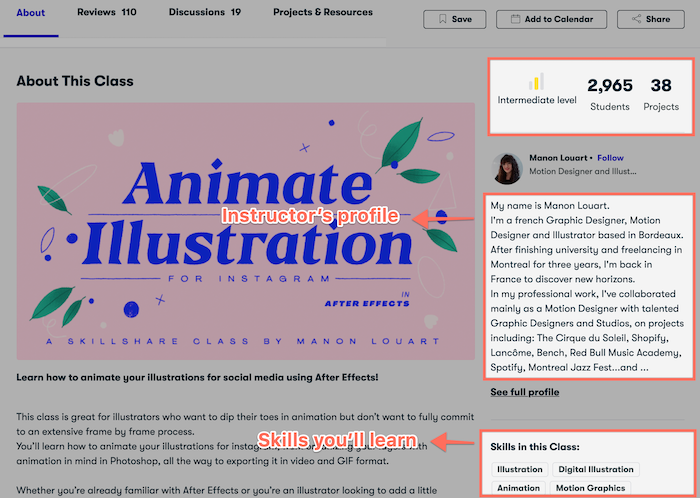 Skillshare about this class
There is also a short blurb about the instructor, normally it details their experience, passion and why they teach this subject.
A good place to start is checking that the skills taught in the course are what you are looking to learn and that the level of the course matches your experience.
Available projects
Since Skillshare classes are project-based, you can have a sneak peek of the projects that the instructor will use to support her or his teaching throughout the lessons.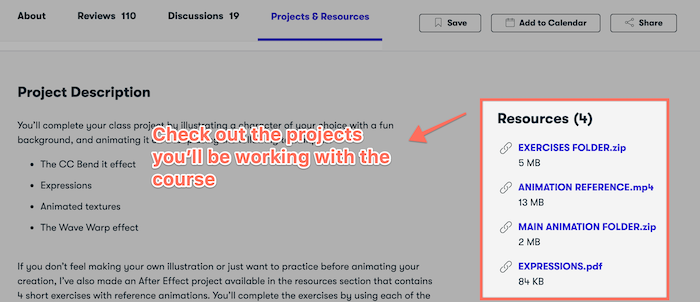 Skillshare sneak peek of the course projects
As you can see in the image above, the course resources can be accessed even before starting the course. I'd recommend doing so as they will give you a pretty clear idea of what you'll be practising and learning.
Read reviews at Skillshare
Another great tip to find the course of your dreams is to be checking what past students have to say about it.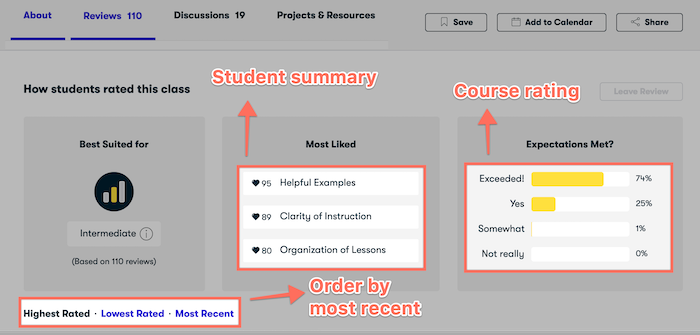 Skillshare reviews and rating
Its review system offers a breakdown of what students thought of the course, you can then click on one of the grades and read the reviews for it (e.g. only 'Exceeded!' rating reviews).
You can also go ahead and read some of the reviews from other users, but be aware that Skillshare sorts them by default from best to worse. you can always sort them by 'Most Recent' to read a more balanced pool of users' feedback.
I also checked the 'Most Liked' section too, this section provides information about the different aspects that students valued the most. For example, helpful examples, the instructor was clear or how organized the classes are.
Find out more about the instructor
At Skillshare.com, every teacher has a page where they explain who they are, their professional experience and what their teaching goals are. Going through this page can be useful to get a vibe of each teacher and see if you like their approach to education.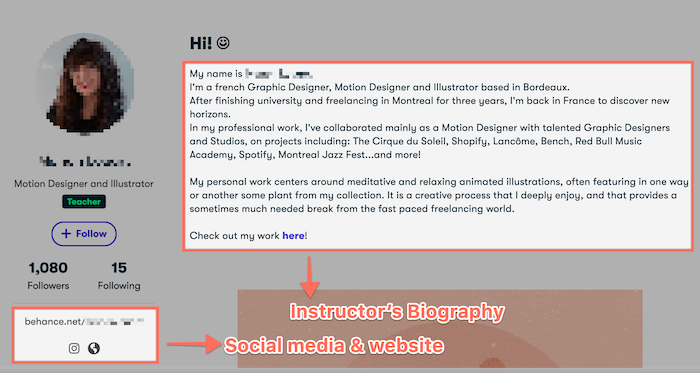 Skillshare instructor profile
However you are not limited to the information that you can read on their instructor landing page, as you can see in the image above, they normally have references to either their website or their social media accounts. Check them out to gather more information on your potential teacher – but please don't be a creepy stalker 🙂
Free Trial
The 1-month free trial gives you the opportunity to try out the Skillshare platform and all its courses for 1 whole month for nada.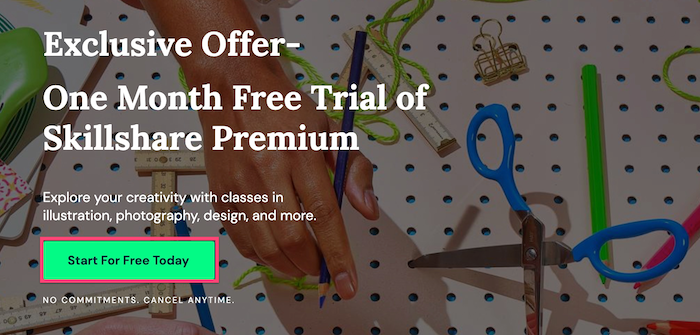 Skillshare premium 1 month free trial
Remember, you can always cancel before the 1-month ends if you want to avoid continuing with the Skillshare premium plan and you won't be charged anything.
Skillshare mobile app
You can access Skillshare from your tablet or phone thanks to the Skillshare app. With the premium membership, you can learn on the go even when you are offline. All you need to do is download the classes beforehand, and then you can learn from anywhere. As you progress in different classes, this will all be synced with all your devices, be it your computer, tablet or phone.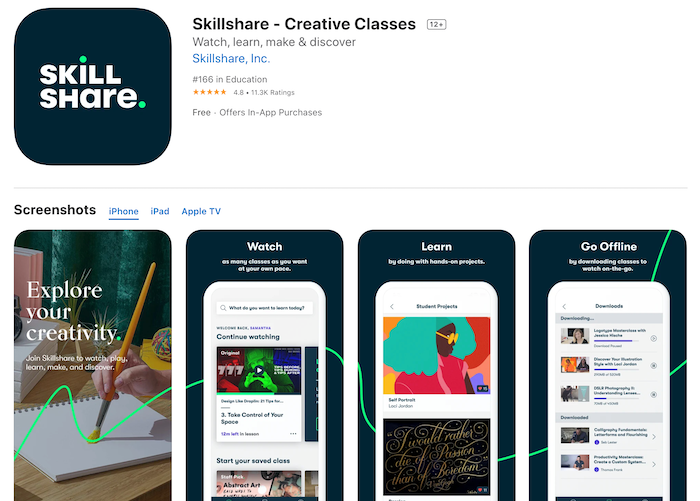 So if you have a busy schedule, or a long commute, then learning with the Skillshare app maybe the answer for you. The Skillshare app is available for IOS (4.8 rating) and Android (4.5 rating). 

Criteria
Comment
Ease of use

Signing up to Skillshare is really straightforward; you only need an email and a password. It's also possible to register using Facebook or Google.

Before purchasing the premium membership you will get access to a 1-month free trial. If you don't want to continue with the premium plan, you will need to cancel before the trial ends, and you won't be charged anything.

Using Skillshare's interface is also straightforward, there is enough information about the classes and the backend is intuitive. It could have a more detailed knowledge base though.

Convenience

Skillshare is an online learning community to master real-world skills with thousands of classes (courses).

Skillshare offers a completely unrestricted free trial for 1 month, to its premium membership. The premium plan allows you to watch its classes offline.

Available platforms

Besides its website, you can use their mobile apps (Android and Apple) to follow a class. Users like Skillshare apps as their rating at the app stores is higher than 4.5 (out of 5).

Official certifications:

Skillshare is not accredited with any educational institution (e.g. universities) and you will not receive a certificate when you complete a course.

The available classes are meant (mainly) for creatives that want to improve a skill or learn new ones and don't need official accreditation.

Categories

Skillshare offers over 35,000+ online classes. The classes are offered in four main categories: Creative & Design, Business, Technology and Lifestyle.

If you are looking for a wider range of courses, then Udemy has courses on every topic you could imagine.

Free courses

Skillshare no longer offers free classes. However, it does offer a 1-month free trial on its premium memberships which gives you full access to all classes on the platform.

Content quality

Every class has short lessons and hands-on projects for you to work on. You will then share your project in the class and receive feedback from Skillshare's community.

Some complaints are that the classes and the instructors lack quality control as pretty much anyone can post their own Skillshare course.

Languages

Skillshare accepts classes in all languages, but their community is primarily English speaking. Currently, (English) subtitles are available only on the classes that are 'Skillshare Original' or 'Staff Pick'.

Instructors

As well as offering course subscriptions it also allows you to sign up as a teacher and produce your own classes.

Skillshare classes are taught by creators, entrepreneurs and professionals from all over the world. Skillshare teachers are responsible for every aspect of their course, from designing it to uploading videos and materials. They are then paid a royalty based on the number of minutes of your classes that Skillshare users watch.

Course requirements

There aren't many specific requirements a course must meet other than 'it must be educational', 'good sound quality', 'include a presentation', 'well-organized content' or 'high-resolution video'. Classes must be, at least, 10-minutes long though.

One positive thing is that all classes must include a project the students will be able to use to learn.

Course structure

Skillshare online classes consist of a video window that plays the course content which is divided into small bite-size classes. Some of the classes can vary from minutes to hours.

You will also have the information about the instructor's profile, links to additional information and a project (or projects) to follow the course.

The course program and structure are well detailed within the course page, so you'll know what to expect from each class.

Quizzes & tests

Some Skillshare classes include quizzes in their content, but this isn't a requirement.

Payments & refunds

Skillshare works on an annual subscription model. You pay a fixed fee every year with full access to the platform.

Skillshare premium is billed annually at $167.88 working out at $13.99 a month for individual learners. There are also 3 plans available for companies. The Starter plan is $139 a year per user (minimum of 2 learners). Then the Enterprise and Revive are both custom priced.

You have a 7-day refund policy for the premium annual plan. Use a credit card or PayPal to pay for your subscription.

For a more detailed review on Skillshare costs and pricing plan.

Support

You can reach out to Skillshare via email at help@skillshare.com. At times, they can be slow to answer. They have some support materials, but they don't answer all the questions you may have about the platform as they aren't super detailed either.

Overall rating

Skillshare offers such a wide variety of creative classes that you can learn at your own pace. Sadly, they don't offer courses on every topic, other platforms like Udemy have courses about pretty much everything.

If you are looking for an accredited certification it would be best to explore Coursera or edX.
Will Skillshare Help Me With My Career?
Whereas Skillshare won't get you a formal promotion as it doesn't have accredited certificates, it's very possible that it helps improve your professional skills so you can work confidently.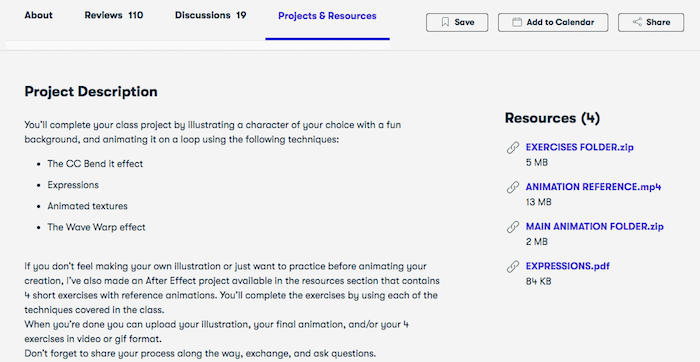 All Skillshare classes are project-based
I would say that Skillshare is ideal if you are a freelancer (or part of a creative team) and you don't care too much about earning certificates and developing your CV. Skillshare is more about teaching you the knowledge you can apply to your work.
There is also an engaged community of students at Skillshare, this can be a great way to get in touch with other professionals from your field.
Publish a course at Skillshare
There aren't any formal requirements to publish a course at Skillshare, you won't have to be a university lecturer or a super famous designer or artist – although that helps.
As a Skillshare instructor, you'll be in charge of designing your course, producing the videos and materials, uploading the resources to Skillshare and keeping in touch with your students.
There are two ways in which Skillshare teachers are paid:
You would get paid $10 for every new student you bring to Skillshare
For each viewed minute of your classes, Skillshare will pay you a royalty.
Payments to instructors are made via PayPal, sadly, there isn't any other way to get paid with Skillshare.
Please be aware that the speed at which students watch your classes has an impact on your revenue. For example, if they watch 20 minutes at 2x, you'll be paid for 10 minutes, and if they watch 20 minutes at 0.5x you'll be paid for 40 minutes.
There are guidelines for instructors when creating classes, but they are mainly common-sense recommendations:
Create engaging and educational content
Sound and video should be good quality
You must have an introduction/presentation video
Classes need to be project-based
No self-promotion outside the intro and outro of the classes
Max upload 1 class a week
Some topics aren't allowed: passive income, other educational platforms (e.g. Udemy), reselling products or medical content
Minimum of 10 minutes per course