Skillshare Review: Is It The Right Platform For You?
Upskillwise.com is fully supported by its readers. If you register or buy a course using our links, we may receive a commission.
Skillshare was founded in New York in 2010 by two veterans of the digital world, Michael Karnjanaprakorn and Malcolm Ong. It offers more than 41,000+ courses (or as they say classes) and 8 million users, it is one of the most popular online learning platforms out there and focuses on classes for creative professionals and entrepreneurs.
If you don't have time to read our detailed review, then please check out of video below to give you a summary of what Skillshare is all about.
If you are ready to read this comprehensive and honest Skillshare review, let's get stuck in.
Affordable
Skillshare pricing is affordable, especially if you commit for a yearly deal as you'll get more than a 50% discount.
Free Trial
Skillshare offers a free trial on its Premium membership, so you can enjoy the full learning experience before financially committing.
Engaged Community
Skillshare has a highly engaged community, this can make its classes interactive and fun.
Big pool of classes
Skillshare offers thousands of classes, on topics that include illustration, design, photography, video, freelancing and much more. I think it will be hard for you to get bored with the selection.
No Certificates
There isn't any type of official (or non official) certification awarded when you finish a course. It's a platform for personal growth.
Quality Control
Since anyone can create their own course at Skillshare the available courses' quality can vary from course to course.
Only Available In English
Although Skillshare welcomes courses in any language, in reality, there isn't much on offer in languages other than English.
Annual Fee
The Skillshare Premium Membership only allows you to pay for its subscription annually.
Skillshare Review Verdict
Skillshare is an online learning platform with thousands of classes for creative people and entrepreneurs. Its topics include illustration, design, photography, video, freelancing and more. It offers a 7-day free trial on its premium plan for individual users that is either billed annually at $167.88 (working out at $13.99 a month). Skillshare also has plans for teams and Businesses that start at $159, per user a year. It's 3 team plans, offer different packages to fulfill the needs of each team or business. Skillshare offers both Scholarships and Financial aid for eligible learners, and a refund is available on annual memberships within 7 days.
Skillshare ChromaCourse
Skillshare has recently introduced four-week, immersive small group courses called ChromaCourse. The idea of it is to give of small group of learners access to exclusive content from expert teachers with live Q&As that get personalized feedback on your assignments.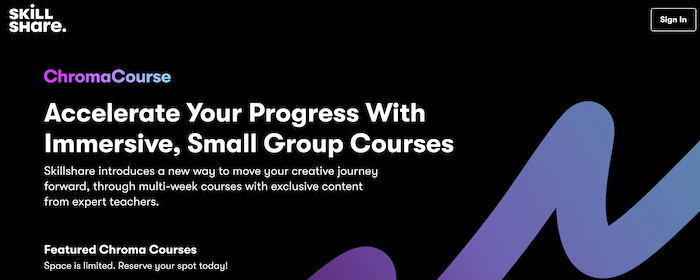 Anyone can enroll on a Chroma Course, you don't need to be a Skillshare member. All you need is access to Slack and Zoom, so you can participate in the live sessions. New Chroma Courses are launched each month and if you find the course you would like to join is full, there is the option to join the waiting list. You can purchase a Chroma Course with a debit or credit card, and then you will receive confirmation of purchase in your email.
> Check out Chroma Courses here
Skillshare Community
Skillshare is an online learning community that believes in the importance of its members being able to come together to find inspiration, connect with one another and take the next steps into their creative journey.
Groups
Collaboration is a key part of the Skillshare platform. It has tamed up with some Skillshare teachers to bring you Groups. The Groups are broken up into 4 categories Creative, Technology, Business and Lifestyle.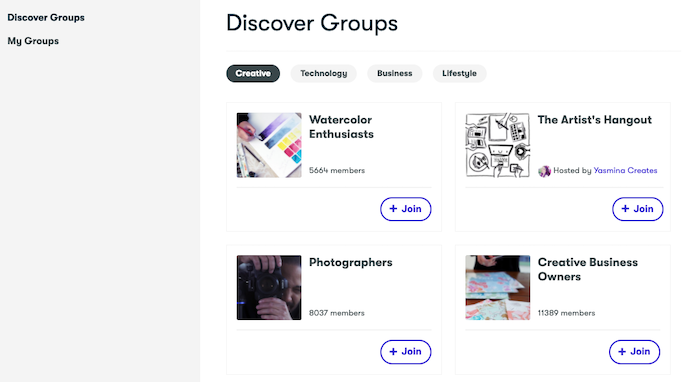 The Groups are an opportunity for you to connect with other creators, share your work, and take your skills to the next level. By joining a Group, you'll be able to connect with other Skillshare members in your industry, by asking questions, sharing your work, giving and receiving feedback or simply discuss your interests. If you have a free account you can join groups, but members with a Premium paid account can post in them.
Student Projects
Skillshare members can post the work they have been creating which can then be commented on and liked by other Skillshare members. It's an ideal way to connect with others and share your work in an inspiring and creative community.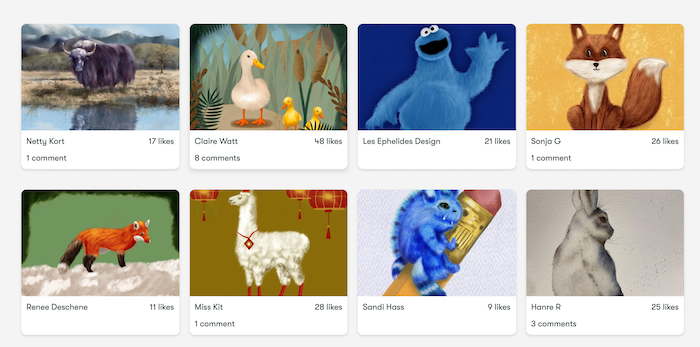 If you are someone who is looking for an online learning platform with a focus on community and connecting with members then Skillshare is the platform for you.
> Try Skillshare for free