Brilliant Review: What's it all about?

Brilliant
Upskillwise.com is fully supported by its readers. If you register or buy a course using our links, we may receive a commission. This does not affect our ratings, methodology or partners.
Brilliant.org is an online learning platform that focuses on STEM related topics. It's 60+ courses on Science, Technology, Engineering and Math topics all offer an interactive learning experience.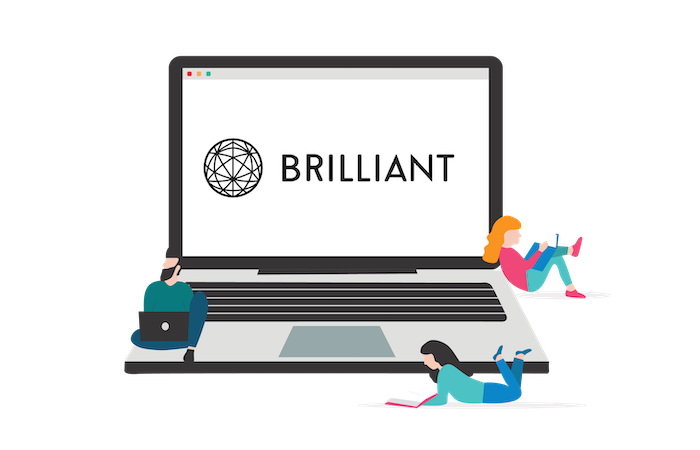 Brilliant was founded in 2012 by Sue Khim and in the last 10 years it has grown to be home to 10 million users. Its team of course creators include award-winning teachers, researchers and professionals from MIT, Duke, Microsoft and Google. Its courses are designed around hands-on learning, keeping the experience engaging and fun.
But that still doesn't mean Brilliant is the right online learning platform for you. So let's find out all in this detailed Brilliant.org review.
Interactive
Its courses are designed to be interactive and hands-on, meaning the learner has to participate and be engaged.
Free Trial
A 7-day free trial is available for all new users wanting to try the premium plan.
Beginner Friendly
Brilliant has designed a bunch of its courses for beginners, learning the fundamentals. Then there is the option to progress to intermediate and advanced courses.
Self Paced
All of Brilliant.org courses are self-paced, allowing you to complete its guided exercises in a time that suits you.
Mobile App
Its mobile app allows you to download individual courses for offline use (maximum of 6 at a time) so you can learn on the go and when it suits you.
Limited Topics
As Brilliant only covers the STEM courses, it does mean that if you are looking for something outside this topic area, it would be best to check out Coursera or Skillshare.
Only Subscription
The only option is to subscribe to the monthly or annual subscription, sadly there isn't a one-off payment option.
No Certificates
Brilliant's courses don't offer any completion certificates, and its focus isn't on career development. If that is something important to you, then it's best to check out Udacity or Datacamp.
Limited Interaction
Although Brilliant does have a community of experts, its users may not have the opportunity to interact with them directly or receive personalized feedback.
Brilliant Review Verdict
Brilliant.org is an online educational platform that offers interactive courses, problems and quizzes across the STEM topics: Science, Technology, Engineering and Maths. The platform is designed for learners of all ages and its 60+ courses are designed to help develop critical thinking and problem-solving skills. Its content is challenging and engaging and requires learners to interact with the content through active learning. Brilliant has a community feature, so that users can connect with one another, share their progress and discuss problems and solutions. Its user-friendly interface makes it easy to navigate around. You can pick from one of its 3 subscription plans, and a 7-day free trial is included when you first sign up. In case you aren't ready to financially commit Brilliant does offer some free courses each day for you to try out.
Who Is Brilliant For?
Now, that isn't the easiest question to answer, but what I would say is that Brilliant claims its courses are for anyone aged between 10 and 110. If you are someone who enjoys problem-solving and challenging problems through interactive and hands-on learning, then Brilliant may be a suitable platform for you. I will add here though, you do need to be 13 or older to have your own Brilliant account.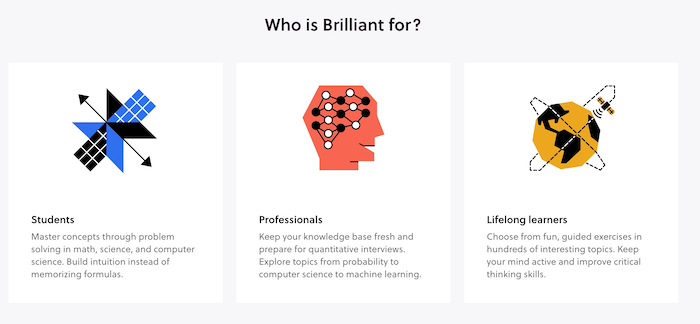 Who is Brilliant for?
Brilliant is designed for Students, Professionals and Lifelong learners who can all benefit from this unique learning experience. Whether you are looking to master concepts through problem-solving or wanting to keep your mind active, it's a platform most of us can find value in.
Its focus on STEM topics offers a new way of learning these essential skills, which previously you may not have enjoyed learning. I know in my case, Math and Science definitely weren't my favorite subjects in high school, but after completing some of Brilliant's guided exercises, I have a new-found love and even had some fun problem-solving these topics. It really has made subjects which were once feared an enjoyable experience of guided discovery.
It's certainly worth me pointing out now, that if you already know that you don't have an interest in the STEM courses and are looking for a broader range of topics then it would be best to consider alternatives like Coursera, Udacity or Datacamp which focus more on fulfilling educational goals and advancing your career.
Brilliant for Educators
Brilliant isn't just for the individual learner, it offers free educational plans for teachers and educators. That give you access to interactive lessons, problem-solving, classroom tools and more.

Brilliant for Educators

To apply for an Education account, you just need to complete the signup form and survey to find out what your needs are. Once accepted, you can choose up to 6 courses and enjoy the unlimited daily challenges. Then you can invite your students and enjoy the Brilliant platform.

Apply to Brilliant for Educators
To be eligible to apply, you must be an educator in a classroom and able to verify your education status. The educator account will be valid for 2 years.
All Devices
You can access the Brilliant platform from all devices including computer, laptop, tablet and smartphone, which makes it really convenient to learn from wherever you are and with the device which most suits you.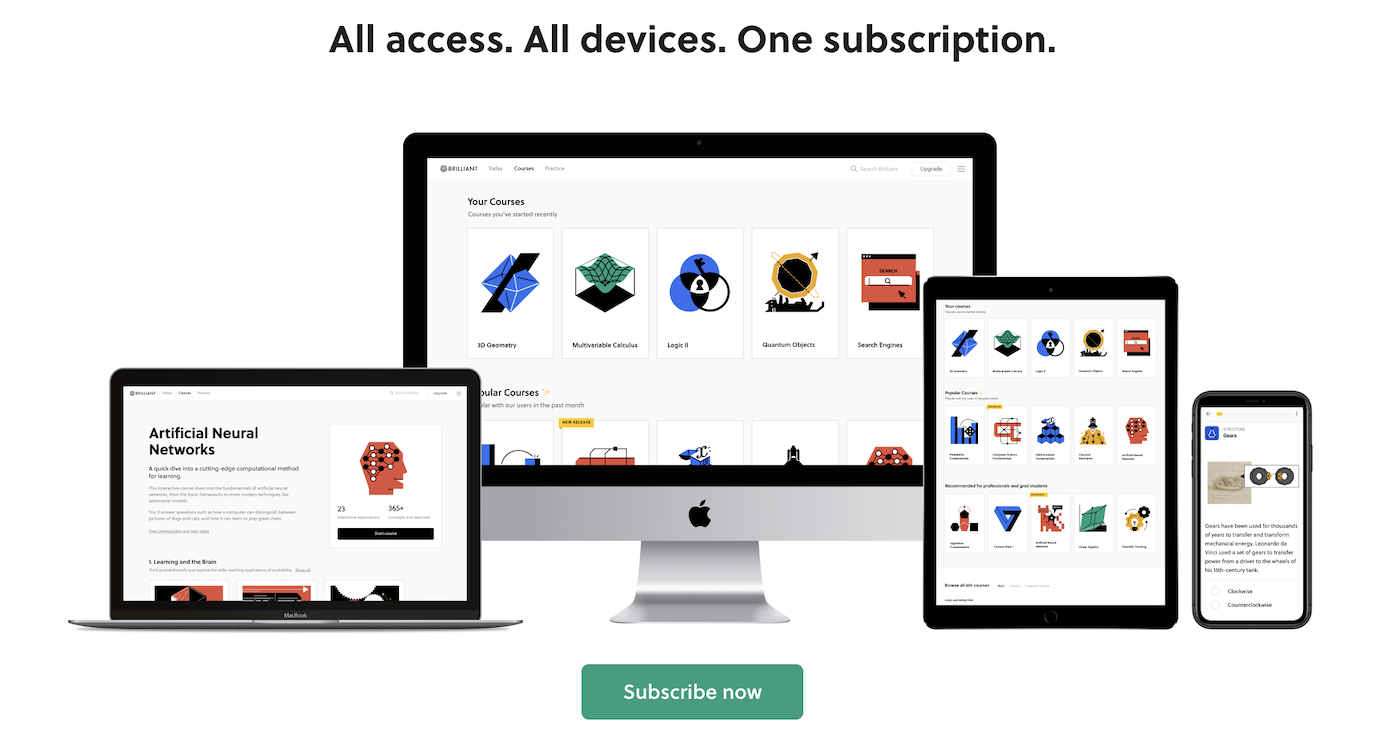 Brilliant All Devices
How Much Are Brilliant Courses?
Brilliant.org offers both a Free and Premium option. The free account is very limited and gives you access to the Today tab with a preview of daily online courses and ability to sync your progress across the web and mobile app.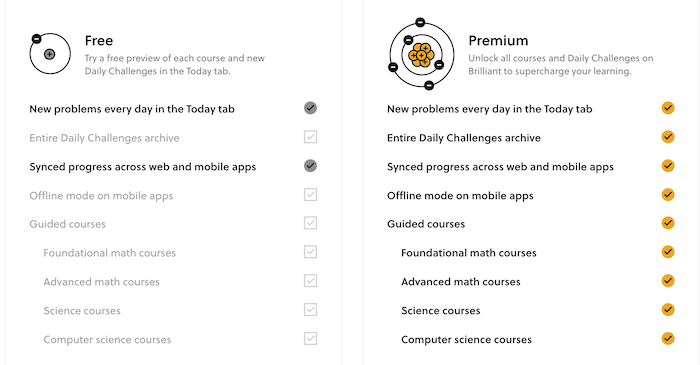 Brilliant Free and Premium Plan
Whereas the Premium experience offers 3 different subscription plans, which all give you unlimited access to the 60+ courses, offline mode on mobile apps and guided courses. You can pay for the Premium plan in 3 ways:
Monthly: Pay $24.99 per month
Annual: Pay $161.88 per year (working out at $13.49 per month)
Groups of 3+: Pay $299.88 per year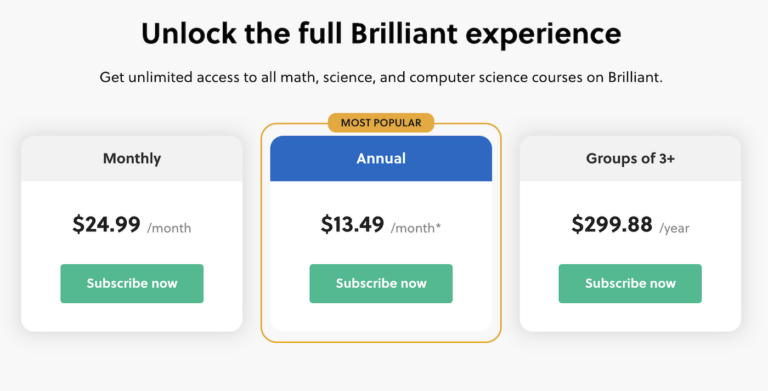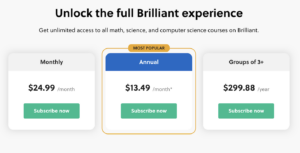 Brilliant subscription plans
It's important to be aware that your Brilliant subscription plan will automatically renew at the end of its term whether that's monthly or annually. If you don't want that to happen you can turn off auto-renew from your settings.
Brilliant 7-Day Free Trial
If you do decide to join Brilliant premium, you are eligible for its 7-day free trial. Once you are signed up, you can start your 7-day free trial, but it must be within 2 days of registering with Brilliant.org.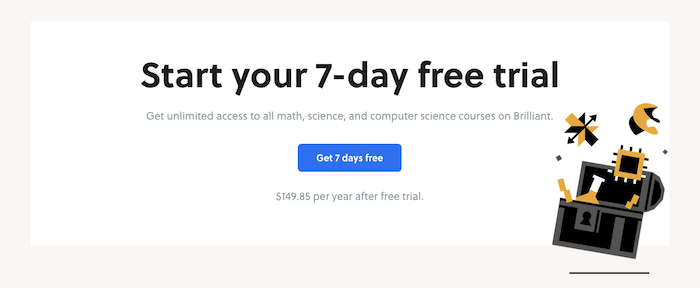 Brilliant Start your 7-day free trial
This will mean you will need to input your payment details when signing up for the premium plan, so you can begin enjoying the benefits. But don't worry, you won't be charged anything until the 7-day free trial ends, and you will have the option to cancel the free trial before it ends, just by clicking 'End trial' here. That way you won't be charged anything.
Brilliant does not offer a refund policy, but it does state that it makes exceptions from time to time. But honestly, I wouldn't count on that. My advice is to try out the free plan or the 7-day trial and then decide whether you want to commit financially to the platform or not.
Brilliant Gift Plan
Brilliant does offer a gift plan where you can purchase the premium plan for a loved one. You have the option of either purchasing the 1 year plan or the Lifetime access.


Brilliant Gift Plan
Brilliant Group Plan
As well as the gift plan, Brilliant offers a Group plan. It's an annual plan that you can share with your family, class or team. The Brilliant Premium group plan can accommodate 3 to 50 people. If you are a larger organization, you can get in touch with Brilliant to discuss.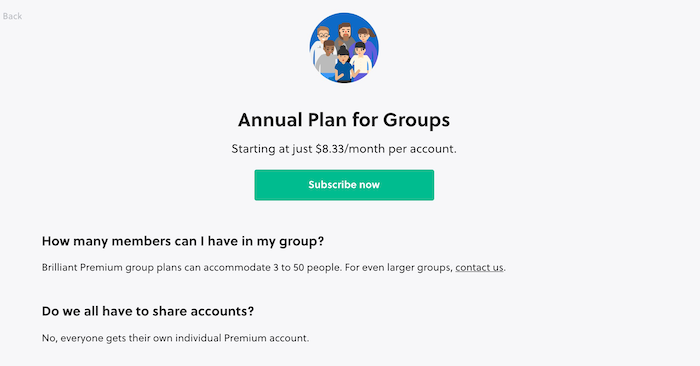 Brilliant Group Plan

The payment for the Brilliant group plan will be processed in one payment every year, which you can cancel at anytime.