MasterClass Review: Is It Worth It?
MasterClass is a stand-out online learning platform, due to the famous faces teaching its online classes. Its celebrity and VIP instructors are ready to share with you their knowledge, passion and experience. So if you like the idea of learning basketball from Stephen Curry, songwriting from Alicia Keys or how to cook from Gordon Ramsay then MasterClass is a platform for you to consider.
This San Francisco online learning platform was founded in 2014, it currently offers 100+ classes across 11 categories. Each class is an average of 20 lessons, with each lesson around 10 minutes long.
If you don't have time to read our detailed review, then please check out of video below to give you a summary of what MasterClass is all about.
But of course, you want to know if MasterClass is something more than flashy names and superb videos. Another important point to consider is, will you learn a real skill after taking one of its classes?
Let's find out more in this detailed MasterClass review.
Affordable
Even though MasterClass is billed annually, when you break down the price month to month it's fairly affordable for the number of classes you can access.
Well Produced
After watching 10 seconds of the first video, you'll realize that MasterClass videos have been very nicely put together. They have a very engaging cinematic aura.
Top VIP Instructors
Of course, a big selling point of the MasterClass is getting to learn a craft from worldwide recognized professionals. For example, Yotam Ottolenghi teaches Modern Middle Eastern Cooking or Bobbi Brown teaches Makeup and Beauty.
Generous Refund Policy
After you purchase your MasterClass membership account, you'll have 30 days to request a refund, not bad at all.
No Free Classes or Trials
Sadly, there aren't any free courses or trials with MasterClass, so you won't be able to check any course before you pay for a membership.
No Certificates
Sadly, you won't receive a completion certificate when you successfully complete a class with MasterClass.
Lacking Reviews
There are some reviews from past members on the homepage. But nothing detailed or about specific classes. So, you are left without a comprehensive account of a previous learner's experience.
MasterClass Review Verdict
MasterClass is an online platform that offers 100+ classes from 11 top categories. Its classes are taught by celebrities and VIPs that have a wealth of knowledge and experience and ready to share it. Its video classes are well produced and have a cinematic feel, making learning with MasterClass highly engaging. It works on a subscription model that is billed annually and also offers plans for teams and Businesses.
Who Is MasterClass For?
It is hard to pinpoint: Who exactly MasterClass is right for?
The MasterClass platform appeals to anyone who is an enthusiast in a particular topic like Adventure Photography or Middle Eastern Cooking. What really gives MasterClass an edge are its famous faces teaching its classes. So if you like the idea of Gordon Ramsay teaching you on How to Cook or Alicia Keys on Songwriting and Producing, then MasterClass would be a great fit for you.
If you are anything like me and learn best from engaging and bite size video lessons (no longer than 10 minutes each) then MasterClasses video lessons will have you hooked. Its classes are really well produced and a pleasure to watch. You can read later in the article about My Experience of a MasterClass to give you a better idea of what to expect.
Remember, though, if you have the intention to fulfil an educational goal or even receive a certificate then Udacity or Coursera would be a better fit.
MasterClass for Businesses
Like most other online learning platforms, MasterClass doesn't only offer its classes for individual learners, it has plans for teams and businesses. You can invest in your team or business by contacting sales to choose the plan for your business.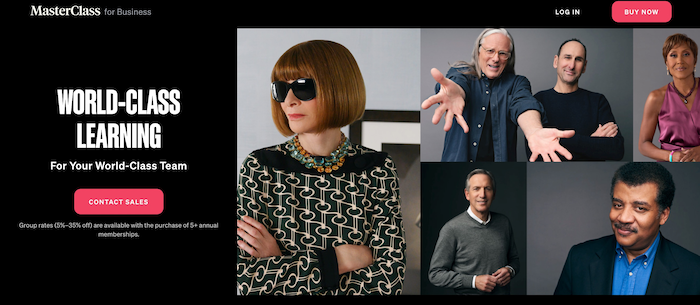 You will fill in your company information choosing the number of annual memberships (between 5-1000 seats), name of your company or organization, location and email address (see image below). The group rates discount (5-35%) when you purchase of 5+ annual memberships.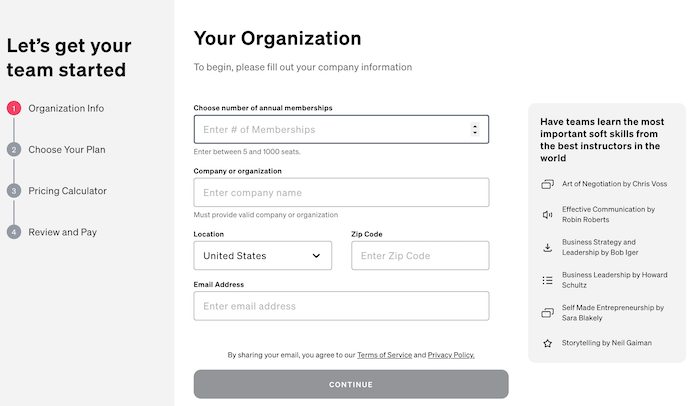 In short, employees love MasterClass for Businesses;
Stream anytime, anywhere, at your pace
Get inspired, 10 minutes at a time
An immersive learning experience
Learn from the world's best
100+ Instructors across a variety of categories
Unlimited access with your annual membership
> Check out MasterClass For Businesses here
How Much Is A MasterClass Membership?
MasterClass works on 3 different subscription models giving you access to the catalog of 100+ classes across 11 categories taught by the world's best on cooking, leadership, photography, writing and more.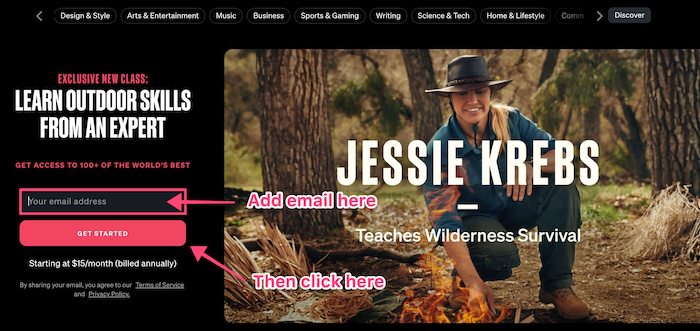 When you land on MasterClass you just need to add your email and click 'GET STARTED' (see image above). You will then get taken to the subscription plans that MasterClass offers.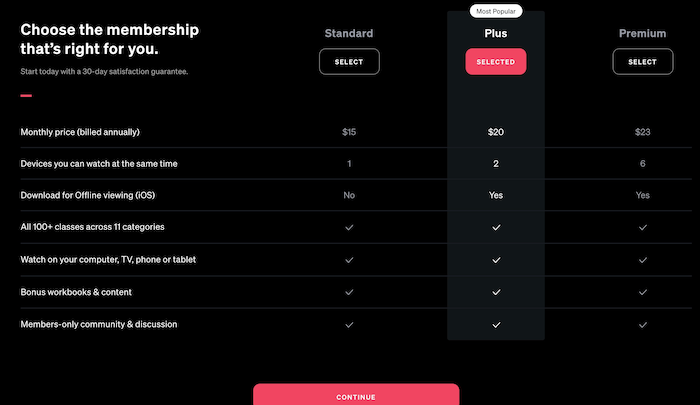 Standard: $15/month ($180 when billed annually)
Plus: $20/month ($240 when billed annually)
Premium: $23/month ($276 when billed annually)
Each of these plans are billed annually, the price difference between them isn't a crazy amount. But the main distinction is the Plus and the Premium plans allow you to download for offline viewing and numerous devices can use the platform at the same time.
If you do decide that MasterClass isn't for then you are entitled to a refund within 30 days of registering. All you will need to do is send an email to support@masterclass.com, and you will be given a full refund. So if you aren't sure if MasterClass is the platform for you, then consider the first month like a free trial which can be refunded.
If you don't want to continue with MasterClass, you can cancel your membership renewal through your account page. All you need to do is follow the prompts on the Settings page and your membership will not renew for the following year. If you are interested in checking out another platform offering a similar priced subscription plan, check out our comparison article on Skillshare Vs MasterClass.
Gift a Membership

A nice feature that MasterClass is gifting the annual membership to a colleague, friend or love one. If you have someone in your life that enjoys online learning and would enjoy exploring the classes and VIP instructors on offer, then why not gift them something memorable.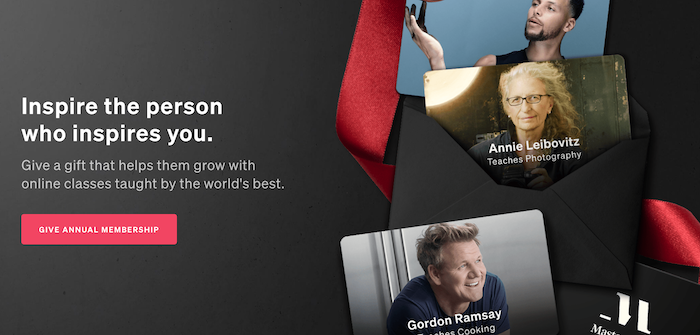 MasterClass Give Annual Membership
You can add an optional gift message which will be sent via email either immediately or on a chosen date. Just like a regular membership a 30-day money back guarantee is offered if they don't love it.
MasterClass Grants

The MasterClass Grants Program is designed to help give back to communities in need. It provides MasterClass annual memberships to accredited organizations. Once you submit an application, the team will evaluate it and notify you via email if you have been selected for a grant.

MasterClass Grants Program
> Apply for a MasterClass Grant here
How To Open A MasterClass Account?
MasterClass makes it very easy to open an account with them. I thought it would still be helpful for you to follow a step by step.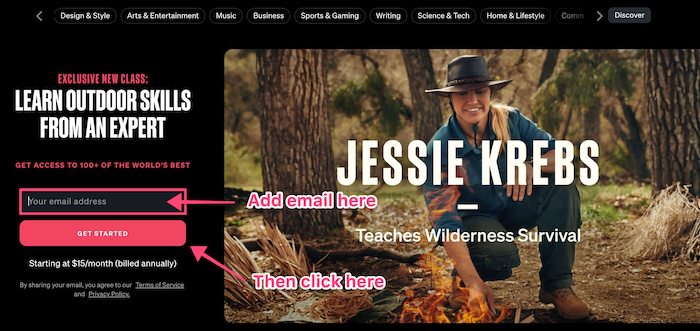 Register with MasterClass
Visit MasterClass.com and enter your email address and click GET STARTED (see image above)
Then you will choose a membership plan
Next you will then be directed to add your card information (see image below)
Finally, Click PLACE SECURE ORDER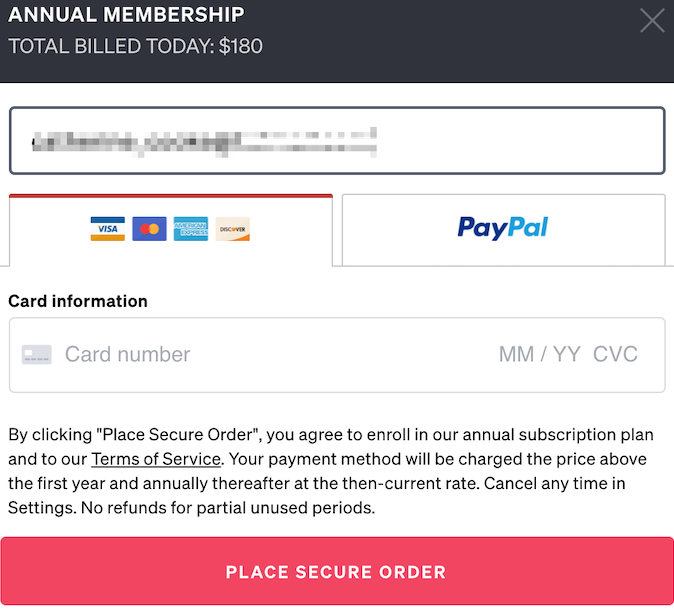 That's it, it's that easy. You will now be up and running and ready to start browsing the classes at MasterClass and start enjoying this exciting and engaging platform.
What Classes Can I Find On MasterClass?
MasterClass Classes are made up of 11 categories with topics on the following Food, Design & Style, Arts & Entertainment, Music, Business, Sports & Gaming, Writing, Science & Tech, Home & Lifestyle, Community & Government and Wellness. MasterClass offers 100+ classes across its categories, each class you can download and watch offline.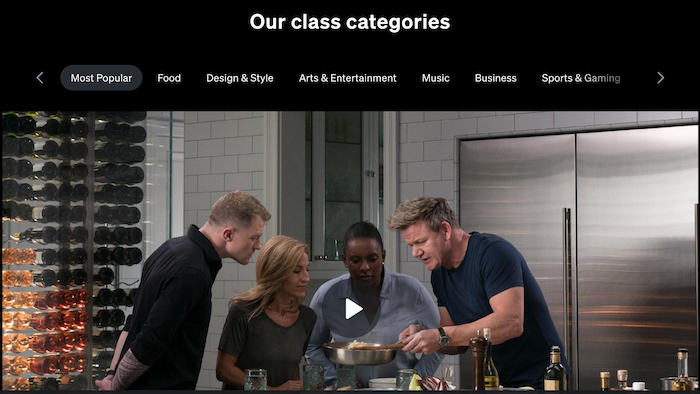 Some topic areas have fewer courses than others, for example the Science & Tech only have 4 classes and Community & Government with 5. It's good to point out here that some of the classes are double booked, meaning that they appear in more than one topic area. For example, Food classes also appear in the Home & Lifestyle topic.
All Categories Filter System
MasterClass offers a helpful filter system where you can choose a particular category which will then show all the class related to that category (e.g. Music) You are then able to select a specific filter like 'Just Added' or 'Most Popular' which will narrow down your search even further.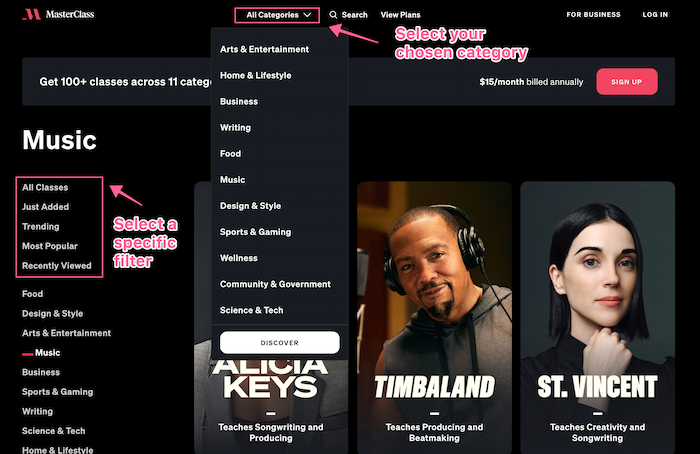 Masterclass classes are made up of 10 to 20 video lessons, and each lesson is approximately 10 minutes long. Every month new classes are added as well as categories.
New classes
MasterClass does a pretty good job of keeping its content current and fresh, with new classes being added every month. They like to give you a sneak peek of upcoming classes and the instructors teaching them, which is exciting.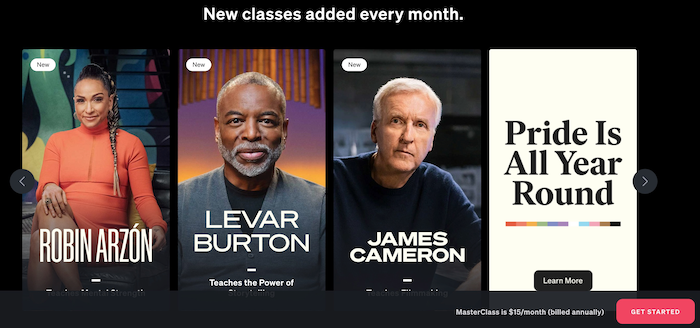 MasterClass New classes added every month
Examples Of Popular MasterClass Classes
I did a bit of research into which of MasterClass Classes are most popular among its users right now. I have hightlighted the top classes based on each category.
Food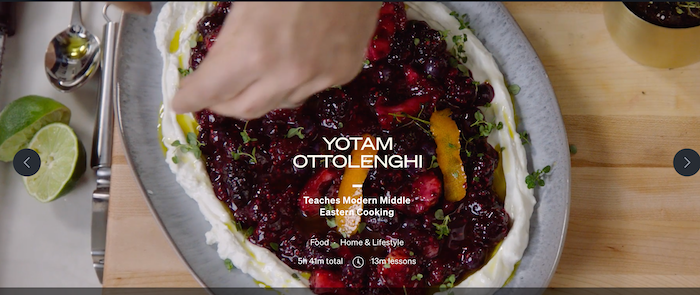 Yotam Ottolenghi Teaches Modern Middle Eastern Cooking – Yotam Ottolenghi creates dishes that layer color and flavor for maximum impact. He teaches you simple steps for making and mixing Middle Eastern-inspired recipes like generous platters, mezze and brunch spreads to homemade condiments and delicious vegetables. This class is 5 hours 41 minutes in total and made up of 26 video lessons.
Gordon Ramsay Teaches Cooking I – The seven-star Michelin chef takes you into his home kitchen to learn everything from kitchen setup and buying the freshest ingredients to constructing unforgettable dishes. This class is 3 hours 54 minutes in total and made up of 20 video lessons.
Massimo Bottura Teaches Modern Italian Cooking – Massimo Bottura is the chef of the three-Michelin-star Osterua Francescana, treats his world-renowed restaurant as a laboratory of ideas. He shares how he transforms classic, regional Italian recipes into exciting modern dishes. This class is 3 hours 46 minutes in total and made up of 14 video lessons.
Design & Style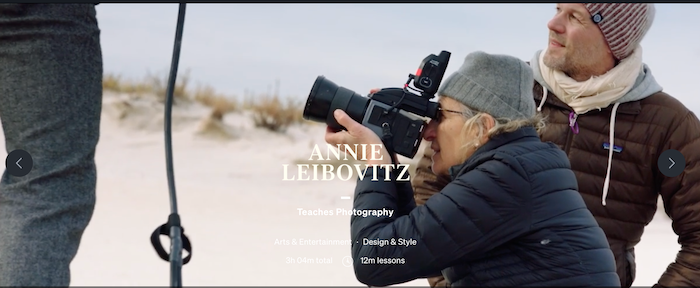 Annie Leibovitz Teaches Photography – Annie Leibovitz was the first woman to be named chief photographer at Rolling Stone. Annie teaches you her philosophy: how to develop concepts, work with subjects, shoot with natural light, and bring images to life in post-production. This class is 3 hours 4 minutes in total and made up of 15 video lessons.
Jimmy Chin Teaches Adventure Photography – Jimmy Chin has built his career taking photos at the top of the world, he is taking you on location to teach you techniques for capturing breathtaking shots. This class is 4 hours 10 minutes in total and made up of 20 video lessons.
Bobbi Brown Teaches Makeup and Beauty – Bobbi Brown's shares her expertise in step-by-step tutorials, using models with a range of skin tones. You'll learn how to choose the right foundation, do a smoky eye and statement lip, and take your look from day to night. This class is 3 hours 48 minutes in total and made up of 19 video lessons.
Arts & Entertainment

David Lynch Teaches Creativity and Film – David Lynch introduced mainstream audiences to art-house films. You will learn how he catches ideas, translates them into a narrative and moves beyond formulaic storytelling. This class is 2 hours 52 minutes in total and made up of 13 video lessons.
Jeff Koons Teaches Art and Creativity – Jeff Koons invites you to a thought-provoking conversation and the history, purpose, and pleasures of art. You will learn how to color, scale, form, and texture can help you express ideas and communicate with others. This class is 2 hours 8 minutes in total and made up of 13 video lessons.
Music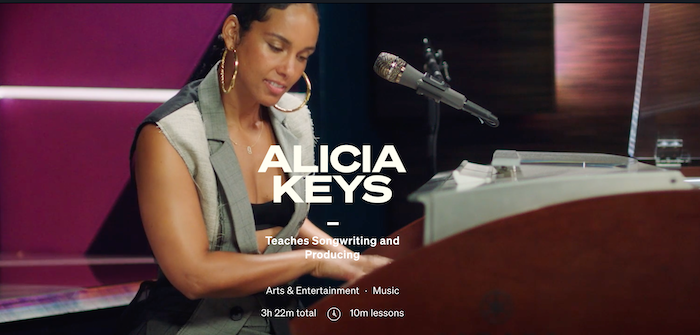 Alicia Keys Teaches Songwriting and Producing – Alicia Keys is one of the world's most beloved  singer-songwriter winning 15 Grammy Awards and more than 40 million albums sold. She invites you to her studio to share her process for creating music built from authentic emotion. This class is 3 hours 22 minutes in total and made up of 19 video lessons.
Timbaland Teaches Producing and Beatmaking – Grammy-winning music producer Timbaland takes you behind the boards to teach you his process for creating iconic tracks. You will learn how to collaborate with vocalists, layer new tracks, and create hooks that stick. This class is 3 hours 2 minutes in total and made up of 15 video lessons.
Business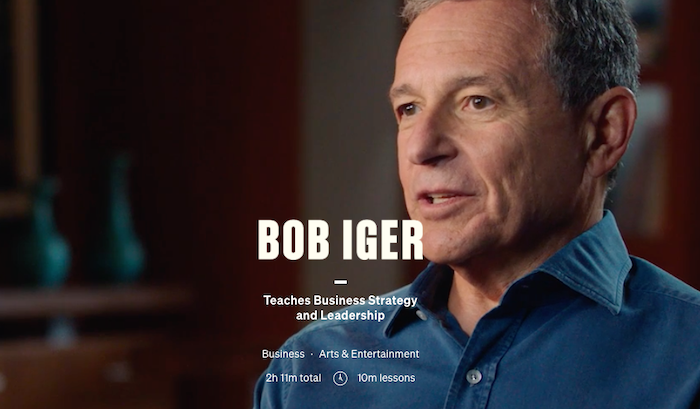 Bob Iger Teaches Business Strategy and Leadership – Bob Iger is the former Disney CEO and has worked in the media industry for 45 years. He teaches you how to evolve your business and career, learn strategies for expanding a brand and leading with integrity. This class is 2 hours 11 minutes in total and made up of 13 video lessons.
Diane von Furstenberg Teaches Building a Fashion Brand – Diane von Furstenberg built one of the world's most iconic and enduring fashion brands. In her first online fashion design class, she teaches you how to build a brand. This class is 3 hours 7 minutes in total and made up of 17 video lessons.
Sports & Gaming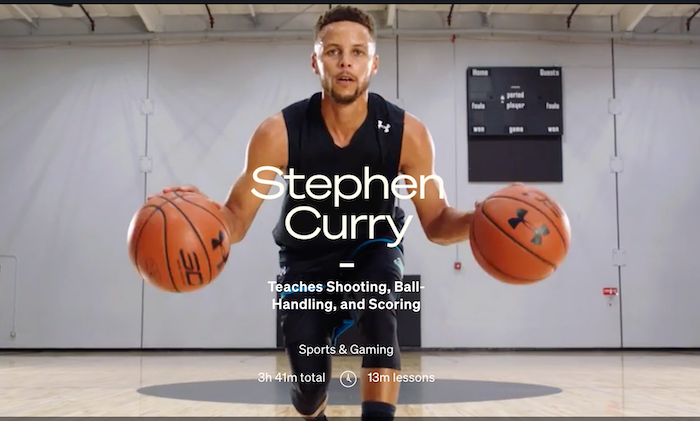 Stephen Curry Teaches Shooting, Ball-Handling, and Scoring – Stephen Curry teaches the shooting, ball-handling, and scoring techniques that have made him a two-time MVP. He is teaching everything he's learned, from perfect shooting mechanics to on-court concepts and basketball drills. This class is 3 hours 41 minutes in total and made up of 17 video lessons.
Will Wright Teaches Game Design and Theory – Will Wright the mind behind SimCity and The Sims will teach you the art and science of game design. Will teaches you how to create games that empower players and unleash their imagination. You'll develop a tool set for understanding player psychology, as well as learn Will's approach to generating and pitching ideas. This class is 4 hours 16 minutes in total and made up of 21 video lessons.
Writing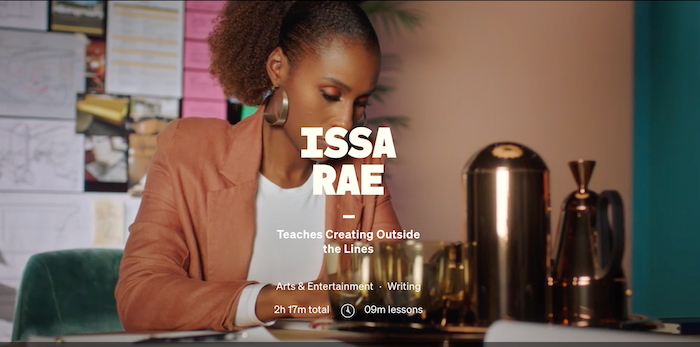 Issa Rae Teaches Creating Outside the Lines – Issa Rae the Emmy-nominated star and creator of the award-winning HBO series insecure. Issa shows you here signature do-it-yourself ethos, humor, and voice to offer writers and creators of all types the motivation and tools they will need. This class is 2 hours 17 minutes in total and made up of 14 video lessons.
David Sedaris Teaches Storytelling and Humor – David Sedaris has essays in The New Yorker, bestselling books like Calypso, tours and reading on NPR. David teaches you the art of personal storytelling, you will learn how to craft attention grabbing openings, satisfying endings and meaning from the mundane. This class is 3 hours 23 minutes in total and made up of 14 video lessons.
Science & Tech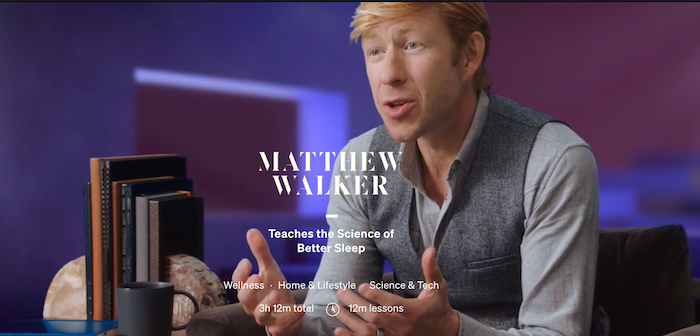 Matthew Walker Teaches the Science of Better Sleep – Matthew Walker is a professor of neuroscience and psychology at UC Berkeley and the director of the Center for Human Sleep Science. Matthew illuminates the science behind sleep and teaches you how to increase the quality and quantity of your sleep. This class is 3 hours 12 minutes in total and made up of 15 video lessons.
Neil deGrasse Tyson Teaches Scientific Thinking and Communication – Neil deGrasse is one of the most popular figures in modern science with his hit talk show and bestselling book. Niel teaches you to learn like a sceptic, open your mind through scientific literacy, distil data and navigate bias to discover objective truths. This class is 2 hours 14 minutes in total and made up of 13 video lessons.
Home & Lifestyle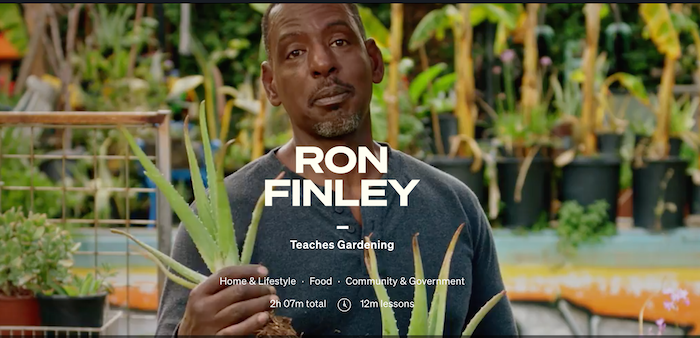 Ron Finley Teaches Gardening – Ron Finley is a community activist and self-proclaimed "Gangster Gardener" he teaches you how to grow your own food, keep your plants alive, and find beauty and freedom in gardening no matter the size of your space. This class is 2 hours 7 minutes in total and made up of 10 video lessons.
Brandon McMillan Teaches Dog Training – Brandon McMillian is an expert dog trainer and dedicated to building relationships between humans and animals. Brandon shares his simple, effective training system to help you develop trust and control with your dog. This class is 2 hours 58 minutes in total and made up of 15 video lessons.
Community & Government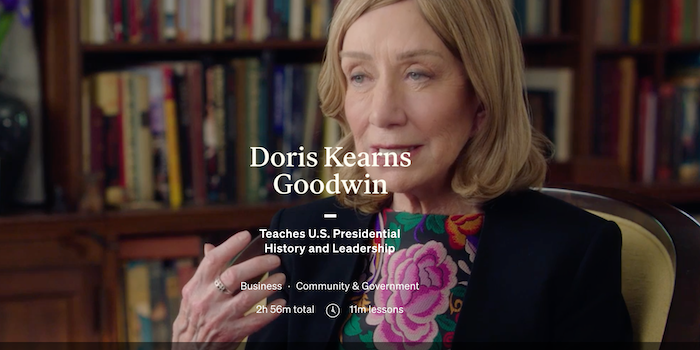 Doris Kearns Goodwin Teaches U.S. Presidential History and Leadership –  Doris Kearns Goodwin has studied American presidents for more than 50 years. Doris will teach you leadership through the lens of U.S presidential history and shares practical wisdom and a template for honing leadership skills. This class is 2 hours 56 minutes in total and made up of 15 video lessons.
Dr Jane Goodall Teaches Conservation – Dr Jane Goodall teaches how you can conserve the environment, by letting nature win if we give her a chance. She also shares her research on the behavioral patterns of chimpanzees and what they taught her about conservation. This class is 5 hours 19 minutes in total and made up of 29 video lessons.
Wellness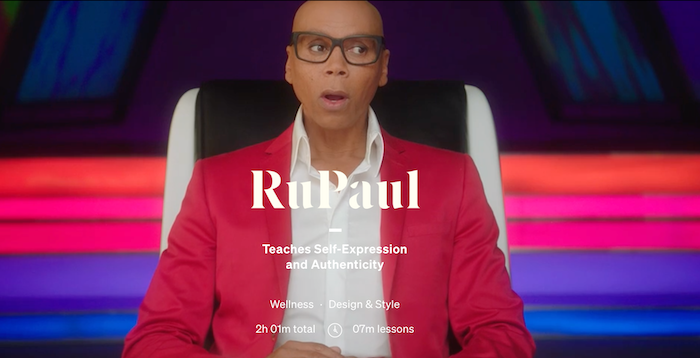 RuPaul Teaches U.S. Self-Expression and Authenticity –  RuPaul has transformed drag subculture into a mainstream phenomenon. Now the Emmy-winning host and performer is sharing an intimate look at his personal journey to self-realization. This class is 2 hours 1 minute in total and made up of 16 video lessons.
Emily Morse Teaches Sex and Communication – Emily Morse is the host of the long-running podcast Sex With Emily where she has made it her mission to normalize the conversation. Emily helps you learn how to identify what you want, communicate your desires, and discover new sexual adventures. This class is 1 hour 53 minutes in total and made up of 7 video lessons.
My MasterClass Experience
The time has come for me to share with you my experience of taking a MasterClass myself. As I am a bit of a novice in the kitchen and always looking for new recipes and inspiration. I thought the MasterClass by Yotam Ottolenghi: Teaches Modern Middle Eastern Cooking would be a great place to start.
My initial feelings are that I am impressed with the layout of the MasterClass and how intuitive it all feels. Thought has definitely been put into making the experience very user-friendly.
Video Lessons
Its video lessons are listed on the right side, making it straightforward to follow and easy to find (see image below). You are free to pick and choose which video classes you watch in whatever order, but obviously the lessons do have a natural flow in the order given. For example, in this case, you have the Mezze Spread: Muhamara as video lesson 2 and Thoughts on Hosting as video lesson 15.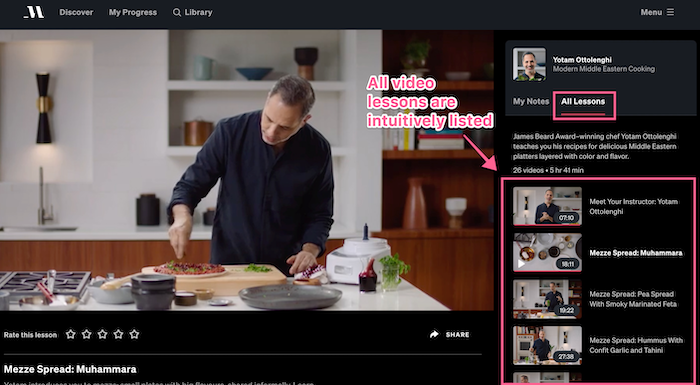 MasterClass Yotam Ottolenghi: Teaches Modern Middle Eastern Cooking Lessons
The video lessons are highly engaging and well produced, that it feels more like a Netflix cooking show. I enjoyed watching every lesson and left feeling very inspired. Something that is important to consider is that most of the celebrities and VIP instructors are very used to being in front of camera and have had years of experience captivating and motivating their audience. When you leave a MasterClass you feel pretty pumped and definitely wanting more.
My Notes
As you move through the video lessons, you can write notes on points you want to remember or words of wisdom that you don't want to forget from the VIP instructors (in this case Yotam Ottonlenghi is full of them, but maybe I biased as I love his cooking). The notes section is broken up into each lesson, so you can make notes about each specific lessons. It's a nice feature to have and acts like a modern-day notebook. I'm not sure how much you would honestly use it, but having it doesn't hurt.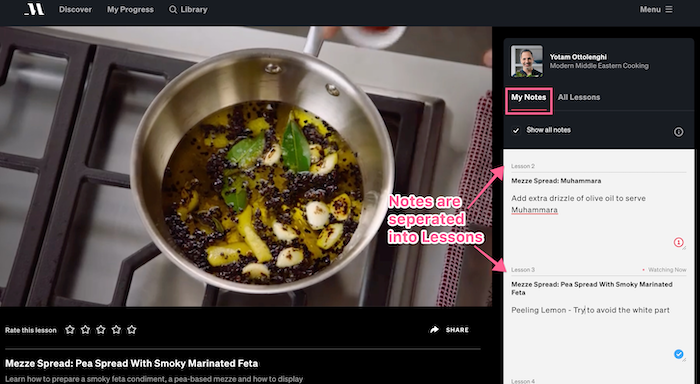 MasterClass Yotam Ottolenghi: Teaches Modern Middle Eastern Cooking My Notes
Workbook
The downloadable workbook that comes with every MasterClass is available in a PDF format. In this case, it is a cookbook with all the recipes and ingredients shared throughout the MasterClass. I must add it is really beautifully designed and put together and a really great take away resource to refresh your memory on the MasterClass.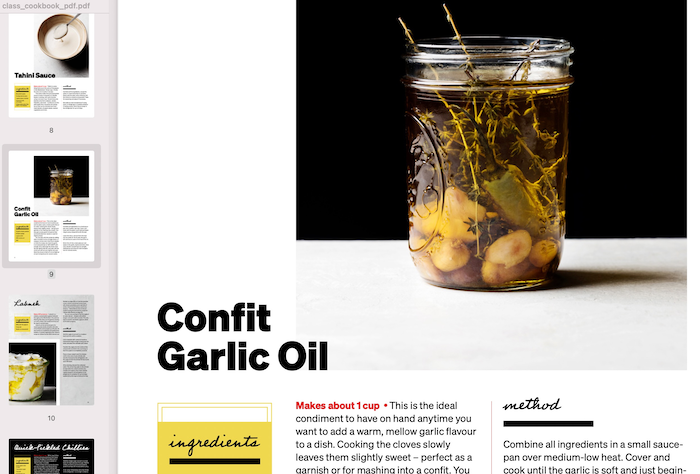 MasterClass Downloadable Workbook

Discuss with members

If you are looking to connect with other members of the MasterClass community, then this is the place to do so. At the bottom of each MasterClass video page is the option to JOIN THE DISCUSSION (see image above). The community is a place to ask questions, share thoughts and get feedback about the video lessons you have watched. A simple filter is in place where you can choose between the category, title of topic and what I consider the most useful filter LATEST and TOP (see image below) to follow all the discussion points. You can freely start your own New Topic.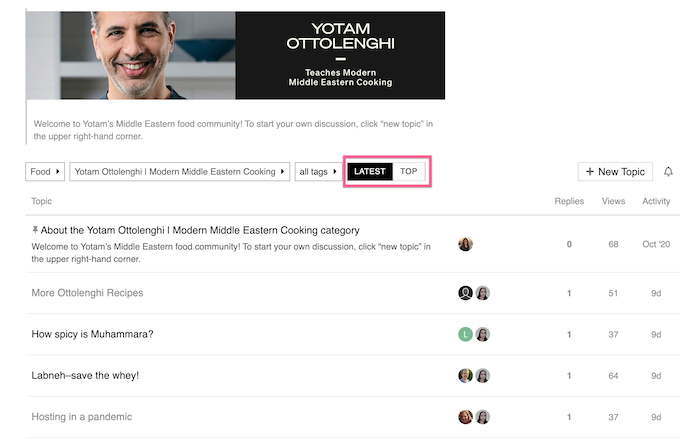 MasterClass Community
On average, there is around 3-4 discussion topics a month with most classes. A member of the MasterClass Team seems to always be around to help or resolve users questions. In terms of members connecting with other members, there is some sense of community and conversation, but nothing extraordinary. There is some conversation about sharing recipes and asking where cooking equipment is from. But if you are expecting a reply from Yotam Ottolenghi himself, then that won't be happening, instead you have to make do with the MasterClass team or your fellow members 🙂
To summarize
Before concluding all the reasons, you should take a MasterClass. It would only be fair to highlight areas that are lacking and expectations you may have from an online learning class or course. MasterClass won't be able to offer you a certificate or any sort of formal accreditation, Coursera or edX are better suited for this. Neither are there any quizzes, coursework nor deadlines, Skillshare or Udacity would be your best fit in that case. Finally, if you're looking for a wider variety of categories and topics, then Udemy and LinkedIn Learning are the go-to platforms for quantity.
You will love MasterClass for:
It's highly engaging video lessons
Well Produced and beautifully shot videography
Option to watch the video lessons when it suits you
Downloadable Workbook
To discuss thoughts and ask questions to the community
The year membership gives you plenty of time to enjoy the full platform of classes
> You can check out Yotam Ottonlenghi: Teaches Modern Middle Eastern Cooking here 
7 Tips To Find The Perfect MasterClass Course
Browse the categories
MasterClass makes it easy for you to browse its collection of courses, its 100+ classes are organized into 11 categories. You can find classes on the following categories Food, Design & Style, Arts & Entertainment, Music, Business, Sports & Gaming, Writing, Science & Tech, Home & Lifestyle, Community & Government and Wellness.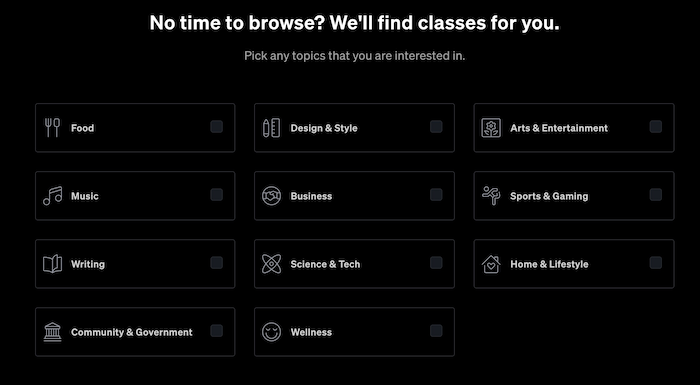 MasterClass Categories
When you land on the homepage, you can pick any of the topics you are interested in, and MasterClass will show you all the classes in that category and will interest you. It's a really nice filter and a quick way to find what you are looking for (see image below).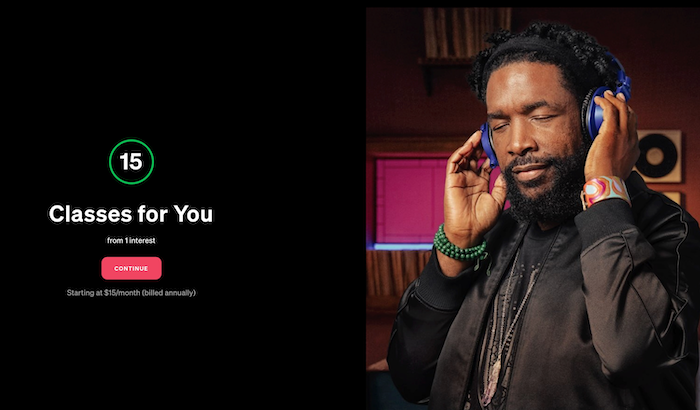 Video Preview
You will be able to watch a video preview for each MasterClass, that are around 2 minutes long. It will give you a taste of what to expect from the class and the instructor. I must say, its class preview are more like movie trailers than a course introduction and definitely will have you hooked.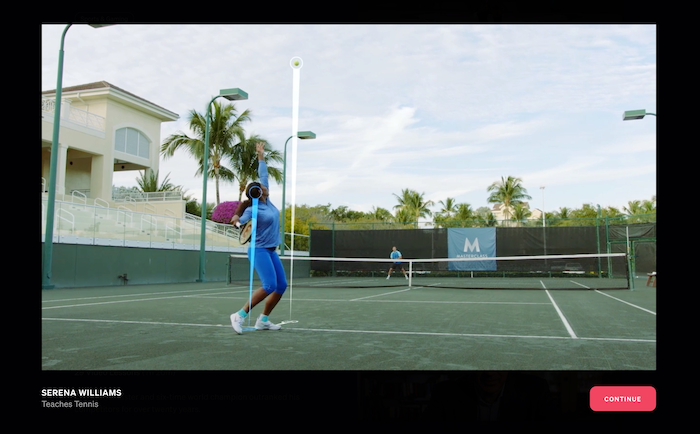 MasterClass video preview
Remember though that the purpose of the video preview is to get you hooked and wanting to by a MasterClass membership. So, really try to make a well-rounded decision if MasterClass is right for you.
MasterClass Live
This is the closet thing that MasterClass offers to free classes and trials, MasterClass Live. It's a place where you watch MasterClasses instructors sharing their knowledge and giving you a feel of how they would be as an instructor. If you do miss the scheduled live recording, then you can always catch up in your own time on previous live recordings.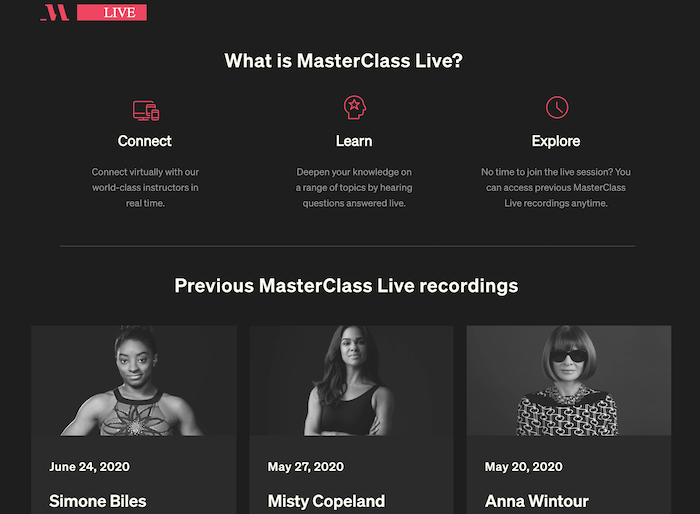 MasterClass Articles
MasterClass offers articles to read for free to all users. Its articles are written posts about MasterClasses related categories like Food, Design & Style, Business, Wellness and more. Some of the articles are written by MasterClasses VIP instructors like 'How to Make Pureed & Mashed Potatoes With Thomas Keller' and other articles are written by the Masterclasses staff like 'Basketball 101: 8 Ways to Improve Your Basketball Skills'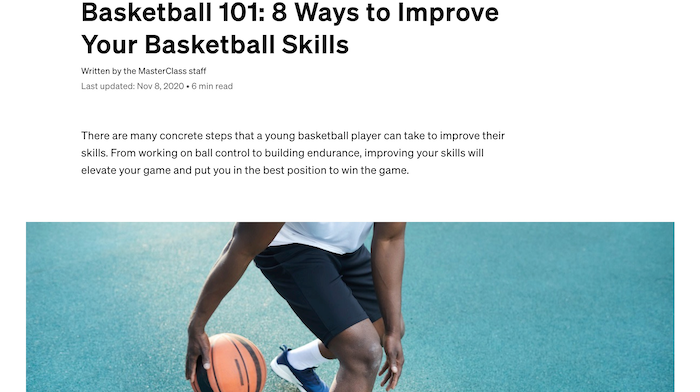 MasterClass Articles


All of the articles are related to one of the classes that MasterClass offers, which is a nice way to introduce a topic to a new user and  potential interest in joining a class.
Celebrity & VIP Instructors
MasterClass video lessons are taught by celebrities and VIPs. Many of its instructors are celebrities and world-renowned experts like Gordon Ramsey and Serena Williams.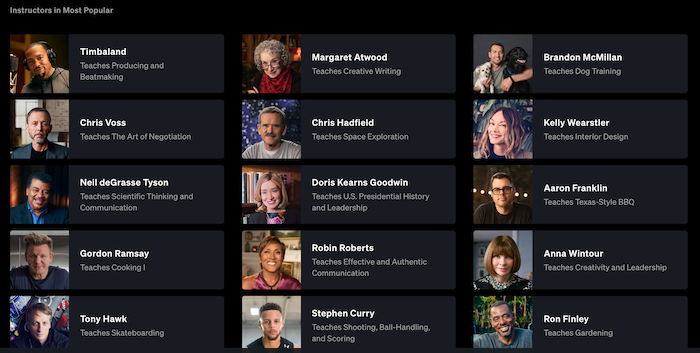 MasterClass instructors
If you want to learn from a well recognized expert, then MasterClass really has a highly attractive pool of instructors teaching its classes. If you are a big fan of one of its instructors, then it is definitely worth checking out a class or two.
New classes
Every month, MasterClass updates its catalogue of classes by adding new classes. This keeps its content fresh and new and means there is always something for its members to be excited about.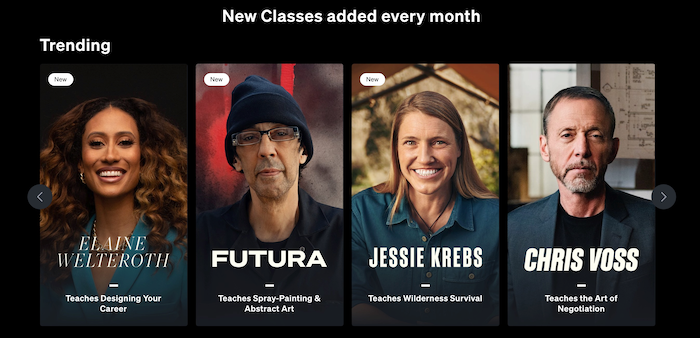 MasterClass New Classes added every month
Refund your annual subscription
As it is hard to know before buying an annual MasterClass membership if it's right for you. As there are no free class or trials or even many reviews from previous students. It's hard to know whether it will be the online platform for you. So, thankfully there is a 30-day satisfaction guarantee. It means you can be rest assured that if it's not the best option for you, you'll always have 30-days to get a refund.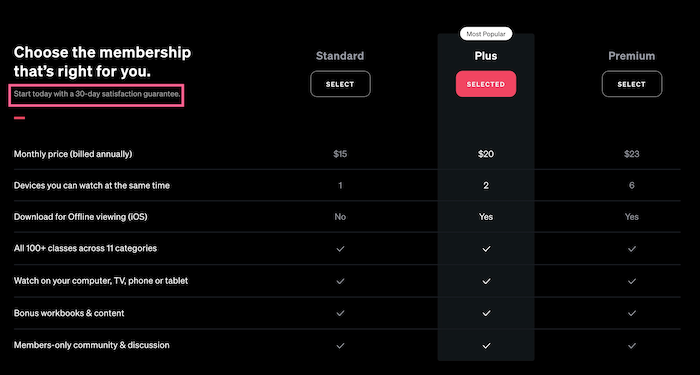 MasterClass 30-day satisfaction guarantee  
In my experience it was really easy and hassle-free, all I need to do was submit a request here, and I was contacted pretty instantly by support. Then I received the refund back in my account in 5 days. They do tell you that it can take between 5-10 Business days for the funds to be deposited back in your account.
Criteria
Comment
Ease of use

MasterClass is easy to use, as it's well-structured and the user experience is smooth.

Opening an account is also straightforward: use your own email or your Facebook or Google account to access MasterClass.

Convenience

There isn't a set date where courses start, so you can learn at your own pace.

With their iOS app, you'll be able to download lessons to watch them offline. Strangely, this option isn't available for Android or desktop users.

Available platforms

You can enjoy MasterClass on your desktop and Apple and Android mobile devices. Android and iOS users have rated the apps with great feedback (4.8 and 4.9 respectably).

It's also possible to watch the lessons on your smart TV. Since the courses are beautifully produced, you may want to enjoy them on a larger screen.

Official certifications:

MasterClass won't offer you any completion certificate. Check educational communities like Coursera or edX if you need one.

Categories

MasterClass is currently offering 11 categories with a variety of classes. It includes the following:

Food (16 classes), Design & Style (7 classes), Arts & Entertainment (29 classes), Music (15 classes), Business (8 classes), Sports & Gaming (10 classes), Writing (18 classes), Science & Tech (3 classes), Home & Lifestyle (2 classes), Community & Government (3 classes) and Wellness (8 classes).

Free courses

MasterClass doesn't offer free courses.

If free courses is what you are looking for, then check out this review for Udemy on what free courses you can't miss out on.

Content quality

MasterClass creates its own content, and they produce the courses amazingly. However, the content itself is normally nothing groundbreaking. In my opinion classes are more of a TED talk than a proper course.

Languages

The courses are only available in English, with subtitles available. Some courses (about 5) do offer subtitles in Spanish and German.

Instructors

Of course, the instructors (or Celebrities) are a major selling point of MasterClass, they are big figures in their industry.

However, there's not a teacher-student exchange, it's more like a seminar from a VIP. Also, in my experience there's barely any follow up on the questions students may have.

Course requirements

There aren't any formal requirements for the courses, anyone can join.

Course structure

MasterClass normally offers courses that are 20 lessons long and each lesson is about 10 minutes.

Each course has a video-presentation that you can watch before enrolling. It's also possible to watch a lesson sample, but you won't find on the course page much information about it or a syllabus.

Quizzes & tests

MasterClass courses don't have quizzes that you can complete to assess your progress. There aren't either any mandatory assignments, but every course will have some sort of optional interactive resource for you to complete.

There is a PDF workbook you can follow to get more juice out of each lesson as it summarizes it's key learnings.

Payments & refunds

Use PayPal or a credit card (MasterCard, Visa, AmEx or Discovery) to purchase from MasterClass.

A 30-day refund policy is available if you decide within the first month that MasterClass isn't for you. All you need to do is submit a request here and a member of the MasterClass support team will get in touch. It may take between 5-10 days for the funds to be deposited back into your account.


Support

MasterClass claims to have an around the clock support team, 7 days a week. You can reach them via email. You may have to wait to hear back from them.

MasterClass' knowledge base is complete and easy to use. Most of the time it answered my questions about MasterClass.

Overall rating

MasterClass is a great platform if you are looking for inspirational videos with very famous professionals. Its video content is highly engaging and will leave you motivated and wanting more. On the other hand, if you are looking for more of an educational and professional learning experience, it may be worth checking out Coursera or Udacity.
Will MasterClass Help Me With My Career?
I doubt any employer will give you a raise or a new position because you've watched a MasterClass course.
Do you imagine reaching out to Warner Bros asking for the lead role on its next Batman or Superman movie on the grounds that you watch Samuel L. Jackson 5 hours acting course?
That won't happen, will it?
But you may pick a couple of good tips from Samuel's course that may give you a confidence boost, or listening to Samuel's old stories may motivate you to pursue your acting career.
Is MasterClass Legit?
Totally, MasterClass is a legit company and it does what it says. They won't scam you. However, as I said during this MasterClass review, its approach is a bit different and far from MOOC (Massive open online course) institutions such as edX, Udemy or Coursera.
If you are a big fan of one of the instructors, and you would like to hear her or his stories, and get a couple of tips on how they perform their craft, you'll be happy with MasterClass. You'll be extremely disappointed if you expect a MasterClass course to teach you a skill or a craft for your career.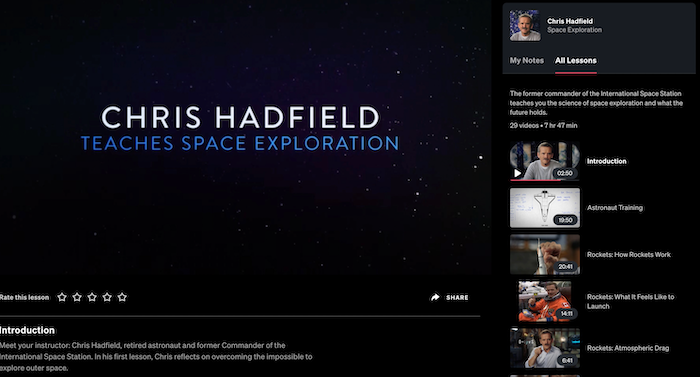 MasterClass Chris Hadfield Teaches Space Exploration
How is Chris Hadfield (former NASA official) going to teach any of us how to become an astronaut from our bedroom with an 8-hour course? But if you are passionate about space exploration, you may enjoy what he has to say.