MasterClass Review: Is It Worth It?
Upskillwise.com is fully supported by its readers. If you register or buy a course using our links, we may receive a commission.
 is a
stand-out online learning platform
, due to the famous faces teaching its online classes. Its
celebrity and VIP instructors
are ready to share with you their
knowledge, passion and experience
. So if you like the idea of learning basketball from
Stephen Curry
, songwriting from
Alicia Keys
or how to cook from
Gordon Ramsay
then MasterClass is a platform for you to consider.
This San Francisco online learning platform was founded in 2014, it currently offers 150+ classes across 11 categories. Each class is an average of 20 lessons, with each lesson around 10 minutes long.
If you don't have time to read our detailed review, then please check out of video below to give you a summary of what MasterClass is all about.
But of course, you want to know if MasterClass is something more than flashy names and superb videos. Another important point to consider is, will you learn a real skill after taking one of its classes?
Let's find out more in this detailed MasterClass review.
Affordable
Even though MasterClass is billed annually, when you break down the price month to month it's fairly affordable for the number of classes you can access.
Well Produced
After watching 10 seconds of the first video, you'll realize that MasterClass videos have been very nicely put together. They have a very engaging cinematic aura.
Top VIP Instructors
Of course, a big selling point of the MasterClass is getting to learn a craft from worldwide recognized professionals. For example, Yotam Ottolenghi teaches Modern Middle Eastern Cooking or Bobbi Brown teaches Makeup and Beauty.
Generous Refund Policy
After you purchase your MasterClass membership account, you'll have 30 days to request a refund, not bad at all.
No Free Classes or Trials
Sadly, there aren't any free courses or trials with MasterClass, so you won't be able to check any course before you pay for a membership.
No Certificates
Sadly, you won't receive a completion certificate when you successfully complete a class with MasterClass.
Lacking Reviews
There are some reviews from past members on the homepage. But nothing detailed or about specific classes. So, you are left without a comprehensive account of a previous learner's experience.
MasterClass Review Verdict
MasterClass is an online platform that offers 150+ classes from 11 top categories, including photography, cooking, writing, acting, music, sports and more. Its classes are taught by celebrities and VIPs that have a wealth of knowledge and experience and ready to share it. Every class has been designed to be accessible for people with little to no experience. Its video classes are well produced and have a cinematic feel, making learning with MasterClass highly engaging. It launches new classes regularly where you can learn practical skills and ignite new passions. It works on a subscription model that is billed annually and also has plans for teams and Businesses.
Who Is MasterClass For?
It is hard to pinpoint: Who exactly MasterClass is right for?
The MasterClass platform appeals to anyone who is an enthusiast in a particular topic like Adventure Photography or Middle Eastern Cooking. What really gives MasterClass an edge are its famous faces teaching its classes. So if you like the idea of Gordon Ramsay teaching you on How to Cook or Alicia Keys on Songwriting and Producing, then MasterClass would be a great fit for you.
If you are anything like me and learn best from engaging and bite size video lessons (no longer than 10 minutes each) then MasterClasses video lessons will have you hooked. Its classes are really well produced and a pleasure to watch. You can read later in the article about My Experience of a MasterClass to give you a better idea of what to expect.
What brings you to MasterClass today?
If you are a little lost on where to start, I would suggest clicking on My Categories and then selecting one or more of the options of What brings you to MasterClass today? (see image below)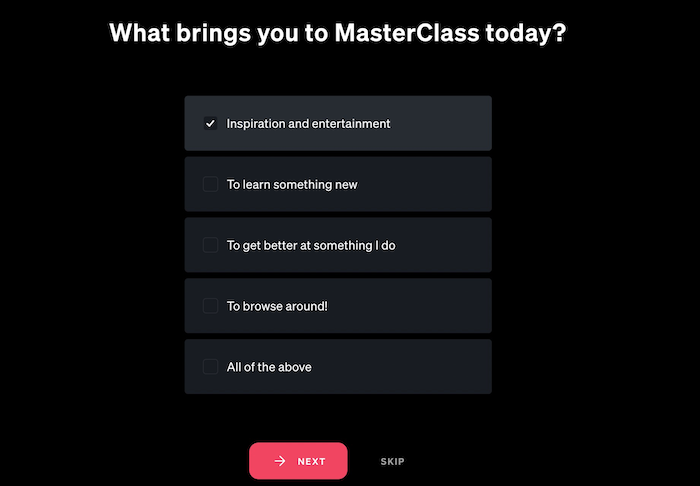 You will then have the option to pick the categories you are most interested in and then click submit my picks.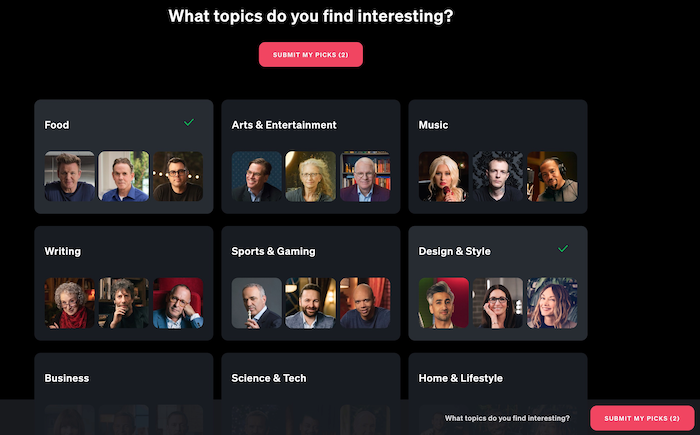 Finally, your custom result will show all the recommended classes based on your category selection. This should help to point you in the right direction when getting started with MasterClass.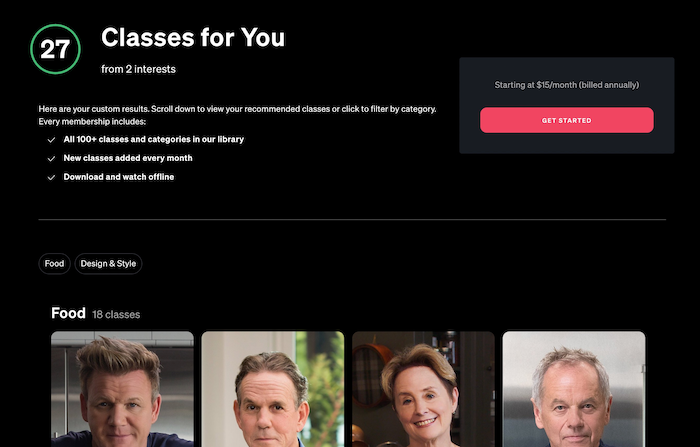 > Ready to get started with MasterClass you can do here
Remember, though, if you have the intention to fulfil an educational goal or even receive a certificate, then Udacity or Coursera would be a better fit.
MasterClass At Work
Like most other online learning platforms, MasterClass doesn't only offer its classes for individual learners, it has plans for teams and businesses or more commonly known as MasterClass At Work. You can invest in your team or business by contacting sales to choose the plan for your business.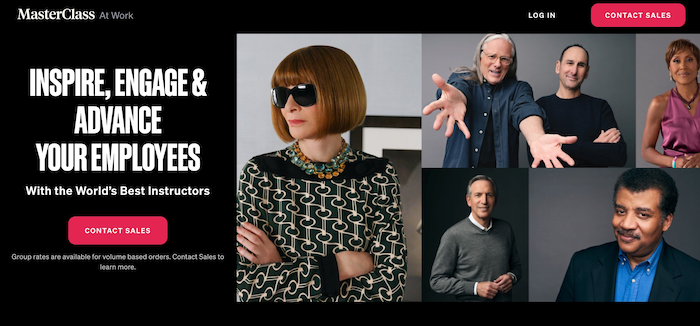 You will fill in your company information choosing the number of annual memberships (between 5-1000 seats), name of your company or organization, location and email address (see image below). The group rates discount (5-35%) when you purchase of 5+ annual memberships.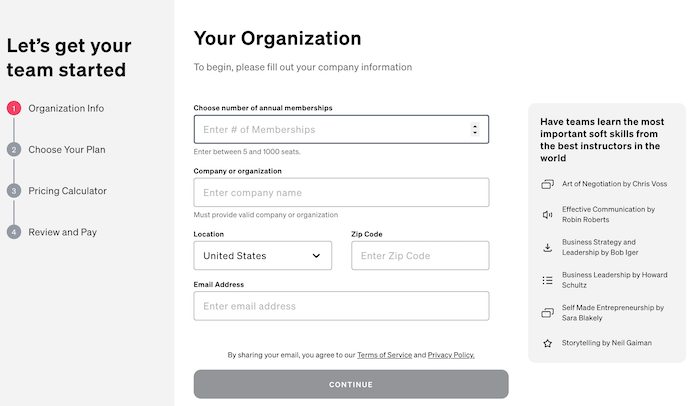 MasterClass Organization Form
MasterClass claims to do the following for your organization and employees, like driving business outcomes (see image below). All I want to add here is it's important to consider the type of organization you are part of and if you really feel it would benefit from the MasterClass catalogue. It may even be worth asking for a free demo to try it out.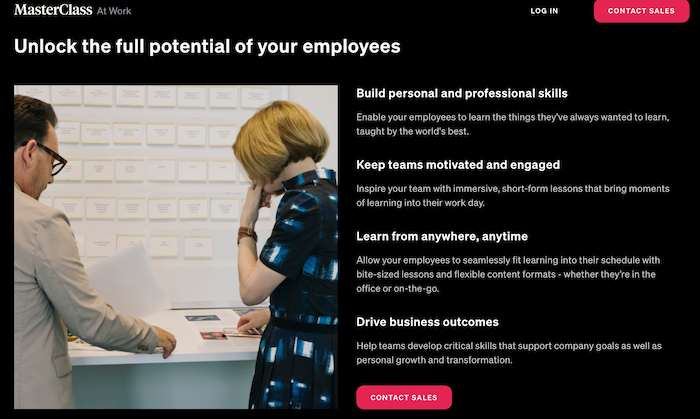 In short, organizations choose MasterClass At Work;
Stream anytime, anywhere, at your pace
Get inspired, 10 minutes at a time
An immersive learning experience
Learn from the world's best
150+ Instructors across a variety of categories
Unlimited access with your annual membership
> Check out MasterClass At Work here
How Much Is A MasterClass Membership?
MasterClass works on 3 different subscription models giving you access to the catalog of 150+ classes across 11 categories taught by the world's best on cooking, leadership, photography, writing and more.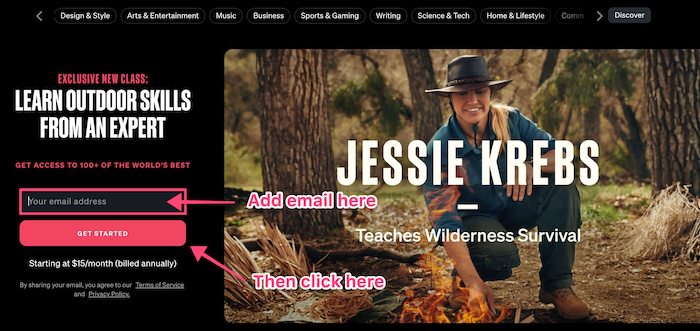 When you land on MasterClass you just need to add your email and click 'GET STARTED' (see image above). You will then get taken to choosing an annual MasterClass membership.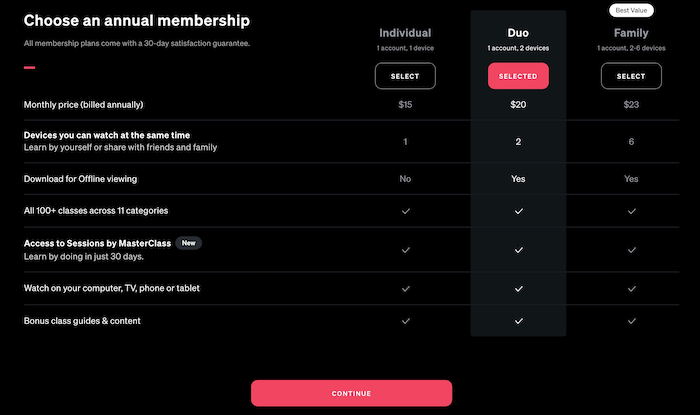 Individual: $15/month ($180 when billed annually)
Duo: $20/month ($240 when billed annually)
Family: $23/month ($276 when billed annually)
Each of these plans are billed annually, the price difference between them isn't much. But the main distinction is the Duo and the Family plans allow you to download for offline viewing and ability to use numerous devices at the same time on the MasterClass platform.
If you do decide that MasterClass isn't for, then you are entitled to a refund within 30 days of registering. All you will need to do is send an email to support@masterclass.com, and you will be given a full refund. So if you aren't sure if MasterClass is the platform for you, then consider the first month like a free trial which can be refunded.
If you don't want to continue with MasterClass, you can cancel your membership renewal through your account page. All you need to do is follow the prompts on the Settings page and your membership will not renew for the following year. If you are interested in checking out another platform offering a similar priced subscription plan, check out our comparison article on Skillshare Vs MasterClass.
Gift a Membership

A nice feature that MasterClass is gifting the annual membership to a colleague, friend or love one. If you have someone in your life that enjoys online learning and would enjoy exploring the classes and VIP instructors on offer, then why not gift them something memorable.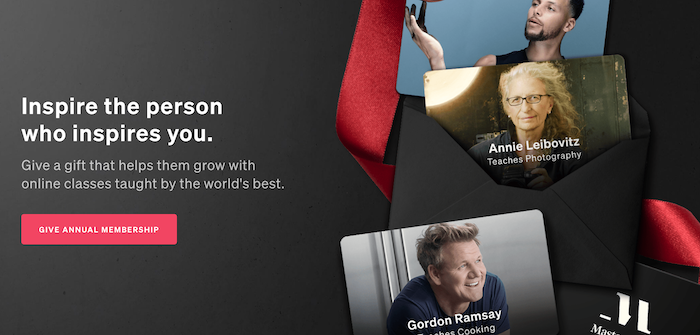 MasterClass Give Annual Membership
You can add an optional gift message which will be sent via email either immediately or on a chosen date. Just like a regular membership a 30-day money back guarantee is offered if they don't love it.
MasterClass Grants

The MasterClass Grants Program is designed to help give back to communities in need. It provides MasterClass annual memberships to accredited organizations. Once you submit an application, the team will evaluate it and notify you via email if you have been selected for a grant.

MasterClass Grants Program
> Apply for a MasterClass Grant here