If you are someone with a creative flair, then most likely you have heard of Skillshare. This online learning community is very popular among designers, photographers, chefs and artists. According to its own data, this platform seems to have over 8 million users and offers more than 41,000+ classes.
You probably still have a bunch of questions about its costs, like: How much is Skillshare? Will you be able to refund your Skillshare account if you aren't happy with the premium version of it? Is Skillshare worth it?
Let me help you out and explain all there is to know about Skillshare's prices and memberships.
Skillshare Costs: An Overview
Skillshare offers a free trial with its premium plan for individual users. Its premium plan membership has only one option that it is billed annually at $167.88 (working out at $13.99 a month). Skillshare for Teams are made up of 3 different plans, Starter, Enterprise and Revive. The Starter is $159 per user, per year, and best for (2 to 19 students). The Enterprise is great for larger teams (of 20+) and the 3rd plan Revive is for (50+ or more) each of these plans are custom priced.
Premium Plan
Team Plans
Classes
41,000+
35,000+
Join the community
Yes
Yes
Offline watching
Yes
Yes
Supports the community
Yes
Yes
Refunds
7 days
No
Free trial
1 month
No
Team management features
No
Yes
Payment Plans

(working out at $13.99 a month)

Starter Plan $159
More information
skillshare.com
Is Skillshare Free?
Skillshare used to offer a bunch of its classes for free with a free plan, but as of September 2021, it has transited away from the free class experience and now all students must have an active free trial or paid membership to login and explore classes.
To create an account with Skillshare you can click on Sign Up and add a valid email address or use your facebook, Google or Apple account (see image below).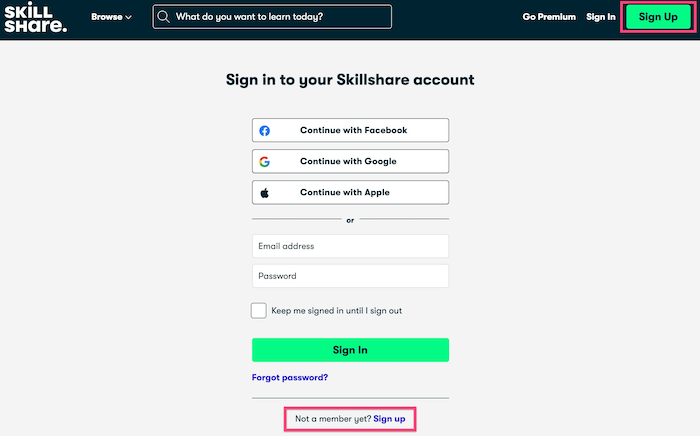 Skillshare Sign up
Once you are signed up, you will need to add your card details, but you won't be charged anything until your free trial ends. This may leave you a little apprehensive to sign up. I get it, but if your intention isn't to continue with a paid premium plan, you are free to cancel at anytime. Plus, Skillshare will send you an email 7 days before your trial ends to remind you.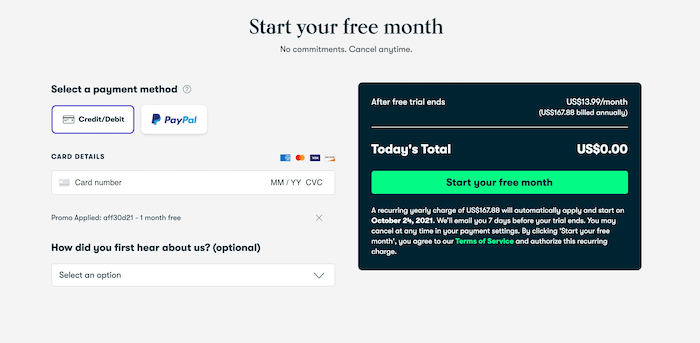 Once you are all signed up with your free trial, you will have access to the Skillshare platform and can start exploring its classes and what it has to offer.
Skillshare Premium Membership
So, you are probably asking yourself, what do I actually get with the Premium membership?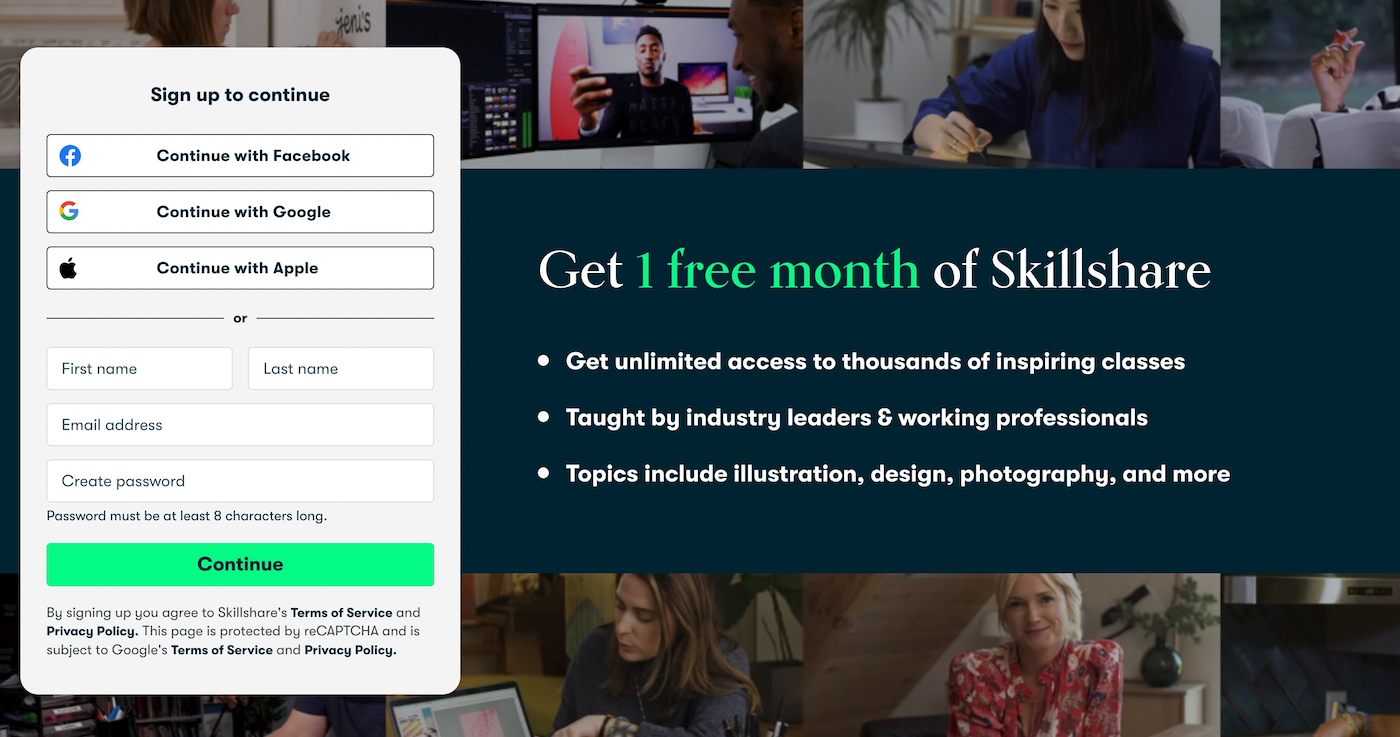 Skillshare Premium Free Trial
Firstly, you will be able to enjoy the premium membership with a free trial and this will give you full access to its library of classes 41,000+ on a variety of creative topics like Animation, Graphic Design, Photography and much more. You can choose to sign up for either the annual or the monthly membership plan.
On top of that, you will be able to enjoy the following with Skillshare Premium;
Creative Community: Get support and feedback on real, hands-on projects
Offline Access: Download classes to your smart device with the Skillshare app
No Ads: Watch your classes with no interruptions
Supports Teachers: Funds the royalty pool that pays teachers each month
Perks: Discounts on exciting creative resources, services and benefits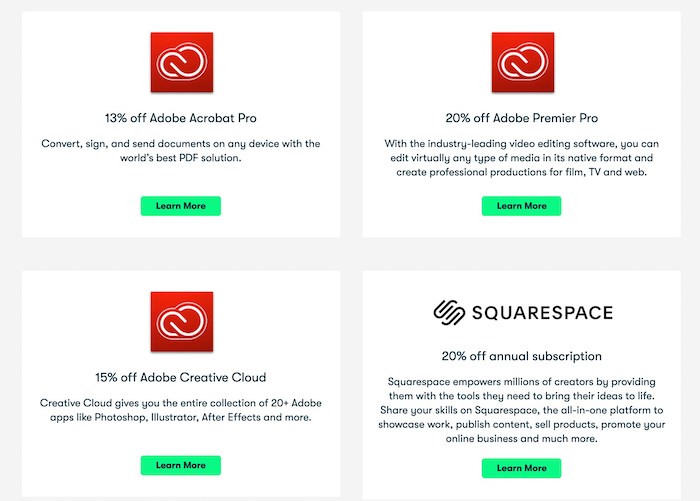 Skillshare Perks discount for premium users
The Skillshare premium membership gives you exclusive discounts to your favorite creative services like Adobe and Squarespace starting at $14 monthly for its annual subscription.
> Try out Skillshare Premium here
Skillshare Teams Plan
As some other elearning platforms do, Skillshare also has specific plans for businesses and teams, so you all can keep on developing existing skills or learn new ones.
There are three packages available for organizations, the Starter, the Enterprise and the Revive plan. But before going into what each of them offers, let me tell you that you won't be able to refund these.
Organizations like Vice, Virgin TV or Staples are clients of Skillshare and provide their employees with access to this platform.