Udacity Review: Is It The Most Compatible Elearning Platform For You?
Udacity's mission is to teach and train learners for careers of the future. This popular platform partners with leading technology companies like Google and Microsoft to create learning programs on the critical tech skills that companies are looking for.
Udacity has had over 160,000 students from more than 190 countries enroll in its Nanodegrees (the name they give to its learning programs).
But of course, none of the above means that its Nanodegrees are going to be a good choice for you. And will you have to break the bank to join one of their programs?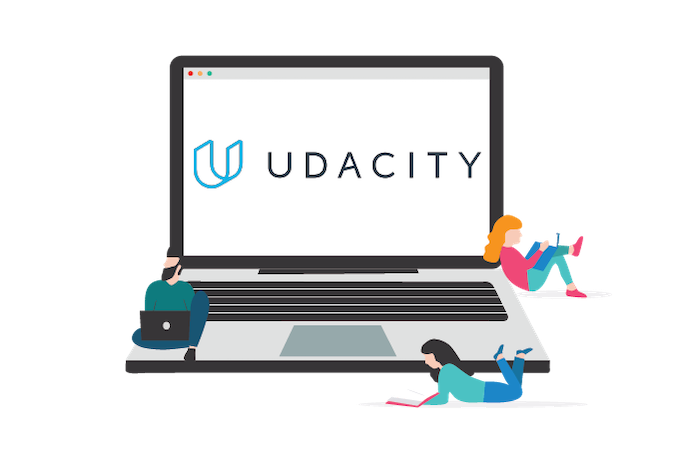 I'll explain all in this innovative digital skills platform. And you can figure out if Udacity is compatible for you.
Top-Quality Content
Udacity develops its own content with tight collaborations with (industry-leading) partners such as Google, AWS (Amazon), Mercedes or Nvidia.
Career Services
Anyone who enrolls in a Nanodegree will have access to Udacity's Career Services that include Resume & Cover Letter  Reviews and a LinkedIn and GitHub Review.
Free Courses
Udacity offers over 200 free courses. This is great place to start and get an idea of what to expect from this popular elearning community.
Certificates
If you complete a Nanodegree (how its programs are named) with Udacity you'll earn a certificate. However, be aware that these aren't offered if you use Udacity with a free account. Be aware that Udacity is a private institution and their certificates aren't accredited.
Intuitive Interface
Udacity has a really user-friendly interface, which not only makes its platform easy to move around and find what you are looking for. But it really is an enjoyable learning experience.
You'll Need Some Budget
As we'll see later on, Udacity isn't cheap. If you'd like to join one of its programs you'll need to have some budget.
No Udacity App
The Udacity app for iOS and Android was removed from the app store in 2019. So if you are looking for on the go learning. Both Coursera and Skillshare apps allow you to download courses/classes.
Limited Topics
It's true that Udacity offers a wide range of courses about computer science and business, however, there aren't any courses outside these niches – check out Udemy or Coursera for more variety.
Only In English
The website and backend are available in other languages, but the course materials are mainly in English – some courses have subtitles in other languages.
Udacity Review Verdict
Udacity is a MOOC (Massive open online course)  elearning platform that offers hundreds of top-quality programs to help you move forward. Their programs are called Nanodegrees, these are a bundle of, more or less, 4 to 10 courses that will provide you with in-depth knowledge about a certain topic.
Its pool of available programs is not the most extensive and you are limited to certain areas (mainly technology and business-related). The lessons are designed to be hands-on and provide practical learning that you should be able to apply to your job.
Who Is Udacity For?
Udacity is for anyone that is looking to gather knowledge and earn new skills in programming, business, data science and more. Its courses are designed to give you real employable skills that are based around real-world projects where you can learn at your own schedule and ask for help from mentors 24/7.


Nanodegree Programs & Courses
The learning programs that Udacity offers for individual learners are the Nanodegree program and the single paid course. Udacity's Nanodegree programs consist of a series of single paid courses. The single course typically ends in a project where you demonstrate the skills you have learnt and an average learner can complete a single course in one month, working 5-10 hours a week. Whereas the Nanodegree is comprised of 3 or 4 courses and will naturally take longer. Udacity is currently offering 60+ Nonodegree programs.
You will love Udacity's Nanodegrees for its;
High-quality content
Strong mentor support
Student discussion forum
Industry professional Instructors
Career advice services
Udacity's certificates are issued by Udacity itself and aren't accredited by an external partner like a University. Its certificates are highly recognized by employers as its learning is renowned for being high quality. One of the reasons is that it partners with tech companies like Google and IBM.
Udacity for Enterprise
Udacity doesn't only offer learning programs for individuals it also has customised programs for companies and organizations to transform your workforce. Udacity for Enterprise prides itself on its customized learning paths tailored to your company's needs and one-to-one support for you and your team.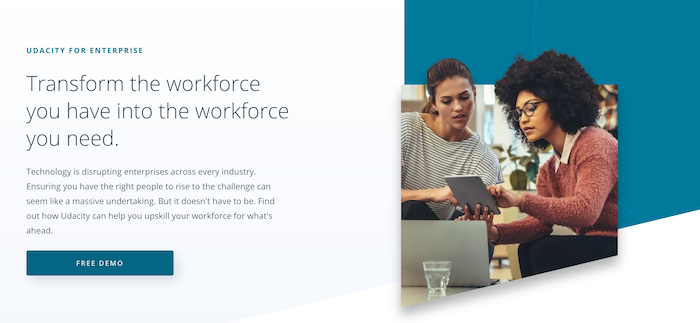 Udacity for Enterprise
If you are interested in upskilling your workforce with Udacity you can sign up for a consultation, and they will get in touch. You can check out Udacity for Enterprise here.
Udacity for Government
Udacity doesn't limit its learning to individuals and Businesses, it gives learning opportunities to governments to bridge the people and skill gaps, increase job growth to reach new economic heights.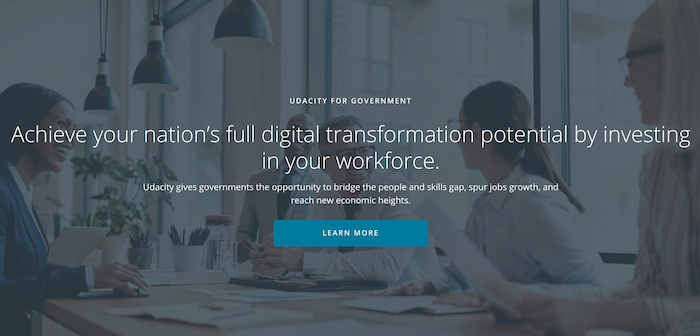 Udacity for Government
You can sign up for a consultation by clicking on Learn More (see image above) which you can submit and you will be contacted by the Udacity team.
How Much Is Udacity?
Udacity's pricing, at first glance may seem a little overwhelming and more complicated than your standard pricing plan. But I will do my best to explain it in as concise way as possible.
Udacity's Nanodegree Programs start at $399 (€359 or £329) a month. Each Nanodegree Program takes an average of 2-6 months to complete, assuming you work the required hours per week. All Nanodegrees offer a couple of ways to purchase their programs:
Pay As You Go (monthly access) payment: You will be charged the monthly $399 (€359 or £329) for as long as you take to complete the Nanodegree, or until you decide to cancel your subscription.
All Access: Each Nanodegree will have an estimated amount of time it will take you to complete the program, e.g. 5-month access. This means you will pay the full access upfront and if you do need more time to complete it, you can switch to the Pay as you go (monthly access).
Let's take the Become a Data Engineer Nanodegree Program as an example. There are a couple of options to pay for it, either with the Pay as you go for $399 a month option or the 5-months all access $1695 upfront option.
Udacity Become a Data Engineer Nanodegree Program
Each of these options have their pros and cons. If you decide on the Pay as you go option knowing that you were able to work more than the required 5-10 hours per week, this may end up cheaper for you, completing it in, say, 4 months or less. But if you already know that you can't dedicate more hours than the 5-month access would work out better value for you. I have put together a table below to give you an idea of how the Nanodegree pricing looks like depending on the program duration.
Program duration
Monthly Pay as you go
Full Access Pay Upfront
2-month Nanodegree
$399

(per month)

$558 for the program

(2 months access)

3-month Nanodegree
$399

(per month)

$1,017 for the program

(3 months access)

4-month Nanodegree
$399

(per month)

$1,356 for the program

(4 months access)

5-month Nanodegree
$399

(per month)

$1,695 for the program

(5 months access)

6-month Nanodegree
$399

(per month)

$2034 for the program

(6 months access)
Udacity often runs promotions and discounts across the platform on particular Nanodegrees, make sure that when you see these offers you take full advantage of them as it can mean you get a decent discount.
> Check out Udacity's Nanodegree Programs here
Udacity's Refund and Cancellation
Udacity's refund and cancellation policy, you can cancel within 2 days of enrollment to be eligible for a full refund on your first month's subscription. I know what you're thinking, 2 days, it really doesn't give you time to make a decision, but sadly that's the policy. For citizens or residents of the EU you have 14 days to claim a full refund. You are, however, entitled to cancel your automatic subscription at any time during the month so that you won't be charged for the following month.
Udacity's Free Courses
There are close to 200 courses that you can enjoy for free at Udacity. These free courses are designed to give you an introduction to some of the Nanodegree topics, and others focus on career related content like Interview preparation and refreshing your resume. The free courses will come with some limitations, for instance, you won't be able to get a completion certificate or be entitled to mentor support.