CreativeLive Review: Is It The Best Platform For You?
CreativeLive is an online creative community which is aimed at entrepreneurs and creative professionals. It offers 2,000+ curated classes that are taught by 700+ handpicked instructors. Its classes focus on improving your creative skills and knowledge hence its name.
So if you are someone looking to develop skills in writing, blogging, art or design, then CreativeLive may just be the right online platform for you. It has had over 10+ million students enrol on its variety of creative courses.
Please note that our reviews are supported by affiliate commissions.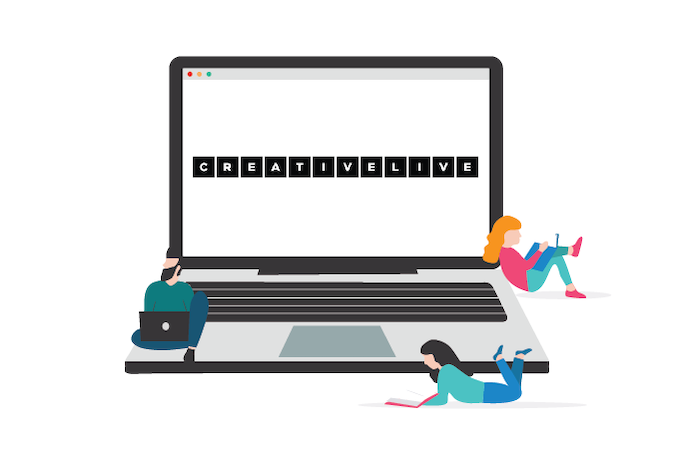 Already wanting to find out more? Is CreativeLive different from other platforms? How much is it? Well stick around and let's delve in to this in-depth CreativeLive review.
High Quality
All of CreativeLive's videos are filmed by in-house videographers meaning that the quality is top notch.
Industry Icon Instructors
Over 700+ top industry instructors including (best selling authors, Grammy and Oscar winners like Daymond John and Mel Robbins) teaching its classes.
Free Live Classes
All classes are free to access while they are streaming live.
Accessibility
You can learn with CreativeLive using a computer or mobile, making it accessible to learn on the move, plus class videos and material are downloadable.
Refund Policy
A generous 30 day refund policy on individual courses and 7 days on creator pass.
CreativeLive Review Verdict
CreativeLive is a platform for creatives and innovators. The goal is to take a fresh approach to education and give anyone the access to visionaries, leaders and professionals who inspire you. Working with handpicked professional creatives to teach its courses and offering a 30 day refund if you are not satisfied with the course.
Who Is CreativeLive For?
You may be a little unsure if CreativeLive is the best platform for you?
If you are a natural creative or have a creative itch that you want to unleash (I actually think all of us do) then this platform will have something for you.
Some of CreativeLive's most popular categories are photography, videography, personal finance and design. For example the 'Fundamentals of Photography' course has had 96.9K students enrolled on it and 100% of them have recommended the course. You can't get much better than that.
CreativeLive doesn't just offer courses to individual learners. It offers courses to teams and employees too. It offers a couple of different pricing models and you can choose the one that best suits your team (I talk in more detail about this in the pricing section below).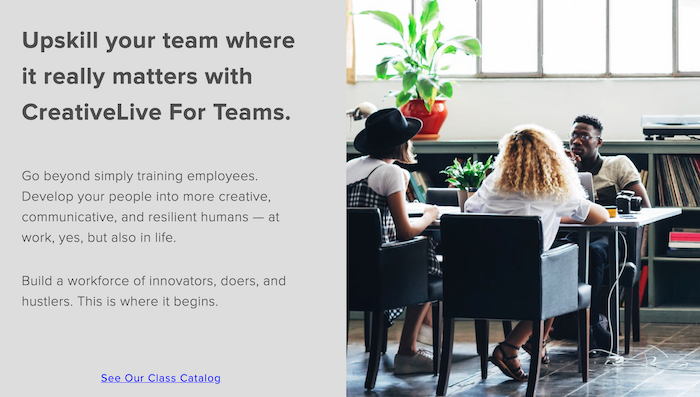 CreativeLive for teams
It's the free live streaming (I talk in more detail below in pricing) of classes that sets it apart from other platforms and is a really attractive feature for new learners getting to know the creative community.
One thing that CreativeLive doesn't offer is a formal accreditation. If that is what you are looking for then, please check out edX or Coursera.
How Much Are CreativeLive Courses?
CreativeLive is on the lower end of pricing for an online platform with many of its courses starting at $50 and going up to $200. Its courses are often discounted but this may lead you to question whether this is a marketing strategy or not. Either way its courses are pretty good value for money and who doesn't love a bargin.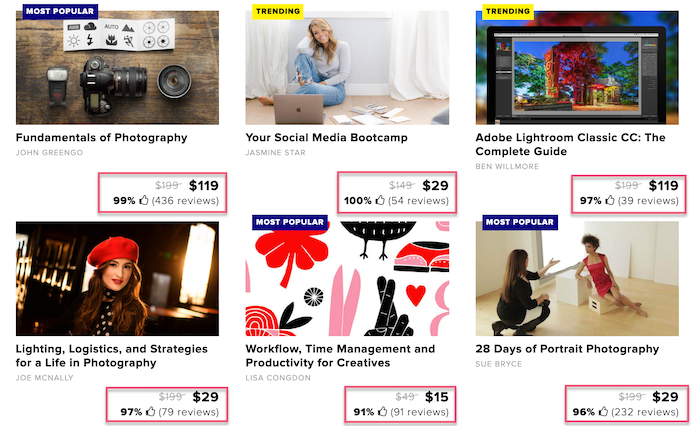 CreativeLive discount courses
The Creator Pass
Another option that CreativeLive offers is the creator pass which gives you access to 2000+ classes to stream anywhere which you can enjoy at your own pace.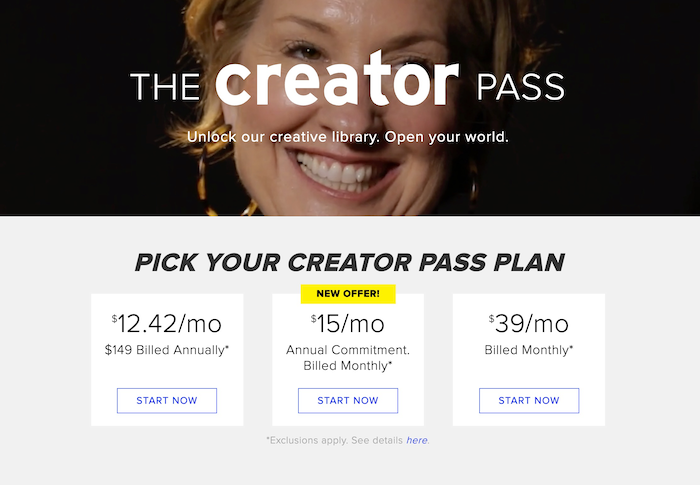 CreativeLive The creator Pass
The creator pass plan offers 3 different payment options. You can either pay $149 in full for the annual plan that works out at $12.42 a month. If you don't want to pay everything upfront for the year, then you can pay $15 a month, but you will still need to commit for 1 year. Finally, you have the monthly option that is $39 and is billed monthly. Note all these payment plans are without Tax.
Access to 2000+ classes
Gain access to new classes & exclusive conferences
Exclusive access to Fast Class
60k+ digestible lessons
Download lessons for offline viewing
Curated learning paths
New classes published every month
Gift The Creator Pass

The Creator Pass also makes a really unique and creative gift for a friend, work colleague or loved one. You either decide to gift the pass for a whole year or for a month.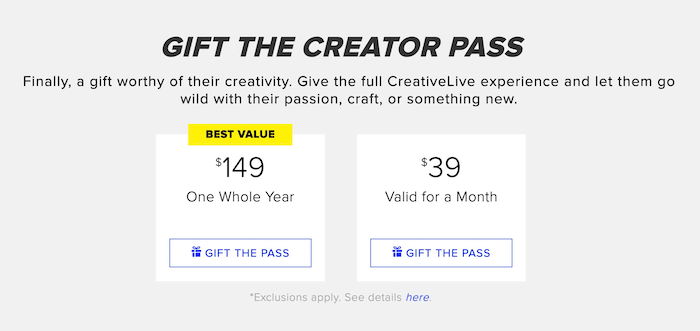 > Check out The creator Pass here
After purchasing The creator Pass you have a 7-day refund period within which you can try to pass out and if you aren't satisfied, you can request a refund by emailing support@creativelive.com.
CreativeLive for Teams
If you are looking to upskill your team, then CreativeLive offers a couple of options the Standard plan or the Enterprise which depends on the size of your team is. If your team is between 5 and 100 it is $149 per person, per seat and billed annually. And if your team is a 1000+ you can contact for a customized quote.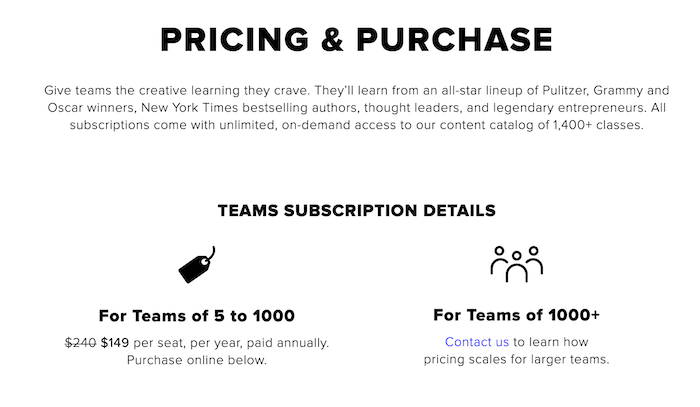 CreativeLive for teams pricing
CreativeLive Free Live Classes
CreativeLive has a stand-out feature from other online platforms. It has CreativeLive TV which is free and 24/7. It includes live-streaming from living rooms, studios and kitchen tables. To live musical performances and Q&As. This innovative and engaging content is completely free and worth checking out.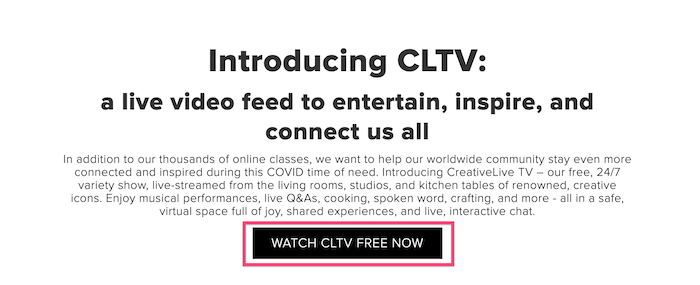 CreativeLive on air now
You can then view upcoming classes for each day of the next week and all you will need to do is click RSVP, and you will be sent a reminder for when they're live on air. Plus they have the option of adjusting your timezone which is pretty helpful.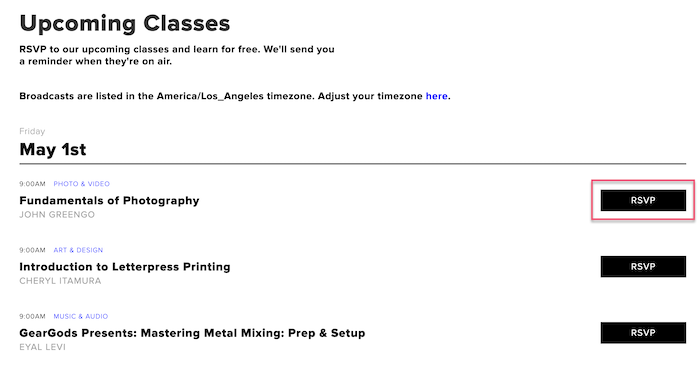 CreativeLive upcoming classes
How To Open A CreativeLive Account?
The registration process for CreativeLive is really intuitive. I still thought it would be helpful to give you a step by step of how to join.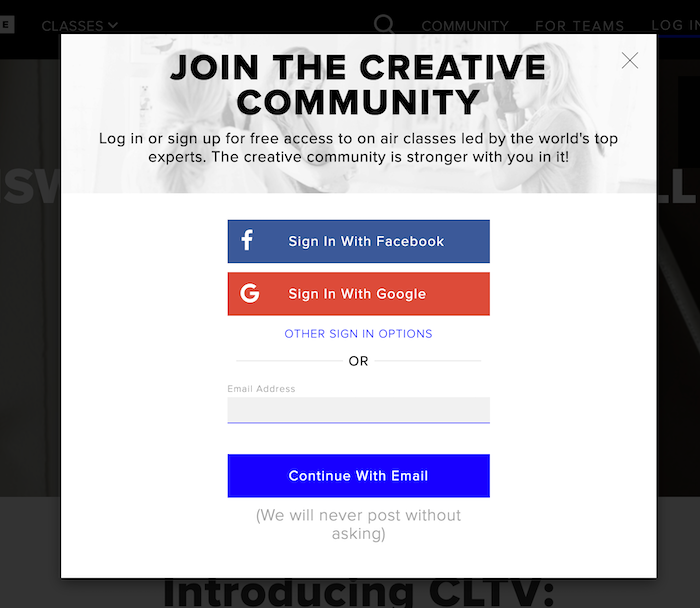 CreativeLive sign up
Open a browser and visit creativelive.com
Click LOG IN/SIGN UP in the top right corner
Either sign up with your email or use facebook or google
New window to open where you will add Full name and choose a password
Once you are signed up, you can click on Classes or start to Search Topics, Instructors and more in the search bar. And begin to browse and enjoy the platform.

CreativeLive Search Classes
Once you click on Classes, an option for The Creator Pass is at the top of the page which you can choose if you want full access to the platform. I talk about this in more detail in the CreativeLive pricing.

Examples Of The Most Popular CreativeLive Course
I thought it would be helpful to look at the 5 most popular courses at CreativeLive as it will give you good indication of what other learners are enjoying.
Workflow, Time Management and Productivity for Creatives  – A course to help you learn how to organize and implement a workflow system and utilize your time. It has had over 64.5K students enrolled and 91% of them recommend this class. The course instructor is Lisa Congdon, an artist, illustrator and author who also works with clients such as MoMA and Harvard University.
Adobe Photoshop CC: The Complete Guide – This course will show you how to use Camera Raw to adjust images, advanced techniques when retouching images and much more. It has over 119.6K students enrolled and 99% of them recommend this class.The course instructor is Ben Willmore an Adobe Photoshop expert who has taught over 100,000 users.
Fundamentals of Photography – This course will help you to master the technical basics of the camera and the kind of equipment you will need. It has had over 96.9K students enrolled with 100% of them recommending the course. The course instructor is John Greengo, an award-winning photographer specializing in outdoor and travel photography.
How to Break the Habit of Self-Doubt and Build Real Confidence – A course that will help you understand the science behind how self-doubt affects you, learning new ways to overcome it and much more. It has had over 116.6K students enrolled with a 98% recommendation of the course. The course instructor is Mel Robbins, the most booked female speaker in the world, a serial entrepreneur, and a best-selling author.
28 Days of Portrait Photography – A course explores 28 different topics essential to any successful portrait photography studio. You will learn about styling, posing, marketing, selling and much more. It has had over 99.3K students enrolled with a 97% recommendation of the class. The course instructor is Sue Bryce, a multi-talented master of Photography, Artist, Illustrator and Anthropologist.
7 Tips To Find The Perfect CreativeLive Course
If you are undecided about which course is right for you. I have put together 7 tips to help you pick the best course for you.
Use the Filters
Once you have decided on your chosen category you will then see all the different filters available to you on the left side of the page. In this case (see image below) I chose Art & Design Classes. I can then choose one of the more specific subcategories like Adobe Photoshop or pick one of the filters like Best Sellers. It's a helpful feature if you have a clear idea of what you are looking for.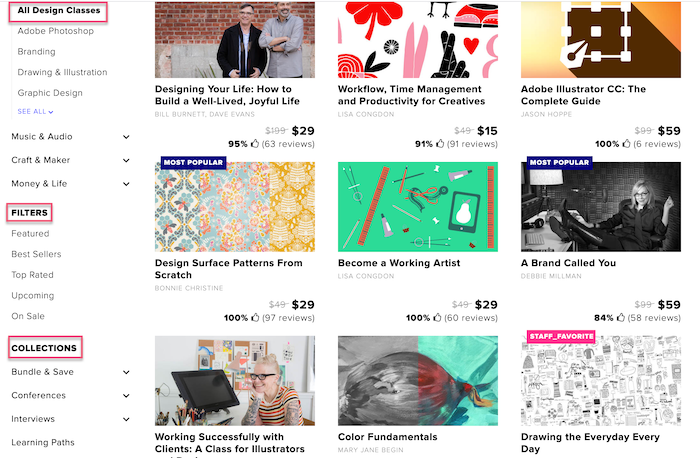 CreativeLive filters
Class Description
You are able to read a class description for every course. You will find a short summary of the course and then bullet points on what you will learn.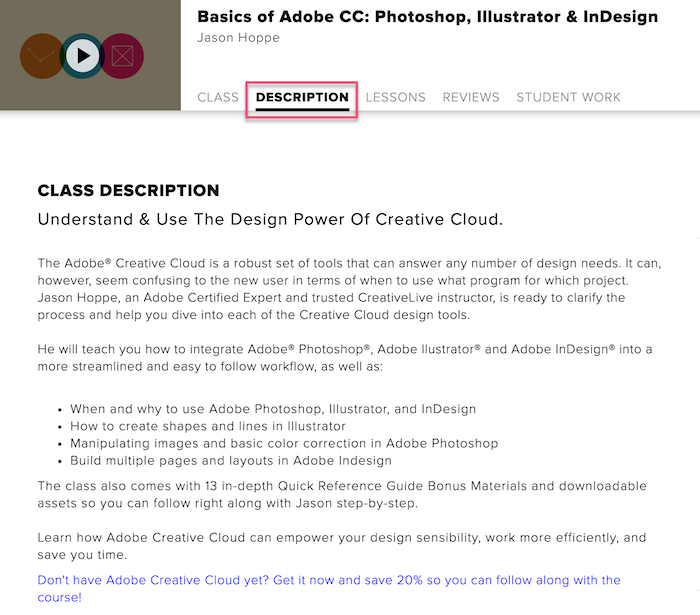 CreativeLive class description
Next to the class description you will find topics covered in this class (see image below). This is a really quick way to highlight the specific topics that each course covers.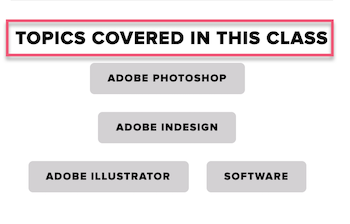 CreativeLive topics covered
Lessons of each Course
Each of the lessons covered in the course is clearly outlined here along with its time duration giving you a comprehensive overview of the whole course.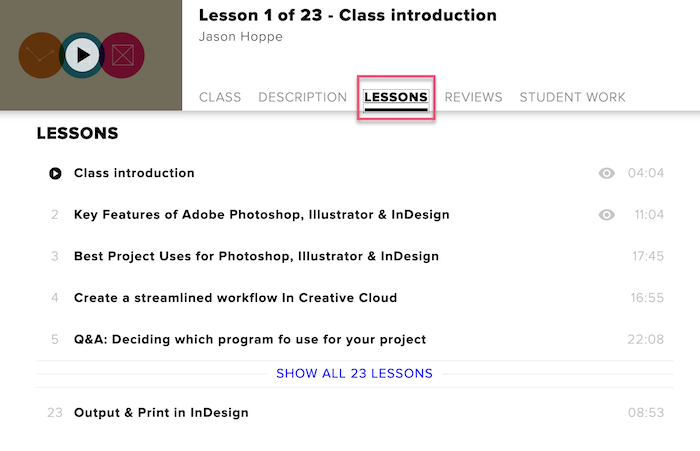 CreativeLive lessons
Along with the lessons there is also class material available to download in a PDF format which accompanies the classes. Check them out to get an idea for the course.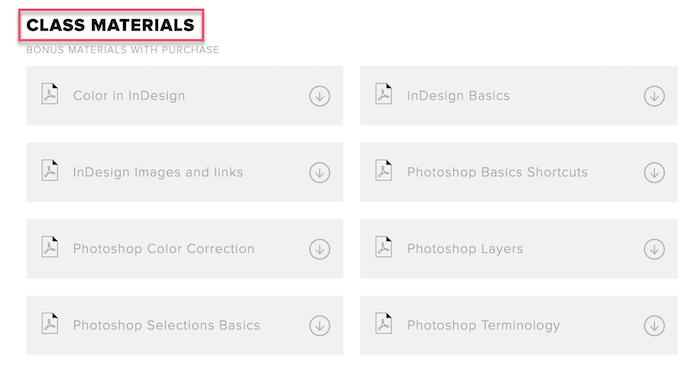 CreativeLive class materials
CreativeLive Preview
When you enter the class page you have the option to preview the class introduction and possibly the first lesson of the class. This is a perfect opportunity to check out the instructor, get a feel of how they will teach and if the course is the best fit for you.
CreativeLive preview the course
Reviews at CreativeLive
Every CreativeLive course has reviews from previous students who have enrolled and completed the course. The reviews indicate a simple thumbs up or down and then an overall percentage of students who recommend the course. It is a simple review system, but effective to compare the positive and negative feedback. If you are looking for a more comprehensive review system it may be worth checking out Skillshare or Udemy.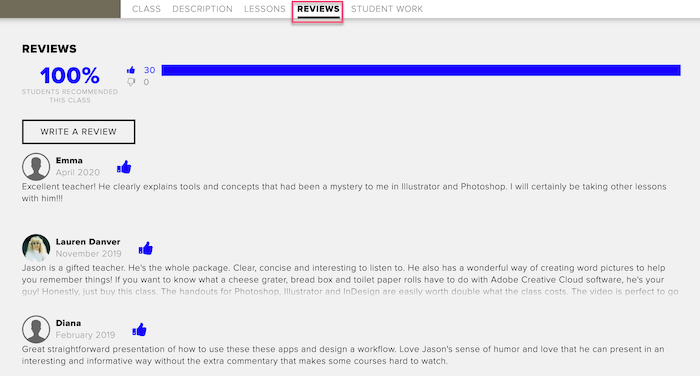 CreativeLive reviews
Student Work
CreativeLive has the option for learners to upload work they have completed whilst studying on the course. I think this is a really nice touch, not only for the learners to show the work they have created, but also for prospective students to see what past students have produced. As you may know, when you study on a creative course many times the objective is to produce a final piece of work.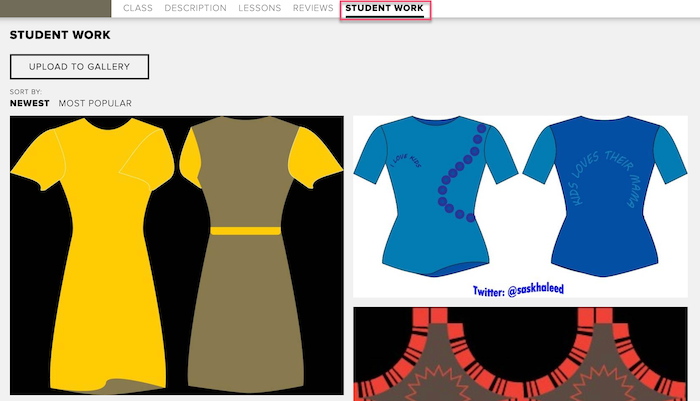 CreativeLive student work
Industry Icon Instructors
CreativeLive's instructors are made up of 700+ handpicked master creators including Grammy Winners, Best-sellers and World-renowned photographers. Familiar faces you may recognize are the likes of Mel Robbins and Richard Branson.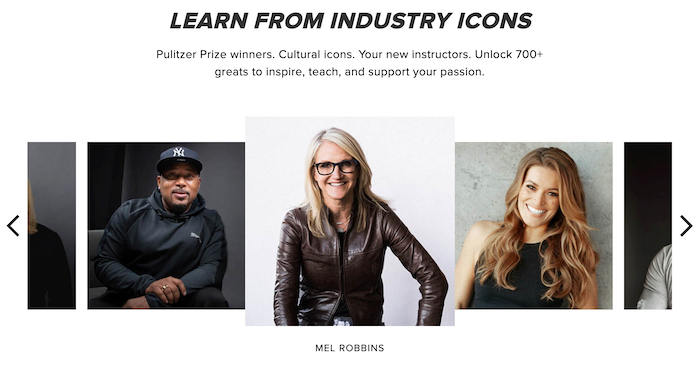 Learn from Industry Icons CreativeLive
Once you have chosen your class, you can read a small blurb about your instructor. Plus links to their social media and website and other classes that they teach. If you have enjoyed one of the classes with a specific instructor, it may be worth checking out their other classes.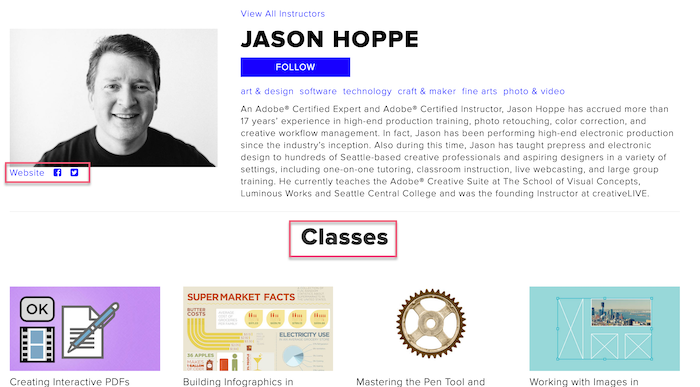 CreativeLive instructor classes
Criteria
Comment
Ease of use

Opening an account is really intuitive, you just need to add your full name, email and create a password. There is also the option to sign up with facebook or google if you prefer that way.

The design and layout of its platform is easy to move around. The minimalistic colours of the site definitely have that stylish creative vibe. Following the classes is also straightforward.

Convenience

The majority of courses at CreativeLive are to learn at your own pace. Once you have purchased a course you can then download it and watch it offline which is really convenient if you are on the go.

The live streaming is a great feature if you want to try it for free and then decide if you want to purchase a course or a pass.

Available platforms

CreativeLive courses are 100% online which you can access from a desktop, laptop or via the CreativeLive app with a smartphone (for iOS).

The CreativeLive app has a 4.9 rating with Apple but is not available with Android.

Official certifications:

Sadly CreativeLive doesn't offer any certificates or accreditations on its courses.

If an accrediated certificate is what you are looking for, then it is worth checking Coursera or edX.

Categories

CreativeLive offers 5 main categories; Photo & Video, Money & Life, Art & Design, Craft & Maker and Music & Audio. There are then a wide array of subcategories.

Free courses

CreativeLive has free access to all its live broadcasts. This service is available 24/7.

It does have a few free photography courses, but I can't vouch for how good the quality of the courses are, but they may still be worth a try.

Content quality

CreativeLive content is filmed and produced by in-house videographers and producers. You can be assured the final product is of the highest quality.

Languages

CreativeLive courses are only available in English.

Instructors

CreativeLive has 700+ handpicked instructors from Grammy winners to best-selling writers and world-renowned photographers.

If you are interested in becoming an instructor with CreativeLive you can create a proposal, and email it to the production team who will then be in touch.

Course requirements

Each course has a different approach but has the basic principles of video classes, class materials to download, learner participation with uploading final work.

Course structure

CreativeLive creates classes based around video content with additional course material. Each class varies in time from a few minutes up to 20 minutes or so.

Its course material is available to download and accompanies the video content.

The course program is well detailed on the class page and description so you know what to expect.

The structure of the courses varies from course to course due to the fact the expectations of each course is different.

Quizzes & tests

CreativeLive doesn't have any quizzes or tests.

Payments & refunds

You can make payments on CreativeLive with Credit and Debit Cards or via Paypal.

CreativeLive offers a 30 day refund policy, if you notify within 30-days of purchase of the course. The creator pass has a 7-day-refund-policy, if you are not satisfied in the 7 days you can request a refund.

Support

CreativeLive offers a solutions page. If you can't find your answer there you can send an email where they normally respond within 48 hours.

Overall rating

CreativeLive offers some of the best courses for creatives. It is a great option for young artists and designers that want to learn more or develop already existing skills. It is inexpensive and together with all the free live classes, it is definitely worth a try.
Will CreativeLive Help Me With My Career?
CreativeLive courses are ideal for an innovator or a freelancer who is looking to gain and learn a new creative skill. If your main objective is to learn and develop your creative knowledge then you are considering the right platform.
As many creatives know (I am speaking from experience as I am a part-time freelance graphic designer) your portfolio, website and contacts are what will help you get a new job or client. So an accreditation or certificate normally isn't something that most of us need as recognition for completing a course.
Its courses are also appealing to a creative team that wants to help develop, grow and empower its people. Its courses can be customized to suit your team's learning needs.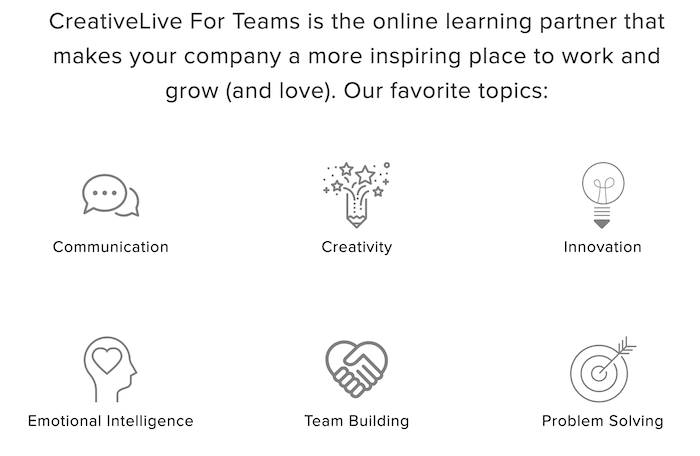 CreativeLive for team topics
CreativeLive puts a lot of emphasis on its community and the importance of being connected.
They have a few sections under the community header like instructors, podcasts, blog and stories (see image below) where instructors and students share their experiences. A big part of this platform is creating a community for its learners and instructors, which can help lead to potential collaborations.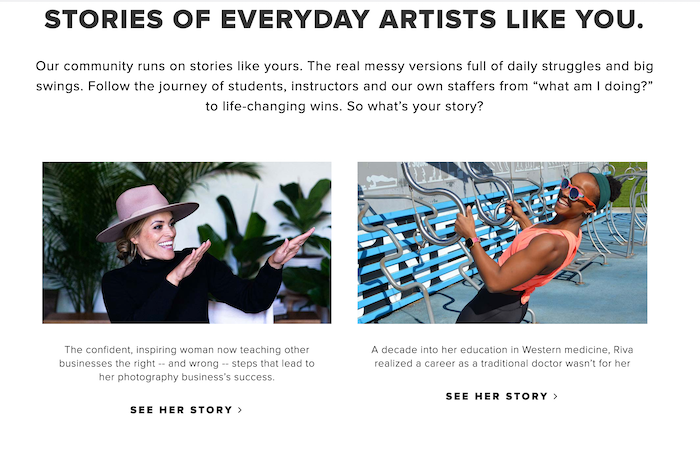 CreativeLive stories
Is CreativeLive Legit?
Something which most of us ask when considering an elearning platform: Is this platform legit? Will it be worth my money?
It's normal to have these thoughts just as we are typing in our card details and there is no turning back. Let me reassure you.
CreativeLive was founded in 2009 by Chase Jarvis and Craig Swanson who started thinking about the idea of making workshops to inspire and support people to develop their creative skills. The company has dual headquarters in Seattle and San Francisco and four in-house production studios. Its courses have been watched by millions (10m+) of students.
A key difference of the CreativeLive approach compared to other online learning platforms is the live streaming of classes. These classes are filmed in one of their in-house production studios that has a live audience of students, usually from 3-15 people who ask questions to the instructor, taking the role of the viewer at home. The fact that these live streams are free for all to view, gives CreativeLive an edge, and are for sure engaging.
Anyways, CreativeLive is legit and it's safe to use, you won't be scammed.
Last Thoughts: Is CreativeLive Worth It?
Ok, so let's conclude with whether CreativeLive is worth it.
If you are looking for some of the best courses for creatives to develop their skills then CreativeLive is a good option for you. One of the added perks is its live streaming of classes that are completely free and very engaging and they even have live audiences.
On the other hand, if you are wanting to earn an accredited certificate that is partnered by a University or Institution then its best you check out platforms like Coursera and edX as probably they are a better fit.
You will love CreativeLive for its:
Free live classes
Top production of courses
Experienced and hand picked instructors
Wide range of creative courses
Low cost courses
Course quality
Please, leave a comment below if you have any questions and I'll do my best to help you out.
Review Updates:
08/09/21 Industry Icon Instructors
15/07/21 The creator Pass
Alternatives
Udemy: offering more than 155,000 courses and it's available in several languages. They cover a wide range of topics, from programming to icing cakes, but if you can't find the course you like in CreativeLive, check out Udemy.
Skillshare: offering more than 35,000 courses aimed at creative professionals and entrepreneurs, content-wise is probably the most similar to CreativeLive. It offers around 3,000 of its courses for free, which is always appealing.
Coursera: With over 50 million students and more than 4,000 courses created by universities and companies is a big fish in the elearning world. The main perk of Coursera is that you can earn accredited certificates, something CreativeLive is unable to offer.