CreativeLive Review: Is It The Best Platform For You?
Upskillwise.com is fully supported by its readers. If you register or buy a course using our links, we may receive a commission. This does not affect our ratings, methodology or partners.
CreativeLive is an online creative community which is aimed at entrepreneurs and creative professionals. It offers 2,000+ curated classes that are taught by 700+ handpicked instructors. Its classes focus on improving your creative skills and knowledge hence its name.
So if you are someone looking to develop skills in writing, blogging, art or design, then CreativeLive may just be the right online platform for you. It has had over 10+ million students enrol on its variety of creative courses.
Please note that our reviews are supported by affiliate commissions.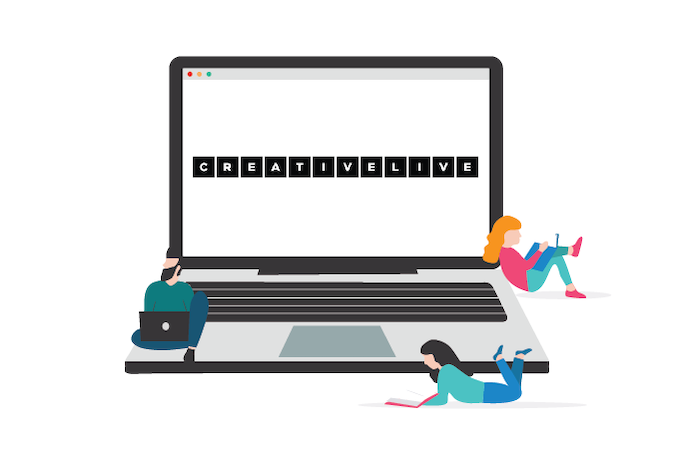 Already wanting to find out more? Is CreativeLive different from other platforms? How much is it? Well stick around and let's delve in to this in-depth CreativeLive review.
High Quality
All of CreativeLive's videos are filmed by in-house videographers meaning that the quality is top notch.
Industry Icon Instructors
Over 700+ top industry instructors including (best selling authors, Grammy and Oscar winners like Daymond John and Mel Robbins) teaching its classes.
Free Live Classes
All classes are free to access while they are streaming live.
Accessibility
You can learn with CreativeLive using a computer or mobile, making it accessible to learn on the move, plus class videos and material are downloadable.
Refund Policy
A generous 30 day refund policy on individual courses and 7 days on creator pass.
CreativeLive Review Verdict
CreativeLive is a platform for creatives and innovators. The goal is to take a fresh approach to education and give anyone the access to visionaries, leaders and professionals who inspire you. Working with handpicked professional creatives to teach its courses and offering a 30 day refund if you are not satisfied with the course.
Who Is CreativeLive For?
You may be a little unsure if CreativeLive is the best platform for you?
If you are a natural creative or have a creative itch that you want to unleash (I actually think all of us do) then this platform will have something for you.
Some of CreativeLive's most popular categories are photography, videography, personal finance and design. For example the 'Fundamentals of Photography' course has had 96.9K students enrolled on it and 100% of them have recommended the course. You can't get much better than that.
CreativeLive doesn't just offer courses to individual learners. It offers courses to teams and employees too. It offers a couple of different pricing models and you can choose the one that best suits your team (I talk in more detail about this in the pricing section below).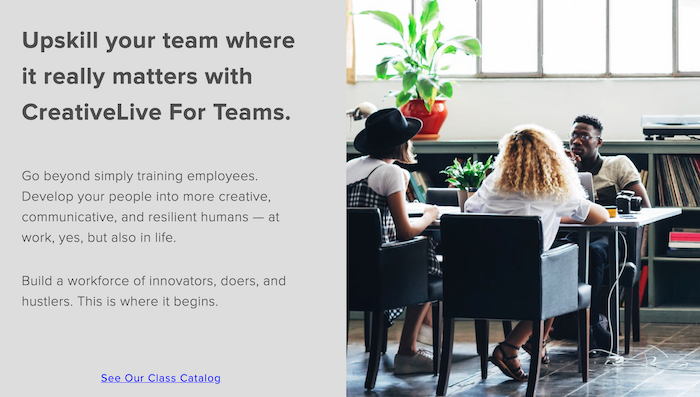 CreativeLive for teams
It's the free live streaming (I talk in more detail below in pricing) of classes that sets it apart from other platforms and is a really attractive feature for new learners getting to know the creative community.
One thing that CreativeLive doesn't offer is a formal accreditation. If that is what you are looking for then, please check out edX or Coursera.
How Much Are CreativeLive Courses?
CreativeLive is on the lower end of pricing for an online platform with many of its courses starting at $50 and going up to $200. Its courses are often discounted but this may lead you to question whether this is a marketing strategy or not. Either way its courses are pretty good value for money and who doesn't love a bargin.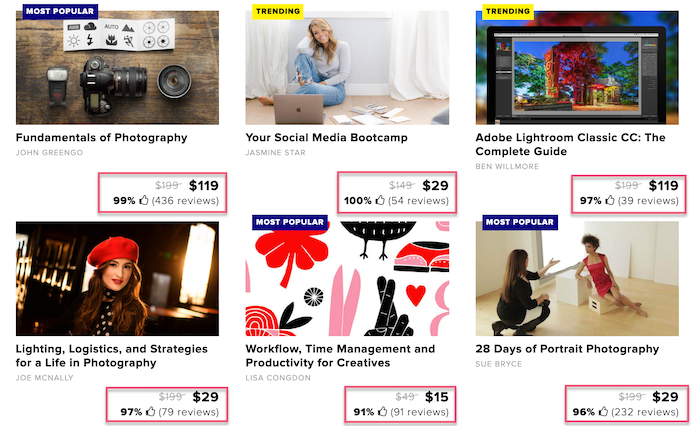 CreativeLive discount courses
The Creator Pass
Another option that CreativeLive offers is the creator pass which gives you access to 2000+ classes to stream anywhere which you can enjoy at your own pace.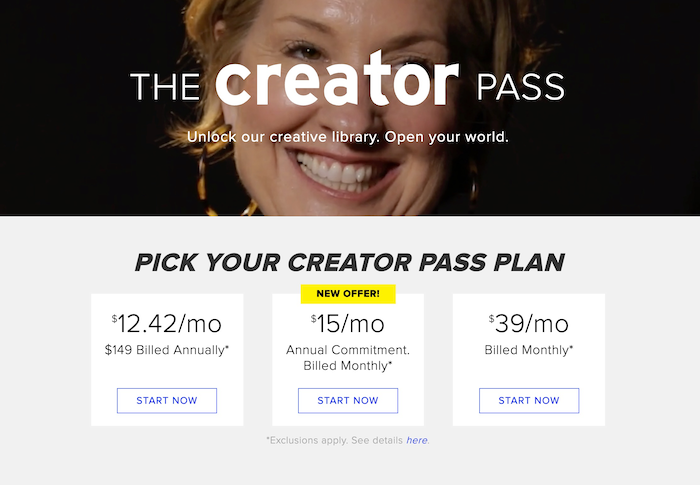 CreativeLive The creator Pass
The creator pass plan offers 3 different payment options. You can either pay $149 in full for the annual plan that works out at $12.42 a month. If you don't want to pay everything upfront for the year, then you can pay $15 a month, but you will still need to commit for 1 year. Finally, you have the monthly option that is $39 and is billed monthly. Note all these payment plans are without Tax.
Access to 2000+ classes
Gain access to new classes & exclusive conferences
Exclusive access to Fast Class
60k+ digestible lessons
Download lessons for offline viewing
Curated learning paths
New classes published every month
Gift The Creator Pass

The Creator Pass also makes a really unique and creative gift for a friend, work colleague or loved one. You either decide to gift the pass for a whole year or for a month.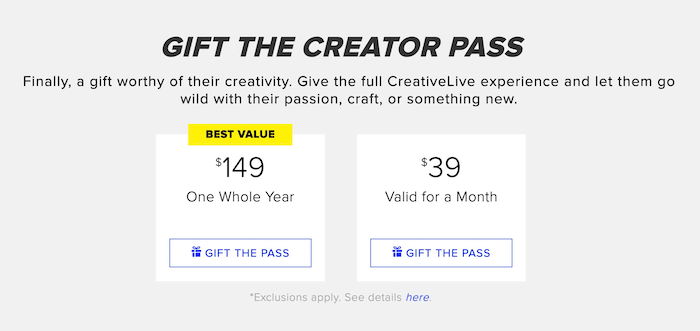 > Check out The creator Pass here
After purchasing The creator Pass you have a 7-day refund period within which you can try to pass out and if you aren't satisfied, you can request a refund by emailing support@creativelive.com.
CreativeLive for Teams
If you are looking to upskill your team, then CreativeLive offers a couple of options the Standard plan or the Enterprise which depends on the size of your team is. If your team is between 5 and 100 it is $149 per person, per seat and billed annually. And if your team is a 1000+ you can contact for a customized quote.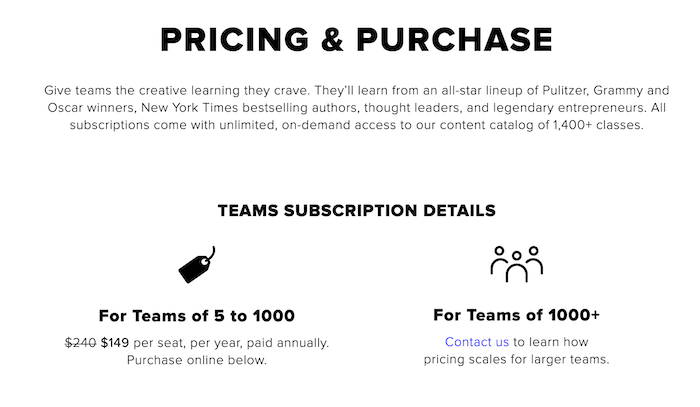 CreativeLive for teams pricing