If you are familiar with Udacity, then you have probably heard about its well-known Nanodegree learning programs. It's Nanodegree programs are developed by Udacity who work closely with industry-leading partners like Google and Mercedes to produce top quality content.
With these tech industry giants leading the Nanodegrees it is no surprise that the content of its courses are current and relevant. And if the tech industry is lacking in any area you can be rest assured Udacity will be creating a Nanodegree about it.
I know you are here to find out all about Udacity's Nanodegrees and its costs. So let's find out all there is to know in this detailed article.
What is an Udacity Nanodegree?
Udacity's Nanodegrees are made up of a series of courses, normally between 3-4 courses, that will cover all the skills needed for a particular role or career path. Udacity is currently offering close to 70 Nanodegree programs on subjects in Data Science, Artificial Intelligence, Programming, Autonomous Systems, Cloud Computing, Business and Cybersecurity.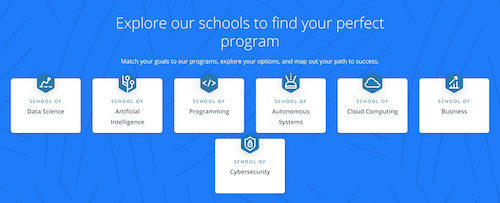 Udacity's Nanodegrees Programs require commitment and hard work. Its programs include the following;
Real-world projects from industry experts
Technical mentor support
Career services
Flexible learning program
If you aren't sure which Nandegree is for you, then a great way to find out more is by contacting Udacity themselves who can send you more information on available programs and updates on new programs (see image below).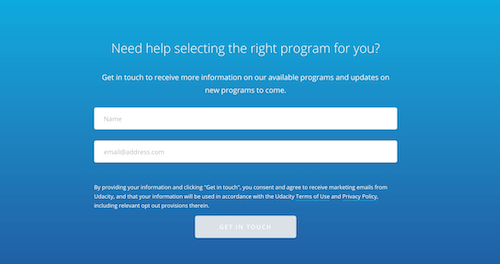 Registering with Udacity
To register with Udacity is completely free. The interface of the platform is intuitive and easy to follow. You just need to follow these easy steps;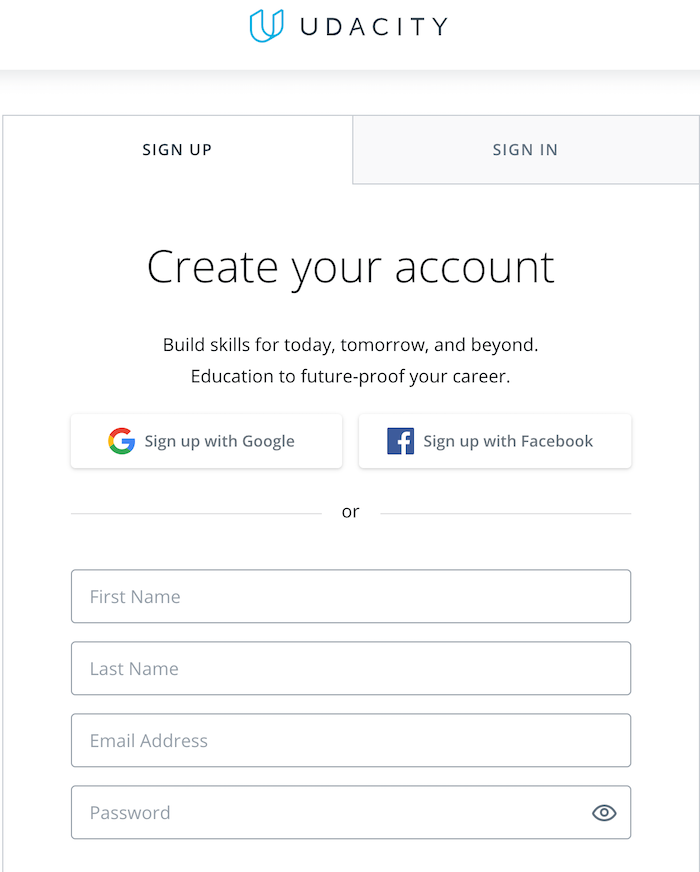 Visit Udacity.com and click on the top-left button Get Started
You can decide to register with Udacity using your email account, your Facebook or Google account.
Add the date of your birthday
Confirm your email account if needed
Once you are all signed up you can click on Programs and then FULL CATALOG and start to view all the courses available.
Udacity's Nanodegree Costs
It is no secret that enrolling on an Udacity Nanodegree isn't the cheapest option out there. But that isn't necessarily a bad thing right?
High-quality content from industry recognised professionals comes at a price. One of the payment options you have is to opt for the monthly pay as you go option costing you $399 a month (€359 or £329), this price is the case with the majority of its Nanodegrees. There are a couple of exceptions when the program is only a month long and this is the case for both the Activation and Retention Strategy and Monetization Strategy Course program costing $249 for the month.
The pay as you go monthly option isn't the only payment choice Udacity offers for its Nanodegrees. It also has the estimated months access, which basically means Udacity sets a price giving you access for a certain number of months (e.g. 5 months). This is based on how long it should take you to finish the program.
If we take the Become a Data Analyst Nanodegree as an example it could either cost you $1017 for 3 MONTHS ACCESS working 5-10 hours a week, working out at $339 a month. Or you have the PAY AS YOU GO $399 monthly option.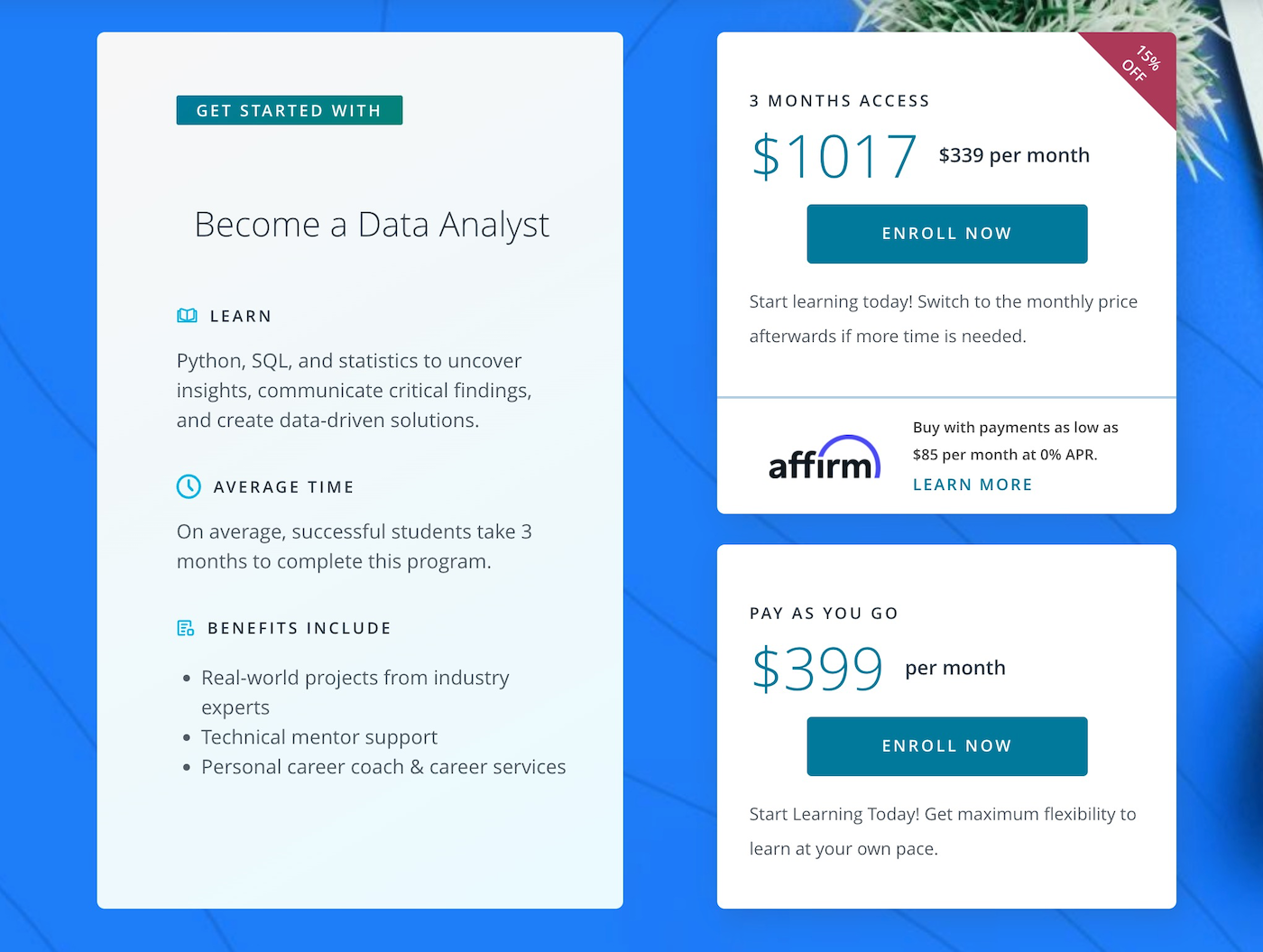 Udacity Become a Data Analyst Nanodegree Cost
There are a few things here to consider when deciding between the 2 payment options. The first option is Udacity's estimated time frame for how long it should take you to finish the course. If it does take you longer, then you can switch to the monthly price until you complete the program.
But if you opt for the pay as you go option it really gives you the incentive to work at a quicker pace and if your lifestyle allows you to have more flexibility then you can work more hours than recommended. Which would mean you could finish in this example the Become a Data Analyst Nanodegree in say 2 months. You can read in full detail
In short what you should consider before deciding on Udacity's Nanodegree payment options;
How much time can you dedicate weekly/monthly?
Will the pay as you go plan give you the incentive to work faster?
Can you afford full access in one go?
If you are interested in the Data Analyst Nanodegree you can read our full detailed article here.
If you are interested in checking out a
detailed pricing chart
of all of Udacity's Nandegrees.
You can do by clicking here.