DataCamp Review: Is It The Right Platform For You?
Upskillwise.com is fully supported by its readers. If you register or buy a course using our links, we may receive a commission. This does not affect our ratings, methodology or partners.
Established in 2013 DataCamp is an online platform that specializes in topics like data science and analytics. It offers 440+ courses taught by one of the 260+ expert instructors from Datacamp itself and top Institutions like Duke University.
So if you are someone who is looking to build or deepen your data skills, then DataCamp may be the right online platform for you. All its courses are interactive and designed, so you can learn at your own pace.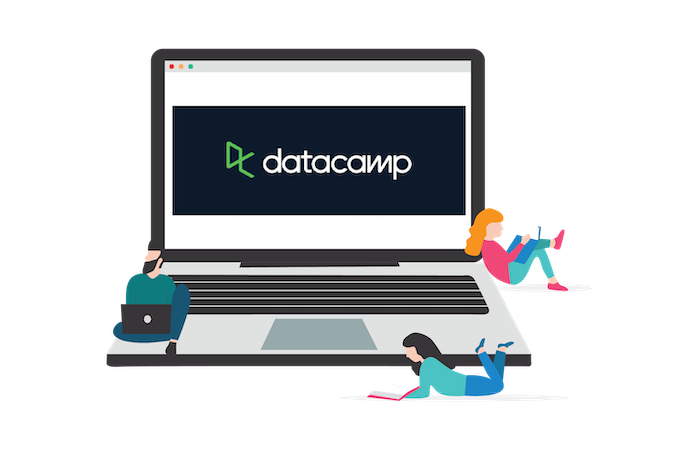 Upskillwise readers can enjoy a 25% discount on DataCamp Premium and Team subscriptions. The code will be automatically populated at checkout.
If you are anything like me, then you probably have a bunch of questions you want answering like: What courses does DataCamp offer? Is it ok if I am a complete beginner? What's the difference between its plans? 
To answer these questions and more, let's dive into our in-depth DataCamp review.
Interactive & Engaging
DataCamp courses are divided into short video lessons, its bite sized, and engaging video lessons make it easy to complete exercises.
Experienced Experts
Over 260+ experts from the data science and analytics community.
Clear Pricing Plans
A clear and simple pricing plan page which is pretty refreshing as not all online platforms are so transparent.
Wide Range
DataCamp caters to absolute beginners and learners with some knowledge. Its courses are for everyone.
Community
Datacamp has a large and active community of learners who ask questions, share knowledge and collaborate on projects.
Rewarding Learning
Datacamp uses badges, streaks and leaderboards to keep learners motivated. For any competitive learners out there, this may appeal to you.
Not a Verified Certificate
DataCamp doesn't offer a verified certificate from a partnered University or Organization. Instead, a Statement of Accomplishment is given once successfully completing the course. If you are looking for a verified certificate it is best to check out platforms like Coursera or edX.
Video Content Lacking Detail
Some of DataCamps video tutorials are a little short and lacking in detail, and therefore may leave you feeling like you are missing something.
Limited Interaction
As Datacamps courses are designed and created by a team, there isn't a specific instructor per course, which may leave the learner wanting to interact with an instruction or seeking more guidance and support
DataCamp Review Verdict
Datacamp is an online learning platform offering a variety of courses, tracks and certifications in data science, statistics and programming. Each of these learning programs is designed to assist learners in acquiring and enhancing their skills towards a career in the data industry. The platform's content is highly interactive, featuring coding exercises, quizzes and hands-on projects. Regardless of whether you're a complete beginner or aiming to secure your dream job, datacamp has a suitable course or certification for everyone. Datacamp offers a Basic (free) plan and a Premium paid plan for individual learners, with subscription options available on a monthly or annual basis. On top of that, there are several plans designed for teams and businesses. If you're hesitant to make a financial commitment, you can kick-start your coding journey with the free Basic plan, which gives you access to a bunch of courses to get a taste of the platform. Datacamp is an excellent resource for those eager to delve deeper into data science and data engineering, although it's important to note that success on the platform requires self-motivation.
Who Is DataCamp For?
You may be a little unsure if DataCamp is the right platform for you?
Well, let me explain a little about what to expect from DataCamp. It's an online learning platform that focuses on learning data skills at your own pace. Its learning methodology is broken into a 4 part process: Assess, Learn, Practice and Apply, that helps to give learners a well-rounded learning experience.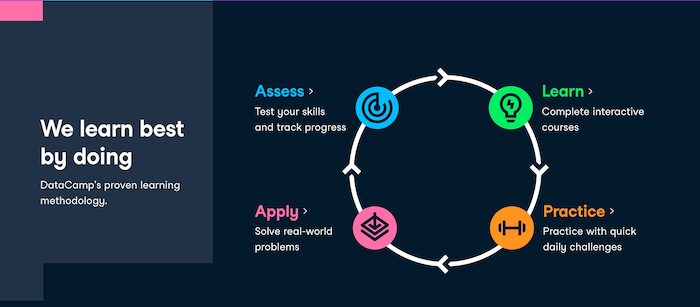 Datacamp Learning Methodology
What Does Datacamp Offer?
Datacamp offers 440+ courses, that cover the field of data science. Its courses are bite sized and digestible for learners, combining videos with interactive exercises to create an engaging learning experience. Datacamp users can learn in 4 ways:
Courses: Individual data science courses that are designed to help you learn a new technology like; introduction to Python, introduction to SQL and introduction to R
Career Tracks: A collection of courses that are curated by industry experts to help you grow your data skills and advance your career. Its most popular Career Track courses include Data Analyst, Data Scientist and Data Analyst.
Skill Tracks: Gain expertises by learning a specific skill track, that is a collection, of course, curated by industry experts to grow your data skills. Its most popular Skill Track courses include R Programming, Importing & Cleaning Data and Data Visualization.
Certifications: Its certification programs help learners stand out by becoming a certified data professional, proving you have the skills in a particular field and ready for a job in a data role.
Note: Career and Skill Tracks are both built out of individual courses, if you prefer to take just a course, that is also an option. All of this is included in a Datacamp Premium membership.
Datacamp Certificates
Datacamp Certificates are best known as Statements of Accomplishment, which are awarded when you successfully complete courses and tracks. These certificates can be shared as you like and are solely proof of completing a Datacamp course or track. Be mindful that these Statements of Accomplishments aren't verified by an external University or Organization.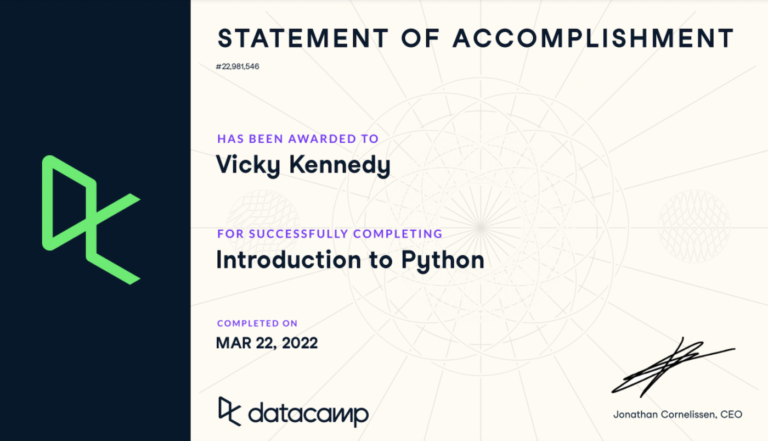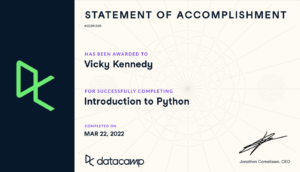 Datacamp Statement of Accomplishment (Datacamp Certificate)
Datacamp Certification Programs
Datacamp has recently added certifications to the platform. The certifications have been built in partnership with industry leaders that prove you have the skills available for a career in the particular field. Currently, it offers 3 certifications in the following data roles;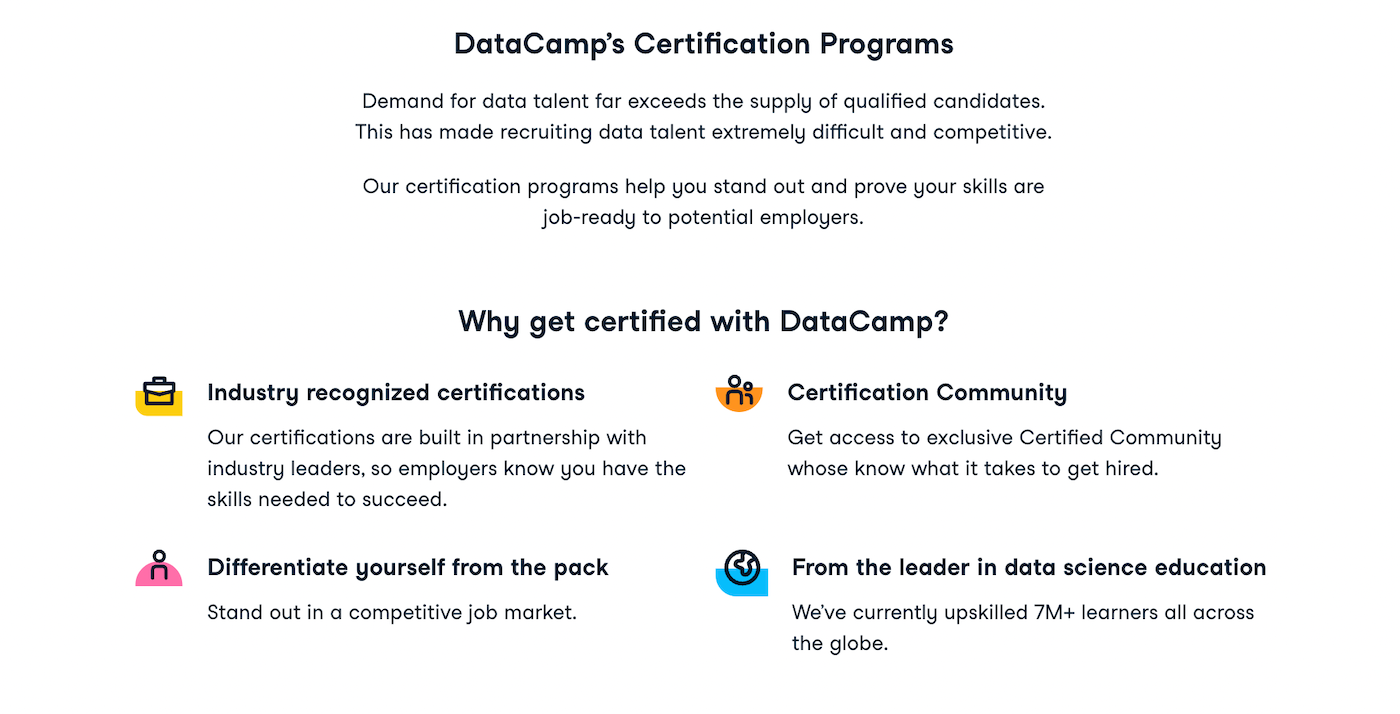 Datacamp Certification Programs
The best part about these the datacamp certifications is that they are included in your paid Premium plan. When you successfully complete one of its professional certifications you will receive a datacamp certification to prove you now have the knowledge for the job role in your chosen data profession.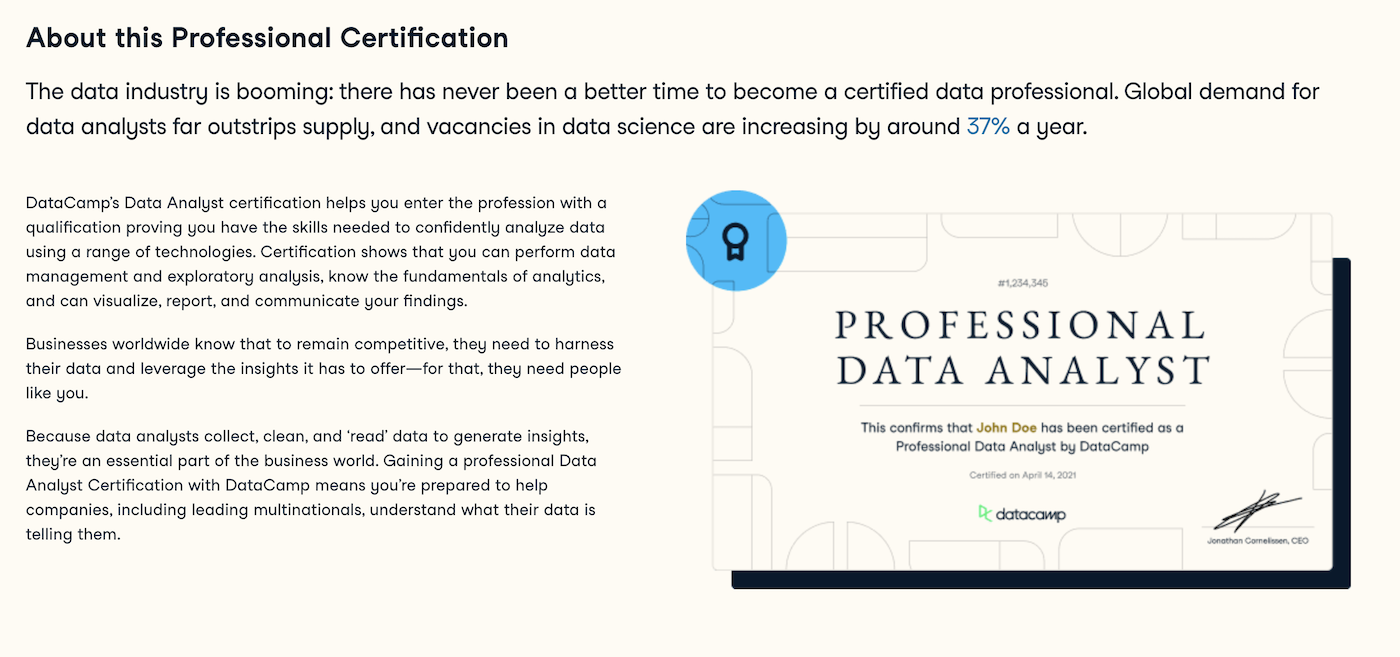 DataCamp Data Analyst
Check out Datacamp Professional Certification here
Be mindful that a Datacamp certification will need to be renewed after two years. This is to ensure that certified candidates are up-to-date in skills in a fast-moving industry.