Codecademy Review: Is It The Best Platform For You?
Upskillwise.com is fully supported by its readers. If you register or buy a course using our links, we may receive a commission. This does not affect our ratings, methodology or partners.
Looking to learn how to code?
Well Codecademy may be the platform you are looking for. It offers courses in 14 different programming languages and 10 different subject areas. Many of its courses are beginner friendly and it has had over 45k users enrolled on its courses and paths.
Sounds promising already?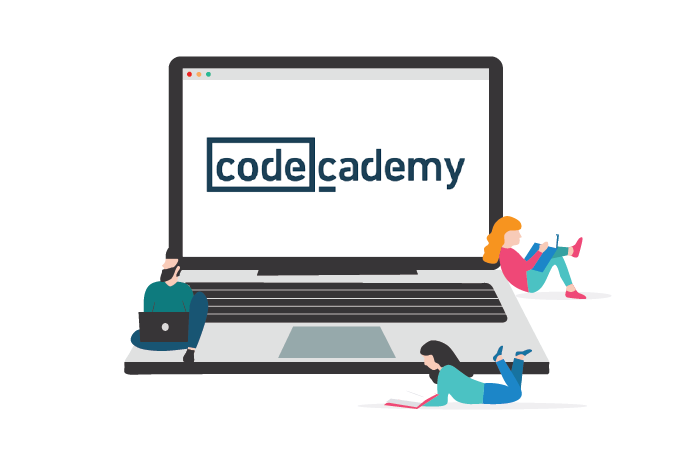 However you may still be asking yourself: Is Codecademy worth it? or What plans do they offer? Well let's delve in to this in-depth Codecademy review.
Free Courses
Codecademy has a basic free plan where you can enjoy interactive lessons and daily practices.
Beginner Friendly
Its interactive coding courses are easy to digest for complete newbies.
Wide Variety
Codecademy covers such a wide variety of programming languages – 14 in total including HTML, CSS, Javascript and many more.
Build Your Own Portfolio
After gaining practical experience you will create your own portfolio-worthy projects to show to potential recruiters.
Supportive Community
A strong sense of community with coaches, advisors or other graduates to help answer any questions and doubts you may have.
Interactive Learning
Codecademy's offers a hands-on learning experience with interactive courses through quizzes and engaging content for learners.
No Instructor Bio
Limited information about the instructor who created the course.
Not Accredited
Codecademy Review Verdict
Codecademy is an online learning platform that focuses on courses to learn to code and gain hands-on experience in a variety of programming languages. It offers courses in 15 programming languages and 20 different categories. The platform offers 3 different; the Basic free plan and the paid Plus and Pro plans which offer additional features and both come with a free trial. As well as courses, it offers paths which are designed to give you the skills to be job ready. There is an active and supportive community who you can ask questions, and get feedback from, they also hold online events which you can stream live or watch back at a later date. To get started with Codecademy you can either try out its basic free plan or you can try one of its free trials from a paid plan.
Who Is Codecademy For?
You may be left thinking, is Codecademy the right platform for me?
Codecademy offers courses in 14 programming languages like HTML & CSS, Python, JavaScript and more. As well as the programming languages it has 10 subjects areas like Web Development, Data Science, Computer Science and more (see image below). Its courses are focused on learning code with many of its courses being beginner friendly and self paced giving you the flexibility to learn when it suits you.
Codecademy Languages and Subjects
If you are a complete beginner and undecided on the right course for you, an ideal way to start is by taking the Sorting Quiz (see image below). The quiz will take you through a series of questions to help find out which career, languages and courses best suit your personal interests and strengths.

Codecademy Sorting Quiz
Codecademy Basic and Pro Plans
Codecademy offers a couple of individual learning plans Basic and Pro. Each of these plans have interactive lessons and daily practices and all its courses are self paced. The main difference between the two plans is that the Pro plan is a paid subscription and offers a much wider range of resources and has a focus on building skills to be job-ready plus you will receive a certificate of completion.
Career Path and Skill Path
If you are looking to commit to more than just an individual course, then Codecademy also offers Career Paths and Skill Paths. For example if you know that you want to become a Computer Scientist or learn how to build websites, this may be the better option for you as the focus is to become job ready. It goes without saying that these paths require a bigger commitment, with some taking more than 30 weeks to complete plus a Certificate of Completion.
Codecademy for Business
As well as individual courses and paths Codecademy for business is designed to develop more than just skills. It offers the Teams and the Enterprise plans that include interactive learning, individual guidance and weekly reports on what your team has been learning plus certificates for every successful course completed.
Teams for 5 to 49 members
Enterprise for 50+ members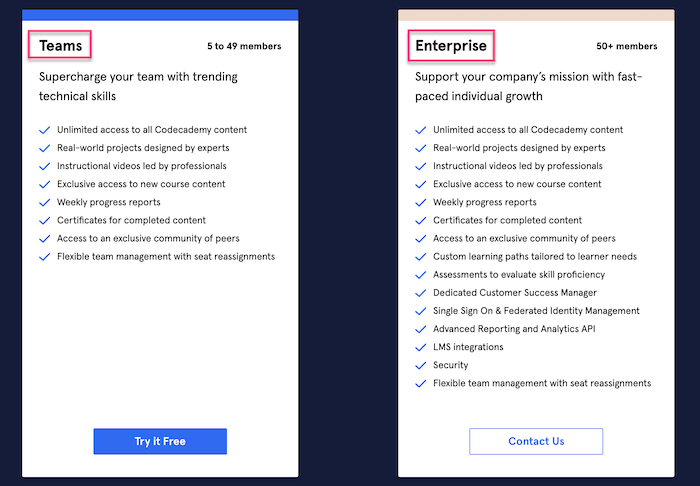 Codecademy Teams
You can request a free two week trial for the Codecademy Teams plan. You can find out more here.
How Much Are Codecademy Courses?
Codecademy Pricing is really easy to find on the left side of the navigation bar. This is really refreshing as many times when you land on an elearning platform it can take you a while to navigate around to find its pricing plans.

Codecademy Basic, Plus and Pro Plan
Codecademy payment plans work on a subscription model. The basic plan is completely free and includes interactive lessons and daily practices for you to enjoy. The Plus plan is for those looking to learn a skill with courses, skill paths, and projects and the Pro plan is for anyone wanting to develop their career with courses, career paths, projects and interview prep.
Basic Plan: $0
Plus: $34.49 a month OR $209.88 annually
Pro: $59.99 a month OR $359.88 annually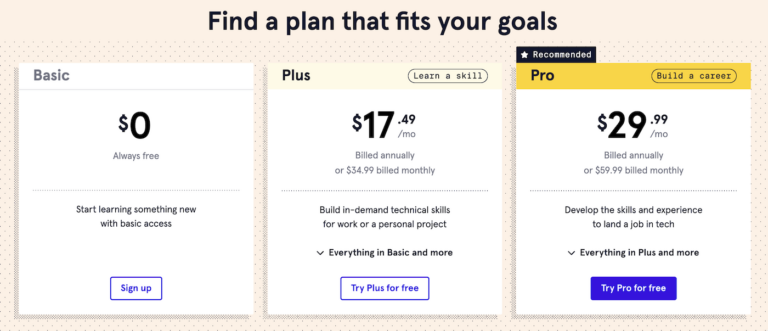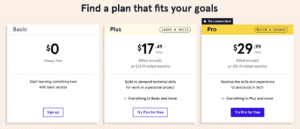 Codecademy monthly plan
If you pay for either the Plus or Pro plan annually you will make a significant saving compared to paying for it monthly.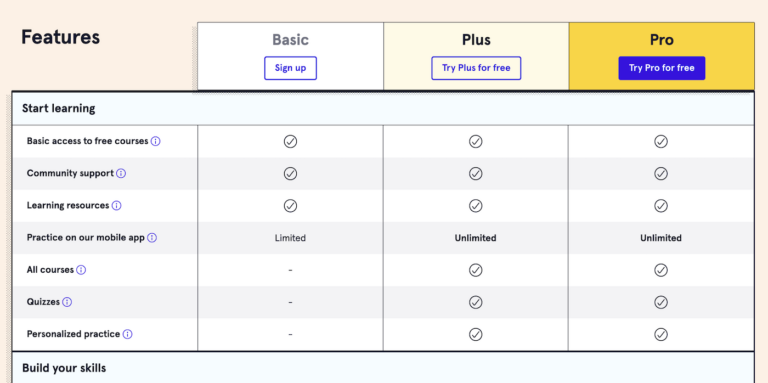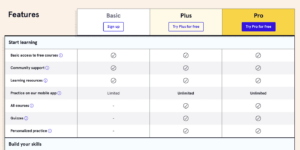 Codecademy free trial
If you aren't ready to financially commit to either the Plus or Pro plan then both offer a 7-day free trial for you to try out the plans. If you decide within those 7 days that you don't want to continue then you can easily cancel your subscription with those first 7 days if not you will start being charged after day 7 of the trial. You can check it out here.
You can cancel your Codecademy Plus or Pro account at any time. There is also the option to pause your account.
Codecademy for Business
If you are interested in helping your Business grow and wanting to prepare them for challenges ahead, then Codecademy offers plans for your team.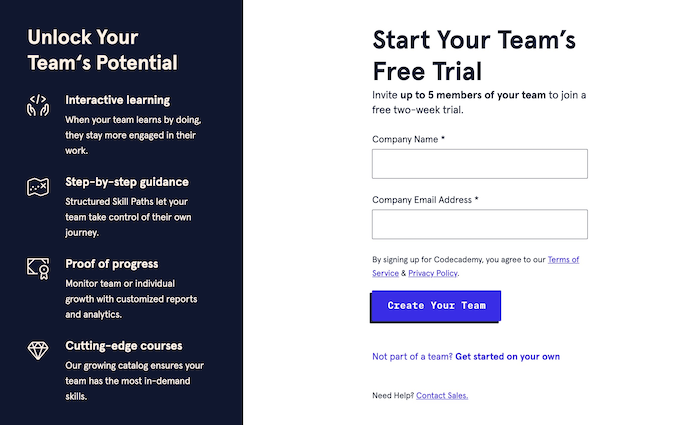 Codecademy for Business Free Trial
A great way to try out Codecademy for you are your team is with the two-week free trial, where you can invite up to 5 members of your team (see image above).
It offers a couple of different plans, the Team plan or the Enterprise plan. The Team plan costs $240 or less per seat and for the Enterprise plan has a custom price, which you would need to contact Codecademy for.
> Try out Codecademy for Business here
Codecademy Pro Student
Codecademy offers the opportunity for eligible college students to join Codecademy Pro Student, which is an annual membership that gives you access to the same features as the Pro plan, but with a 50% discount off the regular price.
Codecademy Pro Student: You will pay $179.99 annually

Codecademy Pro Student
To be eligible, you must be a student at a higher education institution and eligibility will be verified. Your annual subscription will be renewed annually.
Codecademy Free Pro for Unemployed
Currently Codecademy is generously giving away 100k Pro memberships to people who've lost their jobs during COVID-19.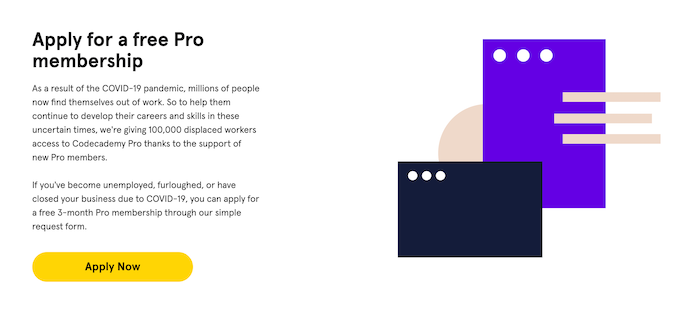 Codecademy Free Pro membership COVID-19
If you have become unemployed, furloughed or have closed your business due to COVID-19, you can apply for a free 3-month Pro membership, by simply applying through a simple request form.