Codecademy Review: Is It The Best Platform For You?
Looking to learn how to code?
Well Codecademy may be the platform you are looking for. It offers courses in 14 different programming languages and 10 different subject areas. Many of its courses are beginner friendly and it has had over 45k users enrolled on its courses and paths.
Sounds promising already?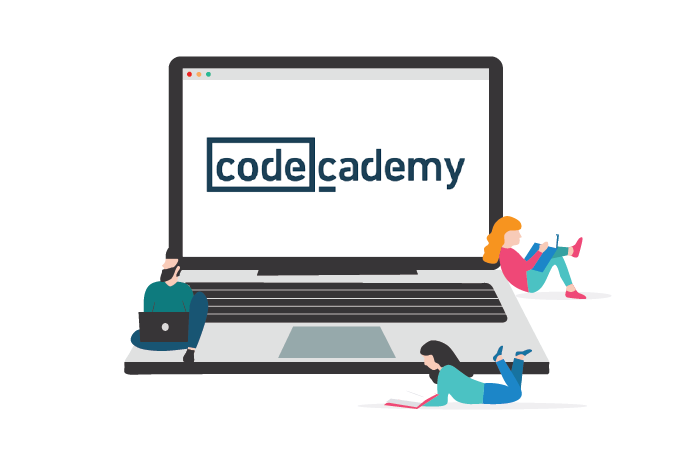 However you may still be asking yourself: Is Codecademy worth it? or What plans do they offer? Well let's delve in to this in-depth Codecademy review.
Free Courses
Codecademy has a basic free plan where you can enjoy interactive lessons and daily practices.
Beginner Friendly
Its interactive coding courses are easy to digest for complete newbies.
Wide Variety
Codecademy covers such a wide variety of programming languages – 14 in total including HTML, CSS, Javascript and many more.
Build Your Own Portfolio
After gaining practical experience you will create your own portfolio-worthy projects to show to potential recruiters.
Supportive Community
A strong sense of community with coaches, advisors or other graduates to help answer any questions and doubts you may have.
No Instructor Bio
Limited information about the instructor who created the course.
Not Accredited
Codecademy Review Verdict
Codecademy describes itself as an education company that teaches online courses and paths in 14 programming languages. Its content is interactive and engaging and beginner friendly. The platform has a free Basic plan and a paid Pro plan which includes a 7-day free trial. Its courses and paths are self paced and there is a strong sense of an active and supportive community.
Who Is Codecademy For?
You may be left thinking, is Codecademy the right platform for me?
Codecademy offers courses in 14 programming languages like HTML & CSS, Python, JavaScript and more. As well as the programming languages it has 10 subjects areas like Web Development, Data Science, Computer Science and more (see image below). Its courses are focused on learning code with many of its courses being beginner friendly and self paced giving you the flexibility to learn when it suits you.
Codecademy Languages and Subjects
If you are a complete beginner and undecided on the right course for you, an ideal way to start is by taking the Sorting Quiz (see image below). The quiz will take you through a series of questions to help find out which career, languages and courses best suit your personal interests and strengths.

Codecademy Sorting Quiz
Codecademy Basic and Pro Plans
Codecademy offers a couple of individual learning plans Basic and Pro. Each of these plans have interactive lessons and daily practices and all its courses are self paced. The main difference between the two plans is that the Pro plan is a paid subscription and offers a much wider range of resources and has a focus on building skills to be job-ready plus you will receive a certificate of completion.
Career Path and Skill Path
If you are looking to commit to more than just an individual course, then Codecademy also offers Career Paths and Skill Paths. For example if you know that you want to become a Computer Scientist or learn how to build websites, this may be the better option for you as the focus is to become job ready. It goes without saying that these paths require a bigger commitment, with some taking more than 30 weeks to complete plus a Certificate of Completion.
Codecademy for Business
As well as individual courses and paths Codecademy for business is designed to develop more than just skills. It offers the Teams and the Enterprise plans that include interactive learning, individual guidance and weekly reports on what your team has been learning plus certificates for every successful course completed.
Teams for 5 to 49 members
Enterprise for 50+ members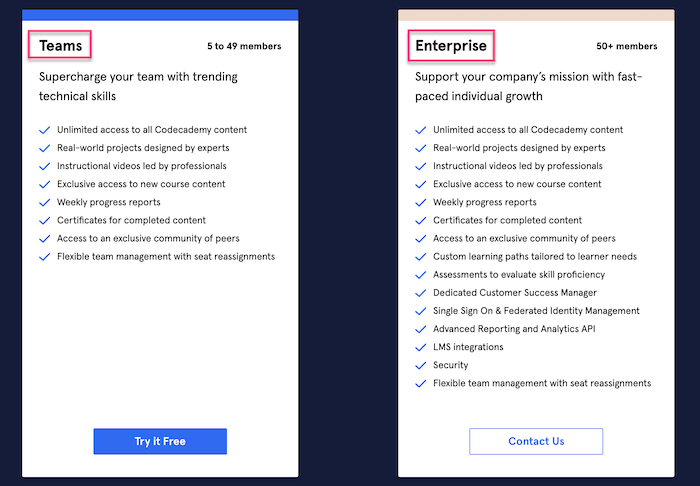 Codecademy Teams
You can request a free two week trial for the Codecademy Teams plan. You can find out more here.
How Much Are Codecademy Courses?
Codecademy Pricing is really easy to find on the left side of the navigation bar. This is really refreshing as many times when you land on an elearning platform it can take you a while to navigate around to find its pricing plans.

Codecademy Basic and Pro Plans
Codecademy payment plans work on a subscription model. The basic plan is completely free and includes interactive lessons and daily practices for you to enjoy. The Pro plan contains everything that is in the basic plan, plus advanced tools and content. As well as hundreds of additional exercises, practice packs and quizzes.
PRO monthly Plan: You will pay $39.99 a month

Codecademy monthly plan
PRO annual Plan: You will pay $19.99 a month and billed yearly
If you pay for the Pro plan annually you will save $240 which is a pretty significant amount compared to paying for it monthly.

Codecademy annual plan
If you are not sure about paying for the PRO account, then not to worry as Codecademy generously offers a free 7-day trial for you to try it out. You can check it out here.
You can cancel your Codecademy Pro account at any time. There is also the option to pause your account.
Codecademy for Business
If you are interested in helping your Business grow and wanting to prepare them for challenges ahead, then Codecademy offers plans for your team.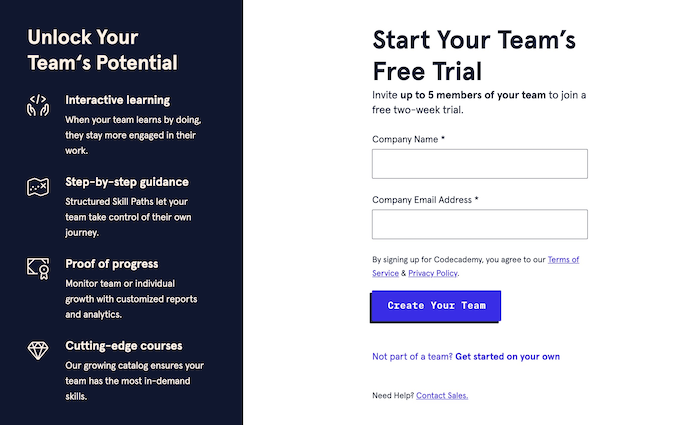 Codecademy for Business Free Trial
A great way to try out Codecademy for you are your team is with the two-week free trial, where you can invite up to 5 members of your team (see image above).
It offers a couple of different plans, the Team plan or the Enterprise plan. The Team plan costs $240 or less per seat and for the Enterprise plan has a custom price, which you would need to contact Codecademy for.
> Try out Codecademy for Business here
Codecademy Student Discount
Codecademy offers the opportunity for eligible college students to join Codecademy Pro Student, which is an annual membership and gives you the same features as the Pro plan, but with 35% discount off the regular price.
Codecademy Pro Student: You will pay $149.99 annually

Codecademy Pro Student
To be eligible you must be a student at a higher education institution and you will be entitled to a maximum of 4 years on this plan.
Codecademy Free Pro for Unemployed
Currently Codecademy is generously giving away 100k Pro memberships to people who've lost their jobs during COVID-19.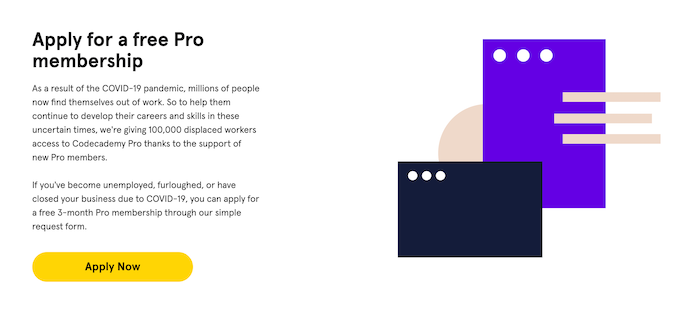 Codecademy Free Pro membership COVID-19
If you have become unemployed, furloughed or have closed your business due to COVID-19, you can apply for a free 3-month Pro membership, by simply applying through a simple request form.
How To Open A Codecademy Account?

The sign up process for Codecademy is really easy. When you first land on the homepage you can click the Sign up button in the far right corner of the navigation bar (see image above).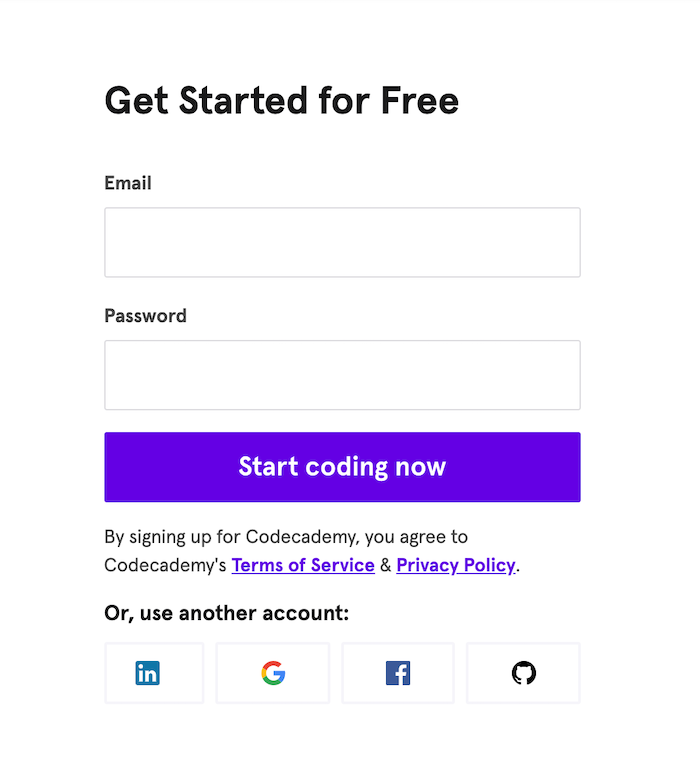 Codecademy sign up
Open a browser and visit codecademy.com
Click on Sign up 
Enter Email and Password
Click Start coding now
Once signed up with Codecademy you will automatically have a Basic account. There are a few ways to start checking out its courses. You can either begin by browsing the catalog menu, take the quiz (ideal if you are a complete beginner) or check out the most popular courses.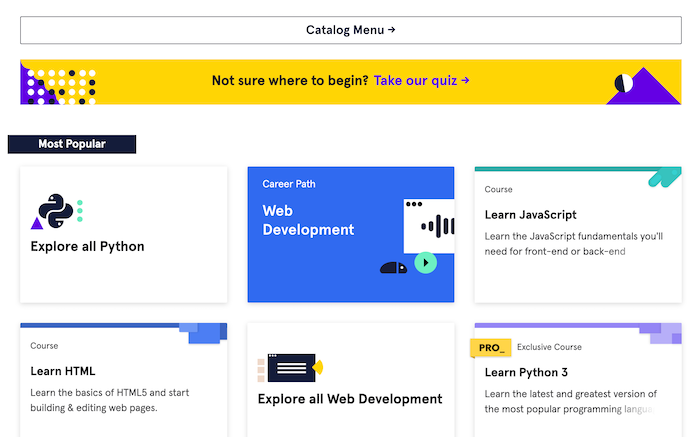 Codecademy Catalog
Examples Of The Most Popular Codecademy Course
I have highlighted the 5 most popular courses at Codecademy as it will give you good indication of what other learners have been enjoying.
Learn JavaScript – A course where you will learn the JavaScript fundamentals you'll need for front and back end development. The concepts of JavaScript are broken up into 14 lessons which will give you the foundation to use it in any environment. The course has been taken by 1.6k+ users and will take 30 hours to complete.
Learn HTML – A course that will teach you the basics of HTML5 to start building and editing web pages. The concepts of HTML are broken up into 4 lessons. The course has been taken by close to 4k users and will take you 9 hours to complete.
Learn Python 3 – A course that will teach you the latest and most popular programming language Python which can be used from web development to software development and data science applications. The concepts have been broken up into 11 lessons. The course has been taken by 45k users and will take 25 hours to complete.
Web Development – A career path that will prepare you to become a junior web designer, learning front and back end, ability to build interactive sites and be able to communicate with web developers. The path is broken up into 11 lessons and will take you 30 weeks to complete where you will earn a certificate on successful completion.
Data Science – A career path that will prepare you to become a data scientist, a data analyst or use date in your job. The path is broken up into 26 lessons and will take you 35 weeks to complete where you will earn a certificate on successful completion.
6 Tips To Find The Perfect Codecademy Course
If you are undecided about which course to choose from. I have put together 6 tips to help you find the perfect course.
Take the Quiz
If you are a complete beginner and not sure where to start, then taking the quiz to identify your programming personality which will help identify which courses and skill paths are best for you.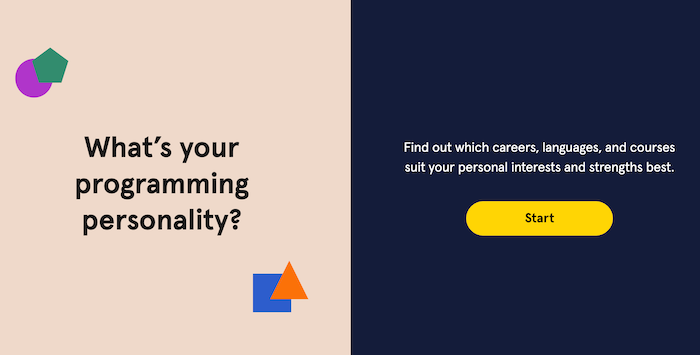 Codecademy Sorting Quiz
The quiz will ask you 9 questions to determine your personality, where there are 4 types: User Advocate, Dot connector, Question Asker and Problem Solver. Depending on which type you are. The results will highlight which courses are best for you and potential career paths to take.
Codecademy Forums and Community
Codecademy forum consists of 4 categories Get Help, Community, Projects and FAQs and encourages you to ask questions to its community.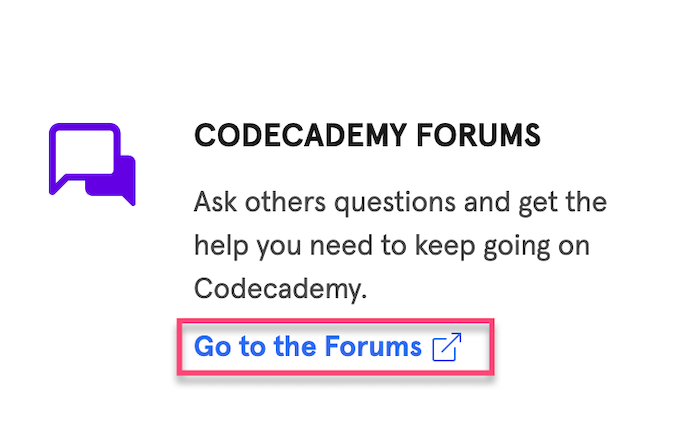 Codecademy Forums
The forums encourage you to introduce yourself to the community and there are posts dedicated to Top Questions Asked By Beginners. This can be particularly helpful if you are a newbie and you want to answer some of the most common questions like; How long does it take to learn to code? Or Which language should I learn first?.
As well as the forums there is a facebook group you can join plus regular events that the Codecademy community organise.
Free Plan and Free Trial
When you first sign up to Codeacdemy you will automatically be on the Basic plan which is completely free and gives you access to basic courses that include interactive lessons and daily practices. Keep in mind that the courses on the basic plan are limited and may not be exactly what you are looking for.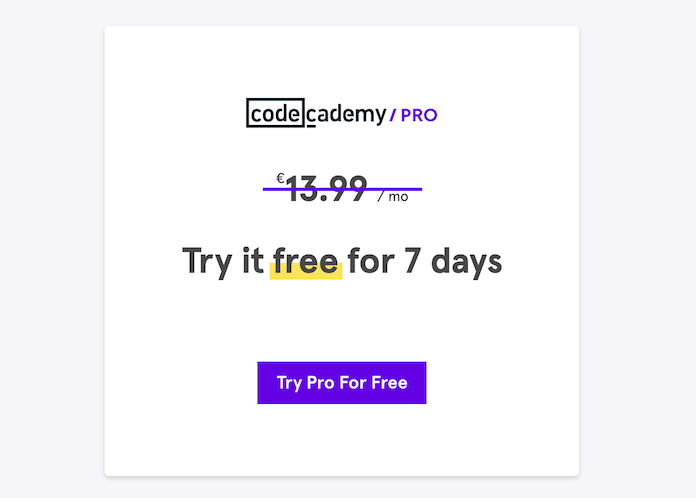 Codeacdemy Try Pro For Free
If you do find that the Basic plan doesn't offer you enough courses, you can always try out the 7 day free trial with the pro account (see image above) where you can enjoy unlimited learning, practice materials and other premium features.
Codecademy Certificate
If earning a personalized certificate for completing a course or a path is important to you then you should ensure you are on the paid Pro plan.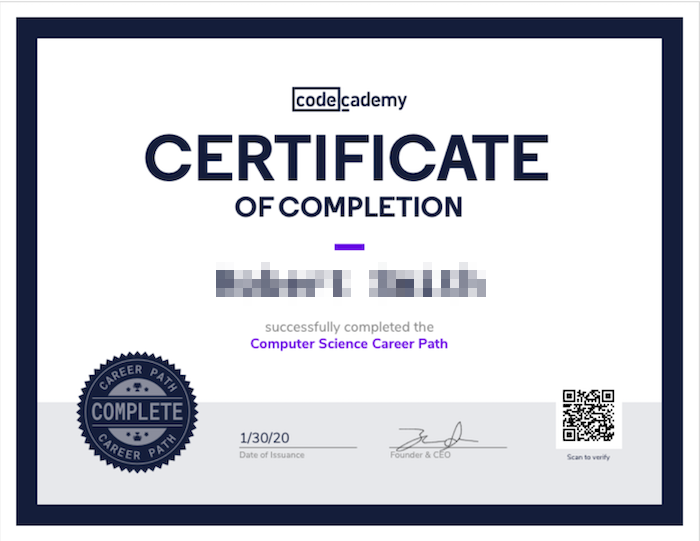 Codecademy Certificate of Completion
Once rewarded with your certificate you will be able to add your full name and download at any time. Keep in mind that this is not an accredited certificate that is partnered with a University or Institution, it is only proof that you have successfully completed the course. If you are looking for an accredited certificate it may be worth checking out Coursera or edX.
Overview and Syllabus
When you click on your chosen course or path you will be able to read the Overview and Syllabus along with some additional information like how many learners have taken the course and how long it will take you to complete.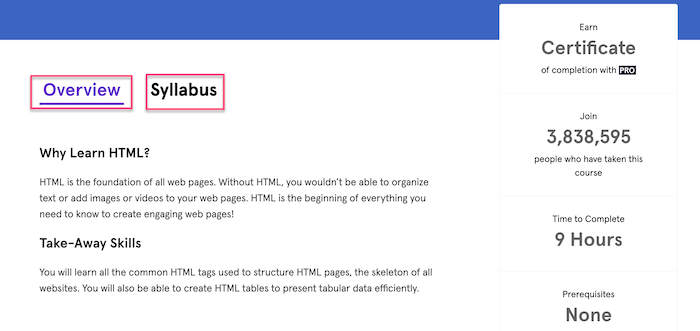 Codecademy Overview and Syllabus
This will be a great indicator as to whether this is what you are looking for in your chosen course or path. The Syllabus explains in more detail as to how the course is broken up into lessons, quizzes and projects.
Start the 30-Day Challenge
A pretty cool feature that Codecademy offers is the 30-Day Challenge where you commit to learning code every day for 30 days in a row. If you are a complete beginner or not sure where to start this could be the right avenue for you to take.

Codecademy 30-Day Challenge
You can choose the time of day that suits you and works with your schedule and receive regular reminders to keep you motivated. What you choose to learn and how long you spend is completely up to you. Then at the end of the challenge you can reflect back on the progress you have made to help you decide on the right coding journey.
Criteria
Comment
Ease of use

Opening an account with Codecademy is one of the easiest registrations out there. All you need to do is enter your email and password and you will automatically have a basic account.

The platform is easy to move around with lots of bright contrasting colours making it easy to find what you are looking for.

Convenience

Its courses and paths are designed for beginners and are all self paced meaning you can learn at a time that suits you.

Sadly Codecademy courses are not available offline. You need to have an active internet connection to access courses and paths.

Available platforms

Codecademy courses are 100% online which you can access only from a desktop or laptop computer.

To supplement your learning there is the mobile app Codecademy Go that is available in the App Store and Google Play. The app is designed to help you review and practice what you've learnt on the web anywhere and anytime. The app has a 4.6 rating with Android and a 4.8 rating with IOS.

Official certifications:

You will earn a Certificate of completion for successfully completing a course or path only if you are paying for the Pro plan. This is not an accredited certificate but you are able to download and share as you please.

Categories

Codecademy offers courses and paths in 14 different programming languages and 10 different subject areas. It specializes in programming languages like HTMl and Javascript and in subjects like Web Development and Data Science.

Its courses and paths are ideal for beginners and have many features in place to introduce you to the platform and keep you motivated like the Sorting Quiz and the 30-Day challenge.

Free courses

Codecademy has a free subscription plan which is the Basic that gives you access to a limited number of courses. As well as the basic plan there is the Pro which is a paid subscription, but you are entitled to a 7-day free trial.

Content quality

Codecademy instructors are part of the full time team that create high quality content for its courses and paths. Its content is often being replaced with current content.

An interesting feature that they have is the Beta Catalog where the team uploads content that is a work in progress and lets the learner try it out and give feedback.

Languages

Currently Codecademy courses and paths are only offered in English.

Note: They have mentioned that they may offer courses in other languages in the future.

Instructors

The Codecademy team is made up of more than 110+ subject matter experts and team specialists. The team ranges from Curriculum Developer to Software Engineer.

Course requirements

Courses and paths are made up of interactive lessons, real-world projects, step-by-step guidance, peer support and additional course material and resources.

Course structure

Codecademy believes in building the best learning experiences inside and out and creating an online learning experience for the future.

Many of its learners are complete beginners to coding so its courses are designed in a way that makes the topics understandable. Its courses and paths are built around interactive content and real-world projects. After each part that you have learnt you will take practice packs and quizzes to test your knowledge.

Quizzes & tests

Codecademy doesn't have any formal quizzes or tests, but it does use multiple tools and tests to check your progress.

Payments & refunds

Codecademy Pro plan accepts credit cards (Visa, Mastercard, American Express, Diners Club, JCB and Discover.

Refunds are not available for Codecademy Pro plans purchases or post-trial charges. The Pro trial is optional, and you can cancel at any time.

Support

Codecademy has a help center with featured articles and popular topics to browse. It also has a Contact Us where you can type your given question and then it will show results to answer that question.

Overall rating

Codecademy is an online education company that creates and delivers courses, career and skill paths focusing on programming languages. It is a platform that is ideal for beginners and someone who is looking to learn a new skill or gain experience for a new career. Its platform has a huge sense of community with forums, facebook groups and live events. The fact that it has a free plan and a 7-day free trail make it worth giving it a go.
Will Codecademy Help Me With My Career?

Codecademy courses are ideal for someone who is new to coding or wanting to develop existing skills, the majority of its courses have real-world projects for you to work on that give you a taste of what is to come.
The Skill and Career path programs are the most ideal if you are looking to change or advance your career. In the case of the Career path, they are designed for teaching a beginner about different necessary programming languages. Then with this experience will allow you to work on real-world projects and then go on to build your own portfolio of work which you can be proud of and show to potential recruiters.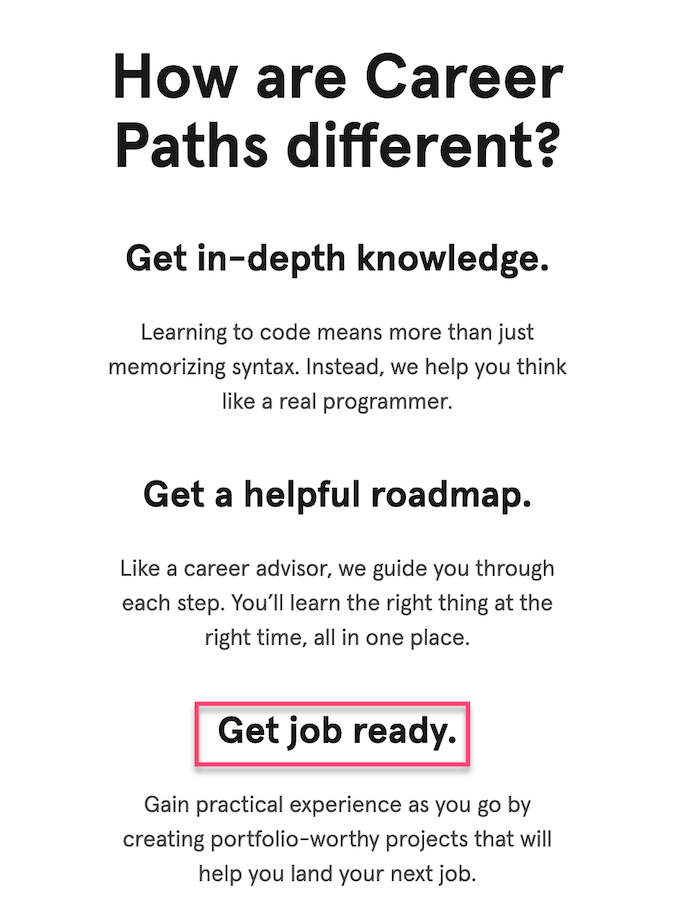 Codecademy Get job ready
Even though Codecademy doesn't offer accredited certificates it still provides you with a Certificate of Completion once successfully completing a course or path. You can then download it and share with potential employees.
Is Codecademy Legit?
Something which many of us ask ourselves before deciding on an elearning platform: Is this platform legit? Will it be worth my money?
Well let me reassure you.
Codecademy was founded in 2011 by Zach Sims and Ryan Bubinski and its headquarters is in New York. The company has over a 100 employees and by January 2020 it expanded its suite of programming languages to 14.
So yes, Codecademy is legit and it's safe to use, you won't be scammed.
Last Thoughts: Is Codecademy Worth It?
Ok, now seems the right moment to conclude with whether Codecademy is worth it.
If you are looking to learn or build on existing skills in coding then Codecademy is a great option for you. Its courses and paths are beginner friendly and the Career paths are ideal to building a portfolio of work that will kick start your career.
Even though you will receive a Certificate of Completion, this certificate is not accredited. So if you are looking to earn a validated certificate that is partnered by a University or Institution then its best you check out platforms like Coursera and edX as probably they are a better fit.
You will love Codecademy for its:
Interactive and engaging courses
Beginner friendly courses and paths
Free plan and trial
Supportive Community
Student and Unemployment support
Please, leave a comment below if you have any questions and I'll do my best to help you out.
Review Updates:
10/07/21 Codecademy Business
Alternatives
Datacamp: offers close to 350 courses on topics like data science and analytics. It offers a free plan that gives you access to initial chapters of courses and assessments with track programs that focus on skill and career paths.
Treehouse: offers 300+ courses on tech related subjects like web design, web development and more. It offers a 7-day free trial and it courses are all self-paced based around real project experience
Udacity: offers around 200 courses. Its courses are focused on gaining skills for careers in the tech and business industry. Like Codecademy it's courses aren't accredited but they are highly recognised by industry experts.