I decided I wanted to learn a new skill and choosing between two of the most popular Online learning platforms out there, Skillshare and MasterClass wasn't easy. I didn't really know what their differences were and which one would offer me the right online course.
I had a lot of unanswered questions like; What are their prices? Does either offer a free trial?, Is there a refund policy?, Who is my instructor?
To answer all these questions and more, I've created an in-depth Skillshare vs MasterClass comparison.
Let's dive right in!
Skillshare vs MasterClass Summary
Skillshare offers a premium subscription plan for individuals, which is billed annually at $167.88 (working out at $13.99 a month). Its team and business plans come in 3 different packages, the Starter costs $159 per user, per year and both the Enterprise and Revive are custom priced depending on the needs of your organization. A free trial is included with the premium plan and once that ends you will be billed for the annual plan.
Similarly, Masterclass offers annual memberships for individuals, which will need to be paid upfront. You can choose between the Individual, Duo and the Family Plan. The Individual costs $180 (working out at $15 a month) the Duo $240 (working out at $20 a month) and finally the Family $276 (working out at $23 a month). MasterClass also has plans for teams and business, and the price will vary depending on the size of your team. To sum up, Skillshare focuses on creative topics and MasterClass has 100+ VIP instructors teaching its classes.
Let's dive in, so by the end of this comparison, you'll know whether Skillshare or MasterClass is the right platform for you.
Round 0: Which One Is More Popular?
As you see below in this Google Trends screenshot, when it comes to popularity, there's one clear winner: MasterClass.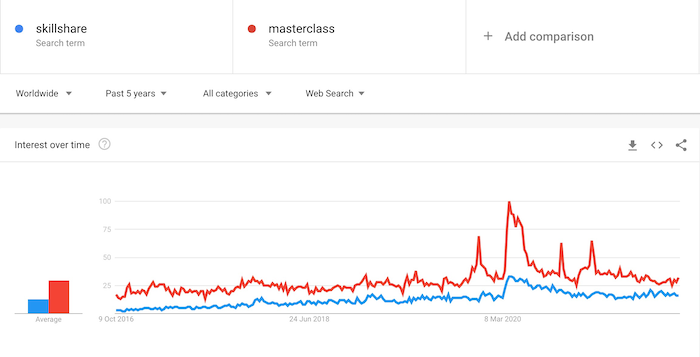 Skillshare and MasterClass popularity on Google Trends
MasterClass is a stand-out online learning platform, due to the fact it has famous faces like Yotam Ottolenghi and Alicia Keys teaching its classes. It was founded in San Francisco in 2014 and currently has 150+ classes across 11 categories. Its classes are highly engaging and really well produced that leave you with a cinematic aura.
The Skillshare platform is a popular online learning platform for creatives and entrepreneurs. It is currently offering 41,000+ classes on topics like illustration, design, photography, video, freelancing and more. Its big pool of classes provide learners with an endless list of classes to enjoy – you definitely won't get bored.
Even though google trends does give us an indication on which is the most popular online learning platform. It doesn't answer which one is better for you the learner: Skillshare or MasterClass?
Round 1: Ease-of-Use & Interface
If you are anything like me, then having an online platform that is easy to move around and has an intuitive layout makes the whole learning experience much more enjoyable. So let's find out which platform has the easiest system?
Registration
The registration process for Skillshare is really simple. You can create your account by simply adding an email account and a password. On top of that, you are also allowed to create an account using your Google, Apple or Facebook account. Once you are signed up you'll need to add your credit/debit card, Sepa or Paypal account, this will activate the start of your free Skillshare Premium trial. You won't be charged anything until the free trial ends.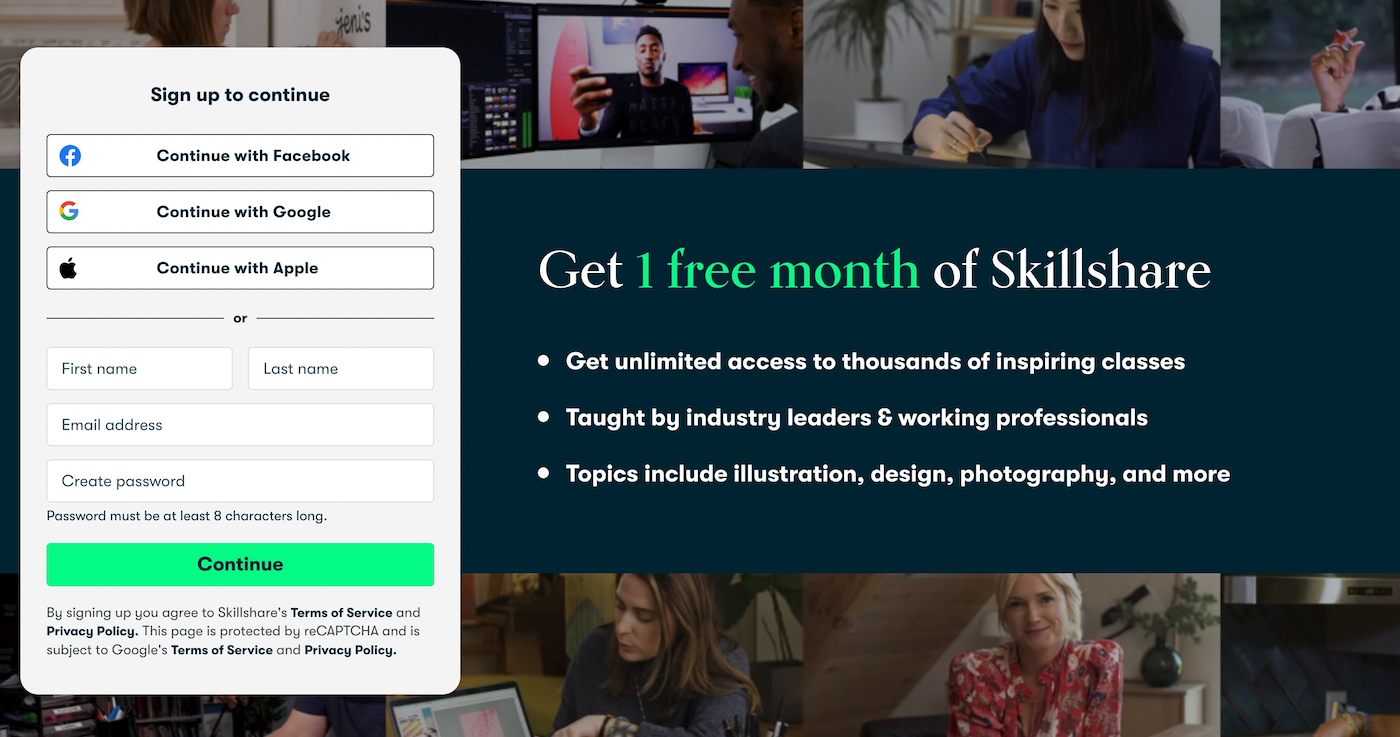 Skillshare Start your free trial
MasterClass has a similar registration process. To create your account, you will simply add your email address and click on 'Get Started'. You will then be asked to choose your annual membership: Individual, Duo or Family (see image below). Once you have selected your preferred annual membership, you will be taken through to add your card details. Finally, you will click on PLACE SECURE ORDER and your membership will begin immediately.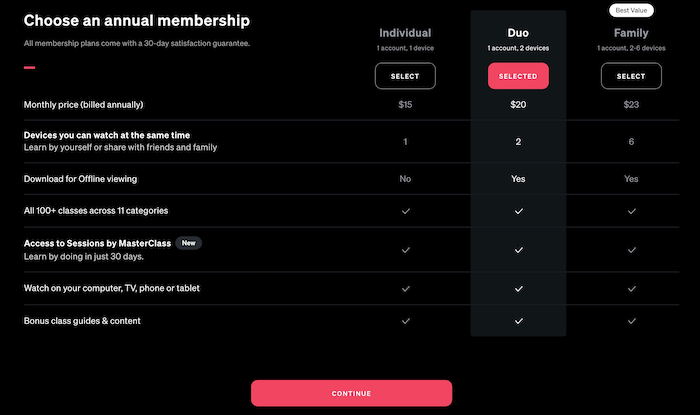 MasterClass Annual Membership Plans
Backend & Design
Once you are registered with Skillshare, you can begin enjoying its free trial and the 35,000 classes it has to offer. Once you have chosen a category, you can begin browsing its classes. It offers a couple of helpful filters where you can pick the class length and sort the classes by most Popular and recently added (see image below).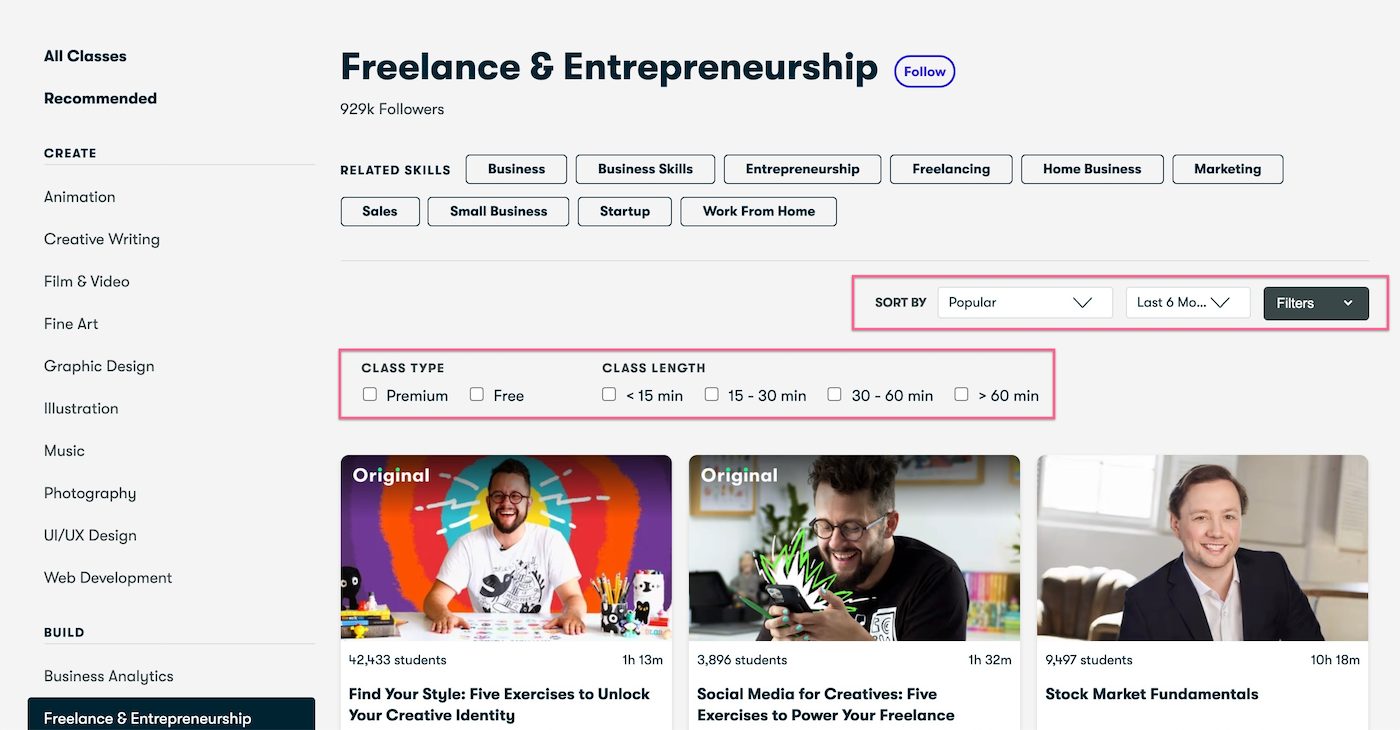 Skillshare filters
Skillshare and MasterClass have a very similar and intuitive interface for its video lessons. The layout of the video lessons from MasterClass are intuitively listed down the right side on the screen, making it easy to find what you want to watch.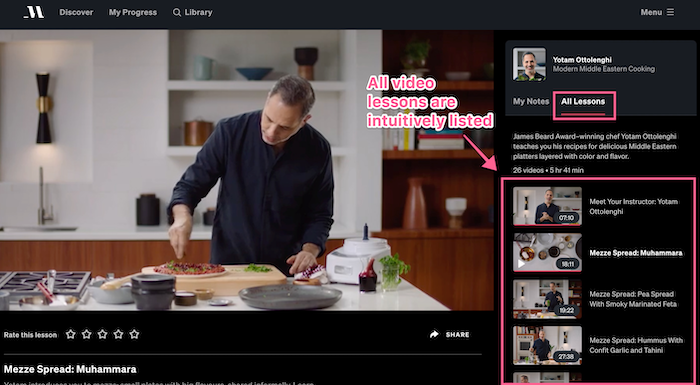 MasterClass Video Lessons
To the right of that you can find My Notes, which helps to remind you of what you have learnt during the class and is like a modern-day notebook.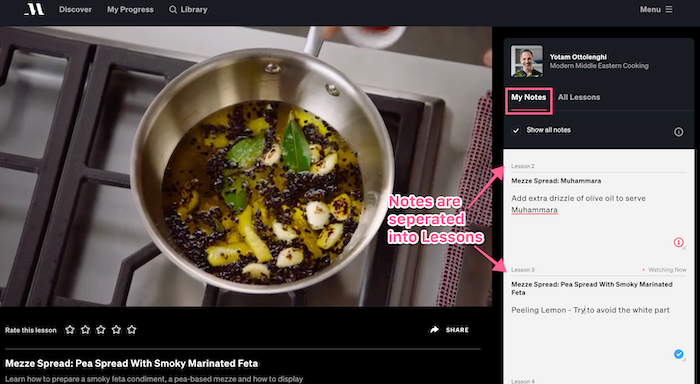 MasterClass adding notes to the lessons
Overall, both Skillshare and MasterClass have a really intuitive and user-friendly platform, not only making it easy to find what you are looking for but also an enjoyable learning experience.
The Skillshare and MasterClass app is available with all paid subscriptions, so you can learn on the go and at a time that suits you.
Winner: This is a tough one, as both Skillshare and MasterClass offer a really user-friendly and intuitive design.
So I will have to kick things of with giving a point each 1-1