Are you thinking about a career change?
And you've decided that becoming a Data Analyst is the path you want to go down. Well, firstly I think you have made an excellent choice as not only is it a highly employable career that is well paid, but it is a job of today and of the future. There are now many types of organizations who collect data and use it to make or improve decision-making.
But before we get ahead of ourselves I am sure you have a few questions you want answering like; What exactly does a Data Analyst do? What qualifications do I need? What is a Data Analyst Salary? Which organizations need a Data Analyst?
To answer all these questions let's delve into this detailed article on How to become a Data Analyst and find out all there is you need to know.
What does a Data Analyst do?
We live in a time when companies and organizations receive an enormous amount of information and data. This data is gathered and analyzed by a Data Analyst, who will then provide the organization with the results that can help improve decision-making and predictions for their future business.
All types of organizations benefit from data analysts from the health care industry to retail, food sector, marketing and more. The data gathered could be based on a variety of subjects like; How to improve customer experience, How to reduce material costs, Which new products to develop and much more. All this collected data is to improve procedures and boost the profits of the company and organization.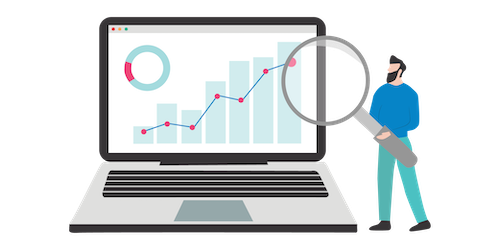 The role of a Data Analyst
Whether you are working for a client or organization in the food sector or marketing your day-to-day role as a Data Analyst will have some similarities. It will start with defining the problem, then collecting and cleaning data, then on to spotting patterns and finally creating reports and visualizations.
Define the Problem
The first and most important part is determining what the client or organization actually needs. So, that means defining the problem whether its analysis on a product, a dashboard or reports. Once you have that defined you can create a plan of action along with time frames which you may need to communicate to the rest of the team.
Collect & Clean the Data
A key part is collecting your data which may come from multiple sources (databases, backups, flat files or APIs) which you then need to put together into one place. You will be working alongside the programmers to extract this data. Once you have this data it will need to be cleaned up as inevitably it will be messy. It's important the data collection is well organized, and the Data Analyst will work to develop a methodical technique which can be easily modified. Specialized tools and software are used to create this infrastructure. This is a critical part of the process as it means later on the data is easier to manage and use again.
Spotting patterns
A successful Data Analyst can spot patterns in the data, which could form its weekly, monthly or quarterly reports depending on how often the client wants the reports. These significant patterns help the Data Analyst find trends which they can use to make recommendations to the client or organization.
Collaborating with others
You may be led to believe that a Data Analyst works pretty solitary, but actually, it's quite the opposite of the truth. The majority of Data Analysts responsibilities mean that they collaborate not only with their immediate data science team like database developers and data architects, but they also work closely with other employees in the organization like executives and marketers. Another key ingredient a Data Analyst needs is the ability to communicate well with his/her peers when delivering findings and the final presentation.
Create Reports & Visualizations
This is the final part of the process when the Data Analyst produces the reports or visualizations, which can be created automatically, and provided to the client or organization with the latest data as regularly as they would like it. These reports will give management an insight into new trends and areas that the company may need to improve on.
What you need to know to become a Data Analyst?
There are some key subject areas that you need as a building block to become a Data Analyst. By putting together these key skills, you will have the ultimate package in becoming a Data Analyst. Or maybe you already have knowledge in some key subject areas, and you are lacking in others. Below I have highlighted these specific subject areas and recommended courses to help you on your Data Analyst path.
Programming
It is the core skill that any Data Analyst needs, and you need to be proficient in at least one programming language. If you are familiar with more than one programming language then even better. Starting with either Python or R programming languages and then branching out to Java, MATLAB and PHP will give you a great foundation.
Recommended Programming Courses
Learn to Program: The Fundamentals – This course is brought to you by Coursera and partnered with the University of Toronto. This course introduces the fundamental building blocks of programming and teaches you how to use the programming language Python.