If you work for yourself or for an organization that is in need of the services of a freelancer, then you have probably heard of Upwork and Fiverr. These are two of the top platforms for outsourcing work to freelancers.
Whether you are looking for a big pool of freelancers, high-quality work or an easy and reliable working experience, then you are considering the right freelancing platforms.
That still may leave you with a pile of unanswered questions like: How do I know the freelancer is any good? Which one is cheaper? What happens if I am unhappy with the finished work?
To answer all these questions and more I've created an in-depth Upwork vs Fiverr comparison and in each round you will discover their differences. Let's dive in!
Upwork vs Fiverr Summary
Upwork is a freelancing platform that connects individuals and businesses with talented freelancers from around the globe. It currently has over 10 million freelancers who are ready to work. Its categories Graphics & Design, Video & Animation, Music & Audio and much more. It is a platform that focuses on building strong and long-term relationships between clients and freelancers. It is normally suited to a business or organization who has a project and is looking to work with a freelance for a longer period of time.
Fiverr is one of the most popular freelancing platforms out there, with an intuitive platform interface and filter system to help you find the right freelancer for your job proposal. Fiverr offers a wide range of categories from Graphics & Design, Digital Marketing, Writing & Translation and much. It is a freelancing platform that offers its services a little cheaper than average, so if you are looking for a one-off project, it might be the best option. Fiverr normally appeals to a small team or individual freelancer who is looking for help with a small project.
Round 1: Which One Is More Popular?
I know we can't base our decisions in this life on what's most popular. But by comparing the platforms on Google Trends it does give us an indication as to which one more people are searching for.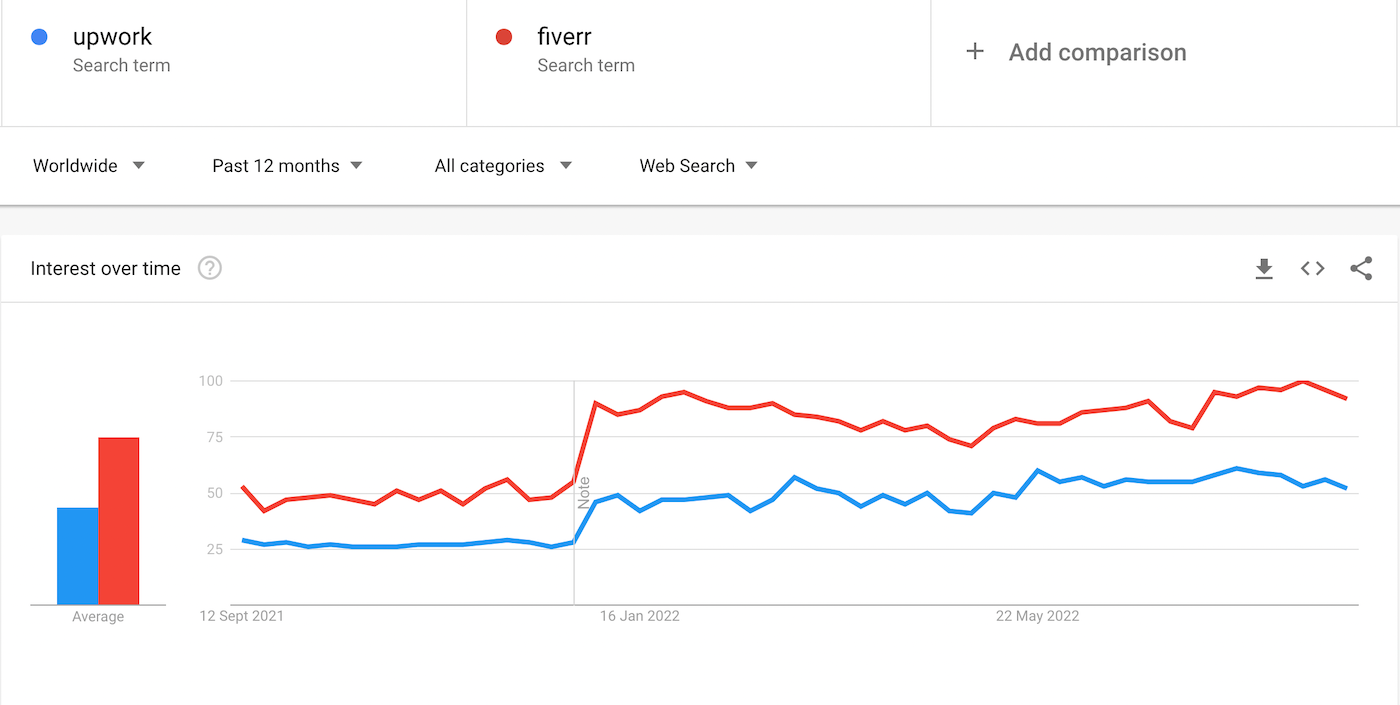 Upwork vs Fiverr popularity on Google Trends
We compared Upwork and Fiverr worldwide over the last 12 months, and it's quite clear to see that Fiverr has the advantage. There is a clear peak at the beginning of January 2022, and I am sure this is due to the effects of the global pandemic and then both platforms gradually rise together.
Winner: Fiverr
We kick things off with Fiverr taking the lead at 0 – 1.