When I started looking for online resources to help me top up my graphic design game, two names came up frequently: Udemy and Skillshare. But I wasn't sure which one of the two was the best, in fact, I didn't know what each exactly offered.
Of course, both providers offer courses on many topics other than graphic design (what I was looking to learn). So, what is it like to use their platforms? And more importantly, which one will be the best choice for you?
To answer these questions, I've created an in-depth Udemy vs Skillshare comparison. I'll tell you all about their prices, course quality, instructors and much more.
Let's make a Start!
Udemy vs Skillshare Summary
Udemy's individual courses will set you back anywhere between $19.99 and $199.99. Skillshare, by contrast, offers a premium plan costing $167.88 annually, that gives you unlimited access to its full library of classes (35,000+). Both platforms offer a wide selection of topics that will leave you with an endless variety to pick from.
Let's dive in and examine both providers in detail, so by the end of this comparison, you'll know if Skillshare or Udemy is right for you.
Warm Up Round: Which One Is More Popular?
As you can see in the Google Trends screenshot below, when it comes to popularity, there's one clear winner: Udemy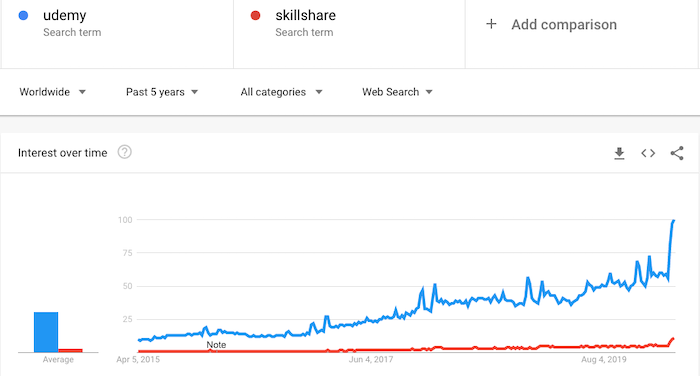 Udemy and Skillshare popularity at Google Trends
In fact, Udemy is most likely the most popular elearning platform across the planet. Co-Founded in 2010 by a Turkish chess fan, Udemy has grown impressively: with 44+ million students enrolling in one of its courses, over 155,000 courses can be founded on its platform, and it has 75 languages available.
Skillshare's numbers seem very humble when compared to Udemy's. I want to add that this New York-based learning community has grown quite a bit since it was first founded in 2010: it has over 35,000+ classes and more than 8 million students – not bad if you think they target a smaller niche (creatives and entrepreneurs).
But this isn't a popularity contest, we are looking for the best elearning platform objectively. So, let's explore more important features to find out which one is better: Skillshare or Udemy?
Round 1: Ease-of-Use & Interface
Alright, we all want easy to follow and intuitive interfaces and straightforward workflows, so let's find out which one provides the easiest to use system. Shall we?
Registration
The registration process at Udemy is very simple To create an account you'll only need your name, email and set a password. After that, you'll only need to confirm the email that they send you.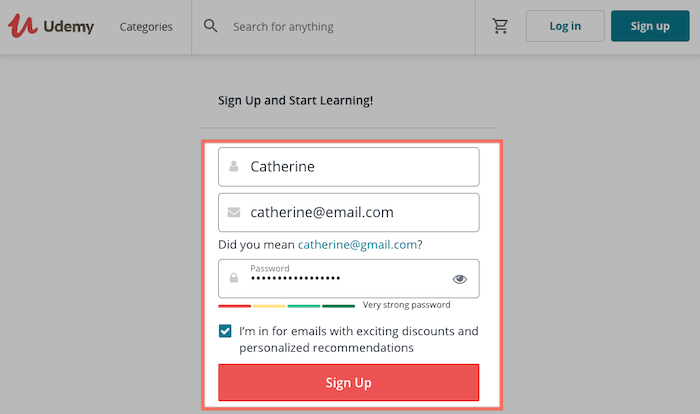 Udemy registration process
Skillshare works similarly.  You can create your account by simply adding an email account and a password. On top of that, you are also allowed to create an account using your Gmail or Facebook account.
Backend & Design
Once you log in at Udemy you'll realize that an effort has been made to keep the interface intuitive and well-designed. I like how easy it is to create your own 'Collection' of courses organized using the same topics (e.g. programming, design, etc.).
The actual course interface is also very smartly designed. Besides the usual video player options (playback speed, video quality, subtitle management, etc.), you also can add a note to a certain moment of a video (see image below).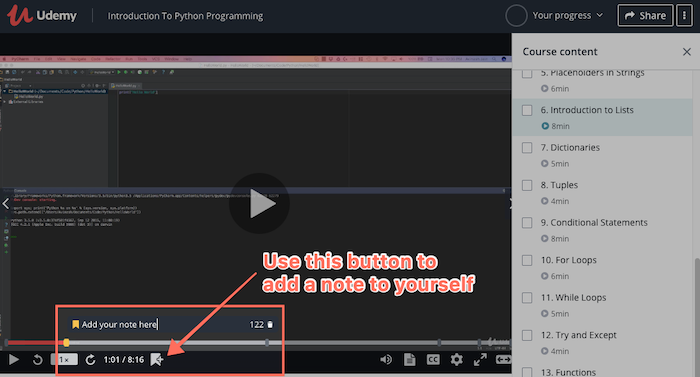 Udemy adding a note to a lesson
It's also very convenient how the course lessons are organized in the right-hand sidebar (above image). It provides easy access to each chapter and lesson of the course. You can also tick or untick each lesson to keep track of your progress.
Access Udemy using your favourite internet browser on laptops and desktops, or download the iOS or Android app to watch courses on the go.
Skillshare also offers a way to create course lists to keep your resources organized and adding notes to your courses. I would say that its design is good, but maybe not as modern-looking as Udemy's (not a big issue though).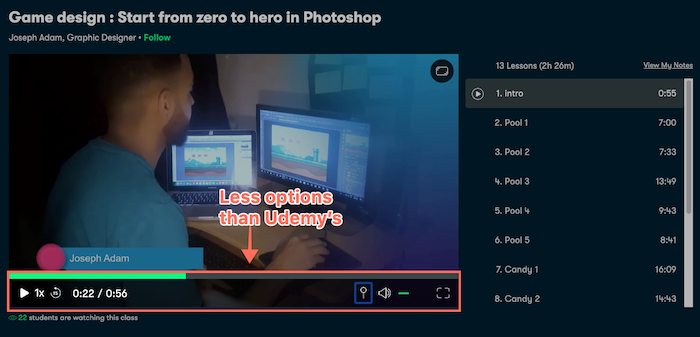 Skillshare video player options
The Skillshare's video player isn't as advanced as Udemy's, it lacks some options like being able to set up the video quality or managing captions. The course sidebar with the lessons is also a more simple version of Udemy's.
As with Udemy, Skillshare is available for desktops and laptops using a browser, and via apps for iOS (iPhone and iPad) and Android devices. You won't be able to watch courses offline with the free version.
Winner: Both are super easy to use, and this is a tough call, but I think Udemy is a bit fancier looking and a tiny bit easier to use.
So the first point goes to Udemy