Headspace Review: Who is it for?

Headspace
Interested in diving into mindfulness and meditation, but not sure where to start?
Headspace could be your answer, it's an app that specializes in meditation and mindfulness techniques that assist in relaxation, stress management, sharpening focus, and releasing tension in both your mind and body. Its guided meditations, courses and mindfulness exercises are for every experience level. Established in 2010 by Andy Puddicombe and Richard Pierson, Headspace has one mission to enhance global health and well-being.
Interested in giving it a try?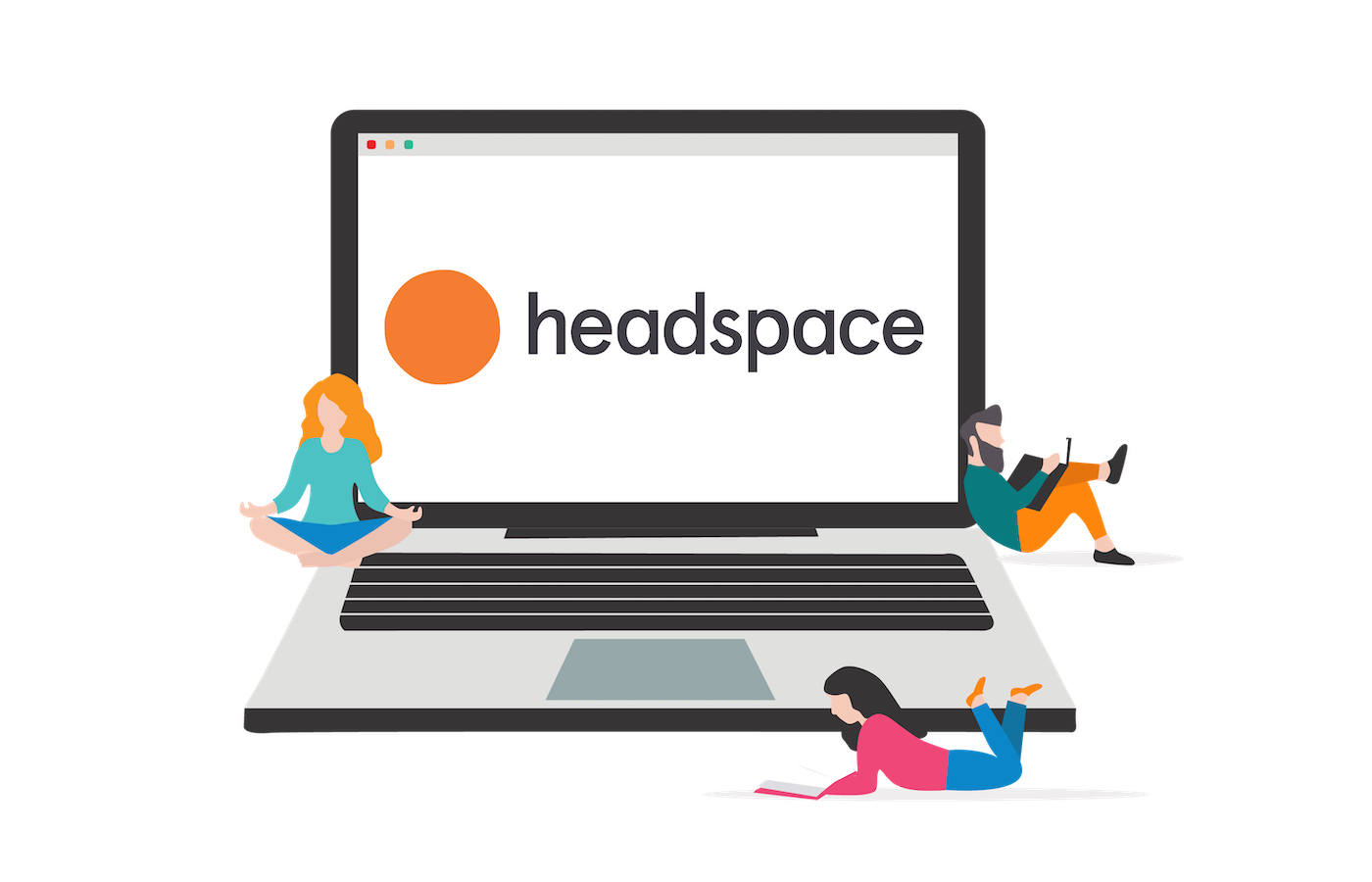 Before jumping in, you'll likely have a few questions such as: Is it suitable for beginners? Is there a monthly subscription option? Does it offer a free trial?
Let's delve deep into this in-depth Headspace Review to find out more.
Headspace Pros & Cons
Free Trial: Headspace offers a free trial on its monthly (7 days for free) and annual subscription (14 days for free) plans, which you can cancel 24 hours before the trial ends and you won't be charged anything.
Expert Teachers: The guides on headspace are trained mindfulness and meditation practitioners.
Beginner Friendly: Headspace is a great place to start with mediation as it's taught in a non-intimidating way and is easy to follow.
Engaging: It's a really engaging app, that's very intuitive, and its video content is a pleasure to watch.
Variety: Its wide variety of content guided mediations, mindfulness activities and sleep casts means there is always something to accompany you throughout the day.
Tracking: Headspace gives you gentle nudges and reminders to practice daily which you can track to see your progress.
Family Friendly: Headspace offers plans for the family as well as offering content that is suitable for children.
Lack of Personalization: Sadly, the app doesn't provide personalized recommendations based on a user's individual needs or preferences.
Repetitive: If you really maximize your membership plan and use Headspace daily, you may find some of its mindfulness tools become repetitive.
Commitment: The free trial requires entering a credit card which will be charged once the free trial ends, some users maybe hesitate to sign up.
Headspace Verdict
Headspace is a popular mindfulness and meditation app that offers 500+ meditation and mindfulness tools to help you stress less, focus more and get happy. It offers both guided and unguided mediation and mindfulness exercises, that are designed to aid you from the moment you wake up in the morning until the time you go to bed. Many of its videos are short and bite sized, making it easy to fit into a busy day, or if you're on the go or travelling. A monthly and annual subscription is available along with a free trial, so you can try out the app for free before you financially commit. Headspace is a user-friendly app that ideal for complete beginners, kids and teens or for those experienced users looking for advanced meditations, there is something for all.
Who Is Headspace For?
Headspace can be beneficial to a wide range of people who are looking to explore meditation and mindfulness. If you are looking to catch your breath, relax your mind and feel less stressed, then Headspace maybe the right option for you. Headspace claims that within 10 days it will increase your happiness and reduce your stress levels.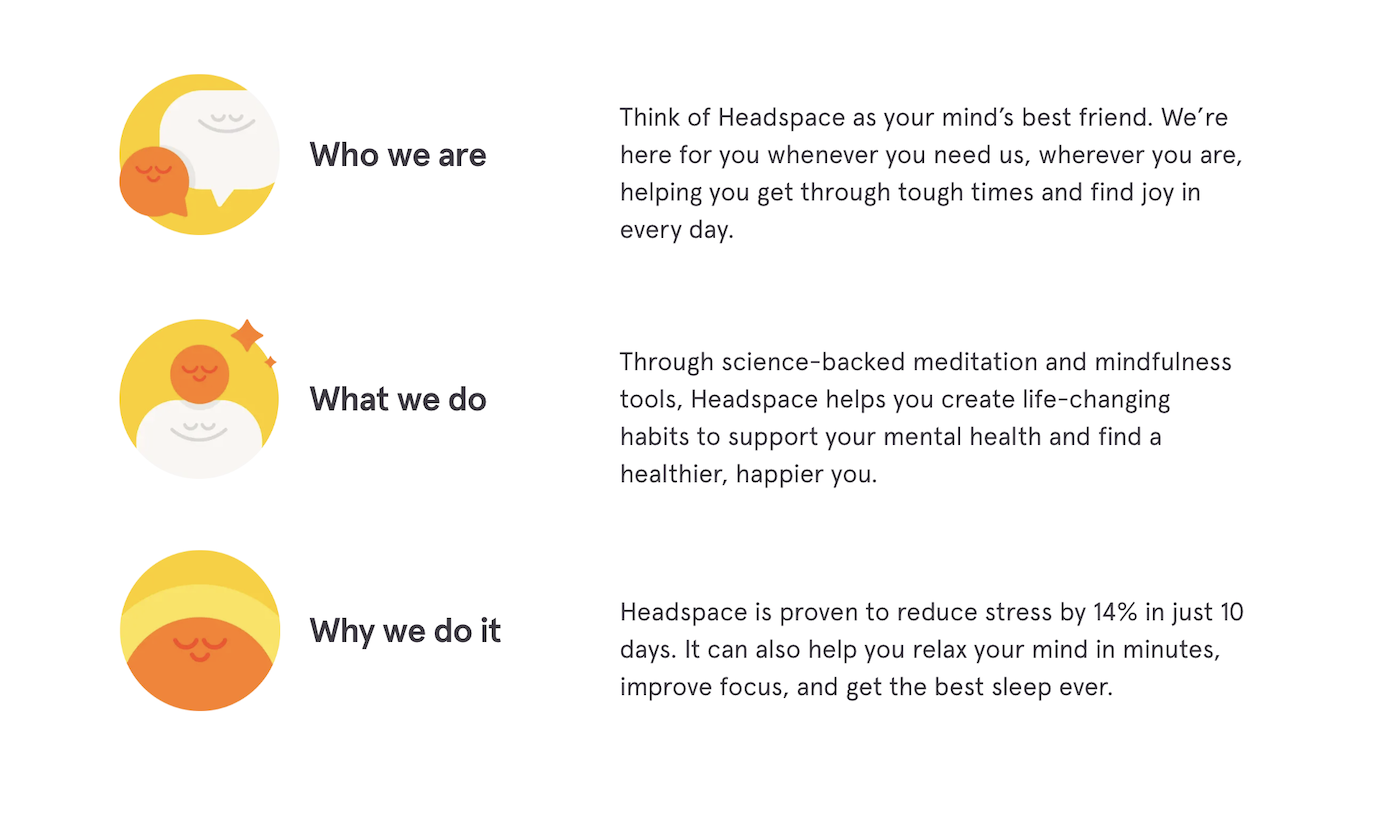 About Headspace
Headspace for beginners
If you are a beginner looking to make your first steps in creating life-changing habits to support your mental health and improve your all round happiness, you're in the right place. As a beginner, you can try some of the guided 5-minute meditations, which feel less intimidating as a complete novice. I myself have been there, so I know how daunting it can feel the first time round, but once you put that time aside each day, I find first thing in the morning is the best time for me, it will start to feel second nature, just like brushing your teeth.
Over time, you will begin to notice the positive impact it has on all aspects of your life, feeling less stressed, better sleep, more focused and even improving relationships. It is believed that each time you meditate, you are taking steps towards creating healthier habits, which in turn create a happier you.
Headspace for Sleep
Getting a good night's sleep is easier said than done. So, when I found that Headspace offered a wide variety of sleep content I was thrilled. As for anyone who knows me, knows that getting my 8 hours is a must. Its sleep content includes Sleepcasts, White Noise, Wind Downs, Sleep Music, Soundscapes, Sleep Radio and more.
The Wind Downs are excellent, as they incorporate mediation and breathing to help prepare you for sleep. Some of the classic wind downs only last 3-10 minutes or if you are looking for something a little longer, a Wind down with nature lasts 45 minutes.
If a guided session piques your interest, then Sleepcasts would be your answer. I would really recommend giving one a go if you haven't tried it before. Each Sleepcast focuses on a story that is ever-changing and narrated by a relaxing, soothing voice lasting 45 minutes. A nice feature is the ability to adjust the slider to balance the ambiance and voice, so you can personalize it to your preference.
And if a non-stop sleep audio is what is needed, then the Sleep Radio has you covered. A 500-minute (8 hours) of non-stop rain, night or ocean sound mixes accompanying you whilst you fall into a deep slumber.
For many of us, creating the ideal sleep conditions can feel complicated, trying this section of the Headspace app may help you to accomplish a restful night's sleep.
Headspace for Stress
If you are looking to relieve stress and anxiety from your life, Headspace offers a whole range of coping meditations which can you help you be better prepared for stressful thoughts and situations.
Getting Started with Headspace?
After signing up to Headspace you'll find it's very intuitive and easy to navigate. You will have the option to move through the 3 icons at the bottom of the app: Today, Explore and Profile. The Today tab offers daily mindfulness videos which show different meditations and mindful activities to Start your day, Your afternoon lift and At night.
The Explore tab offers all the categories; Meditate, Sleep, Move and Music where you can find a wide variety of content from guided mediations, mindfulness activities and sleep casts to support you from the moment you wake up to the time you go to bed.
The profile tab shows 'My progress' so you can keep an eye on your stress and anxiety with monthly check-ins. An Activity History is available where you can view all your completed sessions.
A 30-Day Guest Pass is available for a friend or loved one, just by sending them the Guest Pass they will get free access to the Headspace app for one month. Keep in mind they will need to add their payment details and the membership will renew at the end of those 30 days unless they decide to cancel.