Is This Platform Suited To You?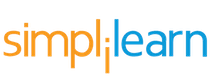 SimpliLearn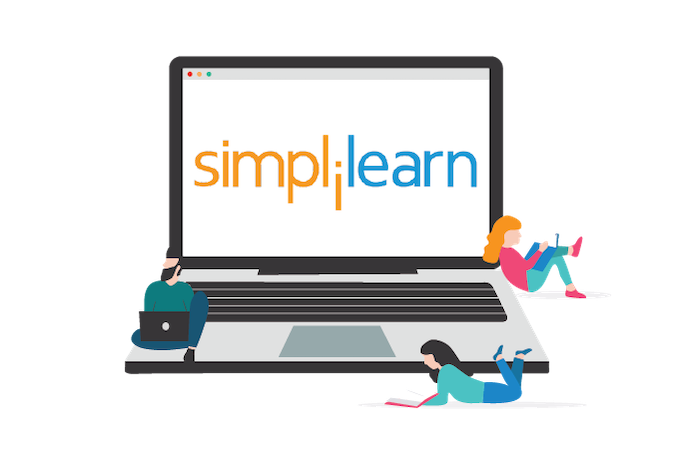 Is Simplilearn the platform you are looking for?
It is a platform with very mixed reviews. Even though it has over 1000+ courses, many of its learners have been left disappointed with the quality of its courses, the lack of support and feeling unsatisfied with the platform.
I will do my best to give an honest review based on my experience and feedback from past learners. We start with Simplilearn's Pros & Cons and if you are looking for a more detailed review, please read on.
If you are looking for a wider range of courses, then head over to Coursera or Udemy. Or if you want creative courses then Skillshare is the one and MasterClass is best for VIP instructors.
Blended Learning
Variety of learning approach combining online classes, instructor-led live virtual classrooms, project work and 24/7 teaching assistance.
Mobile App
You can access its courses and download content anywhere and anytime with its mobile app, making it convenient if you are on the go or taking a trip.
No free courses
Simplilearn doesn't offer any free courses, if you are looking to try a course for free it is best to check our

Skillshare

 or  

edX

.
Less Choice
Offering only 400+ courses it doesn't have such a wide and diverse range of courses as other platforms like Udemy or Coursera.
Persistent Sales Team
It can be helpful, but be aware that they will contact you numerous times like a crazy ex.
SimpliLearn Review Verdict
Simplilearn is an online certification provider that aids learners to improve their skills and career knowledge. It is partnered with 40+ accredited global bodies like Exin or IASSC and supported by companies like Google and Hubspot. It's possible to enrol in courses that are certified and recognised globally by future employers. A 7 day money back guarantee is offered if you change your mind after purchasing a course.
Who Is Simplilearn For?
You may be asking yourself, is Simplilearn right for me?
If you are a professional looking to improve your skills and knowledge with the focus on your career, then you are considering the right elearning platform.
Simplilearn offers a couple of learning styles, one being blended learning, an approach that mixes video and instructor-led classroom training with online content, real world projects and a 24/7 teaching assistance and support.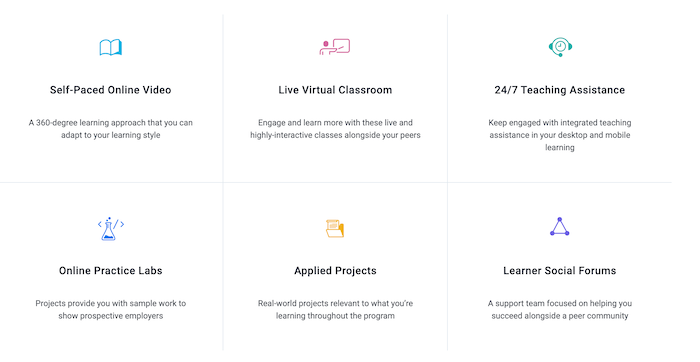 Simplilearn blended learning
Some of the benefits of blended learning are the following;
Different people learn in different ways:

 You may be familiar with the learning model called VARK (which stands for Visual, Aural, Read or Kinesthetic) which describes how each  of us learn in one of these different ways. With this in mind a mixed learning style benefits different learners. For example if you are aural learner (learning best from listening) a live instructor-led class would suit you best.
Higher engagement:

If you combine different ways of learning (video, live instructor, social forum and practical projects) it keeps you engaged as a learner. This fusion of learning will help to reinforce any gaps of knowledge you may miss from one style of teaching and give a more comprehensive overall outcome.

You are in charge

: Allowing students to have self-paced learning means they can work at the rhythm that suits them. Instead of having the pace set by the fastest or slowest member of the group. You can then skip ahead or rewatch video content and seek additional resources if necessary.
How Much Are Simplilearn Courses Really?
Let me tell you that Simplilearn is not cheap!  Its course pricing is diverse, starting at $600 and going up to $3,000.
As mentioned above, Simplilearn offers different training options from self-paced, blended learning to corporate training. The different course types have different costs.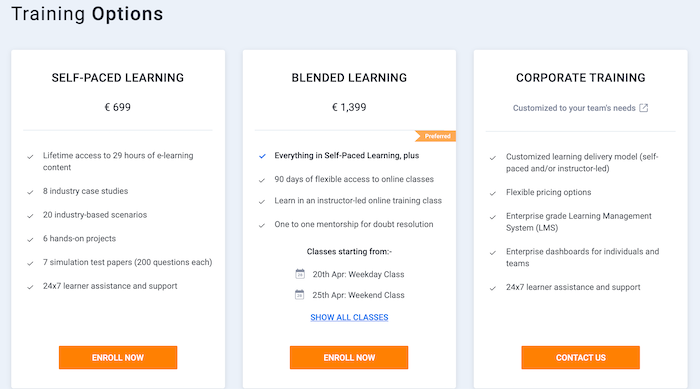 Simplilearn training options
Note: Not all all courses offer all training options. For example Salesforce Administrator only has self-paced learning.
Self-Paced Learning: You will have lifetime access to the course material, video content, hands-on projects, practice exam and 24/7 learner assistance and support. Prices start from $600.
Blended Learning: Includes everything you have in the self-paced learning plus 90 days of unlimited access to live ILT sessions (classes in real time), and 180 days unlimited access to self-paced learning. Live ILT Sessions are a batch of (8-10) live sessions which are offered at different days and times (weekdays, weekends, mornings and nights). Prices start from $800.
Corporate Training: This training is designed for organizations and targets employees working in a company. The package can be customized to online or instructor led, that fits best with your organization's goals. Price is a custom quote.
Simplilearn does offer a 7-day money back guarantee if you decide within 7 days of purchasing the course that it isn't for you.
How To Open A Simplilearn Account?
The registration process for Simplilearn is really straightforward. I thought it would still be helpful to see the steps on how to register: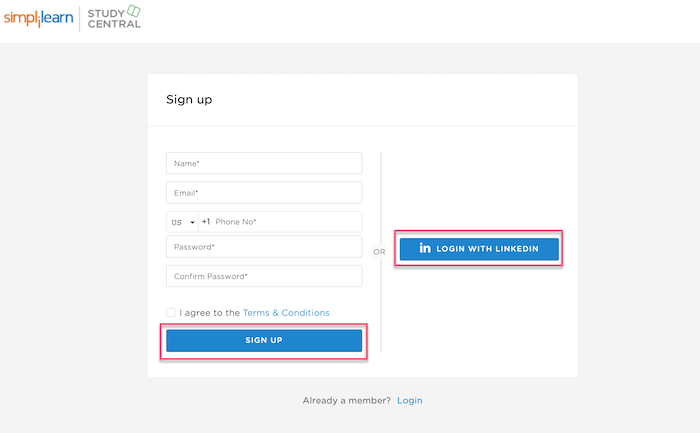 Simplilearn sign up
Open a browser and visit

simplilearn.com

Click

Sign up now

Add your Full Name, Email, Phone number and create a Password
You can also login with your Linkedin
Once you are signed up you can click on All Courses and begin browsing the different courses on offer.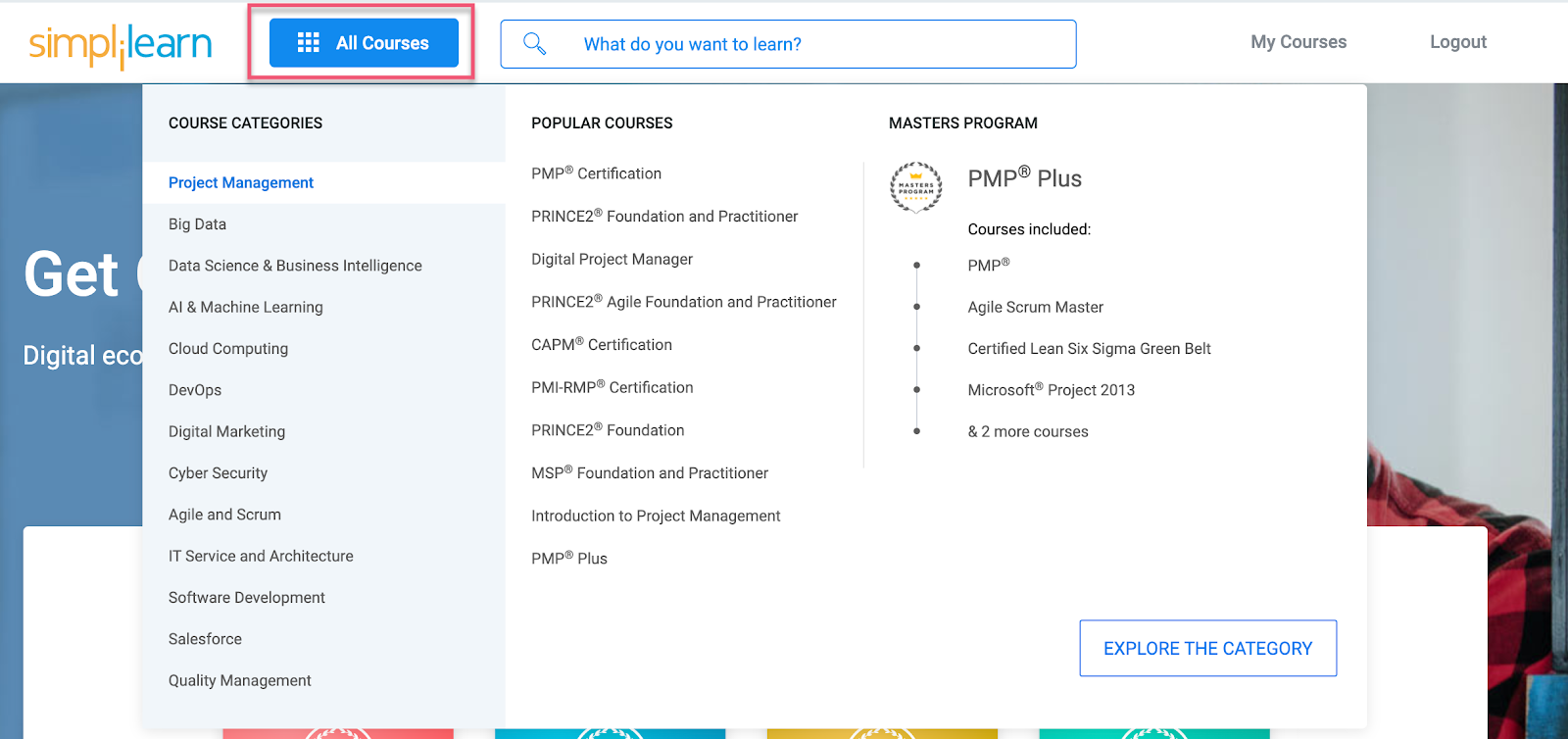 Simplilearn all courses
After you have selected a main category you can then pick one of the courses which will take you to the course details.
Examples Of The Most Popular Simplilearn Courses
I thought it would be interesting to look in more detail at Simplilearn's most popular courses. It may help you in your choice to see what other students are favouring.

PMP (Project Management professional)

 –

A course that covers new trends, emerging practices and core competencies with an emphasis on strategic and business knowledge with a 99.9% pass rate.

The course advisor is Tim Jerome and has over 15 years experiences in companies like Intel and Digital Network Services.

Machine Learning

– An in-depth course in Machine Learning covering topics including real-time data, developing algorithms and learning how to use Python to draw predictions from data. You will receive 44 hours of instructor-led training with a certification, and you will work with 4 real-life industry projects.

TOGAF 9 Training

 – A course to help master terminology, structure and concepts. You will learn the process for architecture development. It is an accredited course with 54 hours of blended learning (e.g. different learning

methods

). The course advisor is John Ghostley, a former CIO with 30 years of experience.

Certified ScrumMaster (CSM)

 – A course that focuses on providing an improved understanding of Scrum methodologies and their implementation. The course is certified by the Scrum Alliance and it's conducted by an experienced trainer with 20+ years experience.

CISSP Certification

 – A course that helps develop your expertise in IT architecture and in designing and building.The course covers industry best practices. The course advisor is Dean Pompilio and has over 20 IT certifications.
7 Tips To Find The Perfect Simplilearn Course
If you haven't made any final decisions on which course is right for you I have put together 7 tips to help you choose the perfect course.

Use the selector
A very useful feature is the selector at the top of the page which allows you to choose the information you are most interested in finding out about. You can quickly click and be directed to the Course Curriculum, Course Advisor, Reviews and so on. I think this is particularly helpful if you are researching and comparing different courses.
Preview content
The course content is broken down into each lesson with the topic and time duration. Many of the lessons provide a preview for you to watch.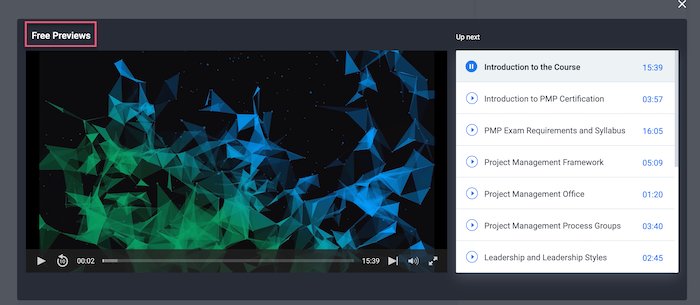 Simplilearn preview content
The Free Previews available for that particular course are all listed on the right hand side along with its time duration. These previews can give you a really great insight into the way the course is delivered and a taste of what is to come. You'll know what to expect!
Download  the syllabus
When you check out the course content you will notice a button below it Download Syllabus.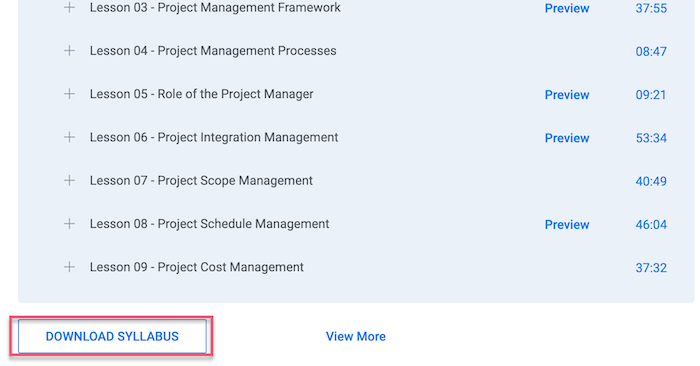 Simplilearn download syllabus
The download provides you with a detailed but digestible overview of the course. It includes program features, target audience, key learning outcomes (see image below) and more. I think this download is really handy if you want to go away, read about the course in more detail and come back at another time.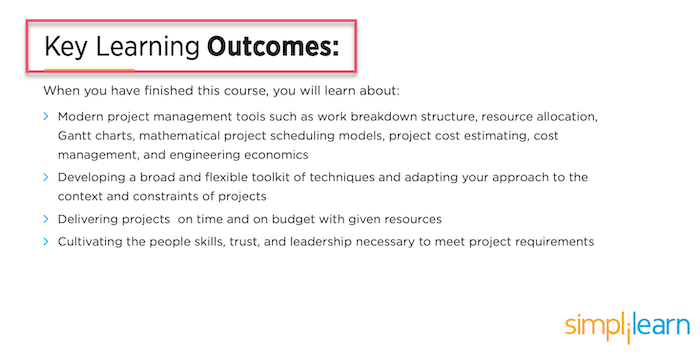 Simplilearn key learning outcomes
Course reviews
Every Simplilearn course has reviews and star ratings from past students which can be really helpful to read about their experience.

Simplilearn reviews
I must add at this point, even though it is good to read positive reviews they haven't added many to compare and all have 5 stars, which leads me to think it doesn't give enough varied feedback. Other elearning platforms like Coursera and Skillshare give a more honest and raw display of reviews.
Course Advisor
Each course includes a course advisor section which includes their title and description along with their social media handles. Their bio is short and descriptive highlighting their expertise. It is definitely worth checking out your instructor to get a feeling for what he or she will be like.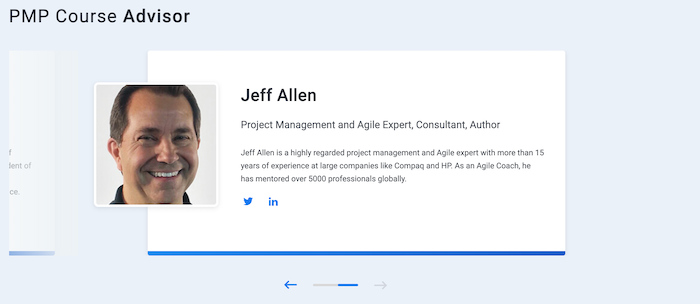 Simplilearn course advisor
Course FAQs
Frequently asked questions are always helpful as let's face it, most of the time we all have the same questions we need answered. This can help clarify any doubts or queries you may have before commiting to a course.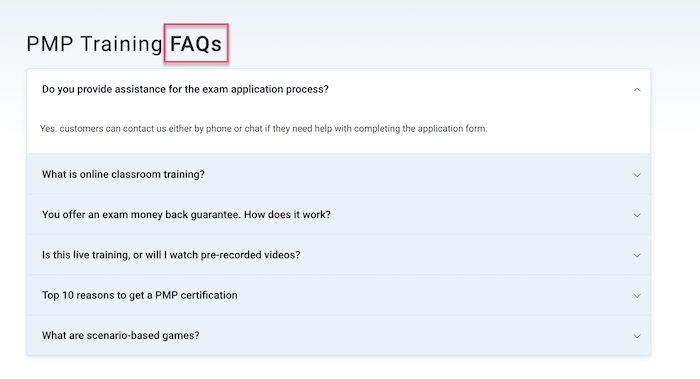 Simplilearn FAQs
Support and more information
If you have trouble finding particular information about a course. You have the option to Request more information which is really useful if you can't find what you are looking for.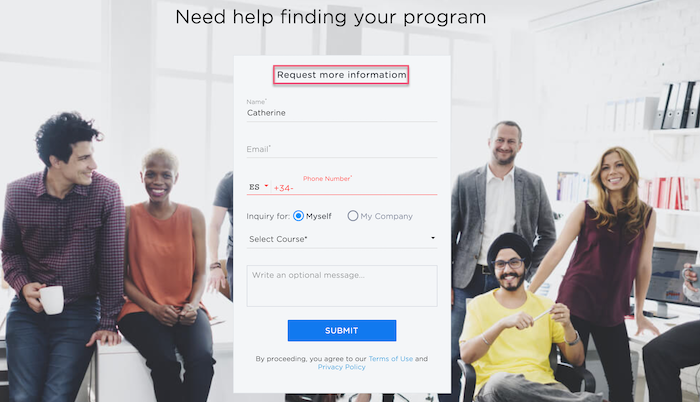 Simplilearn request more information
Simplilearn has a really responsive support system (see image below).  They have a live chat, a phone number to call and the option to request a callback – they can be a little persistent at times though.
From my experience of reviewing online learning platforms (which has been quite a few) this has by far the most accessible and supportive contact system, with the possibility of next day call backs.

Criteria
Comment
Ease of use

Opening an account is really straightforward, you just need to add your name, email, phone number and create a password. You can also login via your linkedin profile.

The design and layout of its platform is really accessible to navigate around due to its clean design. My favourite part is the fact it has so many ways to contact Help and Support which are easy to find.

Convenience

Simplilearn offers self-paced and blended learning which means you have different learning styles to choose from. You'll have lifetime access to the course materials

After purchasing a course you have the option of a 7 day money back guarantee.

You can download course videos to watch offline on the simplilearn app which is ideal if you are on the move or on a trip.

Available platforms

Simplilearn courses are 100% online and you can access them from a desktop, laptop or via the Simplilearn app with a smartphone or tablet (for Android and iOS).

The Simplilearn app has a 4.3 rating with Apple and a 4.4 rating with Android. Not the highest ratings.

Official certifications:

Simplilearn courses are accredited and the certificates are recognised by employers. It is accredited by world recognised bodies like PMI and Exin. The curriculum is developed by experienced experts.

Categories

Simplilearn offers 400+ courses which are focused on professionals to enhance their skills or to learn new ones.

Its courses focus on topics like Digital, Marketing, Project Management, Data Science and other emerging technologies.

Free courses

I am afraid Simplilearn doesn't offer any free courses.

Content quality

Since Simplilearn's content is produced alongside accreditation bodies and experienced instructors, its quality is very high.

Languages

Sadly, Simplilearn courses are currently only available in english and without subtitles. It's courses are available in 176+ countries.

Instructors

Every course on Simplilearn is taught by instructors with over 15-20 years experience in their particular field.

Course requirements

Some courses will require that its learners have prior knowledge or qualifications.

Simplilearn courses are normally between  4-6 weeks. Each course requires dedicated participation, video content, graded assignments, hands on projects, 24/7 learner assistance and support plus quizzes and some final exams. You'll have to put in some work to pass the course.

Course structure

Every Simplilearn course is designed and updated regularly by 2,000+ renowned industry experts.

Its courses mix video content with instructor led, real projects and 24/7 teaching assistant and support.

Quizzes & tests

Most self-paced and blended learning have practice tests and some have final official exams.

Payments & refunds

You can make payments on Simplilearn with the following Credit and Debit Cards (Visa, Mastercard) and Paypal.

Simplilearn offers a 7 day money back guarantee, but if the participant has accessed more than 25% of the content or downloaded the e-book it won't be refunded. If a request is made after the 7 days it will be declined too.

Note: All refunds will be processed within 10 working days after the refund request is approved.

Support

Simplilearn offers a really great Help and Support system with numerous methods to contact its support team. It has the option of a live chat, a phone number to call and an option of a call back.

This high level of support is reflected in all its courses that offer 24×7 learner assistance and support.

Overall rating

Simplilearn offers a range of career focused courses. It is ideal for a working professional looking to enhance their career knowledge or someone wanting to pursue a career change. It is one of the more expensive platforms out there and requires real commitment.
Will Simplilearn Help Me With My Career?
Simplilearn courses are geared towards professionals who are looking to learn a new skill or qualification to help their career. The fact that it's courses are accredited with globally recognised institutions (e.g. PMI and AXELOS) which you receive a certificate (employers tend to take these seriously) on completion it is an incentive for you to complete the course successfully. Your certificate can then be shared on Linkedin, Twitter or Facebook and added to your resume.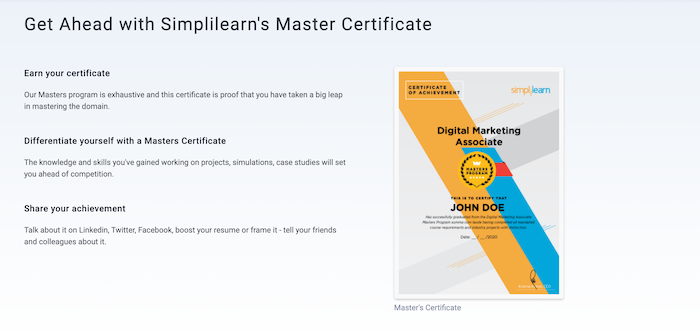 Simplilearn accredited certificate
If you already have a full or part job, then studying with Simplilearn could be an ideal option for you. Due to the fact its courses are self-paced and the flexible learning hours will allow you to continue with other jobs or commits.
Is Simplilearn Legit?
Something which many of you ask when considering elearning communities is: Is this online learning platform legit?
You are not alone in having these doubts, especially if you are considering one of the more expensive blended learning courses (up to $3,000) that Simplilearn offers.
Simplilearn was founded in 2010 in Bengaluru, India by Krishna Kumar and has offices based in San Francisco, California and Bangalore India. It has helped well over 1 million professionals and companies across 150+ countries get trained, acquire certifications and (hopefully) upskill their employees.
More than 40 global training organizations have recognized Simplilearn as an official provider of certification training. It has been named as the 8th most influential education brand in the world by LinkedIn.
In short, Simplilearn is legit and it's safe to use, you won't be scammed.
Last Thoughts: Is Simplilearn Worth It?
Ok, so let's summarise why Simplilearn is worth it.
If you want to further your professional knowledge for the purpose of your career, then Simplilearn is definitely the right elearning platform for you. Its training programs focus on business and technologies that are ever changing in our fast paced world. But be aware that its courses require commitment, but at the same time offer more teaching support than any other platform I have reviewed (maybe as good as Udacity).
On the other hand, if you are wanting to learn a new skill or hobby and not wanting to gain an accredited certification then platforms like Masterclass and Skillshare are probably a better fit for you.
You will love Simplilearn for its:
Accredited certificates

Top instructors and experts

24/7 teaching support

Blended learning approach (e.g. different types of classes)

Engaging and varied learning content
Alternatives
edX offers over 2,650 online elearning courses that are partnered with established universities and companies. It offers both self-paced or instructor-paced learning programs. Probably a better alternative if you are looking for a more formal education.
Coursera offers over 3,900 courses, specializations, degrees and 100's of free courses. It works closely with top universities and government agencies to facilitate its online courses and grant completion course certificates.
Udacity comes with a smaller number of courses around 200. Its courses are focused on gaining skills for careers in the tech and business industry. Although its programs (or as they call them Nanodegrees) aren't accredited it is still highly recognized by industry experts.